WATERTOWN — A 9-month-old Dalmatian who spent a portion of his puppy life detained in a holding facility at the John F. Kennedy International Airport in Queens has finally made it home to owner Hedy J. Starr. The dog trainer joined a federal lawsuit, fundraised and spent more than $12,000 to get her dog and nine others out of the holding facility's questionable living conditions.
Mrs. Starr and her husband, Ryan, picked up the Dalmatian they bought from a breeder in Russia on Saturday, marking an end to a months-long dispute with customs, the Centers for Disease Control and Prevention and the holding facility.
Nearly two months ago, on Sept. 8, her Dalmatian, Vaxis — named for her favorite band Coheed and Cambria — was flown from Russia to New York City with 10 other dogs. After an apparent dispute with the dogs' paperwork, all 11 were placed in ARK, a holding facility within the airport. Mr. Starr even drove from Watertown to New York City and was told the dogs would not be released. Days went by and one of the dogs being held, who was set to be a support dog for a veteran in the U.S., died. Three others ended up getting sick, Mrs. Starr said.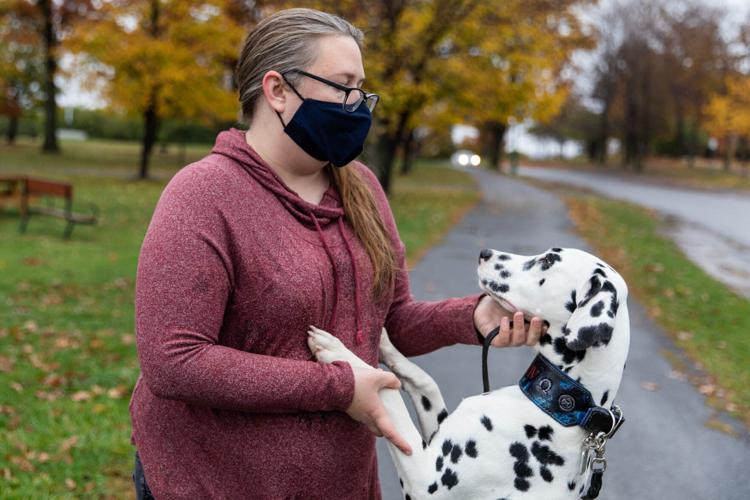 All the owners, including the Starrs, signed on to a federal lawsuit seeking the dogs be released and all legal fees be paid for. The suit was filed in U.S. District Court Eastern District of New York on Sept. 11 by Ildar Gimadiev, a New York City resident. The secretary for the U.S. Department of Health, the director of the CDC, the U.S. Customs Service, among others, were named as defendants in the suit. Mr. Gimadiev, through his suit, was seeking nothing be done to the dogs in custody — including the Starrs' — until the court rules otherwise.
After more than three weeks went by with the dogs still in the facility, the group of owners settled with the U.S. Department of Health and Human Services. The dogs would have to quarantine in the airport for another 28 days before they were to be released following their respective rabies vaccinations.
The nearly month-long quarantine went by and Mr. and Mrs. Starr were heading down to New York City again to get Vaxis. There were some red tape and paperwork setbacks along the way, but they finally were able to bring their dog home, which the couple had found with hopes they could train him to be a world champion competitor.
"I'm not a very emotional person, but as soon as he got in our van, I just sat in the back with him and I just kissed him over and over again," Mrs. Starr said. "I just sat back there for 40 minutes just ugly crying."
On Wednesday afternoon in Thompson Park, Vaxis, an eager puppy, sniffed treats in Mrs. Starr's sweatshirt pocket, happily jumping on his owner while she pet him and fed him treats.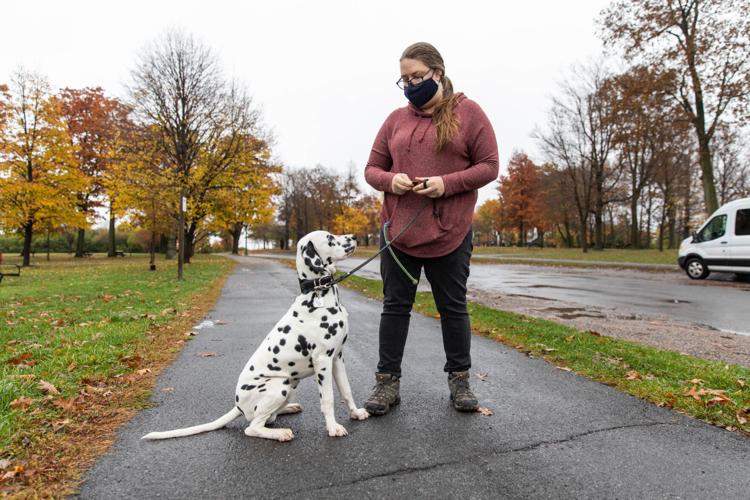 The Starrs spent more than $12,000 on Vaxis, between importing him, the bill from the holding facility and attorney fees. They did start a fundraiser, but she said that was given to the other owners as Mrs. Starr considers Vaxis to be a lucky one. His muscle definition is not where it should be, and he's been hesitant to come out of his crate in the morning, but he's better off than some of the other dogs that were clearly emaciated and ill.
Now, Mrs. Starr is going to begin Vaxis on basic obedience. Once he completes rehab, she will begin seeing what sports he likes best. They of course still plan to train him to be as competitive as possible.
"He is wonderful, but at the same time, this happened to 11 people," she said. "One of these dogs died. Several are emaciated. My version of a happy ending is that it doesn't happen to anybody else. I'm happy that he is here. This is his happy ending, but I want it to not happen to anybody else."