ADAMS — After 17 years as a state trooper, Heidi Lyndaker has come to realize that the system tends to revolve around the charge in an animal cruelty case and not the animal itself, underscoring why she regularly goes out of her way and into somebody else's case to make sure the pet is cared for and safe.
A recent example of the K-9 handler stepping into a cruelty case, doing everything she could to avoid a pet sitting in animal control and becoming evidence, was just a few months ago.
Brandon Staub and his wife Christina had just moved to the area after he was re-stationed at Fort Drum from Virginia. They were staying in a hotel, looking to buy a house, and Mr. Staub had rented out a storage unit to work out in every morning.
It was about 5 a.m. on Sept. 1, when he opened his storage unit and heard what sounded like an animal on the roof. It was too dark to see and the sound had stopped, so he went about his business.
Only a few minutes went by and he heard the sound again, but this time it was clear that it was coming from the next unit over. Realizing it was a dog inside the locked unit, Mr. Staub said three cruisers responded when he called the police.
Officers cut the lock off and found Blue, the German Shepherd who would later be determined to be between 3 and 4 years old. Inside the unit, the lights were off and there was a large bowl of water, which seemed to be superfluous since dogs often times won't eat without water, and there was no food at the time.
Blue appeared extremely gaunt, Mr. Staub said.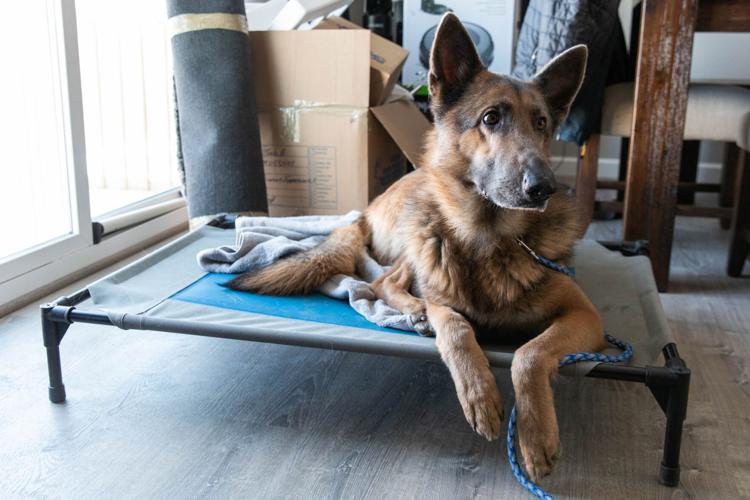 About two weeks after Blue was saved, a press release was issued by state troopers about the incident. That's when Ms. Lyndaker found out about Blue and stepped in.
She has an office in Adams and has been a K-9 handler for five years. Like all troopers, she was asked early in her career what her aspirations on the job were, and K-9 was one of those boxes she checked — not necessarily ever thinking she would ever get it.
A dozen years went by — during which she earned an Outstanding Trooper Award — before she was offered the K-9 handler position.
"Hopefully I'll do what everyone did before me," she said, "and I'll hold the position until I retire."
Now she's the K-9 handler for Ram, the only German Shepherd that specializes in narcotics within state police in the zone she covers, which stretches from the St. Lawrence County line to the Brewerton Bridge in Oswego County.
Over the years she learned that many newer troopers don't necessarily know the right steps to take on behalf of an animal who was abused. It's not that she thinks the troopers are negligent; she's done this for a long time and likes to offer a hand in the process.
So when she saw the press release about Blue in the storage unit, even though it wasn't her case, she decided to call the trooper in charge of the investigation.
"I said, 'We have to finish this,'" she said. "'You've done a great job, but now we have to figure out what to do with the dog.'"
Unlike Child Protective Services, there aren't social workers who come take the dog and find a home for it.
"The court is worried about the defendant," she said. "The patrol has arrested the bad guy. The system revolves around the charge not so much as the animal."
Blue was in animal control and considered evidence in the case.
After the first hearing in the case, Blue would get somewhat tied-up in the system, and it would be on the court to decide what to do with the dog. This can result in abused animals staying in dog control for months, if not years.
But if Ms. Lyndaker could get to the owner before he was arraigned, he could sign off on the dog and Blue could be placed in a home. The timing of it all was important.
Ms. Lyndaker worked with dog control and would end up getting the owner, Mr. Majestic, to sign Blue off, and it highlighted the complicated nature of this case.
Ms. Lyndaker believes Mr. Majestic cared for Blue. She said he was going through some personal issues and had to move back on post, where Blue couldn't live, resulting in Blue being locked inside the unit.
"I think he cared about Blue and he didn't necessarily want to get rid of him, but he didn't have the ability to take care of him like he needed to," she said, "and that's what I said to him, that if he loves Blue, he'll give him the opportunity to have what he can't give him."
It might not have been the right decision to place Blue in a storage unit, but the context of it is important since the public has a tendency — at arguably no fault of its own — to become more charged after an animal is abused or neglected.
"People are trying to be a voice for a dog that doesn't have one," she said. "I think people are more vested in their animals now than they have been in the past. I think people are more apt to call in to say, 'Hey, my neighbor ties their dog out 24 hours a day,' whereas years ago, people might do that and nobody would call the police."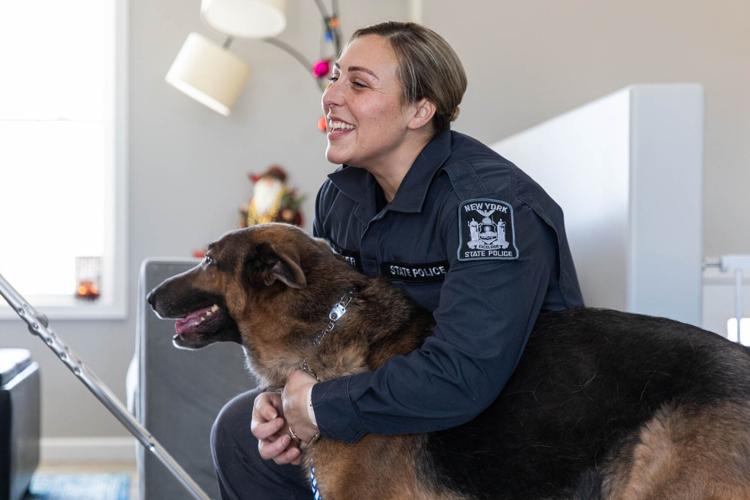 Ms. Lyndaker began the paperwork and facilitating, like she's done in the past and would do in the future, with an animal shelter to help find Blue a foster home, then a forever home.
Meanwhile, all along, Mr. Staub, who found Blue that morning, continued to be in contact with animal control, telling them he and his wife would add Blue to their family. They just moved to the area and were looking at houses with large yards to hopefully add a German Shepherd to their family of two additional smaller dogs — two Dachshunds.
"The bottom line is we wanted to make sure he got the best care that he could get," Mr. Staub said. "We felt the hotel was not that place at the time. We wanted to give him the best home, and we knew he probably didn't get the training he deserved."
Recently, the Staubs closed on their new house in Evans Mills and introduced Blue to his forever home two days later.
"His name was Blue, but we wanted to give him a different life," he said, "so, we changed his name to Jack."
Jack has been at his new home for a few weeks now and is acclimating well, Mr. Staub said, with his health strong after the training and multiple vet appointments.
"Everything came together well," the K-9 handler said. "There was a lot of luck involved. It was hard for me because I want to make sure Blue got somewhere fantastic. He's such a great dog. There are always examples of dogs falling through the cracks, and I didn't want that to happen to Blue."