WATERTOWN — A rectangular lead box sat gleaming on a table inside WWNY's downtown studio Tuesday evening, surrounded by camera crews and community members. Everyone was asking the same question: "What's inside?"
50 years ago in August, John B. Johnson, editor and publisher of the Watertown Daily Times at the time and president of the Brockway Co., Harold B. Johnson, son of Mr. and Mrs. Johnson, and James W. Higgins, general manager of the Brockway Co., laid a cornerstone into WWNY's downtown location on Paddock Street. 
Inside the cornerstone, they placed a time capsule. The same time capsule that sat on the table inside the television studio Tuesday evening.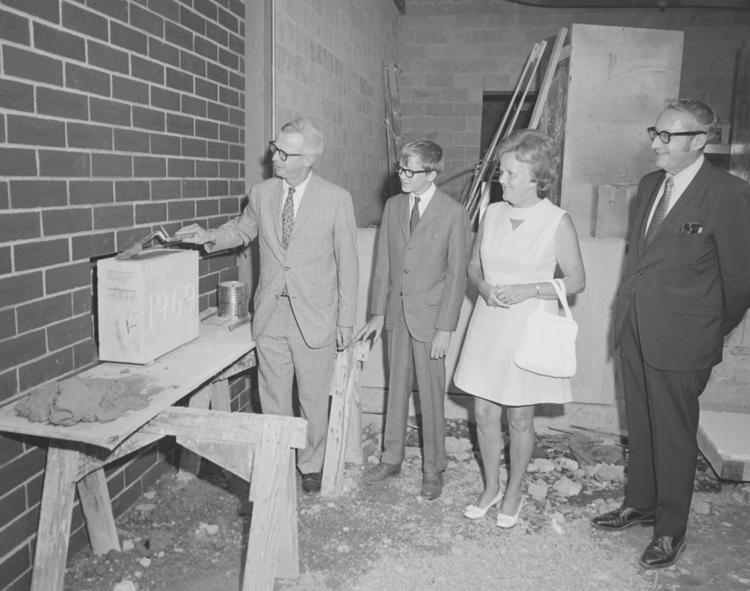 Tuesday also marked the station's 65th anniversary of airing its first show in 1954. To commemorate the milestone, 7 News This Evening anchor Jeff Cole opened the 50-year-old time capsule alongside retired WWNY journalists and friends of the station.
There to open the time capsule was WWNY's chief weathercaster John Kubis, WWNY's sports director Mel Busler, Glenn Gough, retired WWNY sports anchor, Joesph Rich, retired WWNY anchor and reporter, and the Watertown Daily Times' own Harold Johnson, president of Johnson Newspapers and co-publisher of the Watertown Daily Times. Mr. Johnson was just 15 years old when he stood alongside his parents 50 years ago to lay the cornerstone with the time capsule inside.
Here's what was found inside the time capsule:
- Dozens of black and white photographs of downtown Watertown. Some of the shots included were of the Paddock Arcade and Public Square, back when the Woodruff Hotel was still standing
- A program log, which is a list of station programs from 1969 — the year the time capsule went into the cornerstone
- A program from Watertown's Centennial celebration
- A canister of film and audio tape recording — neither have been seen or heard yet, but the station is working to transfer the contents to digital formats
- A copy of the Times from August 19, 1969 — the day the time capsule was placed into the wall