LAKE PLACID — St. Agnes School students this week made what's believed to be the largest single food pantry donation the Lake Placid Ecumenical Food Pantry has ever received.
As the oldest kids at the Catholic school, St. Agnes third graders lead a service project every month for the school. This month, third graders opted to collect items for the Ecumenical food pantry. But this wasn't an average food pantry collection effort — third graders decided to pit preschool students against kindergarten through third graders in a Superbowl-themed contest to see who could collect the most items for the food pantry. They set up two shopping carts at the school for the two competitors to fill with donations. When third graders counted up the items after the Superbowl, St. Agnes Principal Catherine Bemis said preschoolers won by a "landslide" — they collected more than 700 items out of a total of more than 1,000 food items collected.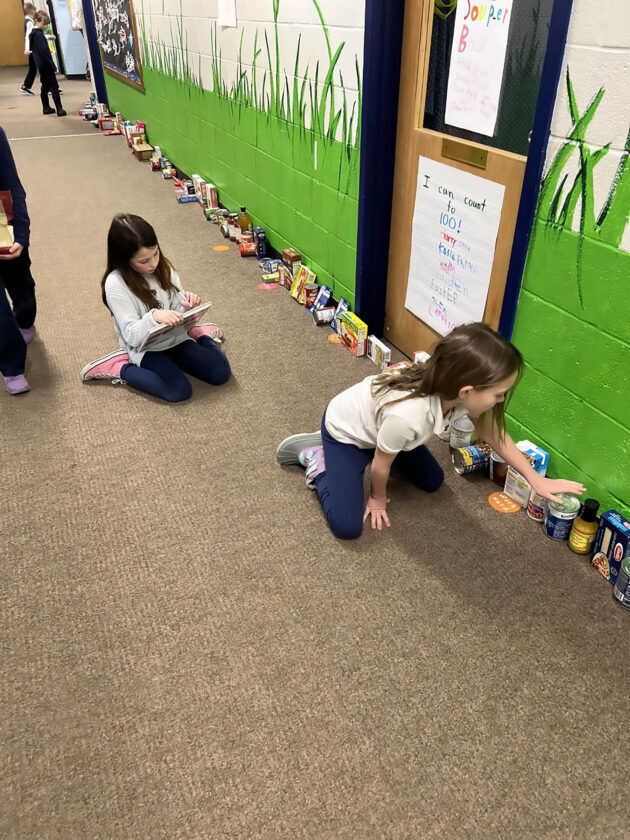 "They really cleaned up," Bemis said of the preschoolers. "I think they all raided their parents' pantry."
Third graders got invested in the "SOUPerbowl," Bemis said — students visited classes door-to-door and created posters and video advertisements to drum up excitement for the drive and encourage donations and "friendly competition" between classmates.
After school shutdowns at the start of the coronavirus pandemic, Bemis said, "it's nice to see our kids getting out there and getting to do projects and connecting with the community in a meaningful way again."
Linda Young, the director of the Ecumenical Food Pantry, said kids dropped off their food items in what was the largest single donation she's ever seen at the pantry on Wednesday. She talked to kids about what the food pantry does, and students got to put their donations on the food pantry's shelves.
"They did a great job, and they asked very good questions," she said of the students.
The kids were eager to help, and Young said it was good for them to learn why they were donating the food — the Ecumenical food pantry in turn donates the food to people in and around the Lake Placid community.