OGDENSBURG — Students at Madill and Kennedy elementary schools received a visit from the leader of the Autobots — Optimus Prime himself.
While the Transformer couldn't talk or transform into a 30-foot robot, the truck's owner, Joe Fiduccia, delivered an anti-bullying presentation with a message of telling students to "rise up against bullies."
Escorted by Ogdensburg police and two Ogdensburg fire trucks on Friday, Optimus Prime made his appearance first at Madill.
"It's my dream come true," one young student said as the replica of Optimus Prime pulled up.
Madill principal Amy DiSalvo said she enjoyed the reaction students had when Optimus Prime came into view.
"One student said she was so excited to see Optimus that her heart was pounding," Ms. DiSalvo said. "I loved watching our students' faces as Optimus Prime pulled up."
Mr. Fiduccia, who said that he was a lifetime victim of bullying, shared some of his experiences and provided students with tips on how to address various situations.
He asked the Madill students to raise their hand if anyone had been bullied.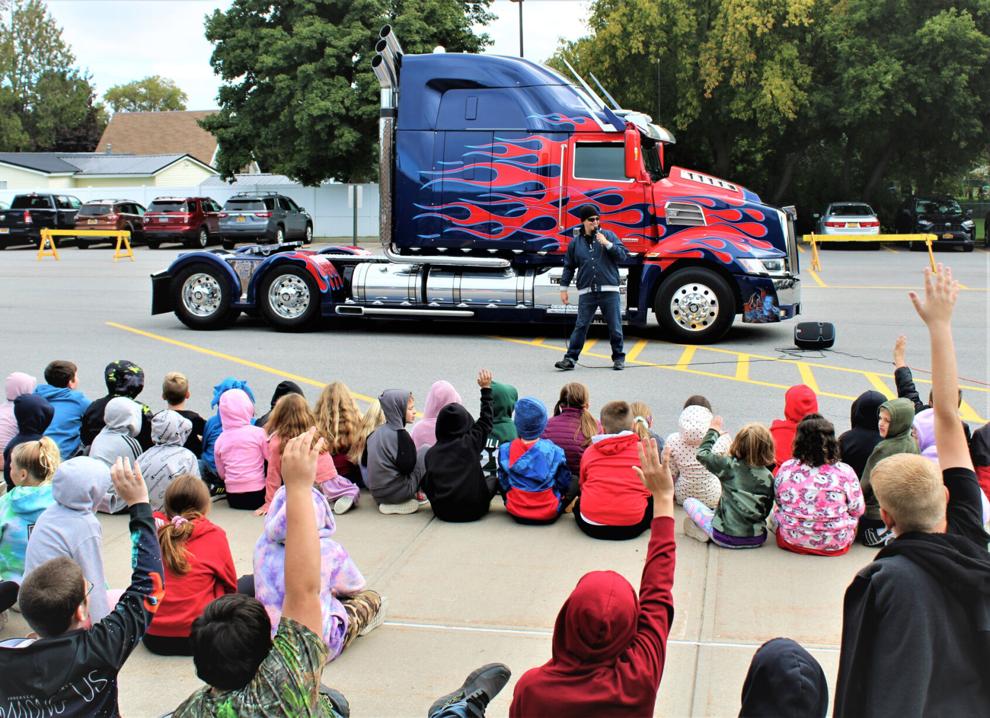 About half of the kindergarten to sixth grade students raised their hands.
"Mr. Joe's message about rising up to bullies was well received by both students and staff," Ms. DiSalvo said.
His anti-bullying presentations have been made to more than 150 schools across the country.
"Our journey with Optimus has personally touched countless families who have faced hardships in life, those who needed some encouragement, and those who just love anything related to the Transformers franchise. An our mission with this replica truck is simple — just as Optimus was built to inspire our son, we hope our story of perseverance along with our school campaign to rise up against bullies will continue to inspire countless others to pursue their own dreams," Mr. Fiduccia says on his website, www.optimusishere.com.