After helping accident victims and seriously ill patients for several years while working as an emergency medical technician and firefighter in St. Lawrence County, Matthew Maynard decided to pursue a medical degree.
"The north country has always been my home," Dr. Maynard said. "I have always said that I wanted to be a doctor and come back here to practice medicine."
He attended the New York College of Osteopathic Medicine in Old Westbury, and graduated with a doctorate in Osteopathic Medicine in 2011. Between 2011 and 2014, Dr. Maynard received his training in the Family Practice Residency program at Samaritan Medical Center, and graduated as Chief Resident.
Dr. Maynard, 31, joined North Country Emergency Medicine Consultants, PC, the group of emergency physicians who staff Samaritan Medical Center, as a full -time physician in July 2014.
He also serves as medical director for Jefferson County Emergency Medical Services, providing oversight for emergency medical care of patients within the county.
"Not only does it fulfill my dreams, but the opportunities afforded here in the north country are extremely rare," Dr. Maynard said. "I would be hard pressed to find anyplace else where I could practice medicine and affect the community in such a way."
Dr. Maynard graduated from St. Lawrence University in 2007. During his years at college, he became involved with the volunteer rescue agencies in both Canton and Russell after completing his EMT training at SUNY Canton. He worked with the agencies from 2005 to 2011.
He also completed his National Firefighter 1 certification in 2007 at Onondaga Community College, Syracuse, and worked as an interior firefighter pump operator for the two volunteer fire departments from 2007 to 2011.
"These experiences gave him unique insight to the profession of emergency medicine, as he was the professional who would assess and treat the community patient on scene and render care en route to the local hospitals," Dr. Maja Lundborg-Gray wrote in his nomination form.
Dr. Lundborg-Gray is a practicing emergency medicine physician and the medical director of the Samaritan Emergency Department.
"Dr. Matthew Maynard is truly an incredible physician," she wrote. "He is kind, empathetic, collegial, intelligent, a problem solver, and very humble."
His patients "find him endearing and one who listens to their concerns. Our medical staff and nursing staff value Dr. Maynard for his emergency medicine and pre-hospital EMS skill set," she added.
Dr. Maynard said it was not one, but four north country physicians who served as his mentors while he was building his medical career.
Those mentors included Dr. Lundborg-Gray, along with Watertown physicians Dr. Sarah Delaney, Dr. Benjamin Rudd and Dr. David Rechlin, he said.
"Without their mentoring and constant perseverance, I would not be the physician I am today," Dr. Maynard said.
He also credited his father, Wheeler Maynard, for giving him "the best advice" possible as he was pursing a medical degree.
"As I have grown academically and professionally, so many other decisions in life feel like they need to be made in split second time," he said. "During these times, my father has always been a beacon of sanity in an ever chaotic life."
Dr. Maynard reflected on the challenges and rewards of working as an emergency physician.
"Sometimes I get to give someone an answer to a problem that they have been seeking to resolve for months, or put someone's mind at ease that their loved one will be OK," he said.
Other times, "I have to deliver life changing news that most would truly classify as "the worst news of their life," he said. "It's doing what I can to try and make a difference, even during these dark times, that gives my time meaning."
He also serves as medical director to the Gouverneur Volunteer Rescue Squad and Thousand Islands Rescue Service, and as a volunteer medical director on the North Country Regional EMS Medical Advisory Committee, and is the regional physician representative on the State Emergency Medical Advisory Council.
"I am very active in the community simply because it needs to be done," Dr. Maynard said. "For me, it is not a matter of being involved, it is my responsibility."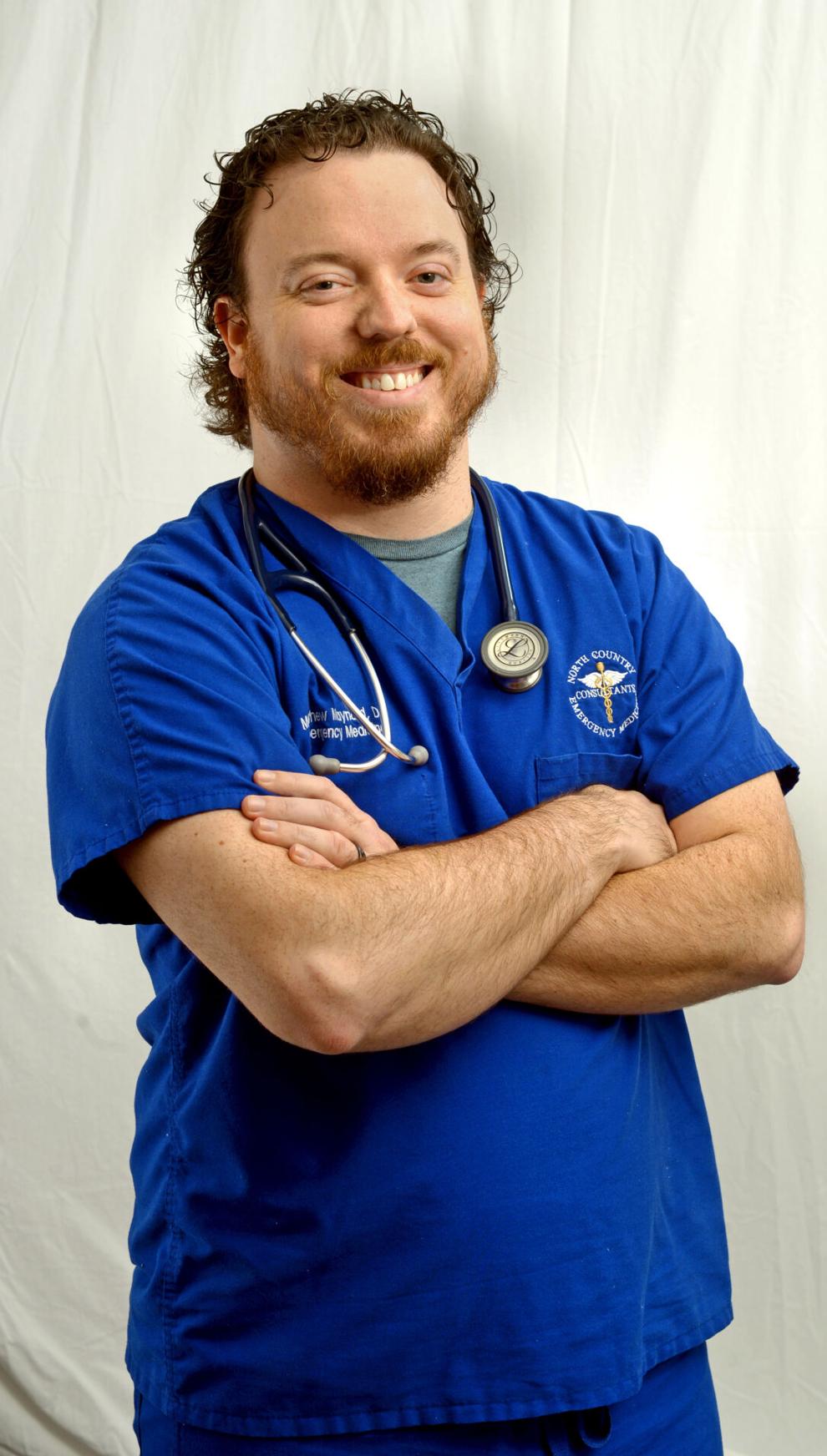 The Dr. Matthew Maynard, D.O. File
Professional position: Emergency room physician
Family: Wife Vanessa; parents, Marsha and Wheeler Maynard, Jr.
Education: Doctorate of osteopathy, New York College of Osteopathic Medicine; bachelor's degree, St. Lawrence University
Community involvement: Medical director, Jefferson County Emergency Medical Services; member, Regional Emergency Medical Advisory Committee and Jefferson County Fire Advisory Board; Agency medical director, Gouverneur Rescue, Thousand Islands Emergency Rescue Squad, Sackets Harbor Fire and Rescue, Black River Fire, Black River Police Department and Depauville Fire.
Last book read: "A Memory of Light" by Robert Jordan