Kyle Hayes has a serious appetite when it comes to community and service with a smile as the co-owner and managing partner of Gram's Diner in Adams.
Mr. Hayes graduated from South Jefferson High School in 2005. He then attended St. John Fisher College in Rochester where he studied communications and marketing. Upon graduation with a bachelor's degree, he decided to make the move to New York City to pursue his dreams of working for a major magazine.
"I forever wanted to be executive editor of a major magazine," Mr. Hayes said. "I spent time after college living in New York City and working at a major magazine publisher," he added.
Mr. Hayes quickly learned that life in the big city wasn't the life he had hoped for as the sense of community was not the same as it is in South Jeff. "It took me some time, but I realized that the hustle and bustle of city life wasn't all it was cracked up to be. I came back to the north country, and decided to stay here," he said.
Mr. Hayes did not leave the big city on a whim; he had applied for positions which were closer to Jefferson County and was eventually offered a news clerk position with the Watertown Daily Times. "I worked for two years at the Watertown Daily Times as a news clerk and part-time reporter before the company decided to venture into magazines," he said.
Roughly three years after he earned a promotion to associate magazine editor for NNY Business and NNY Living magazines, Mr. Hayes made the decision to dive head first into entrepreneurship as a partner and co-owner of Gram's Diner.
Mr. Hayes had been a dishwasher at Gram's while in high school and continued to maintain a relationship with the staff throughout the years. When the diner came up for sale, Mr. Hayes knew that this was a direction he was happy to take in the path of life. "In May of 2013, I left the Watertown Daily Times for good, and became a full-time entrepreneur. Honestly, it's been the hardest job I've ever had. I've learned a lot not only about myself, but about business in general." He added, "I love the restaurant business because it allows me to be creative, work with creative people, handle all facets of the business but also be deeply connected with my customers."
Mr. Hayes is an active participant with many local community groups including the South Jefferson Chamber of Commerce and the Adams Revitalization Committee. "It's a commitment of mine to do my part to make Adams and Southern Jefferson County a place that I want to live in for decades to come."
This young business owner may appear to have a full plate when it comes to his desire to work hard and to stay busy, but he is also a Shaklee representative working about 12 to 15 hours per week to promote a healthy and non-toxic lifestyle with products that have made a positive impact on his life.
Crediting his family and partner with providing support and advice with the business, he said that his parents are, "at the diner three or four times a week, beaming with pride, and they're always the first to tell me if whatever we're doing at the restaurant makes sense or not." He added of his partner Chad, "whenever I want to jump into something head first, without looking back, he brings me back to earth with a critical eye but at the same time encourages me to do things I never thought would be possible."
As far as the future, Mr. Hayes said he knows his limits and he plans to push further. He also plans to take all of the moments and words of wisdom and make them count.
"I've learned that success isn't the number in your bank account or your sales at the end of the month, it's measured in the ways you grow, personally, and the respect you earn from others."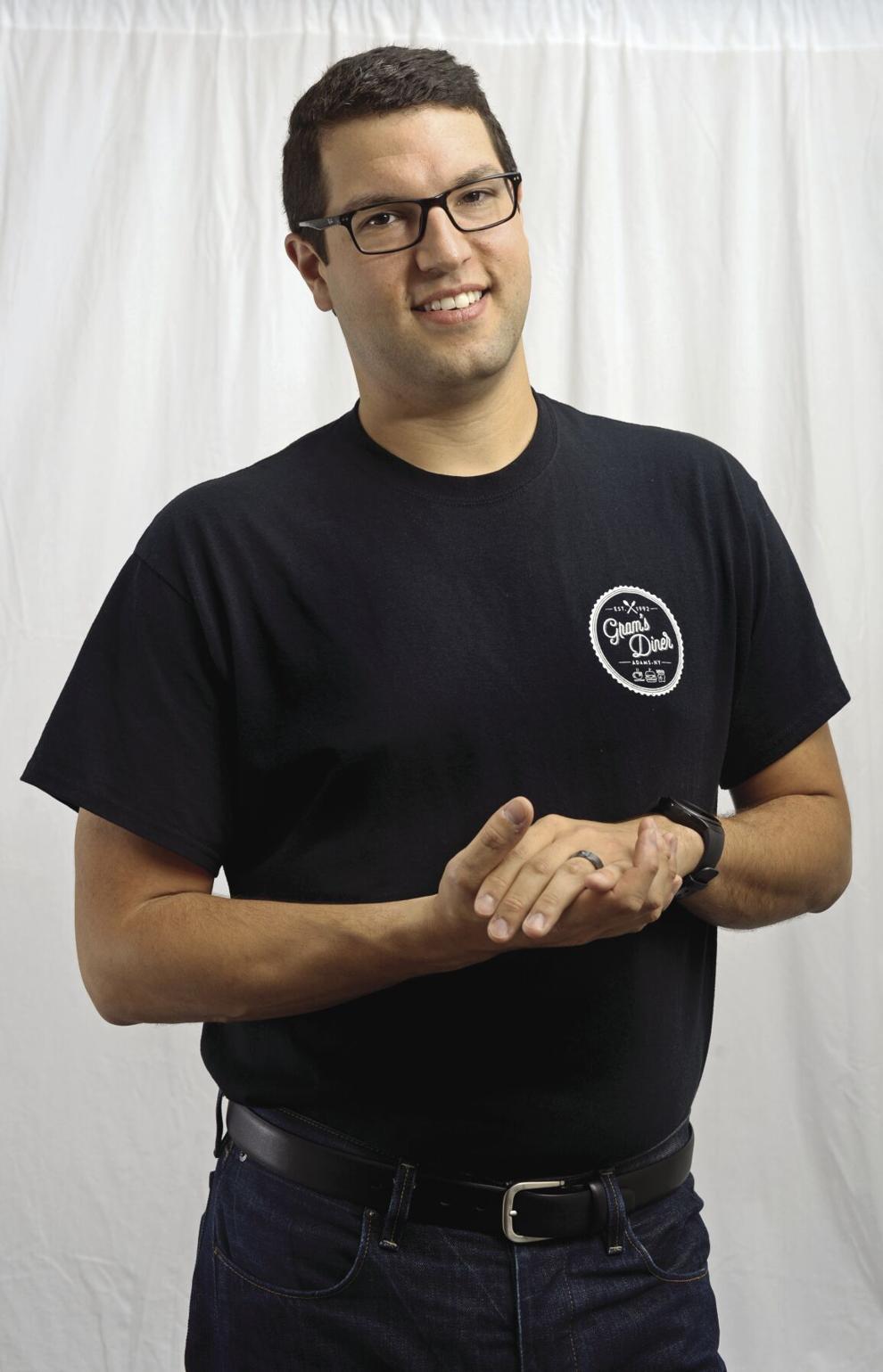 The Kyle Hayes File
Professional position: Co-owner, managing partner, Gram's Diner
Family: Partner, Chad Burdick; parents, Ann and Barrett Hayes; sister, Kara
Education: South Jefferson Central School, 2005; bachelor's in communications and marketing, St. John Fisher College, Rochester, 2009
Community involvement: Board member, South Jefferson Chamber of Commerce; volunteer, Adams Revitalization Committee; community representative, South Jeff Rescue Squad Advisory Board.
Last book read: "Leaders Eat Last" by Simon Sinek