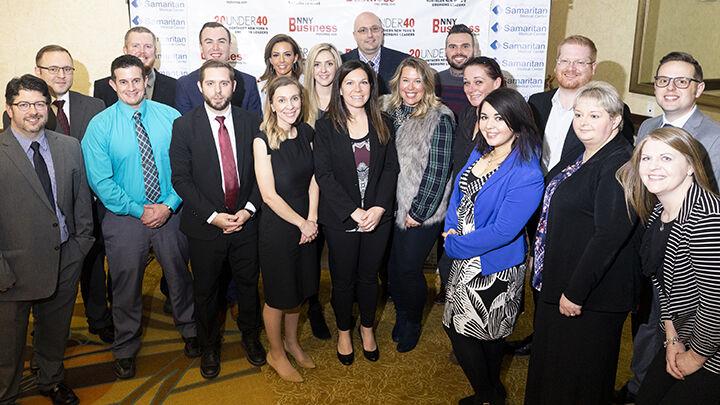 "If your actions inspire others to dream more, learn more, do more and become more, you are a leader." -John Quincy Adams 
On the following pages, you will be introduced to 20 astonishing young people between the ages of 27 to 39 who are recognized by their peers, employers, family members and communities as individuals who strive each day to obtain success professionally and personally, while giving back to those in need.  
    Some of the names or faces may already be familiar, but most will not. Most do what they do not out of an expectation of recognition, but out a true sense of duty to their positions and selflessness for others.  Their goal was not to become a leader; leadership followed them in a wake of hard work, conscience and compassion.  
        Among the ninth class of 20 Under 40 recipients, you will find a senior planner, business owners and partners, a chief engineer and a director of advancement. The talents include a project manager, community relations specialist, a manager, a director of sales and marketing, an educator, a general manager, a chief professional officer, assistant news director/producer and anchor, a mental health services coordinator, associate director, general manager/trainer and coach, an executive director, senior account representative and a supervising pharmacist.   
        As impressive as their professional credentials are, you will also find 20 volunteers and selfless residents of the north country. They are each involved in their community in some capacity away from work, serving on nonprofit boards, coaching youth league sports, raising money for charities or assisting at church and school functions. They do this for the benefit of others, not for personal commendation.  
        They are leaders because of how they conduct themselves when there is no expectation that anyone will notice. They are leaders because others see what they are accomplishing and willingly follow. They are examples the type of people who can make the north country a better place to live, both now and for future generations.  
        NNY Business is proud to recognize these dedicated young, rising professionals. 
---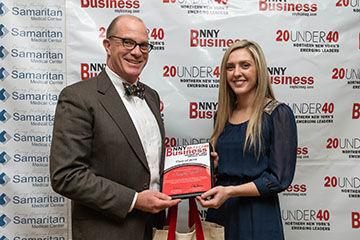 It all started with a love of puzzles for Senior Planner Casandra Buell, 30. 
    As a child, board games held very little interest for her, but puzzles, where she could see the result of her work at the end, were a different story. 
    As an adult, in her position as a senior planner for Lewis County, the pieces have gotten bigger, more involved and, importantly, more human, but it's still all about how she fits them together. 
    "It's like a big old puzzle, all the grants, the municipalities, who can I pull from here to connect with that agency: it's an endless possibility of pulling programs together and networking them," Mrs. Buell said. 
    Although her career started in private industry, working her way "up from the bottom" over a period of six years first with Climax Manufacturing, Lowville, followed by Carthage Specialty Paper Board, 2017 was the year in which she took a leap into civil service and municipal government. 
    She said that while she loved her private sector jobs and was very comfortable, she knew she wanted to do more and made the switch, even though it was scary. 
    "You've got to make yourself uncomfortable to get really good outcomes and get to where you want to go," Mrs. Buell believes. 
    About six months after she began working with the county, she learned of a town board trustee position becoming available. She went for it and won. 
    The two positions have allowed her to get involved in both her immediate community and the wider Lewis County community from the inside out. 
    "I don't know if people realize how many lives we touch in the planning department, like public transportation and every municipality," Mrs. Buell said, "I would like to see the county be more pro-active so I'm hoping I can be part of that." 
    Mrs. Buell's first life puzzle was figuring out how the theory of what she wanted her life to be fit with her experiences as she started having them. 
    After high school, Mrs. Buell had wanted to get out of the north country and live in a city. 
    While she preferred to go to North Carolina, she ultimately chose SUNY Binghamton to get started. 
    "After a semester I decided I'm probably just cut out to stay in Lewis County, but you don't know that until you go away," Mrs. Buell said, "So I transferred to Morrisville. It was like Lewis County in a college." 
    Family and community are very important pieces to Mrs. Buell's personal puzzle, so the return to Lewis County after finishing her master's degree at Clarkson University made complete sense. 
    "Regrets? None. I love being around family, the people are nice here and there's plenty to do. It's very family friendly and small business friendly, too." 
    Mrs. Buell and her husband, Brian, decided to continue his family's maple legacy and take advantage of the small business environment by starting their own sugar shack. 
    "I said we're not going to do this unless we're making money because it's expensive to be a maple producer," Mrs. Buell remembered, but now, she loves it, "It's a hobby with benefits." 
    It also gives them another opportunity to teach their daughters a strong work ethic and the confidence to do anything they set out to do, regardless of social convention. 
"Being a woman… there's that stipulation that you can never hold this place or that. So with having three girls it's our job to teach them, 'You don't need to be subservient to a man. You can do whatever a man can do,'" Mrs. Buell said. 
She also draws on her puzzle skills as a working mother and active community member to fit in a few pieces just for fun including bow hunting, running and being a self-proclaimed "history geek." 
    Ultimately, for Mrs. Buell, the dream would be to do anything the community needs, not to work for money. 
    With shining eyes, a broad smile and a fervent belief that anything is possible, Mrs. Buell can't help launching one idea after another about how to make life even better in Lewis County, trying each piece for size, seeing if it will fit. 
---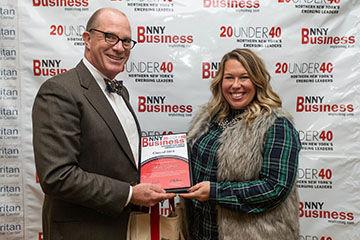 It's so common for an individual to claim, "I'm a people person," in a job interview that it's been comedy fodder for decades, but some people really are. 
    Jessica Caprara, 32, doesn't say she's a people person, she just is. 
    What does she love about Watertown? The people. 
    About her work? The people she meets and those she tries to reach with her advertising campaigns. 
    What has she always done well that helped her get where she is now? Her ability to connect with people, even strangers, "mingling," and networking. Whatever. It's the people. 
    Some of her favorite people are her family and working at the family car dealership business growing up and again right out of college, she realized her passion for marketing and advertising. 
    "At the dealership, I managed social media. I've always loved being creative and getting the word out there. And now, I also really love trying to help small businesses be successful," Ms. Caprara said. 
    After graduating from Nazareth College in Rochester in 2009, earning her bachelor's degree in business management and marketing, Ms. Caprara said there was no question about whether or not to return to the north country. 
    "There's nowhere else I'd rather be. I never, ever thought I wouldn't come back," Ms. Caprara said, "I love the simplicity, the recreation, the people. I love walking into Pete's and everybody giving me a hug. It's like a big extended family here." 
    Despite her urge to break away from the family fold, with the economy in a poor state when she graduated it became a choice between selling Kirby Vacuum cleaners or joining the family business. 
    There was no question about that choice, either. 
    She joined the family business in 2010, and in 2012, she became the business manager at their Outer Washington Street F.X. Caprara Dodge-Chrysler-Jeep-RAM dealership. 
    Finally, in 2017, she decided she was ready to be the first in her generation of Caprara's to branch out on her own and work in the field that gives her the most joy: advertising. 
    "I love being creative and getting the message out there in a different way," she said, "I created my dream job. What do they say? 'Create a job you don't need a vacation from,' and I 100% did that." 
    She became a full partner with John Murphy of Murphy Advertising Agency, launching a new era in the company and a new name, J. Murphy & Associates Advertising. 
    Despite growing up and working in a big family business, venturing out on her own has changed her perspective on what it took for her grandfather, father and uncle to do what they did. 
    "I look at successful businesses like my family's and I thought it would be easier. I didn't understand the daily struggles. I know I will get through things but I don't always know how. It's all about perseverance," Ms. Caprara said. 
    Because of the support her father gave her in making her start, Ms. Caprara is determined to be successful, but if something doesn't go well, she is equally determined to find a way to fix it herself. 
    "I don't want to fail and let my Dad or myself down," Ms. Caprara said, "He taught us to work hard and stand on our own two feet." 
    Capitalizing on the traditional advertising base Mr. Murphy built, Ms. Caprara said she is harnessing technology, like the use of drones and a 3-D camera, to bring their business to the next level. 
    "I want to make sure we stay ahead of the curve, everything we have is 4K and top-of-the-line, and just try to do things differently so that we stand out from your typical production," she said. 
    Ms. Caprara said that her company, which employs five people, is slowly diversifying its portfolio and building its reputation. 
    "I've been planting the seeds for two years and they're finally starting to blossom now." 
    The biggest dream within Ms. Caprara's dream job would be to market Watertown and share her vision of the city and all that it offers, including the people, with the rest of the world. 
    But first, she's happy to win over the people of the north country for the companies she advertises. 
---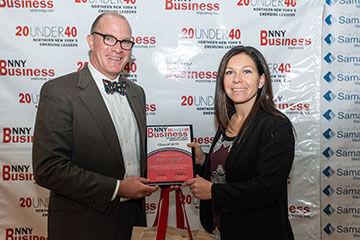 Growing up on a dairy farm, work ethic and family closeness was ingrained in Jessica Carpenter at a young age and has led her to success both at work and in life.   
     Throughout high school, Carpenter balanced academics, sports, working on the family farm and becoming integrated into the family business at Keystone Lumber and Building Supply in Glenfield.   
    "I did morning and evening milking's, field work and helped with my siblings. In addition, I had many different jobs including office assistant, housekeeper, trainer, waitress and was a health promotion intern," said Carpenter.   
    These skills at a young age played an important role for Carpenter as she grew up, and, inspired her to own her own business one day. She obtained her bachelor's degree in health promotion and wellness and had planned on owning her own health and fitness center.   
    But at age 24 an opportunity arose for her to join the family business and she became partners with her father.   
    "I like having a partner. We both have our strengths which adds value to our customers," she said.   
    She continued that her work is about relationship building; her passion for customer services and assisting customers with their building projects, both educating them on their options and being attentive to the small details.   
    When asked if entering into the family business of lumber and hardware as a woman in a typically male dominated field, Carpenter said it had been about earning the respect of their loyal customers through educating herself as much as possible. This included attending trade shows, trainings and seminars.  
    "I worked hard to educate myself on the product and processes, customer service and satisfaction is very important to me," she said. "I wasn't (and still am not) afraid to do anything – load and unload trucks, fill propane, deliver materials. I think that is important to both customers and our employees; for them to know you are willing and capable of doing what is expected to get the job done."  
    And, these character traits have expanded into her Lewis County community and family, two things Carpenter holds close to her heart.   
    "I am very passionate about supporting other local businesses, it is so important. It contributes to a strong local economy and creates a sense of community. Local businesses are owned and operated by our neighbors," she said. "I grew up here. I love the area and all it has to offer. I want to give back to the community that helped shape me and my family is here."  
     But as you speak to Carpenter you learn early on that her job isn't the only aspect that she gives 100 percent to each day.   
    "My family is my first priority," said Carpenter. "All of my siblings are business owners or in leadership roles now. We often bounce ideas off one another and ask for feedback. There is a lot of opportunities to be involved and make a difference when you collaborate to get things accomplished."  
       At home, Carpenter says that her husband's support and encouragement has played an important role in her life and in business. Raising their three sons, Connor, Cameron and Keegan, she was still able to find time to volunteer, become immersed in her community and to attend the Lewis County Leadership Academy.   
    "The Leadership Academy provided many opportunities for personal growth," she said. "It encouraged community involvement and presented opportunities for community service."  
    She continued that the monthly lunch meetings with Ryan Piche were very helpful, allowing for conversations about similar challenges and tasks within the group and community.   
    "The group also provided perspective among other local business owners and leaders. It was wonderful to learn about the history of Lewis County and to visit local businesses," she said.   
    Carpenter seems to have it all as she works hard both in life and at work. And she credits this to one of her mentors, her mother.   
    "Growing up my mom always invested a lot of time in community organizations and school programs. I have always admired her creativity and her willingness to help all while raising a family and working," she said. 
---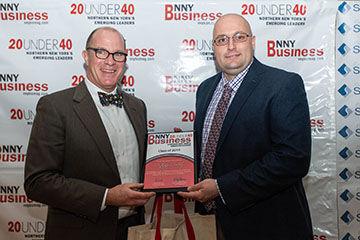 Anthony Curley says it's tough to sit on the sidelines and watch others volunteering, so he does his part in the community whenever he can. 
    "I try to serve as much as I can. It's always been my nature to want to help, When I was a kid, my grandmother definitely always encouraged me to be that helper-type person," he said. 
    So, when he's not working at his job as chief engineer at the St. Lawrence Seaway Development Corporation, you might find Mr. Curley coaching a Little League baseball team, helping out with minor hockey or serving in his church. 
    "It's hard for me to sit and watch. I couldn't be a parent watching from the bleachers," he said. 
    Although he doesn't "skate worth a darn," his children play hockey and he does what he can to assist with that sport. 
    "In that regard, I'm not very north country," he joked. 
    You might also find Mr. Curley actively involved at Sacred Heart Church, where he has assisted with faith formation – preparing children for their first communion and confirmation. 
    He also has a military background, serving as a captain in the New York Air National Guard while he was still completing his degree in civil engineering at the State University of New York at Buffalo. 
    "That was quite an experience," Mr. Curley said. "Unfortunately, the one thing about the guard and reserves is it's kind of like a three-legged stool – your civilian career, your military career and family life. If you're active duty, your professional career is your military career." 
    Despite his schedule, he also serves on the Massena Planning Commission, which is responsible for reviewing future development plans, reviewing building permit applications in the village residential and business districts, and making zoning recommendations to the Massena Village Board. 
    Mr. Curley said past colleagues have served as his mentor for his current role at the St. Lawrence Seaway Development Corporation. 
    "I had a couple early in my career. In my first job I had my boss and another colleague, Mark Glynn and Jesse Grossman," he said. 
    Later, when he was working at the Development Authority of the North Country, Carrie Tuttle, the organization's director of engineering also served as an inspiration. 
    "Between those three people, they set the foundation for my young professional career," Mr. Curley said. 
    The three also offered the best advice for career advancement. 
    "They set the tone. They were role models on how to put your best foot forward, be a professional and lead by example," he said. 
    Over the years, Mr. Curley said he learned to persevere at his job. 
    "For a while it was hard to find a good job here in the north country," he said, but through perseverance, the employment opportunities opened up. 
    The same theory applies to his job. 
    "If work gets difficult, whatever job it is, keep plugging away and don't give up. I learned I can get through all of that," he said. 
    When it comes to receiving advice, Mr. Curley said he can count on his father-in-law. 
    "Definitely, Whatever your issue is, he's not afraid to give it," he said. 
    He learned that it was his father-in-law who nominated him for 20 Under 40 recognition. Mr. Curley said he received a notice about the honor and, when he told his wife, she said they needed to tell her father. 
    "He said, 'I already know,'" he said. "I'm definitely honored to have this." 
    His wife also provides solid advice regarding matters both at home and work. 
    "She's definitely the glue that keeps the family together," Mr. Curley said. 
    He said the challenges associated with any job he's had keep him excited about going to work and "rising to meet challenges." 
    "I'm very fortunate to have great colleagues and been on some great teams. That's still true today. It's a great career field," he said. 
    Mr. Curley, a native of Brewster, said he's also fortunate to be working in the north country. 
    "I love the north country. It's a great place to work and live and raise a family, 
---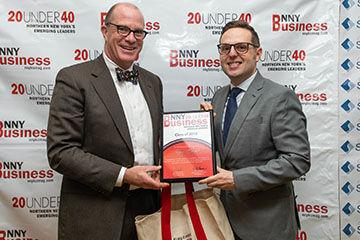 Kraig Everard's career growth, professional duties, volunteer work and even leisure have all depended on the relationships he has created and fostered. 
    Working as director of advancement for WPBS-TV requires Mr. Everard to work with staffers and philanthropists to raise one-third of stations funds through fundraising, auctions and sponsorships. Mr. Everard also oversees the education team, which through a partnership with BOCES, launched the station's GPS for Success. The multi-platform resource offers insight on various career opportunities in the region, a project Mr. Everard said he was proud to help craft and grow. 
    Collaboration with strong-willed, goal-oriented and like-minded individuals also fueled Mr. Everard's volunteer work with groups like Watertown First, Sunrise Rotary and #Give NNY. After Watertown First received the task of organizing the Downtown Block Party series each summer on Public Square, Mr. Everard said he and his team find ways to bolster it ever year, a daunting yet thrilling task. 
    "I think it's kind of fun," he said. "I need to be fulfilled and need to build relationships in my community. I love solving problems." 
    The small-town atmosphere of Watertown supported partnerships that help Mr. Everard perform his duties at WPBS and the volunteer groups he serves. When faced with an obstacle, Mr. Everard said he can he can text the representative of another organization for assistance. 
    The ability to climb the proverbial ladder in his career through crafting relationships derived from his choice to stay in Jefferson County, Mr. Everard said. He decided to stay because he had his son, Koel, at a young age, but the decision and his work building relationships allowed him to grow at WPBS. 
    As he remained in the north country, other friends moved away to areas such as New York City to pursue their career goals. Yet when they returned to their hometown 10 years later, Mr. Everard said they worked data-entry positions, while he led fundraising campaigns and fostered partnerships. Mr. Everard said he spent his first year with WPBS learning about his co-worker's roles alongside his own to understand how his organization operated as a whole. 
    One success he remembers fondly was convincing someone to donate a Toyota Yarus for the station's 45th annual televised auction that garnered $12,000 in 2010. 
    "There's something to be said about being a big fish in a small sea," he said. 
    The woman he considers his mentor, former general manager Lynn Brown, taught him a crucial aspect how to handle relationships with colleagues and subordinates. At a time when he focused primarily toward executing tasks and goals, Mr. Everard said Mrs. Brown taught him empathy and patience for his co-workers and subordinates. Providing support and building trust with colleagues is emblematic of leadership, he said, and lays out a pathway to success. 
    "She had the greatest impact on me professionally and personally," he said, adding the she told him "'Kraig, you need to love people for their strengths and forgive people for their weaknesses.'" 
    While relationships can help buoy young professionals along their career paths, Mr. Everard's positive outlook helps carry him through the day-to-day grind. The alarm clock pushes him out of bed, but Mr. Everard said picking three-to-four things to look forward to each day, whether it's a task or meeting, bolsters his resolve. Mr. Everard also finds strength in committing 100 percent of his energy and dedication to his professional and volunteer projects. 
    "It's a very real struggle getting out of bed in the morning," Mr. Everard said. 
    Knowledge of Mr. Everard's professional and volunteer work spent building relationships leaves little surprise when discovering his hobbies involves them too. While he enjoys kayaking, swimming, hiking and walking along the Black River Trail, Mr. Everard said he loves spending time with his friends. 
    Mr. Everard also treasures the relationship he has with his son, Koel, 11, which provides both joy and emotional motivation. They spend time participating in wacky pastimes fit that excite pre-teenagers, such as "screaming like crazy kids," while riding fair rides, splashing in pools at Enchanted Forest Water Safari and eating a large bin of popcorn at the movies. 
    "The older he gets, the stronger our bond gets," he said. "He keeps me grounded." 
    Aspiring youth eager to climb the professional ladder must not be deterred by fear of the obstacles and, for the most part, the dissuasion of others, Mr. Everard said. If an opportunity lays ahead of them, he said they should snatch it with no hesitation. 
    In order to retain young professionals in the north country, those who seize opportunity without fear, Mr. Everard encouraged his colleagues to promote their home. Rather than urging their children to leave home to pursue their goals, he said leaders of the region must highlight the possibilities at home, possibilities he capitalized on about12 years ago. 
    "There's a lot of awesome stuff that can happen here, but we need young people to stay here and pursue those opportunities," he said. 
---
A self-made man, Joshua Fitzgerald after working for others and hitting a glass ceiling decided to bring his talents and experience home to start his own business. Having only a high school diploma did not prevent him from excelling in business. 
    "I went to college but it wasn't for me," said the computer service business owner. Instead he learned his trade by working for major corporations   — Verizon, Samsung US and Best Buy Mobile. Moving around the country he realized he wanted to return home and fill a need. 
    When he started his business in 2014, he envisioned a mobile repair service fixing smart phones – mostly replacing damaged screens; however, that business morphed into repairing tablets and computers with referrals from his former employers. 
    Mr. Fitzgerald finds his work challenging. 
    "Every day brings something different," said the business owner. "You have to get the story from everyone to help them. There are some good ones — people upset that they lost all of their memories or we found a way to help save a lot of money for a business." 
    He learned from his grandparents the importance of taking time to listen and find solutions to a problems. 
    "They had unconditional love and even though they worked their hands to the bone, they made time for us kids," Mr. Fitzgerald said.  "They acted like they had all the time in the world to teach you something." 
    He also learned from his prior business training important communication skills to get to the heart of the problem. 
    "When people come in, it's always bad news," he explained. "You have to stay calm and bring them down and create realistic expectations. It is very rewarding." 
    He describes his business as a "basic solutions store." 
    His business success and community involvement with local veterans organizations has allowed him to cooperate with other groups to provide services such as the school's Backpack Program and the Homeless Christmas Tree. 
Kevin Fear when he owned a Verizon franchise inspired him to contribute to the community.   
    He relates the story of how Mr. Fear went to Aldi and paid out pocket for pallets of food which he took to a church and helped to hand out the food. 
    "I knew that's what I wanted to do, get my hands in the dirt  — you don't know what the community is about until you see the full spectrum – not just your customers," said Mr. Fitzgerald. 
    He said a myth of the business world is that people in business don't care about the community. 
    "Small business owners help the community," he said. 
    The business owner said he does not have the need to take much advice from others. 
    "It is the nature of our business to be advisers," he said, noting he does not normally seek advice. 
    He does discuss important matters with his wife and with his coworker, Trevor Gilbo, for an outside perspective and said he uses his children as his moral compass. 
    "If it's OK with me and my children will still respect me," he explained about  how he gauges tough decisions. 
    To keep young professionals in the north country, officials should listen to small business owners, according to Mr. Fitzgerald. 
    The businessman takes time out of his schedule to speak before BOCES students in the Moving Forward Program. 
    "They don't realize the risk you have to take to own your own business," said Mr. Fitzgerald. 
    He said getting older has been a blessing. 
    "When you are under 30 you have zero patience, you are less compassionate and selfish," he said. 
    Although not ones he wants to pursue at this time, he sees potential for the area for several business ventures including a taco truck, indoor sports arena,  indoor amusement park – but noted, "If I really want it,  I'd start it." 
---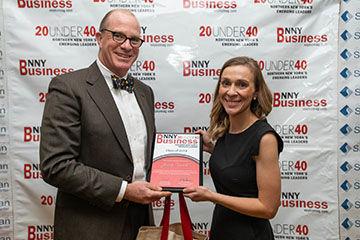 Jessica Frerichs always knew she wanted to join the Air Force. 
    Determined to make this dream a reality, Mrs. Frerichs signed up to enlist at only 16 years old, and started bootcamp 10 days after graduating high school. Enlisting in military intelligence, she moved to San Antonio, Texas and stayed there for most of her career until she was medically discharged in December of 2008. 
    While in the military, she was always seeing how far she could push herself and what she could accomplish. She attributes her drive to her father, who instilled the value of hard work in her from a young age, and who continues to be a role model today. 
    Though she worked for the Air Force for several years after being discharged, she moved back to the north country in 2012, and for the first time in her career, she was unsure what her next step would be. 
    "When I landed, Fort Drum isn't as flexible with what my career was," she said. "It was either move away from family again, or figure out how to integrate myself into what was available up here." 
    When she started off at Car Freshener, she said it 
really opened up opportunities for her here in the north country to be able to work, grow, and stay here. 
    Now a project manager at New York Air Brake, she is continuing to grow and be involved in the community, while at the same time pursuing her MBA. 
    As a woman in the workplace, Mrs. Frerichs finds empowerment in superseding what people think women can accomplish. Though her field is currently very engineer-and male-based, she said it isn't as hard for women to move up anymore. 
    "Air Brake has been really supportive in terms of allowing me to bloom into whatever I think that I want to be," she said. "They've been there every step of the way and if it wasn't for them and a few of the select people there to help me grow, I don't know where I would be." 
    Being successful with Air Brake hasn't been without its challenges, with Mrs. Frerichs driving an hour to work each day and missing certain events because of it. At the same time, she said her manager is very good with her about having a healthy work and home balance, so while she can't make it to everything, she and her family make it work. 
    She said the support system she has here is a big part of why she doesn't see herself leaving, not to mention the fact her husband, Cody, refuses to ever leave the area. 
    "I'm grateful for the company I work for and all the opportunities they provide to me, and I love that I can be involved and make even the smallest difference in Northern New York," she said. "I love that I can raise my family in such an amazing area and be able to grow my career at the same time." 
    In Mrs. Frerichs' opinion, success is a personal journey, and no one can tell another they aren't successful if they are confident and accepting of where they are. 
    "To me, success equals happiness," she said. "I'm happy where I am and I can't wait to see where the future brings me here at New York Air Brake and in Northern New York." 
    The advice she would give to her former self pushing to be as successful as possible in the Air Force and working towards one day becoming an officer would be to try and not rush everything because things don't happen overnight. 
    "Out of high school I was motivated and ready to move my career up and be at the top right away, and I've learned that's not the way things work," she said. "So I'd say to try not to rush your 20s and your career and try to enjoy every moment of the ride." 
---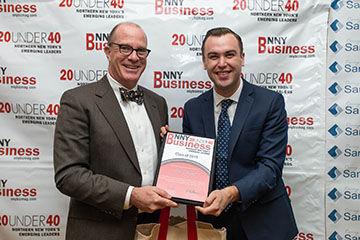 Local television personality Alex M. Hazard knows exactly where he wants to be. 
    Mr. Hazard, 27, the community relations specialist and TV host at WWTI, ABC50, has fallen in love with living and working in the north country. 
    "Where do I want to be?" he said. "For me, that's here." 
    It was about five years ago when the Cazenovia College graduate arrived in Watertown after a short stint living in New York City and working for the Jerry Springer show. 
    He didn't care for the type of programming of the tabloid talk show and made a call to Tim Fox, a producer at WSYR and a broadcasting professor at Cazenovia College, to see if there might be any openings at the Syracuse television station. 
    But its Nexstar Media Group sister station, ABC50, did. 
    He got the job and quickly became immersed in the community. Perhaps no one in the north country meets and talks to as many people as Mr. Hazard. And meeting people is the best part of his job, he said. 
    There's nothing more fun than talking to people in the north country, finding out what they think and how they impact others. 
    Basically, that's his job description. 
    And the seemingly always enthusiastic television personality seems to be everywhere in the north country doing it. 
    In 2018, he was at ABC50 when he got the itch to move on to a larger market. That's what you do in television if you want to further your career. 
    So Mr. Hazard got what he thought was his dream job. He went to Altoona, Pa., a city of 46,000 people in central Pennsylvania, to be the host of a one-hour daily talk show host. 
    He was there about a year. But he missed the north country and its people – what he considers the region's best asset. 
    He called his old boss and mentor, station general manager David J. Males. He got his old job back. 
    "I missed the north country," he said. 
    He's convinced that there's opportunities for other young people that brought him back and will keep here in the future. 
    From the time he was 5 years old, Mr. Hazard knew he wanted to be an entertainer. His grandfather was an elementary school principal. 
    Mr. Hazard's mother worked three jobs and his dad was out of town a lot for work, so his grandfather needed somebody to watch him here after school and turned to a cafeteria lady for help. They watched a lot of daytime television together. Regis and Kathy Lee and the Rosie O'Donnell show were two of his favorites. When he got older, he fell asleep to David Letterman's Top 10 list, he recalled. 
    Little did he know back then that the Late Night Show talk show icon would play a role in his career years later, but it did. 
    Back in 2014, Mr. Hazard spent six months as a page with the CBS talk show before it ended in May of 2015. It was his job to dance in the aisles at the Ed Sullivan Theater during the show and to get the audience to laugh while he cheered on the late-night talk show icon. 
    During that time, he got to see Mr. Letterman perform his monologue and chat with guests five shows a week.     
    He learned a lot from the talk show host, especially "to be yourself," Mr. Hazard said. 
    Mr. Letterman never intended to make the audience laugh; he conducted his interviews with his guests for his own entertainment, he said. And making audiences laugh was just a bi-product of trying to find out something about his guests. 
    It was a lesson that's helped him with his work at ABC50, he said. He's also learned a great deal from his boss at the station. 
    But he goes to his mom for advice, who he calls on his way to work every day. And he talks to his dad on his way home every day. 
    "Your parents are the best support you can have,' he said. 
    Does he consider himself a success? 
    "Success is happiness," he quickly said. "And I think you have to work hard for happiness." 
---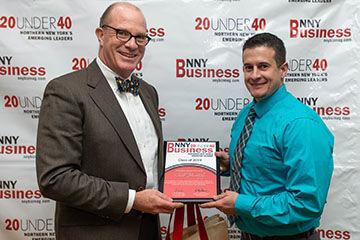 In talking with Chad Hirschey you quickly learn the most important things in his life are his family and his community.  He is committed to his career and his church. He is a simple man of few words who is content with himself and his place in the community. 
    Small town born and raised he has never considered living anywhere else or being anyone else. 
    "Leaving this area was never anything I considered," Mr. Hirchey said.  "I grew up in small-town, have worked most of my life in a small town and have grown to appreciate this area.  I hear all the time from customers how great the Croghan community is.  And, I love being a part of it." 
    He said he would not want to be anyone else, not even for a day. 
    "I am happy being me.  I have a beautiful wife and healthy family that loves me," Mr. Hirschey said. 
    Family is important to him and said if he has sacrificed anything for his success it would be time spent with his family. 
    Coaching his sons' baseball teams provides for some quality family time. 
    Sharing his enjoyment of the game, Mr. Herschey recently read a book by Yankee's star Derek Jeter with his son. 
    "I highly recommend any parent to read this book with their children," he said of "The Contract." 
    In the spirit of sharing sports with his children he wishes there were more opportunities for "sports clinics for youth   that would be free or extremely affordable for all athletes." 
    In addition he has a strong commitment to his career with a sense of responsibility to his career, co-workers and family which keeps him going. He said he often feels that he has reached his limit but draws on inner strength to power through. 
    "If I want it bad enough, I can do more," he said. 
    As general manager at the hardware and sporting goods store, he enjoys interacting with customers. 
    "Buckingham Hardware &  Great Outdoors offers a broad selection of retail services," Mr. Hirschey said. "From the obvious hardware to all sorts of outdoor sporting goods — I interact with customers from both realms and enjoy helping them troubleshoot their situations.  The most exciting aspect of my job though is teaching co-workers and customers about our new products." 
    According to the manager, one of the biggest myths about business is that "is easy and you have so much free time." 
    When he does have free time, he enjoys giving back to his community through the Mennonite Church and River Valley Mennonite School where he is the school board chairman. 
    "I am inspired to be a part of a community that cares about each other," said Mr. Hirschey. "Croghan has always been this way and I want to be a part of keeping it that way." 
    Mr. Hirschey has been influenced by many – his parents, in-laws and his church's pastors but he considers his boss, Todd Buckingham, his most influential mentor. 
    "Todd has set the bar high for me to follow and learn from," said Mr. Hirschey. "He is always willing to listen and give his input with any topic from business, to personal finances, even to coaching baseball." 
    However, Mr. Hirschey turns to God for the best advice. 
    "You can't go wrong listening to his advice," Mr. Hirschey said. 
    He credits Lyle Moser with giving the best advice when he said, "Remember, when you are pointing your finger at someone, you have three fingers pointing back at you!" 
    Following the Golden Rule and Mr. Moser's advice would help north country leaders retain young people according to Mr. Hirschey. 
    "Treat people how you would want to be treated," he said.  "Be encouraging.  Talk with your associates, don't give them reason to believe you think you are more important than they are." 
    Since he does have little free time, he said his employers and co-workers would be surprised to learn that he enjoys working on wood projects and building things. 
---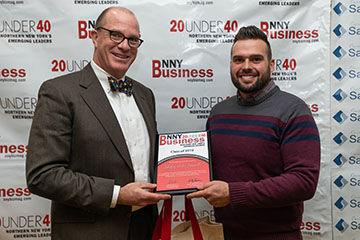 Nothing beats a good experience for Shawn McCormick. They dominate his day-to-day life, whether it's providing comfortable stays to guests at the Hilton Garden Inn, creating long-lasting memories while volunteering, traveling to new places, or trying out new cooking recipes. 
    Jefferson County is ripe with fun experiences to enjoy, said Mr. McCormick, director of sales and marketing at the Hilton; adventures he likes to promote to clients. The Thousand Islands offers a myriad of waterfront excursions like boating, swimming and kayaking, Dry Hill offers slopes for skiing and Burrville is home to a cider mill full of sweet local treats. 
    When he does not travel, work out at the gym, binge-watch Netflix programs or find new dishes to cook, Mr. McCormick said he partakes in the region's highlights that he promotes. 
    "It's great to be from an area that has so many great experiences where you could wake up every day and try something new. And being able to share that with all my friends and my family," Mr. McCormick said. 
    Unlike many young professionals who joined the 20 under 40, Mr. McCormick's career journey started in New York City. 
    The Shoreham Hotel, a boutique hotel in Midtown, gave Mr. McCormick his first hospitality job years ago when they hired him as a bell boy. Whenever he had reprieve, he said he questioned front desk staff about their responsibilities so when opportunity arose, he could secure a front desk job. He climbed up the hospitality ladder at the Shoreham and other hotels, including the Crown Plaza and Milford Plaza in Times Square. 
    When the army stationed his sister, Megan, with whom he shares a close bond, at Fort Drum, Mr. McCormick decided to travel with her. He kicked off his Watertown hospitality career with a family of hoteliers, the Donegan family from Alexandria Bay, working at the Holiday Inn. When he heard they were building the Hilton, Mr. McCormick urged them to reappoint him as director of sales of the hotel. 
    Moving to Watertown provided a new cultural experience to Mr. McCormick. Passersby ignore each other in New York City, but north country residents converse with their neighbors and invest in their community. He and his co-workers have also become a family, and highlighting the region's attractions, Boldt Castle, wine tours, artisanal shops and more gives him a sense of communal investment. 
    "You can get involved in so many different ways up here and feel more of a part of that community than you ever can in New York City," Mr. McCormick said. 
    Not every experience along Mr. McCormick's journey has been joyful, but he still grew from them. Mr. McCormick said he prevented a man from committing suicide years ago. Saving the man's life taught him the importance of supporting others during their strife, encouraging them to take pride in who they are and defy the stereotypes others may assign them. 
    "Many of us struggle with dark days, especially within the LGBTQ+ community. If you ever feel down, bullied, are struggling to fit in, or find your place in life, know that it gets better," Mr. McCormick said. 
    Each day working at the Hilton provides new experiences for Mr. McCormick. Seeing new guests, attracting new events to the area and capitalizing on opportunities to host successful stays and festivities that leave guests with strong memories all spur his work ethic. 
    Mr. McCormick's job also yields fun volunteer opportunities, such has providing water during the 18.12 Challenge and other races and participating in Boo at the Zoo. During the Halloween-themed event, Mr. McCormick dressed up as a lion and passed out candy with a co-worker who dressed up as Snow White. 
    Hard work and determination allowed Mr. McCormick to capitalize on the experiences he faced and advance his career. The immediate path to higher education, while important, may not suit everyone, he said. Mr. McCormick joined the workforce right after high school, and through work, he learned about his passion for hospitality. The first experience, or impression, is essential when trying to secure a desirable job, Mr. McCormick said. 
    "Don't show up in sweatpants," he said, "look professional, look business-like, look like you're ready to work. And if you walk into any opportunity or a group of people with that attitude, it's going to take you a lot further than a pair of sweatpants will. 
---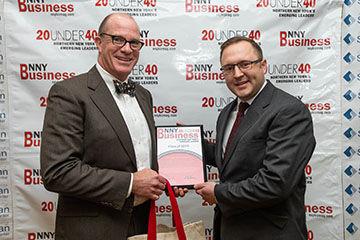 Always looking to find interesting jobs that would provide him with different life experiences in college, Mitch McCormick's past jobs include lifeguard, hotel bellhop, snowboarding instructor, state park security officer, and chef. 
    Currently, Mr. McCormick is working as the 4-H After School director for the Cornell Cooperative Extension of Jefferson County, falling into the role in a sense after having left teaching due to the fact that schools were cutting those positions when he graduated from college. 
    "I got into education because I wanted to make a difference and it seemed that teaching was the way to go to make a difference in kids' lives and future generations," he said. "I've since learned in my time here at the Extension that this is a place where I can really have an impact on the lives of kids as well." 
    While teachers are required to follow curriculums and standards they have to meet, at the Cooperative Extension, they have more freedom and creativity, and can direct how they will impact kids' lives- which Mr. McCormick finds inspiring. 
    In his opinion, the best part of his job is seeing a program in action that is really working for the kids, or having a group of kids where a challenge has been identified and coming up with a plan and seeing it carried through and working for them. Though never immediate, he knows he is making a difference. 
    "When you get to that point where that's happening and then they're excited about the next topic you're going to bring into the program, when you start to see that change, I think that's exciting," he said. "And when you start to see that you've come up with something to address a challenge and you see it actually working, that's also very motivating." 
    Aside from his professional successes, Mr. McCormick considers his family his greatest personal triumph. He said he and his wife, Andrea, are very happy together and having a lot of fun raising their two kids. 
     In addition, his parents, both of whom he credits as being mentors to him, and siblings, as well as his wife's, are all involved in their lives as well. 
    "I think that's really important and makes for a great way to raise kids and enjoy life," he said. 
    His family is a large part of why he's stayed in the north country, along with the way of life and the culture around here. While he left for eight years when he was at school and could very well have continued his career in Buffalo, the community values of Northern New York make for a great place for his family to live. 
    In order to keep more young professionals in the area, Mr. McCormick thinks innovation is always needed, whether in the workplace and the types of jobs offered, or the opportunities available in the community. 
    "I think that it's something I've seen evolve here at Extension in my time, is that there's opportunities for growth," he said. "And I think that's what keeps people here, and if more organizations continue to offer those opportunities, then young people will stay within Northern New York and make their lives and their careers here." 
    Constantly looking to advance the careers of his peers, when an opportunity provides itself at the Extension, Mr. McCormick tries to advocate for people to move into that new opportunity and continue to experience growth knowing that sometimes that means he's going to have to figure out how to fill their positions and the great work that they were doing. 
    "You're not giving up a good employee, cause you're really gonna begin working alongside them, and I would rather work alongside somebody and allow them to continue to grow than not give them the opportunity and eventually they may go somewhere else," he said. "I think it's great within an organization when you can give people that chance to move up." 
---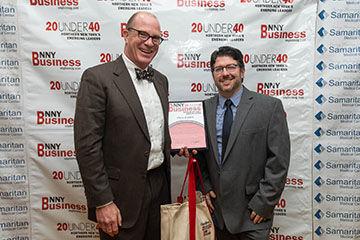 Dave S. Missert Jr. isn't the type of person to run a race on Thanksgiving Day, but he did it anyway.  
    Mr. Missert, a father, husband, coach and beer distributor, said his friends used to call him an old man when they were kids. He did well in school and had a plan for his future when he was five years old.  
      "I used to come in with Dad on the weekends," he said of his greatest mentor. 
    In his office today, there's a desk calendar and an iPod Classic sitting nearby.  
    "My cousin makes fun of me about the iPod," Mr. Missert said. "One of my friends when I was growing used to say I'm the youngest middle aged man she has ever met." 
    And he started running about a year ago.  
      "I signed up for a race Thanksgiving morning," he said. "I'm like 'what am I doing?' It's the worst."  
    The general manager of A.J. Missert Inc., a beer distributor founded in 1942 by his great grandfather, Mr. Missert is the fourth generation in his family to take over the company.  
    "When A.J. passed away, my grandfather, John, took over the business," he said. "And then he passed it off to my Dad and his two brothers, John and Jim."  
    Mr. Missert's office is connected to a 35,000-square-foot warehouse full mostly of beer and some non-alcoholic products. The company moved in 1995 from Mill Street to its current location on Industrial Boulevard off Route 342. The original building was 25,000 square feet, but 10,000 feet were added around seven years later.  
    "I'm only as good as the brands and the people who are here working every day," Mr. Missert said as he opened the door to the warehouse, revealing rows of stacked cases of beer.  
    Walking through the warehouse now, it would be hard to miss the cases of hard seltzer shelved at what seems to be every corner of the warehouse.  
    "Seltzer is hot right now," Mr. Missert said. "It's crazy. If you would have told me five years ago that seltzer was going to be the thing, I would have told you you were nuts."  
    His company distributes the two brands dominating around 85 percent of the seltzer market — Truly, which is owned by The Boston Beer Company, and White Claw, a subsidiary of Mike's Hard Lemonade.  
    "Nationally, Truly and White Claw are like the brands," he said. "We happen to be fortunate enough to have both of them." 
    Mr. Missert, who prefers craft beer or Molson — depending on the occasion — says seltzer is part of a trend.  
    "People are looking for something that's better for them," he said. "It's low-calorie, gluten-free. It doesn't fill you up. People want that." 
    Mr. Missert's first job with the distribution corporation was at 14 years old, helping in the warehouse during the summer. When he went to Ithaca College to study marketing, he would come home during the summers and help deliver orders to customers. After graduating, he moved to Syracuse, where he worked for Molson USA for three years.  
    "It was to get some outside experience," he said. "It was invaluable." 
    The plan was always to move back home to work with his family. He started as a salesman in 2003, writing orders for stores and bars at Fort Drum. Now he's running day-to-day operations as the general manager.  
    Beer distributions run like a continuous machine. Trucks are loaded in the morning, sales people are out pre-selling during the day to stores in Jefferson and Lewis counties, orders come back in — they're processed — and then the trucks are loaded and then delivered to the stores and bars that made an order. 
    "At the end of the day, I know I'm not changing the world," Mr. Missert said. "I'm not curing cancer or solving any major problems, but we're providing a great service. We're providing enjoyment to people. And no matter how (bad) the day was, I know I can go out in the warehouse and have a cold beer and everything's going to be fine. We're not solving problems, but I guess we're helping solve problems."     
---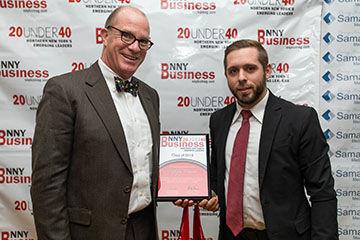 Zachary Monroe is helping shape the future for today's youth. 
    Mr. Monroe is the executive director of the Police Activities League of Massena Inc., formerly the Boys and Girls Club of Massena. 
    "I really enjoy being able to make a difference in the lives of the youth in our community through our program. Leading a talented, dedicated and mission-driven team is also very exciting because we share a lot of ideas and are constantly pushing each other to be the best we can possibly be, which in turn creates the best possible club experience for our members," he said. 
    "There's also a lot of room for potential partnerships and projects to continue improving our program, so the planning and goal-setting side to that is also quite exciting," Mr. Monroe said. 
    Growing up, he said he was told, "You're going to do great things someday; you're going to help change the world." 
    "I had a neighbor by the name of Jim Peets who would tell me this every single time I would see him or visit with him. He was a dear friend of my grandfather and to this day is still like a grandfather figure to me. The positive reinforcement he instilled in me at a young age, and continues to do to this very day, has been attributable to my successes thus far," Mr. Monroe said. 
    He said he gets his inspiration from several sources, including his family and the current community leadership. 
    "My grandfather was a huge inspiration for me. Growing up I watched him do everything and I was always right beside him, whether it was serving breakfast at the local Knights of Columbus, helping set up at the bingo hall or at St. Patrick's parish setting up for community festivals. My family is also a main inspiration. I work hard and get involved and engaged in order to help as much as possible. My main goal is to make my community even better for my wife, kids and family for generations to come," Mr. Monroe said. 
    "My second inspiration is our current community leadership. I think our current leaders have done a fantastic job bringing a lot of energy, paired with a positive outlook for the future of Massena. That leadership has been an inspiration for me and a reason to get involved," he said. 
    In addition, the "people who care about making a difference in our community" also serve as an inspiration. Mr. Monroe said they're often quick to jump in and help, whether it's through time, talents or treasures. 
    He said SeaComm President and Chief Executive Officer Scott Wilson, his father-in-law, serves as his mentor and, along with his wife, offers the best advice. 
    "There's no holds barred with her and I think that's so important because advice should always have the equal balance between positive and constructive. I think too many people tiptoe around advice or constructive direction out of concern they might offend somebody. The reality is, in order to grow, learn and improve as a person, you need somebody willing to push your boundaries," Mr. Monroe said. 
    "My father-in-law is so well accredited in business and has done such a phenomenal job growing his organization that I often look to him for business advice and ideas – advice and ideas that I always find a way to implement in one form or another and have never steered me wrong," he said. 
    Mr. Monroe has advice to retain younger people like himself in the north country. 
    "I think north country leaders need to work together to establish a plan and strategize ways to continue to keep the north country ahead of the curve in terms of technological advancements. There's a plethora of talented leaders in the north country, both young and old. I believe if we pull these leaders out of each of our communities to come together, we can pool our resources, skills and ideas together to create a sustainability plan that also supports economic development and business/career opportunity," he said. 
---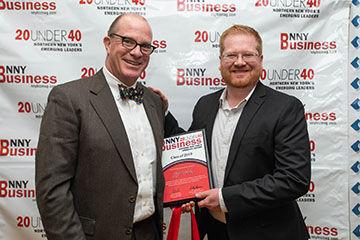 Local television viewers can get to see nighttime news anchor Jeff Nelson 10 times a week. 
    He's been a fixture at WWNY 7News/WNYF FOX-28 for 17 years, first as a reporter and photo journalist and as a new anchor for the past decade. 
    Mr. Nelson, 39, the assistant news director, loves his job – and the community he's covers. 
    It's all about story telling, he said. And like the Channel 7 slogan goes, he goes where the stories are. 
    "Life just happens," he said, "You just go where it takes you. You just let things happen." 
    During his stint at Channel 7, he's covered all kinds of stories. 
    "It's all a blur," he said. 
    But Funny Cide, the 2003 Kentucky Derby and Preakness champion who captured the nation's imagination with his whimsical band of middle-class owners from Sackets Harbor, was one of his favorites. 
    In 2003, he followed the north country colt to the Belmont Stakes in Elmont, N.Y., to see if the Colt could be the first horse to capture the Triple Crown in 25 years. However, the 3-year-old's quest fell short. 
    He remembers going to Fort Drum many times to see soldiers go off to war soon after a United States-led coalition invaded Iraq to overthrew the government of Saddam Hussein. 
    And going out to some kind of event that you can only find in the north country, like the new Bremen's annual ice harvest in which volunteer firefighters cut ice blocks from Crystal Pond in the middle of winter. 
    "It was such a spectacle," he said.   
    He still likes getting out from behind the anchor desk and going out into the community, producing a couple of popular segments, the Arts All-stars and Academic All-stars. 
    The station just added the Career-Tech All-Star segment, talking to young people at Jefferson-Lewis BOCES Bohlen Technical Center about their career aspirations. 
    He learned the ropes from such TV news veterans as news director Scott Atkinson, retired anchors Brian Ashley and Anne Richter, and Syracuse journalism professor Dona Hayes. 
    In turn, he's helped younger reporters get their feet wet and help them learn what he's learned as a veteran TV newsman. 
    But it's not a one-sided relationship, he stressed. 
    "We teach you some things, but we learn from you, as well," he said. 
    He also teaches an intro to journalism course – Jou 101 – at Jefferson Community College. 
    The best advice he ever got about chasing down a story came from Anne Richter. 
    "Don't ever assume anything," he said, adding he doesn't go into a story thinking about what's there. 
    He grew up in East Hanover, N.J., in the northern part of the state and in the midst of the country's Number One television news market in the country. But he never saw a story about his hometown. 
    Yet here he's been told by people in the north country that they've been "interviewed 20 times for stories," Mr. Nelson said. 
    "The news is so local here," he said. 
    After graduating from Syracuse, he landed a job as a part-time reporter/photojournalist. 
    While working at the same time at the service desk and room service at the Sheraton in Syracuse, he ended up meeting musician George Clinton of Parliament Funkadelic fame. 
    He was told to get a pack of cigarettes for the leader of the funk band. It was at a time when states were coming down hard on tobacco product and the nearby cigarette machine had a lock on it. 
    It was a thrill for Mr. Nelson to do a favor for such a famous musician. 
    Especially since Mr. Nelson has had some notoriety as a musician himself while at S.U. For a decade, he played the drums for the Syracuse indie rock band, Merit, that recorded three albums. 
    Traveling in a van, the hard and alternative rock band regularly played in New York City and opened for the Gin Blossoms, Liz Phair and Eve 6 along the way. 
    The days of rock ended after his band mates got married and started having kids, he said. Calling them family, they remain close. 
"I don't know if there's a lot of time for rock n' roll," he said. 
---
Due to pure chance, Alicia Ruperd says she fell into her career after studying for so long to go into the field of law enforcement, but believes she is right where she needs to be at the moment. 
     The mental health services coordinator for Jefferson County Community Services, Mrs. Ruperd has had a lot of mentors in her professional career, and would now like to be a mentor for others. Not one to do things for the recognition they will bring, Mrs. Ruperd would much rather stay behind the scenes and give others the tools they need to shine. 
    "If it weren't for people in my professional career giving me the opportunity to do more and experience more, I definitely wouldn't be where I am today," she said. "I feel like I have a lot to offer and I want to give back to the community because of the people that have invested their time in me, so I want to invest my time in others." 
    A self-proclaimed perfectionist, Mrs. Ruperd said she has stressed out about a lot of things over the years that she didn't need to. She has also doubted and questioned herself a lot in the past, but through the mentors and the leadership she's had over the years, she built up that confidence over time. The advice she would give to her former self is this: "Don't be so hard on yourself and believe in yourself," she said. 
    As the chair of the Suicide Prevention Coalition in Jefferson County, a triumph for Mrs. Ruperd was the rebuilding of the coalition. In 2016, there was a gap between the previous chair leaving and Mrs. Ruperd taking over, so the coalition lost quite a bit of steam. 
    Since then, they have built the coalition to over triple what the membership has ever been and have continued to provide education to the community in a number of different ways. 
    "I feel like one of the biggest things that we can continue to do is help with education and awareness to normalize the conversations surrounding mental health so that there isn't such a stigma attached to it," she said. 
    With doing a lot in the community comes sacrificing family time, but Mrs. Ruperd said her husband is awesome at helping her balance her work and home lives. Not only does Mrs. Ruperd love this area and want to make it even better, she likes the culture and being able to build relationships with neighbors and community members- something she missed when she lived in Syracuse for six months while working on an internship for her degree. 
    In order to groom younger individuals to take the roles that will one day be vacant in this area, Mrs. Ruperd believes the key is affording individuals the opportunity to do more and have more responsibility. 
    "Unless we afford those young individuals that opportunity, we're going to lose them to other places," she said. 
    So far, Mrs. Ruperd has learned a lot about herself over the years, like how far she can push herself, what she is actually capable of, and what she can overcome- which is more than most parents have had to deal with. 
    Mrs. Ruperd and her husband, Daniel, have 10-month-old twins, Tatum and Quinn, at home, but will never forget their firstborn daughter, Brynn. At just 34 days old, the newborn passed away due to a heart condition in 2017. 
    Rather that let her heartbreak overwhelm her, Mrs. Ruperd decided to use it to better the community, and turn the tragedy into a triumph for herself and the community. 
    Almost propelled forward in a way after her daughter's death, one of the things Mrs. Ruperd did was create little cards and randomly pass them out and ask people to do random nice acts. Called '34 Days of Heart,' Mrs. Ruperd was able to do something nice in the community and encourage others to do nice acts as well. 
    "Often we go about our day and we forget what others might be going through or what others have gone through," she said. "Sometimes it just takes that one nice thing to bring us back." 
---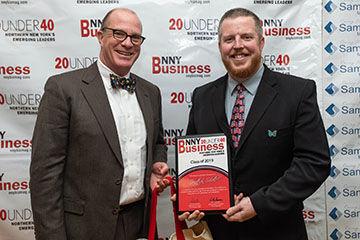 The hard work ethic of farmers who toil in fields and milk parlors was imbued in Jonathan "JJ" Schell since he was a boy. The admiration he has for them and his love the agrarian lifestyle fuels his dedication to protecting farms and fuels his future ambitions. 
    Lloyd Schell, his father, inspired Mr. Schell's love for agriculture. Lloyd worked for other dairy farms after his family farm sold when his son was an infant. Mr. Schell said he and his sister would feed animals and care for calves, then he unloaded hay and milked cows when he grew older. 
    "It's really just seeing the hard work and the general character of a region that farmers bring. Essentially, they're the foundation of a rural economy," he said. "People don't see agriculture as an industry. They just see it as sometimes stinking animals and loud tractors and dirty roads." 
    His role as associate director of the Tug Hill Tomorrow Land Trust allows him to indulge his passion for agriculture by helping preserve farmland alongside other tasks. Mr. Schell said he recently secured more than $3 million in grants to protect acreage in five farms. 
    "It's not just a job, it's what defines me," Mr. Schell said. 
    Even some of Mr. Schell's hobbies derive from his love of agriculture. He said he raises pigs and turkeys to sell and eat. He has also built a high tunnel greenhouse to eventually grow vegetables and has been brewing his own craft beer. 
    Mr. Schell said he eventually wants to create an incubator farm. The incubator would allow new producers without land to rent acreage to farm and build capital before purchasing land. 
    Mr. Schell also strives to help others, particularly farmers and veterans. He hosts programs and workshops with the Farmer Veteran Coalition, which encourages those who served to pursue careers in agriculture. 
    "I'm just incredibly proud to be, as cliché as this is, proud to be an American, and I'm proud that these individuals, soldiers, have sacrificed," he said. 
    The desire to help his neighbors and grow his community motivated Mr. Schell run for local government. He ran for a seat on the Champion Town Council in the last election and for town supervisor before that, but was unsuccessful both times. 
    Partisan divides on the federal and local level have resulted in inaction and a lack of compromise, Mr. Schell said. If elected, Mr. Schell said he wanted to increase interaction with constituents, help local businesses grow and support agriculture. 
    "There's a lot of potential," in the area, he said. 
    Several colleagues supported Mr. Schell on his journey, encouraged him to lead and give back to his community. Ronald Davis, an agriculture engineering professor at SUNY Cobleskill, encouraged Mr. Schell to participate student government, he said. Mr. Schell even served as student government president as a result of his involvement. 
    Mr. Schell and his friend Justin Alger, who know works at SUNY Downstate, shared literature, resources and ideas and encouraged each other to be inquisitive. 
    "If I'm thinking about starting a project or looking at doing something that's a little outside of my comfort zone, then him and I talk about it," Mr. Schell said. 
    Like other young professionals, Mr. Schell's desired career path changed throughout his life. After graduating, he accepted a job as a farmer educator with Cornell Cooperative Extension of Washington County. After working different positions in the extension for years, Mr. Schell said he accepted a job teaching mechanics and welding with Jefferson-Lewis BOCES, but disliked the restrictive mandates and lack of hands-on learning provided to students. 
    Mr. Schell eventually secured a position with the land trust, where he said he found purpose and joy. Out of all of Mr. Schell's professions, however, one stands out above the rest. 
    "The best job I have in the whole wide world is being a dad to these three," he said while he showed a picture of his three children, Ivan, Finley and Eve. "I want to show them … if you have the capacity and the will and the knowhow, that you can make a difference. 
    One of the best pieces of advice Mr. Schell learned along his professional journey was the value of networking. His own advice to other young professionals is to pursue opportunities that not only provide purpose, but also better their community. 
    "Pursue a passion. Make a difference, bring new ideas," he said. 
---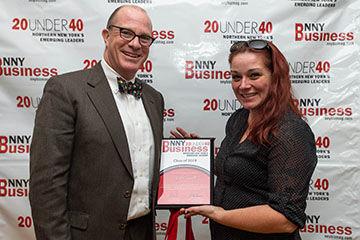 Nicole M. Smith had no idea that when she left her native California in 2004 for the north country, that roller derby would be the thing she would be saying saved her soul. 
     The 37-year-old left her home in Halfmoon Bay, Ca., to come to the north country, a place where her mother grew up, to help with her aging grandparents. 
    The trip was never meant to be permanent, but Ms. Smith found out it was less expensive to leave the West Coast than it was to return and, 15 years later, she has made a home with her partner, Steven Finster, and their two boys, ages two and four. 
    Ms. Smith didn't just raise her family here, she found another one in April 2010 when she signed up for the amateur sport of roller derby, specifically, Mea Linan's Black River Rollers. 
    Ms. Smith said she ended up running the Black River Rollers for the three years Ms. Linan, who was enlisted in the military, was stationed in Germany. She said by Fall of 2014, the Black River Rollers dissolved when Ms. Linan moved permanently. 
    Hooked on the sport and those who played it, Ms. Smith started the Thousand Island Battlefield Betties, based out of Clayton, in July 2015. 
    "I started not knowing anything. I've never been a part of any organized sport in my life, but I fell into a leadership role just months after starting, so that turned into where I am," she said. 
    But what keeps her there is what she called the "crazy dynamic of people" who share all passionate about the same thing, while also supporting each other in their personal lives, something she said is rare to find in the world these days. 
    "The group of women I skate with are from all different walks of life, all different circumstances and they're people you would just not have met in any other way," she said. "It's just like a family. It's nice to have this separate little village that takes care of each other." 
    She said she learned, by frequent travel through roller derby, that this is a common denominator in the sport, where team members have the same core values, "they just want everyone to succeed and it's just really empowering." 
    For her, Ms. Smith credits the type of woman she has become — coaching, training, pulling her team together — to her mother, who she called her mentor in life. 
    A single mom who gave everything she had to make sure Ms. Smith had everything, the "Betties" owner, as she calls her team, now tries to do as much or more to make up for what her mother gave to her, she said. 
    "She was just this really strong, rock of a woman that did everything, could conquer mountains," she said. "Overall, it would all come back to her." 
    Ms. Smith not only owns "the Betties," but she trains all the skaters, newcomers and veterans, as well as travels out of the area by request of other teams to assist in coaching those teams. 
    Additionally, she said she traveled as much as possible, going to games from New Jersey to Montreal to get as much exposure to different styles as possible to broaden her abilities as a trainer. 
    "The girl that actually nominated me for this (20 Under 40) told me that I was the glue, which was kind of,"… she paused as she got choked up. ". . . I'm kind of emotional about that. It's just really sweet. So it's nice to be recognized for that." 
    She said when she moved here, her Californian friends told her she needed to return west, that she wasn't thriving in the north country. 
    Then they saw her after finding roller derby. 
    "Once I found roller derby, they were like, 'If you had never found that, we would have come and got you. This is exactly what you needed,'" she said, the sound of pride swelling in her voice. "So roller derby kind of saved my soul there." 
---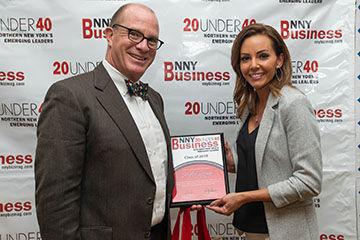 Born and raised on the family farm, Heather Spezzano has been passionate about caring for and saving animals from a young age. 
    When her grandparents sold their store, essentially pushing her out of the family business, retail seemed like the next logical step, so she became the manager of Petco- where she fell in love with connecting people with pets and seeing the joy they bring to families. 
    During her time there, she was an integral part of securing funding and bringing the SPCA adoption center to the store in an effort to get more shelter pets into forever homes- something she considers to be her greatest professional triumph. 
    Now, Mrs. Spezzano is the executive director of the Watertown SPCA, located at 25056 Water St., and still loves to see families excited and happy, but said it's more about the animals. 
    "Typically, they haven't had the best pasts," she said. "If I'm able to give them a home that they're going to be loved in, that brings a lot of joy into my life." 
    A 24/7 kind of job, like others related to animals and healthcare, Mrs. Spezzano is always on call and often has to sacrifice spending time with her husband, Johnny, and daughter Arianna, 10, in order to make sure that the animals stay alive and well. 
    As the executive director, Mrs. Spezzano is often down to business and serious at work, so she thinks her employees would be surprised to see her in her element- down to earth, laughing and joking. 
    Mrs. Spezzano, a strong woman in her own right, considers her grandmother to be her mentor due to her strength and entrepreneurial spirit. The best advice her grandmother gave her is something that still rings true for her today- when trying to figure out what to do, do what you love and then it doesn't become a job. 
    "If you're passionate about what field you're in, you'll love what you do and do what you love," Mrs. Spezzano said. 
    For Mrs. Spezzano, the decision to stay in the north country was an easy one. Besides it being her home with all of her family around, she loves the community and the fact that if anyone needs anything everyone is here to help out and support them. From the small town feeling and being in the country to the beauty of the area, she said she loves it all. 
    If she weren't working at the SPCA, Mrs. Spezzano is confident that she would still be working with animals at some sort of rescue and can't see herself leaving this type of work. 
    "I think I'm so obsessed and in love with my job I don't really see myself doing something else, ever," she said. "I'm in it for the long haul." 
    Despite all the great work the SPCA does for local animals in need, the shelter doesn't receive any funding from the government, so a huge challenge Mrs. Spezzano is faced with every day is finding money to pay the bills and help as many animals as possible. 
    Another challenge is having that balance between wanting to help with every case and being faced with the realities that the small shelter has limited space and can't take on too many animals at once for fear of causing sickness and stress throughout the shelter. 
    "Finding that line where you can say too much is too much is hard, but that's the reality," she said. "But you always still want to save as many as you can." 
    Because of this, Mrs. Spezzano said she has learned that she needs to be a bit stronger and thicker-skinned, because being in the animal world it's very emotional and it's far too easy to become connected to every animal, which takes a toll on one's mental and emotional health. 
    "The director before me said don't learn their names, whatever you do don't ask their names, because if you just think of them as a number you won't become so connected, but that's just not me," she said. "I know all of their names." 
---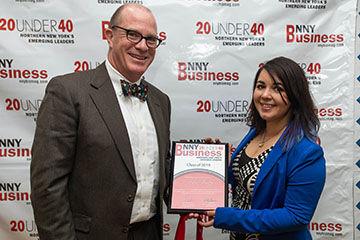 Melissa Tousley believes in the people she photographs the same way Watertown believed in her when she moved there alone from the Bronx.  
    Ms. Tousley photographs many graduating high school seniors as owner of Sarissa Melissa Photography in Watertown. After each photoshoot, she gives them a blank gift card as a way to encourage them to finish whatever post-secondary education they pursue. It's her way of telling them she believes in their journey, and that after they finish she would photograph a free headshot of them.  
    "It's just something for them to know that somebody believes in them," Ms. Tousley said. "The same way the community has believed in me and my business. I'm passing that on."  
    Ms. Tousley, 37, left where she grew up in the Bronx and moved to Watertown in 2010. She had a degree in fashion merchandise management from the Fashion Institute of Technology and the concept for a photography business.  
    She grew up sketching with her mother sewing dresses and father using a camera.  
    "I figured if I go there and learn the business side of things," she said, "and then I can just work on refining those other skills I have — the artistic eye." 
    After college, she moved to Kansas for three years, where she worked in retail and learned the corporate life wasn't for her. That's where she bought her first DSLR camera and started sharing her work online.  
    "Back then I had this idea," she said. "'I want to be this professional photographer. I want to share it with people. I want people to come to me because they see my work and they're excited and they love the experience. I want them to have a good time.'" 
    So she drove from the Bronx to Watertown in the thick of winter. She started working at WBLH Tunes as a photographer and account executive. 
     "I am really grateful to the radio station, being the family I didn't have when I moved up here," she said. "I didn't have anybody. Tunes, that's why I stayed up here."  
    Working at the station gave her the opportunity to meet the community and be involved — whether that be collecting school supplies for children in need or toys for children at Christmas.  
    "I want to be active doing things rather than talking about it," she said. 
    She has also watched startups grow into successful business — with help from her marketing of them.  
    "Every day is a new adventure," Ms. Tousley said. I don't know what is going to happen. I love the combination of meeting new business owners, people lit up by their goals." 
    Ms. Tousley can remember meeting another photographer at one of the first events she covered for the radio station. They would go on to share a studio until she purchased her own in 2012.  
    "For my photography business, I love the experience," she said. "It's more than just taking a photograph. I want to get to know the person. I want to make their personality shine." 
    She met Kenneth Tousley at The Paddock Club on Valentine's Day in 2014. They would go on to get married. Their first son, Henry, was born last year.  
    "With the business and what I'm doing with Tunes, I felt the biggest shift after having my son," she said. "I became a different person. I had the best year ever this year, and it's my son's first year."  
    When asked about success, Ms. Tousley never mentioned her career accomplishments, though they speak for themselves. She mentioned drinking water, prioritizing sleep, being a teammate with her husband and loving her son.  
    "For me, my success is everyday little things. Reading, success right there 
   Seeing my son laugh, success" she said. "It's the things you do consistently, not the things 
you do occasionally, that move the needle and help you have the life you want to have."  
---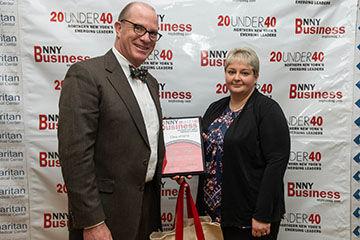 Dr. Megan Whitney, a pharmacist of 15 years, takes pride in her accessibility, precision and making patients feel comfortable asking questions they might not in a doctor's office.  
     Ms. Whitney, the supervising pharmacist at Kinney Drugs on Washington Street in Watertown, wouldn't put sleep at the top of her list of priorities. She's an early riser, comes from a family of teachers and is highly involved in her community. And in the past, Ms. Whitney said she had always despised change.  
    "If things are going well," she said, "why change it?"  
    But over the years she has learned to embrace change. Like how pharmacies are the go-to destination for immunizations instead of a doctor's office. Or how pharmacies are much more involved in the lives of those they prescribe medications. Pharmacists are often times more accessible than physicians, so patients often ask them questions they were too intimidated or forgot to ask their doctor, or the convenience of asking about a symptom they have is more convenient than going to urgent care.  
    "We're not just filling a prescription like pharmacies used to be," she said. "Being able to embrace those changes and getting my team on board, and myself being positive, certainly is a way to succeed." 
    Growing up in Adams Center, Ms. Whitney enjoyed school. She was good at it while recognizing it comes easier to some students than it does others.  
    "I was a lucky person and had that ability," she said.  
    When Ms. Whitney was in elementary school, her dad, Donald Whitney, an administrator with the Watertown School District for 30 years, would take her to work during summer school. She would help students in the pre-K classrooms and in their student reading program.  
    There wasn't a single moment when she realized she wanted to enter the medical field.  
    "I always knew I wanted to do something with people," she said, "but I wasn't sure I wanted to go the teaching route like everybody else had done." 
    And she knew a few pharmacists growing up, so she attended a six-year doctorate program at the Albany College of Pharmacy and Health Sciences. Her parents, both her greatest motivators, had her back.  
    "They were there to support me through everything," she said. "I think they were very excited about this." 
    Ms. Whitney stayed in the north country with Kinney Drugs to be close to family. She now lives in her grandfather's old dairy farm — where she has two horses she shows in her free time — and all her neighbors are either her sisters or cousins. And she gets to be close to her three nephews, who she enjoys spoiling.  
    If she could set the record straight with anything in her profession, it's that the flu shot cannot cause the flu. She said it's the biggest question she's asked about every season.  
    "It is impossible to get the flu from the flu shot," she said. "The flu shot is a killed virus. You're basically getting injected with a killed virus that your body is going to build antibodies to." 
    As the supervising pharmacist, she is keying prescriptions into the system as they come in from physicians, then checking them against other medications a patient takes to make sure no health problems would arise from interacting multiple drugs.  
    She's also looking at adherence, meaning if a patient is prescribed a medication for blood pressure for 30 days, it should last 30 days. If not, then she would follow up with the patient. Her team of technicians work on medication quantity, its strength and how to use it. And she, as she has become highly trusted by her patients, is constantly fielding questions on medications people see on TV, over-the-counter medications and dietary restrictions. 
    Ms. Whitney works hard to offer young people career options, which plays into why she has embraced change.   
    "I think this community has a lot to offer," she said. "We do need to retain people here. And we do need to keep this community going, and if we don't then they are going to go elsewhere."