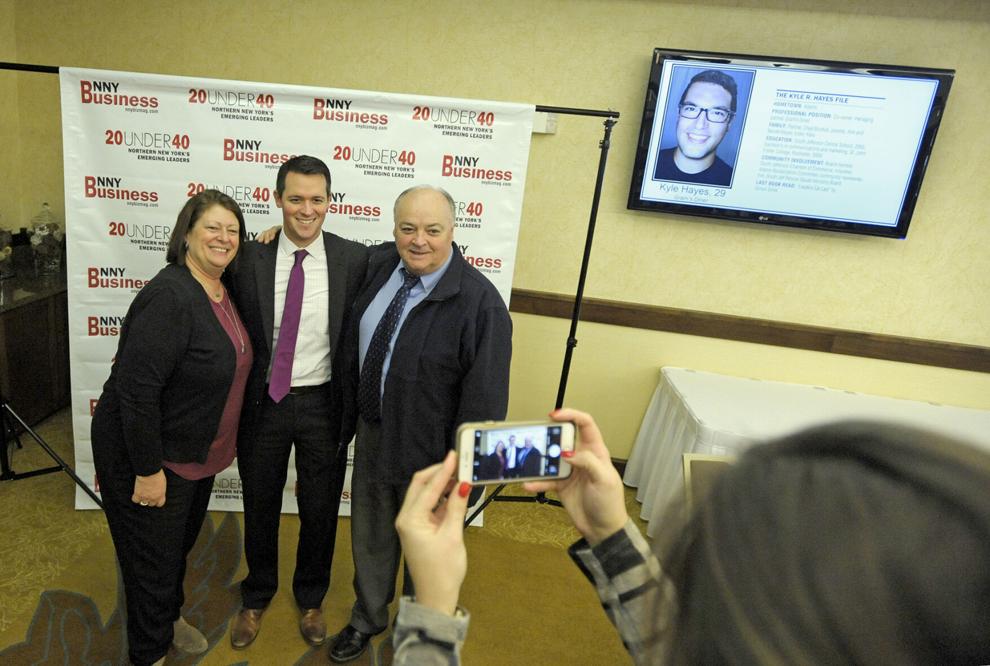 Keynote speaker Ruth A. Doyle encouraged emerging young leaders to embrace their potential and use it to improve the north country at the 20 under 40 luncheon Wednesday at the Hilton Garden Inn.
The St. Lawrence County administrator stressed the importance of remaining humble and sharing knowledge with the aspiring leaders at a time when the idea of the traditional workplace is "being challenged." She said the young leaders should "maintain perspective" and accept the opportunities that were meant for them whether they involve their current organizations or other careers.
"It is no surprise that you have chosen fields that impact the world around you," she said.
Family, coworkers, employers and industry leaders applauded as 20 emerging leaders under the age of 40 were honored with awards at the sixth annual 20 under 40 luncheon, hosted by NNY Business, a magazine owned by the Johnson Newspaper Corp.
The 20 were selected from 62 nominees with nearly 100 nominations and reviewed by a committee of Watertown Daily Times and NNY Business personnel, Michelle L. Capone, director of regional development for the Development Authority of the North Country, and Timothy P. Sweeney, general manager for Tunes 92.5/104.5 FM WBLH Radio and a member of NNY Business magazine's 20 under 40 Class of 2012.
Mrs. Doyle said the 2016 class and its "depth of professionalism" showcased how small businesses, health care providers and municipal governments throughout the north country help young workers develop their abilities. She complimented organizations like BOCES and DANC, the banking industry and school districts in Jefferson, Lewis and St. Lawrence counties for fostering leadership and talent among young professionals.
"I must say, you are a mightily impressive group," she said. "Indeed, a class to be proud of."
Several members of the 20 under 40 class of 2016 said they were able to achieve success within the region by seeking out opportunities and communicating with local industry leaders.
Emily Hermon, 24, manager of the Scrub Hub and the youngest member of this year's class, said the professors she had while attending Jefferson Community College helped her thrive in the local economy. Jake Moser, 38, who owns Moser's Maple, Croghan, said that the north country's ideals and virtues and the importance of tradition and family ties provide a support system for emerging leaders to develop their talents.
"Young people should look to get actively involved and give back to their community," said Nathan P. Hunter, 36, senior vice president and chief financial officer of Northern Credit Union.
Also honored were David Adsit, 38, Kinney Drugs; Jennifer A. Barlow, 35, Children's Home of Jefferson County; Todd J Burker, 36, Carthage Central School District; AmberLee Clement, 32, Cornell Cooperative Extension of Jefferson County; Shawna Cutuli, 39, Watertown Family YMCA; Daniel D. Daugherty, 33, City of Watertown Fire Department; Rebekah L. Grim, 26, St. Lawrence-Lewis BOCES; Kyle R. Hayes, 29, Gram's Diner; Erica A. Leonard, 36, University Suites.
Also, Dr. Matthew Maynard D.O., 31, of North Country Emergency Medicine Consultants; Ashley E. Meade, 32, Community Bank N.A.; Sarah Parker-Ada, 29, Indian River High School; Korin Scheible, 39, Mental Health Association of Jefferson County; Melissa C. Schmitt, 28, Samaritan Medical Center Wound Care Center; Hartley Bonisteel Schweitzer, 29, DANC; Shane Simser, 33, the Morgia Group at HighTower Advisors, and Katy E. Troester-Trate, 36, of Jefferson Community College.
In six years, NNY Business Magazine has honored 123 emerging leaders who made an impact as rising stars in their professions and communities. The Times also honored 40 leaders younger than 40 in its 2009 Progress Edition.
In addition to the Morgia Group at HighTower Advisors, the presenting sponsor, event sponsors were the Northern New York Community Foundation, Watertown Savings Bank, New York Air Brake, RBC Wealth Management, Jefferson County Economic Development, Slack Chemical Co., Thousand Islands Young Leaders Organizations, the YMCA, Association of the United States Army NNY-Fort Drum Chapter, Timeless Frames, Decor and Expressions, Hilton Garden Inn, Watertown/Thousand Islands, Tunes 92.5/104.5 FM WBLH Radio, WBLH Radio and the Watertown Daily Times.