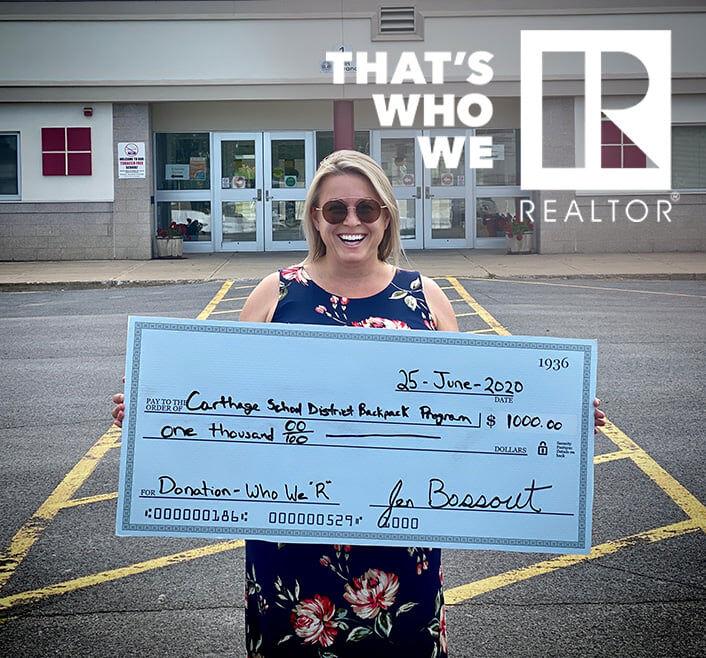 Realtors are a part of the communities where they live. Members of the Jefferson-Lewis and St. Lawrence County Boards of Realtors are involved in many aspects of life in the north country. Real estate professionals work with youth organizations, volunteer at their local chambers of commerce, food pantries and other non-profits, serve on community boards and councils; and help their communities in big and small ways. In future columns, I will highlight ways Realtors give back individually and collectively. This month I want to talk about three different ways that Realtors are making a difference. 
    Realizing that the demand placed on food pantries and backpack programs had expanded exponentially as result of the COVID-19 pandemic, the Jefferson-Lewis Board of Realtors teamed up with the Northern New York Community Foundation and launched the "That's Who We R Membership Matching Challenge." Realtors were challenged to donate money to support the charity of their choice that would be matched up to $12,000. In urging members to donate, President Britt Abbey pointed out, "The food pantries and backpack programs can purchase food at prices far lower than what we can individually. This will help us to make the greatest impact possible." 
    By mid-July, the entire amount had been matched. The backpack programs that benefitted included those in the Beaver River, Carthage, General Brown, Sackets Harbor, and South Jefferson school districts. In addition, the food pantries in Alexandria Bay, Cape Vincent, Lowville, Redwood, and Village Ecumenical Ministry Food Pantry (Carthage) received donations as well as the Rohde Center in Adams and the Watertown branch of the Salvation Army. 
    The St. Lawrence County Board of Realtors also works with the Northern New York Community Foundation. In 2018, the association set up a scholarship fund with the foundation that offers a scholarship to one graduating senior in each St. Lawrence County district. The senior needs to be pursuing continuing education and/or a career in the real estate industry like appraiser, real estate agent, surveyor, or attorney or continuing their education in a business field. 
    In 2020, two scholarships were awarded. One was given to Leah French from Hermon-DeKalb Central School, who is planning to attend Skidmore College to major in business/management. The other went to Rylee Bresett who graduated from Ogdensburg Free Academy, and who will attend either SUNY Canton or SUNY Plattsburgh to major in business/management with a potential second major of advertising and marketing. 
    Both Associations also participated in Realtor Care Week, sponsored by the New York State Association of Realtors (NYSAR). This annual program encourages Realtors to collectively engage in community improvement projects. Taking place the week of August 17 to 22, local associations across the state coordinated a project in their local community specifically targeting organizations and public services in need of improvement. Each local association arranged for volunteers, materials and labor for each project. 
    The St. Lawrence County Board of Realtors teamed up with Fort de la Presentation and the city of Ogdensburg to replace several of the garden boxes at the Community Gardens located on Route 68. The project was begun in 2012 as a joint venture with the Ogdensburg Boys and Girls Club and the St. Lawrence Health Initiative and their Creating Healthy Places, to Live, Work and Play project. It allows community members who might not have a place to put a garden to rent a box and plant whatever they choose. 
    "Especially in this time of disruption with COVID, these gardens allow people to grow some of their own food in a safe, accessible manner," said St. Lawrence Board of Realtors' President Brittany Matott. "It also allows people to enjoy the outdoors and some of the waterfront. We were pleased to assist with this effort." 
    The Jefferson-Lewis Board of Realtors chose to clean and spruce up the "North Country Honors The Mountain" monument located in Tower Square in Thompson Park. Dedicated on July 1, 2016, with support from many in the community including the Board of Realtors, it is an enduring statement of the community's gratitude for the sacrifice and service of the 10th Mountain Division's soldiers, their family members, and the Fort Drum civilian work force. Members worked on for several hours and were able to check several items off the monument committee's list of projects.