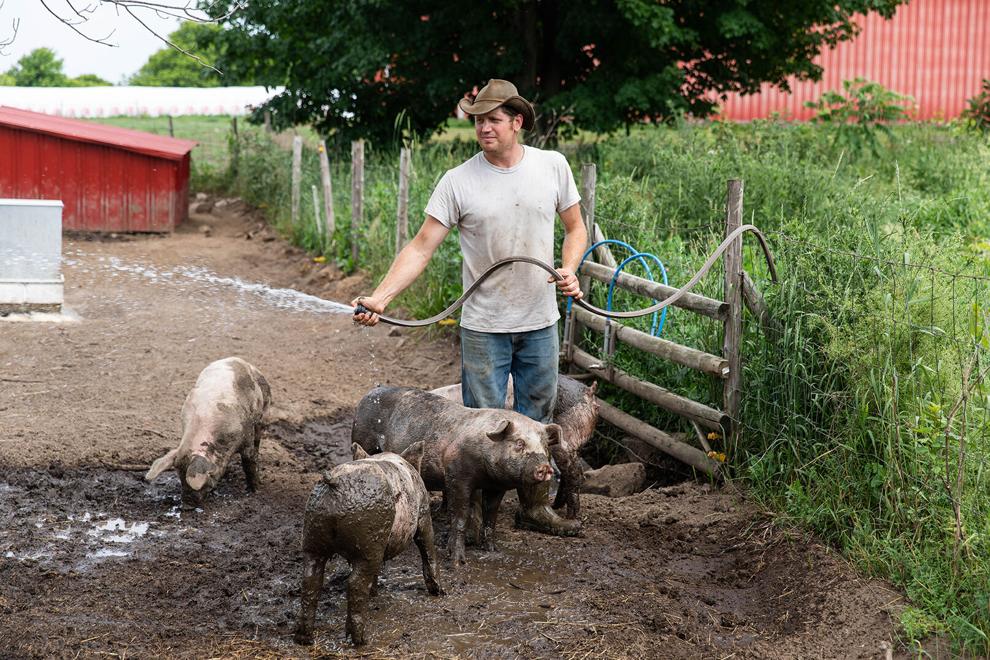 Two factors come to mind when considering how agriculture in the north country has evolved during the COVID-19 pandemic: selling food directly to consumers and, yes, working with the government. 
     The dairy market has been nothing but extraordinary since economies began closing in March. Fluid milk and cheese prices plummeted, which resulted in farms having to dump millions of pounds of milk through the month of April. It was looking to be an abysmal outcome for an industry that had high hopes for 2020. 
     But then May came around and a state that wasn't New York started reopening its economy, resulting in some dairy farms making sales for better prices, said John Peck, owner of Peck Homestead Farms in Carthage. 
     And then, milk prices for many cheeses began to skyrocket in June, maybe even too much. The Jefferson Bulk Milk Coop saw those prices rise and were told the contract extension they were hoping for this summer might not be there. That's a direct result, he said, of the coop losing its contract with Kraft in December 2019. 
    "They don't want to buy expensive milk," Mr. Peck said. "If you're in a coop that has a contract locked-in with a processor, you'll probably be happy in the summer months. We're kind of an anomaly." 
    And the same goes for meat. The outlook for 2020 was unfavorable when COVID-19 came around, but then people wanted to start filling their freezers. Farmers, as well as perhaps dairy farmers that only produce a handful of pigs for their neighbors, were producing more. Mr. Peck said one butcher he goes to was booked-out until December. 
    Mr. Peck said one of the most noteworthy results of COVID-19 in north country agriculture is farmers selling their products directly to consumers. Over the last 20 years the farmers market and supporting locally grown products has become increasingly popular. And now, the idea of dairy and meat farmers selling to the community is becoming popular. 
    "The local consumer has gotten scared to leave their house, so they are finding ways to supply their needs more locally," Mr. Peck said. "Thank God it has not been as prevalent in our counties than it has been in other parts of the state. So we certainly have good things going for our county and north  country communities." 
    In March, Mr. Peck said COVID-19 could be the nail in the coffin for many dairy farmers. Now, he's not saying that exactly, but he and others don't understand what the market will do. With some dairy prices rising, there could be a sudden collapse at any point. 
    "It's anybody's guess right now," he said. "If anybody wants to tell you for certain that they know where the market is headed, I'm going to call them out on that." 
    Sometimes for Mr. Peck it comes down to international trade reopening. There had been positive indicators that China was going to be compelled to take on agriculture products from the U.S. as part of the trade agreement that was being finalized just before the pandemic hit. 
    "Those kinds of large-scale economic movements is what really needs to happen to be able to buoy agriculture in general," he said, "to try to get us back in business." 
    Above all, Mr. Peck said selling directly to consumers is coming along. Whether it be Grimshaw Dairy Farm in Adams, which is selling milk directly to stores and to customers in their front yard; or it's Old McDonald's Farm in Sackets Harbor that started its own ice cream and cream-milk line. 
    "They have a very captive audience that comes through there," Mr. Peck said of the Old McDonald's Farm. "And it becomes a great link for their enterprise to be able to sell the product they make directly to those who are coming through there." 
    Julia Robbins, who runs Old McDonald's Farm, said the ice cream business started there in May. There was an online store for customers before they were allowed to come in to get a scoop. 
    "We found the opportunity in a bad situation and just ran with it," she said. "The sky is really the limit when it  comes to what we can do with some of our own products." 
    Also with COVID-19 and people wanting to shop local, Ms. Robbins said their beef sales have been awesome. 
    "We're really excited about that," Ms. Robbins said. "And it's really high quality." 
    Ms. Robbins said she thinks this never-before-done model of selling directly to customers is going to stick. 
    "I definitely don't see it going away," she said, "and I think it's great that farmers were able to take advantage of a bad situation and create some opportunity for them and for the community." 
    Stephen Winkler, owner of Lucki 7 Livestock Co. in Rodman, said his sales are up for the year with customers wanting to stock their freezers. He references educated consumers, people who tend to have four-year degrees. Those folks have always supported local farmers. But now, the middle class — which makes up over 60 percent of shopping in this country — is starting to take more of a notice of the same thing. The food scare, he said, is a driving factor. 
    What's more, Mr. Winkler said farmers are seeing a positive result from the state government's Nourish New York initiative, which launched in May and gives grant money to food banks so they can buy from farms, then give the food to people in need. 
    "The state government has done an outstanding job putting food boxes together for people in need," Mr. Winkler said. "No matter how you feel about him (Gov. Andrew Cuomo), he has released a significant amount of grant money to these food banks." 
    And for farms like Lucki 7, after these government programs stop, consumers will hopefully remember that it was Mr. Winkler who provided the meat, or Mr. Peck who provided the dairy, or Ms. Robbins who provided the ice cream. 
    "It's been a windfall on both levels, on the government level and from local support," Mr. Winkler said. "And I think traction will stick. I think there will still be some sort of government involvement, and a lot of us don't really like it, but I think this is one of the few programs that is supporting agriculture and people who are hungry during a really hard time."