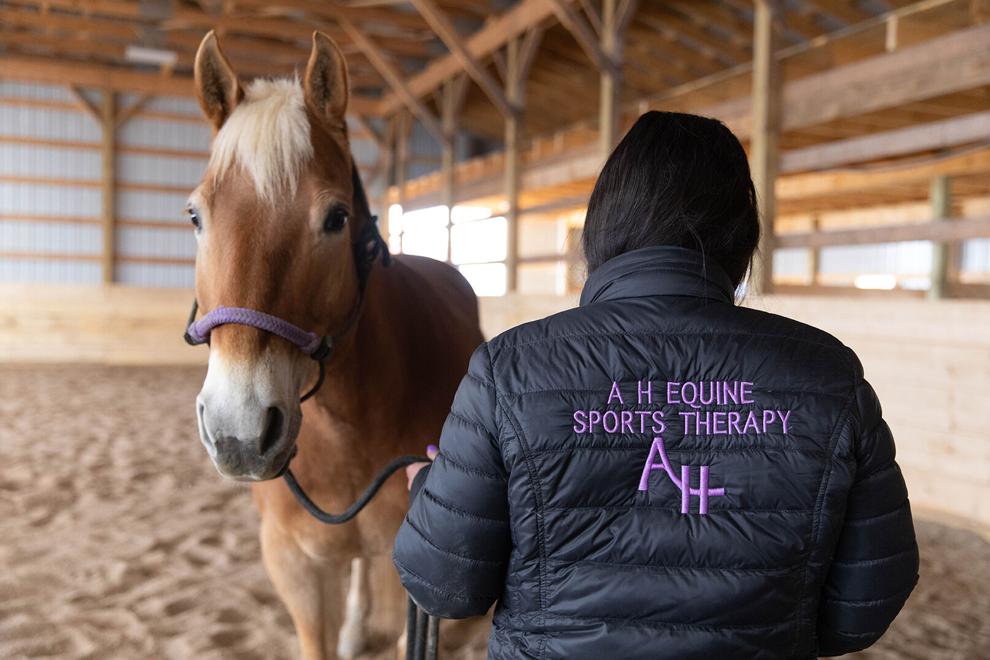 Angela Harrison has gypsy blood running through her veins, informing her life of racing horses and working to rehabilitate them through deep-tissue and laser therapy. 
      "They can sense your lack of experience," Ms. Harrison said on her farm recently while walking with her 12-year-old performance horse, Bound to Be a Big Shot. "It's not that they sense anything bad in you." 
      Ms. Harrison is the owner of AH Equine Sports Therapy and a certified equine sports therapist of 15 years. She splits her time between her personal farm in Florida and her sprawling, 500-acre farm in Cape Vincent.   
She's been barrel racing since she was 12 years old, and she's been working in an industry that continues to grow — drug-free and alternative therapy for performance horses. 
      Ms. Harrison grew up in Florida where she was adopted when she was 5 years old. She didn't grow up on a farm or with horses, but her biological parents — horses were all they knew. 
"My biological family were gypsies," Ms. Harrison said. "Their only means of travel was with their horses. It's in my blood to love horses." 
    She knew she wanted to follow a career involving horses, but growing up in a family that wasn't familiar with them, she had no clue what that would be. 
At 16 years old, she met a fellow barrel racer who lived in the same town as she in Florida. The barrel racer was working in equine sports therapy, so she became Ms. Harrison's mentor and trainer for years. 
    "Honestly it was just a blessing," Ms. Harrison said. "It was like the stars just completely aligned." 
    Breaking into the equine therapy world isn't something that's done over night. Ms. Harrison was going to have to step on other horse owners' farms and treat animals that are so near and dear to them. 
    "People are very funny about who they let into their barns to do any kind of work with their animals," she said. "They want to connect with you. They want to feel that connection." 
    But Ms. Harrison had been racing horses for years. People knew her in that world, so she was able to develop a network of trust to build her client base. Her clients are people who go to horse shows and races almost every weekend in Florida, or they live on the road competing. 
    "It's very important for people to understand," she said, "that this is not a replacement for veterinary medicine." 
     Ms. Harrison can work seven days a week in Florida if she wanted. But three years ago, she moved to New York with her boyfriend, Todd. In Cape Vincent, they have 500 acres of land, an indoor and outdoor riding arena and ample equipment. And she's building a client base in the north country, too, through barrel racing.  
    Now, she splits her time between her farm in Florida and her farm in Cape Vincent, spending most of her summers in New York. And when she's in New York, her clients in Florida don't go to anyone else to work with their horses. 
    "My clients have to wait," Ms. Harrison said. "And bless their hearts they do. They want the best-qualified person and they will wait." 
    In a given appointment, Ms. Harrison travels to a farm and evaluates an client's horse, mainly for body soreness. 
    "They (horses) know what I'm there to do," she said. "They want it. They know as soon as I put my hands on them they know I'm there to help them." 
     The ultimate goal is to bring relaxation to horses through her therapy, hopefully minimizing anxiety. Ms. Harrison offers a number of therapies, from massages to deep-tissue work and respiratory therapy. But likely the most sought-after methods she uses is an electromagnetic pulse and infrared laser therapy. 
    Healing can be a slow process, and laser therapy can treat cells and improve a horse's healing time.   
    "Between the electromagnetic pulse therapy and the laser and the cold therapies," she said, "that's how pretty well we combat leg injuries from the onset of them." 
    And a lot of her work is preventative therapy, not just when a horse suffers an injury. Once Ms. Harrison eliminates body soreness, she does a series of deep tissue stretching and muscle work to open up the range of motion in a horse again. 
    "These horses are athletes just like people," she said, "and so they get sore and they hurt and they lose their range of motions." 
    Ms. Harrison goes to many races every year to compete, but she's also there if a horse falls while its racing, which is not uncommon. Anytime that happens, Ms. Harrison said the owners will hunt her down at the competition to have her evaluate the horse. 
    "It's very time-sensitive," she said. 
And, in some aspects, Ms. Harrison works with owners as well, teaching the best way ride their horse so their muscles grow evenly and stay balanced. She admits there are other ways she helps riders, too. 
    "I shouldn't say this but I will," Ms. Harrison said. "People love for me to use my equipment on them. Because, obviously, what we can use on these horses we can use on people." 
    Ms. Harrison said she's a big supporter of rodeos. Barrel racing is one of the main events at those events, alongside bull riding. 
    "I know there are a lot of people who are trying to eliminate it," she said of rodeos. "But if they didn't enjoy it, they wouldn't do it. These are big animals, so it's not like you can do a whole bunch to hurt them because they're not going to let you hurt them." 
    There are some performance horses who don't like their jobs, but Ms. Harrison works to make it not a job for them. 
"If you hate your job," she said, "every morning you get up you're going to hate going." 
    That's why when Ms. Harrison works with a seasoned barrel racing horse, she doesn't let them even see barrels until shortly before a competition. And that's why when she walks into her indoor arena on her farm and clicks on the lights, music automatically starts playing. 
    "Anytime you're at a rodeo event, or a barrel race event, they always play music," she said. "So we play music to get them conditioned to that also." 
    As a result, Ms. Harrison's future plans is to start a conditioning and rehabilitation program. Clients would bring their horses to her farm, where she would condition the horses to perform and implement therapy throughout the process. 
    "People have always done therapy work on these performance horses," Ms. Harrison said. "But the industry wasn't as big as it is now. Now the equine therapy industry has exploded."