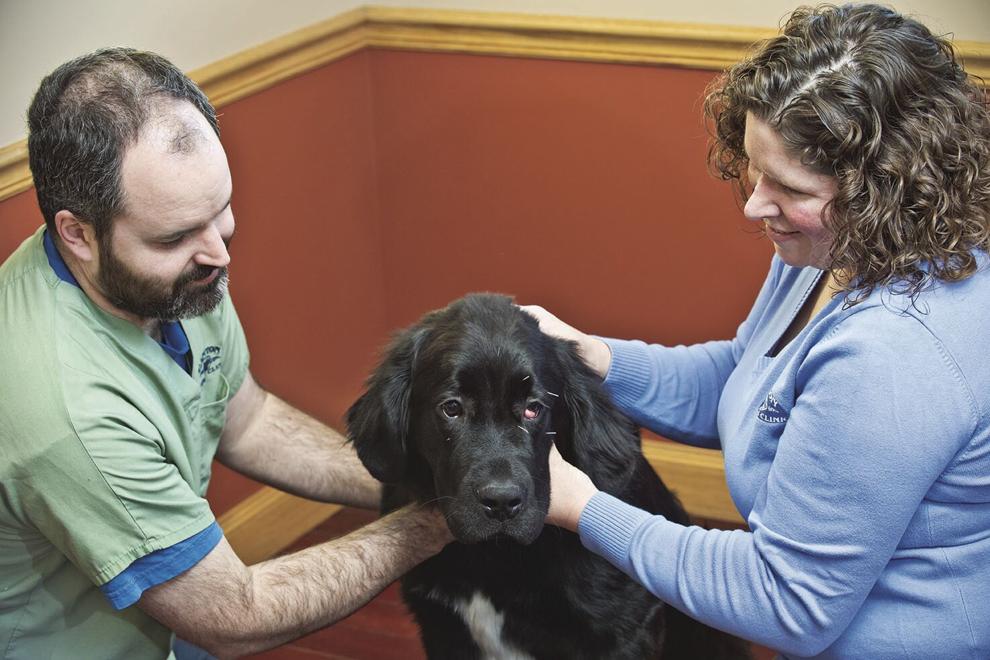 Across the north country, animal hospitals and veterinarians are using modern and alternative veterinary practices to provide the best quality of care they can to their patients, both large and small. 
     From laser treatments and interactive websites to acupuncture and massage, pet parents can rest assured that their furry friends are being treated with their best interests in mind. Through the use of these alternative methods and techniques, pets are being spared from suffering pain and in some cases, from having to undergo surgery. 
     Two such north country practices are The Animal Doctors of Watertown and the Canton Animal Clinic, both specializing in laser therapy as well as acupuncture, differing in other regards, and united in the ultimate goal of providing care to ensure quality of life. 
    Established in 1998 by animal lovers Blair and Nina Harff, who resided in Watertown for nearly 20 years, The Animal Doctors came into Dr. Stephanie Young's possession after Dr. Nina Harff's retirement in 2015. 
    In 2020, the practice, located at 1631 State Street in Watertown, continues to build on the philosophy of "treating your pets like family," with unwavering commitment to quality care for pets and education for pet owners. 
    To this end, the practice not only offers modern technology like a therapeutic Class IV Deep Tissue Laser, it also harnesses the healing energy of ancient practices like acupuncture and massage. 
    With the laser, according to Dr. Young, things that can be treated are those that are acute in nature, not surgical, so the practice does a lot of laser therapy on dogs that have hurt their muscles from things like jumping from high to low. 
    The Class IV Deep Tissue Laser uses a beam of laser light to deeply penetrate tissue without damaging it, and the light stimulates cell regeneration and increases blood circulation, which promotes and enhances healing rather than just treating symptoms. 
    "The energy from the laser sort of encourages the cells to heal," Dr. Young said. "It's very good for a majority of these dogs that don't require surgery but need to have some acute pain management." 
    The laser, a $25,000 piece of equipment from a company called LiteCure, offers therapeutic laser therapy- a surgery-free, drug-free, noninvasive treatment to reduce pain, reduce inflammation, and speed healing. The laser light is delivered through a noninvasive handpiece to treat the affected area. 
    Most treatments take a matter of minutes and, according to Dr. Young, pets will only feel a gentle warmth. 
    Conditions commonly treated with laser therapy include degenerative joint disease, tendon or ligament injury, hip dysplasia, arthritis, cruciate ligament injury and post-surgical pain, and many more. 
    Treatment protocols are unique to each patient and condition, so treatments will vary in time, complexity and cost. 
    Dr. Young graduated with her Doctor of Veterinary Medicine (DVM) degree in 2008 from Kansas State University and moved to Watertown in 2010 with her husband Joe while he was stationed at Fort Drum. She said the practice has offered laser therapy for about seven years and even if dogs have had surgery elsewhere, at places like Cornell or Syracuse and they want to come back to Watertown and do the follow up laser work for healing, the clinic will do that for them. 
    The laser is connected to a computer where diagnostics can be entered in for a readout. For Dr. Young's own dog Shay, a young black lab, presets like her species, weight, coat length and skin color can be chosen and then the glass ball of the device warms up, which must be kept moving in order to avoid burning the skin or the muscle beneath. Heavy pressure is never used and Dr. Young likened the laser therapy to the gentleness of a massage. 
    "I took this out and used it on my horse when he injured his tendon and it made a world of difference," she said. "I put some sort of towel over his head to protect his eyes." 
    For Shay, eye protection came in the form of a black, light blocking Elizabethan collar. The three and a half year old came to live with Dr. Young after it was found she had evidence of hip dysplasia on her x-rays, making the hunting breeder she was with think twice about wanting to breed her. 
    Though the hip dysplasia is not a big problem for Shay, she seemed to enjoy the laser treatment her mom was giving her. 
    The laser at The Animal Doctors has been used on horses, cats, dogs and a sugar glider on an emergency call- the smallest animal yet to be treated with the equipment. 
    "In two to three days you're going to know if the dog is not walking and before those dogs would have been euthanized," Dr. Young said. "This machine has allowed us to treat these dogs right away with something other than medication and start the healing process, decreasing inflammation in the spinal cord. And I would say that's been the biggest success story." 
    In order to operate the laser, the veterinary technicians take a course to become certified. For Dr. Young to become certified in massage, the course took four days, while acupuncture involved a four day introduction and a total of about six months for the full course at the Chi Institute in Florida. 
    The Chi Institute teaches Traditional Chinese Veterinary Medicine (TCVM). Although relatively new to the Western world, this is a medical system that has been used in China to treat animals for thousands of years and is an adaptation and extension of Traditional Chinese Medicine (TCM) used to treat humans. 
    Acupuncture is natural, so there's no risk of harmful side effects that pharmaceuticals can sometimes cause. This makes it particularly favorable for elderly or senior pets that don't do well with medications due to limited body functions over time. 
    Veterinary acupuncture can be used to treat a wide range of health problems, including arthritis, back pain, joint problems, sprains and strains. 
    Traditional Chinese Veterinary Massage (Tui Na) is a supplemental service to the therapeutic laser and/or acupuncture that can greatly reduce the stiffness and pain associated with arthritis and degenerative joint disease. Some techniques can also be taught to pet owners to perform regularly at home. 
    "The massage stimulates blood flow by creating heat in the muscles with the use of our hands," Dr. Young said. "I do some pinching and pulling of the muscle to sort of get it to loosen up. It's very similar to what humans experience when getting a massage. And I've been very fortunate that owners have seen a difference and feel the dog is a lot more mobile even later into life." 
    Coming back from a surgery, humans then go to physical therapists. Some of this can be accomplished for animals through massage therapy with range of motion exercises depending on where the problem areas are. Sessions usually last anywhere from 30 to 45 minutes, but each animal is different. 
    According to Dr. Young, for the most part, most of the massage and acupuncture work is tailored toward getting animals muscle function back in the hind end or lower back. Though she would like to use massage and acupuncture more, it seems to come and go in waves, with a few patients receiving the treatments at a time and then none at all. 
    Having offered acupuncture treatments at the clinic since 2013, Dr. Young shared that the most common breeds to come in with back problems needing to be treated are dachshunds, pugs and pit bulls or other large breeds with mobility issues. 
    In conjunction or independently of other treatments, herbal therapy is also offered at the clinic for certain things. 
    "We try and we have options for pain management with things that aren't medications," Dr. Young said. "People at home are seeing more of the quality of life for their four-legged friend at home, they are just blown away by like the amount of healing that occurs." 
    Growing up on a dairy farm, Dr. Amy Thompson knew she was going to be a veterinarian from the age of three. 
    Now, she is the proud owner of the Canton Animal Clinic. 
    The practice was started in 1932 and purchased from Dr. David Speer in 2005. Dr. Thompson attended Purdue University and graduated with her DVM in 2002 and then completed her studies in 2011 with the Chi Institute. 
    Since then, she has worked to integrate acupuncture, herbal therapy, and food therapy into the practice. 
    "I use acupuncture on a just about daily basis," she said. "The animals are a lot happier and there's a lot less pain, and the nice thing is we can use less conventional medications and so they don't have to deal with the side effects- they just have the glorious, pain-free and anti-inflammatory effects of the acupuncture." 
    While animals almost always benefit from the treatment, the largest response will oftentimes come in acute situations. Dr. Thompson likened treating things that have just happened to peeling the onion of the disease- treating whatever is on top and peeling those outside layers off. In chronic situations, more symptoms requiring treatment will be found as the layers are peeled away. 
    "The things that just happened, they respond really nicely and in fewer treatments because it just happened," Dr. Thompson said. "So, you can get the body on the road to recovery right away and it doesn't take as long and it's more complete." 
    According to Dr. Thompson, the most common cases treated with acupuncture are arthritis cases in all species. For cats, the next most common ailment is hairballs. For cows and horses, its mobility issues like lameness. 
    "It's a blessing to be able to provide something that doesn't really have any side effects other than healing," she said. "And if I didn't have that, then those patients, there wouldn't be anything else I could do to help them." 
    Dogs with seizures also benefit greatly from the treatment. Dr. Thompson said that she sees many seizure patients and it's nice to be able to offer an alternative to conventional medications for seizures, which are really tough on the body and can cause behavior and personality changes. 
    Acupuncture can lower the frequency and intensity of the seizures and in some cases, patients have been taken off of their seizure medication due to the success of the treatments. 
    Seizures can be controlled with maintenance plans of acupuncture, which doesn't have to be frequent. Dr. Thompson shared that one of her seizure patients only received treatments twice a year, so it all just depends on the case. 
    Along with acupuncture, the Canton Animal Clinic offers herbal therapy with many different formulations, or combinations of different herbs. Because their properties are primarily for healing, they can have side effects, but less than conventional medications. 
    "We consider the herbal treatment as daily acupuncture, so the herbals are doing a similar job to the needles, but you're getting that daily," Dr. Thompson said. "And I've now had greater than 10 dogs that I've treated that have gotten healed on acupuncture and herbals that haven't had surgery." 
    Like The Animal Doctors, the Canton Animal Clinic also has a Class IV Therapeutic Laser. The equipment was one of the first instruments the clinic got, so they have been offering laser treatment since about 2010. 
    All technicians and doctors are certified to use the laser by the company, K-Laser. The company has a training course that everyone goes through to make sure they understand the laser and know what they're doing. 
    According to Dr. Thompson, the laser is great for ear infections. Because it can be used for just a short time and ears are really painful to the point where dogs don't usually want them to be touched, the laser can touch the affected areas and heal them without the animals knowing. 
    The laser also works wonders for wounds. 
    "We had a little Pomeranian that got attacked by a bigger dog and her wound, she had greater than seventy percent of her skin injured and needed to be sewn up," Dr. Thompson said. "She looked like Frankenstein and we treated her with the laser after we did the surgical closing of all the wounds and that healed in such a short amount of time. Her pain was controlled so much better, it was amazing." 
    She shared that the dog healed in about half the time and was on very little pain medication through the entire process. 
    Along with other services offered in the clinic, its website includes interactive elements to provide pet owners with a source of accurate information, including lessons on the anatomies of various animals and symptom checkers to see whether pets should be brought to the vet. The interactive elements can be found at https://www.cantonanimalclinic.com/client-resources/interactive-animal/. 
    In addition to the veterinary clinic, Dr. Thompson also owns the Harmony Healing and Wellness Center down the street, which offers services ranging from massage and reiki to herbal and food therapy for both animals and humans. 
    The center offers mirrored services, with one wing dedicated to owners and one to their furry friends. Dr. Thompson rents space out to a human acupuncturist, massage therapists, and those who perform cranialsacral therapy. She also has a mental health counselor available on the human side. 
    Owners can either drop their pet off for treatment and then go and get their own, or they can go in independently. 
    "The animals, they're generally really calm and if they don't come in calm, once they get their first couple of needles they calm right down and they usually just take a nap," Dr. Thompson said. "With all these services we just want people to know we're here for wellness and sickness- whatever anyone needs."