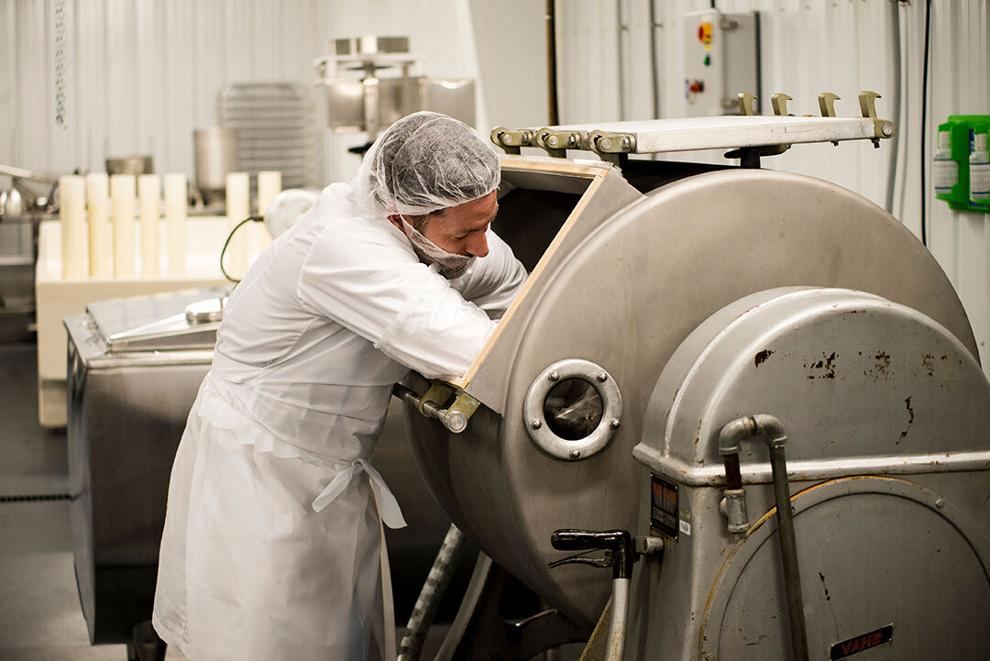 A new industry has churned in southern Lewis County this year: butter. Past the rolling farm fields and dense forests in the Tug Hill Plateau, Black River Valley Natural, which opened in 2019, creates artisan butter in a variety of flavors from traditional salted to Honey Sriracha and Maple Brown Sugar, in its Lyons Falls plants using milk from local farmers. 
    The new enterprise, located down from the former Lyons Falls Pulp and Paper site that shuttered almost two decades ago, comes amid years of farmers' receiving low prices for their milk, cutting the bottom line for some and leaving others to struggle to pay their bills, if not hang up their caps. Traditional farming for dairy, soybeans and other commodities, has taken a hit in the past few years not only due to market factors cutting revenue, but retaliatory tariffs from China and, until recently, Mexico due to trade disputes with the U.S., said Greg A. Gardner, a business professor at SUNY Potsdam. 
    Black River Valley Natural, which also co-packages and bottles milk, pays more for local farmers' milk, and provides another outlet for them to earn additional income, another means to keep their businesses afloat, said Brittany Davis, interim director of Lewis County Economic Development. 
    "Agriculture is an always changing and shifting industry," she said. "We are an agricultural economy here. The base of our economy is agriculture." 
    The past year marked the ongoing bubbling of newer, relatively untapped sectors in the north country for-profit pool, each with ripples traveling farther. Longstanding north country industries, from agriculture to energy, tourism, and retail, have not shifted gears entirely but evolved to welcome new goods and services from ambitious entrepreneurs. The trend not only persisted through the previous year, but is expected to continue into this year and a few years beyond. 
    Value-added agriculture is not new to the north country – the region has housed cheese processors and maple farmers for decades – but it has welcomed new sectors, particularly craft beverages. Flashback Brewing Co., Watertown, opened and the Cape Vincent Brewing Co. also relocated to a larger storefront earlier this year. Garland City Beerworks opened last year. 
    Mr. Gardner said the craft industry boom has been experienced nationally. With brewers demand for particularly grains, like barley and hops, to make their beers, Mr. Gardner said he recommends farmers explore growing them to meet a new demand and fulfill new market. 
    "Most of what we grow now, in terms of grain, we seem to feed to animals," he said. 
    The ongoing rise of the regional craft beverage industry fuels another agricultural sector growing like corn in moist soil in sunny weather: agritourism. Dawn Robinson, an associate professor of business with Jefferson Community College, said cold-hardy grape varieties like the sweet Frontenac and Marquette grapes have allowed vintners across the region to stand out among others across the state and nation. They have strengthened their marketing, and formed a united identity through the 1000 Islands-Seaway Wine Trail to coincide with their individual brands. 
    "We're almost turning into a wine region of our own," said Ms. Robinson, who also chairs the business department at Jefferson Community College. 
    Like the vintners and brewers who welcome travelers to their tasting rooms and vineyards, other producers and merchants have explored ways of making food fun. 
    Lewis County ushered in a cuisine trail this summer, highlighting farm stands at farms, meat markets, a vineyard and the International Maple Museum, each with stands to welcome food lovers. It formed as north country consumers also have more opportunities to try farm-to-table dining at eateries such as the St. Lawrence Spirits Chateau, Clayton, which sources from Lucky Star Ranch, Chaumont; The Kitchen, Alexandria Bay, and Garland City Beer Works. Mr. Gardner said there has been a growing consumer trend of wanting to know where their food comes from, fueling farm-to-table eateries. 
    More farmers have begun thinking like entrepreneurs and adapting more modern strategies for expanding their business, Ms. Robinson said. 
    "I think what we've finally figured out is we don't have to be defined by dairy and soy," she said. "This gives us a whole new aspect to market our area." 
    Flat fields spanning the north country once barren or filled with crops have been occupied by another diversifying industry: renewable energy. While the area has housed renewable energy facilities for several years, from the Robert Moses-Robert H. Saunders Power Dam in Massena and Cornwall, Ontario, and the ReEnergy biomass plant on Fort Drum, solar arrays that glow in the midday sun have begun dotting the landscape this year and in recent years. 
    OYA Solar began erecting four arrays, each one five megawatts, off Route 12 in the towns of Clayton and Orleans this year for its community solar project. The developer plans to begin operations in 2020, and others have been proposed. Other arrays were erected in the towns of Hounsfield and Denmark began operations in 2019. At the same time, the 40-turbine Copenhagen Wind Farm became operational at the end of last year, and another project slated for construction in the towns of Lowville and Harrisburg, the 31-turbine Number Three Wind Farm, received approval for its upcoming construction from the state. 
    The region, in particular, has received a deluge of pitches for community solar projects, which are typically smaller than commercial arrays. Unlike commercial solar developers, which sell energy through the wholesale electricity market, community solar developers recruit primarily residential subscribers in exchange for a 10 percent discount on energy costs. 
    State and federal tax incentives alongside affordable, open land in the north country sparked the surge of solar and wind farm projects in recent years, Mr. Gardner said. Solar development growth has also been fueled by recent technological advances that have made it more affordable, he said, adding that he expects to witness more solar projects than wind farms. 
    "Right now, the land in our area is very cheap," he said. "(Our communities are) not going to get much in the way of jobs, but they do gain benefits in terms of tax benefits." 
    Across the nation and at home, retail chain owners have shuttered dozens to hundreds of stores to either cut costs, change operations, restructure through bankruptcy or otherwise  cease operations. Gander Mountain recently left the Salmon Run Mall, following Dressbarn, Payless Shoesource and Sears. Many chains have struggled to contend with Amazon and other online shopping platforms. 
    "That's a national trend," said Mr. Gardner said. "We're affected as much as anybody in the nation." 
    In the wake of shuttering chain stores leaving behind empty storefronts, local entrepreneurs have filled them and other vacant spaces in downtowns and main streets with their own small ventures. 
    Several small boutique retailers opened up shop this year including Loft 315, Watertown, which sells its own brand of jeans and other clothes, and Farmhouse Boutique, a décor and specialty gifts shop in Lowville. They opened alongside other small businesses, including eateries like PB&J Cafe, Lowville, Foster the Plant Cafe and Saint Larry's Bar and Grill, both Potsdam. 
    "I think the economy has been good for the past few years. People have income to invest," Ms. Davis said. "People have been just very motivated lately" to open shops. 
    Mr. Gardner partially attributes the shift from large retail to small to the entertainment small shops can provide. Their owners offer expertise in the products they provide, and personable customer services many consumers still enjoy. In order to overcome the ease of online shopping through Amazon or other internet markets, Mr. Gardner said entrepreneurs with small shops must provide customer service and fun. 
    "While shopping at Amazon can be cheap and more convenient than at brick and mortars, it's not always entertaining." "I suspect to see a growth, but I don't have any numbers," Mr. Gardner said. 
    Providing unique charm, character, emotion and narrative alongside their products has helped small businesses, particularly boutique shops, has helped to attract a consumer base yearning for their types of goods, including those left hungry after the chain stores closed, Ms. Davis said. For example, Misc. Delights Co. owner Ellie Steltz shares stories about the greeting cards, mugs, bags, shirts and gifts she crafts and sells through social media. After years of selling her goods online, she moved her business from her apartment to the co-working space at the Center for Business in Lowville.  
    A few small businesses have closed this year and in recent years, although Ms. Davis said she has not heard of it resulting in a prevalent trend. The Center for Businesses in Transition, offered by the Adirondack North Country Association in the Adirondacks, helps local businesses keep their doors open, she said. When small business owners want to retire or otherwise exit, Ms. Davis, who serves as a local liaison for the program, provides a matchmaking service with entrepreneurs who would want to take over. 
    "It's one way we, as Lewis County Economic Development and the north country region, look to combat the closure of these businesses," Ms. Davis said. 
    North country consumers may witness not only continued growth in these new sectors of long-established industries in 2020, but also a few more, even as many economists believe the nation will face a recession. 
    "It's only a matter of time. Everything is cyclical. We've been on top for awhile," Ms. Robinson said. 
    Mr. Gardner said he expects continued growth in the gig economy, or laborers who earn money through freelance work garnered online. Uber drivers and renters on Airbnb, both of which rely on the internet, have become more prevalent in the region, which Mr. Gardner said can pose challenges to their more traditional counterparts, taxis and hotels. With internet providers like Spectrum, Slic Network Solutions and others expanding their coverage, which has been backed with state funding, Mr. Gardner said he expects them to generate new internet-dependent contract labor. Mr. Gardner, however, does not expect the north country to experience 5G internet until after 2020. 
    "We're seeing changes kind of at the margin," Mr. Gardner said. "Things are changing in the way we build products, but the leading-edge technology is not being adopted up here." 
    As for Lewis County Economic Development, Ms. Davis said she and her co-workers want to double down on supporting existing local businesses so they can expand, and perhaps create more jobs. By helping retain the boutique shops along main streets and farmstands decorating fields, she said her organization strives to improve the quality of life for its county. 
    "How can we make our communities better places to live?" she said. 
    Ms. Robinson said she believes agriculture will continue to flourish through budding value-added and agritourism enterprises, expanding internet coverage and technological advances should also help north country enterprises operate more efficiently, Ms. Robinson said. Collaboration among related business, like north country winemakers and other food ventures creating trails, will also be the key to success, she said. 
    Despite Watertown losing a major employer that provided hundreds of jobs, the Concentrix call center, and manufacturers like ACCO Brands, Ogdensburg, and Timeless Frames, Watertown, laying off dozens of workers, Ms. Robinson said she remains optimistic the north country economy will continue to grow in the years to come. 
    "I've always looked at the north country as a blank page we can write on," she said.