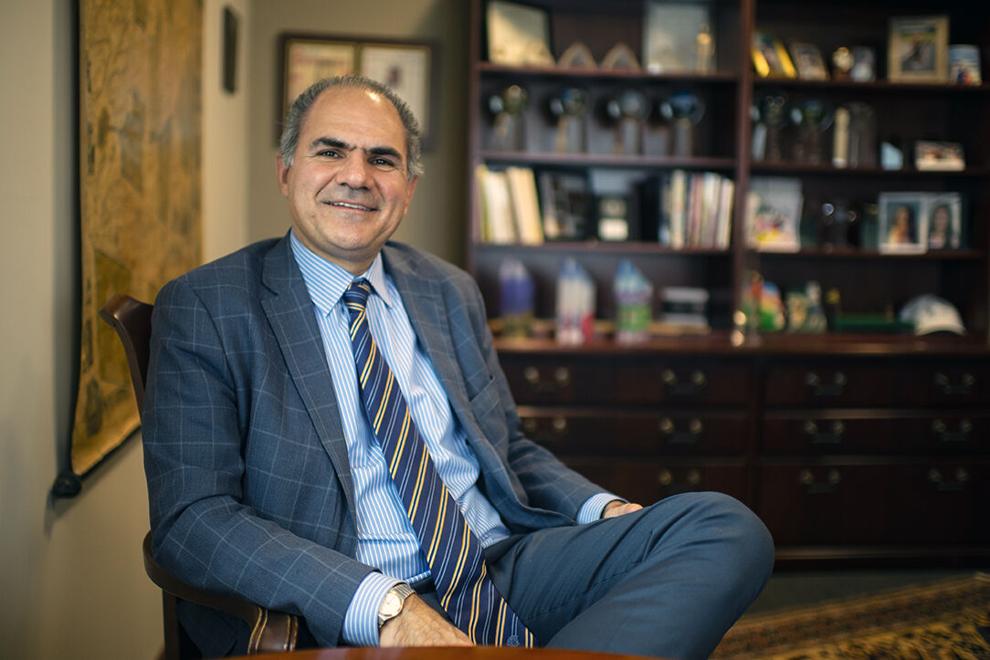 Cyril Mouaikel aims to help his clients raise children, earn an education, retire, or reach any other milestone when managing their finances at RBC Wealth Management. Using an international network of expert analysis and tools, alongside customer-specific information, advisors at RBC's Watertown office like Mr. Mouaikel execute wealth solutions in the background so the few thousand of patrons they serve locally and beyond can focus on professional and personal goals.     
    Serving clients has become "a lifestyle," for Mr. Mouaikel during his more than 20-year tenure with the firm, and he associates his clients with family. He serves clients who have stayed with him during his tenure, and three generations of clients have returned to his office for regular meetings. Mr. Mouaikel said watching those families prosper over time brings him joy, adding that he has been invited to weddings, birthdays and other special events. 
    "This is one of the best parts of this industry, just watching the growth, how clients are evolving and how their lives are evolving and how we become an integral part of their lives," he said. 
    Data about each clients' assets, needs, aspirations, environment and family factor into the creation of their wealth plans, which consists of a financial software, alongside global financial knowledge, said Mr. Mouaikel, director of the Watertown branch. Whether their oversight involves stocks, bonds, credit, insurance, retirement or estate planning, Mr. Mouaikel said Watertown advisors use localized decision making to help individuals, families, businesses and other organizations grow their wealth. 
    An affiliation with City National Bank, which is an extension of RBC, or Royal Bank of Canada, also provides mortgages, leasing, credit cards and loans, when needed. Mr. Mouaikal said he does not want to compete with local banks. 
    Most customers who sit down with RBC Wealth Management advisors in their 5,200-square-foot office atop a hill on Washington Street will seek a discretionary portfolio, which has become an industry standard. These portfolios include parameters based on each clients' objectives and risk assessments so financial advisors like Mr. Mouaikel can execute strategies for preserving and bolstering their assets, which may at times require some deviation depending on the circumstances. 
    While the company allows for primarily decentralized decision making at its branches, RBC Wealth Management, one of the top ten largest wealth management firms nationwide, allows its advisors of varying backgrounds and expertise to assist each other, as well as provide financial research it shares with advisors, customers and the general public online. 
    Mr. Mouaikel said the 12 staffers at the Watertown branch, each one with various proficiencies, collaborate to provide a holistic service to clients, although they also work on an individual basis. They can work either individually or in groups. Branches across Upstate New York, including Watertown, Syracuse, Rochester, Buffalo and Albany, also assist each other as part of a complex. 
    "We do very well by teaming and bringing the best resources that we can depending on the clients we are serving, in order to enhance the service that we can provide for the client," he said. 
    The Watertown RBC branch has served north country customers for 105 years, albeit under different names. It started as Foster and Adams in 1915, then was purchased by Tucker, Anthony & R.L. Day Co. in 1978. The firm then merged with RBC Dain Rauscher in 2002 and carried that name until it became RBC Wealth Management in 2008. 
    The company has not only served clients, but also supported various local nonprofits through donations and sponsorships. The Clayton Opera House, Antique Boat Museum, Frederic Remington Art Museum and Northern New York Community Foundation are among the benefactors of RBC Wealth Management's philanthropy. Some organizations have received donations from RBC Foundation, and Mr. Mouaikel said members have volunteered and served on local nonprofit boards. 
    "We also manage assets for many nonprofits as well, and we feel this is a crucial part of our mission," he said. 
    Mr. Mouaikel traveled to Watertown from Canada more than 20 years ago with his wife, Marlene Hajal Mouaikel, a pediatrician who secured a job in the area. He joined the firm, then Tucker, Anthony & R.L. Day Co., in 1998 as a financial advisor, then climbed up the ladder to become branch manager in 2002. 
    The couple initially planned to stay for only three years, which Mr. Mouaikel said was the length of time his wife needed to work in a rural community to obtain a green card, then leave. It has been 23 years; the north country has become their home, where they raised their children. 
    "This has been such a welcoming and nice community for us. This is home. This is where we developed great friendships, this is where are three children were born," he said. 
    The service Mr. Mouaikel has provided has not gone unrecognized. Forbes and SHOOK Research named him to their Best-In-State Wealth Advisor list this year, give him the rank of 22 in New York, excluding New York City. Rather than boasting, however, Mr. Mouaikel gave credit for the award to his team in Watertown. 
    "Of course, it is very nice to get this award, but again, I have to emphasize that I did not get the award, it's the team," he said. 
    RBC Wealth Management has no plans of resting on its laurels. Mr. Mouaikel said the Watertown banch plans to hire more advisors who would increase the value of its services when necessary, even as technology allows less people to perform more tasks. 
    "We continue growing in the right direction by keeping the utmost respect for this organization in the community. I think that our reputation is the most important asset we have, and as long as I am here, this is what I would fight for the most," Mr. Mouaikel said.