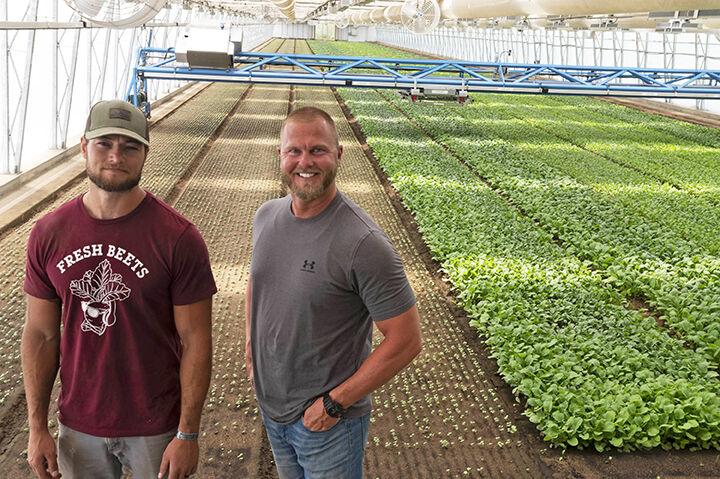 Months ago, when the ongoing COVID-19 pandemic was ramping up in New York and restaurants closed their doors, the three co-founders of Agbotic, Inc., faced with the loss of a majority of their business seemingly overnight, had an important decision to make. 
    While many employers had to let staff go during this trying time, co-founders John Gaus, Kevin Richardson, and Cody Morse kept on all 23 Agbotic employees and decided to use the surplus of produce the closures of businesses they'd usually send to left them with to donate to various New York food banks and distributors. 
    Agbotic is an organic farming company currently operating out of a large complex on Route 75 just outside of the village of Sackets Harbor, combining traditional farming techniques with precision tools, advanced data analysis, machine learning and artificial intelligence. The company's use of cutting-edge technology to create a streamlined farming experience results in fresh, organic produce enjoyed by many. 
    Pre-virus, the core products produced at Agbotic were baby root products like beets and several different kinds of radishes as well as some turnips, which were delivered to New York City, mostly to specialty places, but with COVID-induced restrictions, all restaurants in the city closed in March. 
    "We lost the majority of our business almost overnight, so we started planting different, more staple crops specifically for the purposes of delivering those crops to food banks," said Mr. Gaus. "They look like more traditional things you'd find in the grocery store versus crops growing only for high-end restaurants; we spaced those products out and added more staples like arugula, kale, some mustard greens, and some different varieties of basil." 
    Not knowing what was going to happen with the virus and supply chains in the long term, Agbotic also planted some crops that traditionally have been associated with respiratory health like higher CBD hemp, Tulsi, a medicinal form of basil, and thyme. They also planted some outdoor crops like shelf-stable squashes for the fall. 
    "Hopefully, we're not going to need them, but if there are people in the community that are desperate for those, we've got them if we need them," Mr. Gaus said. 
    Ever since the business was started years ago, Agbotic has made periodic donations to food banks such as the Salvation Army, but this was pre-virus, when the company was still bringing in revenue from restaurants and other distributors. The decision to pivot and begin donating produce at a much higher scale than before was one that was made quickly, amid a lot of uncertainty as to how long the virus would plague the nation and world and keep restaurants and other businesses shuttered. 
    "We built these new greenhouses and were turning them on and ramping them up, but the same time, the virus was shutting all the restaurants," Mr. Gaus said. "That's where this massive excess of food on our hands came from. As a management team, the three of us founders were a little bit nervous about the business at that time, but we decided to keep the whole team on the field, keep everybody employed because so many people were losing their paychecks. Knowing that there would be people who were in need of food, we just kept on going and gave away every bit that we could." 
    According to Mr. Gaus, Agbotic has donated over a couple hundred thousand dollars' worth of food and while they were intentionally running at a lower capacity than the maximum potential of the facility because the markets haven't bounced back yet, as the markets revive the company is hoping to ramp into full capacity and keep donating food while there's a need for it. 
    Since the pandemic, Agbotic has used its robotic technology to provide produce to local distributors like Renzi Food Service to feed communities in need through home deliveries, as well as distribution outlets like the Watertown Urban Mission, where individuals can come and pick up food boxes at no cost. 
    "We took the initiative and contacted a majority of the places to donate to because we had all this wonderful, fresh food that we didn't want to go to waste," said Mr. Richardson. "I think after we had gotten some press for doing so, some other people reached out to us for food donations as well." 
    Aside from a continually strong desire to give back to the local community, the co-founders of Agbotic wanted to boost donations during the pandemic because the company received New York State economic development money as part of their project, so they thought it would be the right thing to do when many were going to be out of work and possibly not have money for fresh groceries. 
    An unexpected side benefit to come from all this that the three men, born and raised in the area with a wealth of knowledge about farming and technology between them, had not really anticipated- the donations helped to boost the morale of the entire Agbotic team. 
    "I think everybody that works here felt really good about being able to help out in that way," said Mr. Morse. "A lot of the donations we sent out, after we were finished delivering, whoever it was receiving the produce would always get a picture with the person delivering. They'd always ask and be super grateful." 
    As a recipient of the fresh, organic produce Agbotic regularly donates, the Watertown Urban Mission is grateful for the support. According to Dawn Cole, the mission's executive director, Agbotic introduced the mission's pantry to baby beet greens and baby radishes- both of which she didn't know existed before they were donated, and both of which have been big hits with pantry customers. 
    "We tend to get lots of canned vegetables, so when you can get nice, fresh produce it's really a treat," she said. "They package it up beautifully, too, so that saves us a lot of work; we're able to put them right into the food boxes." 
    The deliveries to the mission come in fairly frequently and have been consistent through the pandemic, which Ms. Cole said has been fantastic. The total number of families served from a typical delivery varies, but with each delivery the mission estimates between 150 and 175 families benefit. 
    Having not heard of baby beet greens and baby radishes before Agbotic, the mission looked up recipes and provides them to people for ideas of what to make with the fresh produce. 
    "When you walk into any pantry, there's not usually a lot of green, so everyone was pretty excited when this started," Ms. Cole said. "It exemplifies the tremendous generosity in the north country and the way we come together and continue to help one another in times of adversity." 
    With uncertainty still surrounding the COVID-19 pandemic, the resulting closures, and a possible second wave, Agbotic is dealing with unknowns like most businesses at the moment, but the company is 
    hopeful for a bright future and expansion into new markets. According to Mr. Morse, it has been moving towards home deliveries more these days, and he believes that will continue. 
    Aside from home deliveries, the farm company is eyeing expansion. 
    "We've been primarily focused in New York state, but we've got project opportunities to deploy greenhouses into four or five different states right now as well as Europe," Mr. Gaus said. "What we're doing is aimed at growing the highest quality, local and organic food you can imagine, but doing that in a way that we can also replicate it into as many communities that want this kind of farm as possible. So, any community anywhere in the world that wants a farm like this one, we want to go build it." 
    As far as building, all the greenhouses on the company's sprawling Sackets Harbor complex were built by Mr. Morse, who touched every nut and bolt, invented the machines, and figured out how to automate them. Each greenhouse is 18,000 square feet and depending on the crop grown in them, could produce 50,000 to 60,000 pounds of food each year. Mr. Morse, a former Marine, was born and raised on an organic farm and is an inventor and builder of innovative tools, automation, environmental systems and controls, fitting the role of vice president of technology well. 
    Mr. Morse's co-founders, Mr. Richardson and Mr. Gaus, are a food industry entrepreneur and a computer and electrical engineer, respectively. Together, the three are always looking for ways to improve production and continue to serve the local community and New York as a whole- and possibly more states and countries in the future. 
    Agbotic is continually growing new retail locations and placing new products into retail locations, according to Mr. Gaus, and is also really looking forward to the restaurant business getting back to normal. 
    "As an organization, we're very proud of the decisions we made during the pandemic," Mr. Richardson said. "We're going to continue to build upon those and open up as many markets as we can as this virus allows." 
    While the three co-founders of Agbotic are impressive on their own, they couldn't have pulled off such a large-scale, continual donation of pounds upon pounds of produce alone. The Agbotic team, working tirelessly through the pandemic to meet the needs of those hit hardest by the virus and its ensuing closures, is also to thank for the success. 
    "I'm just proud of the team that we've built with the community," Mr. Morse said. "I think it's brought the community a lot closer by hiring all local employees and keeping them employed; I think they're all grateful to be working here and we're grateful to have them."