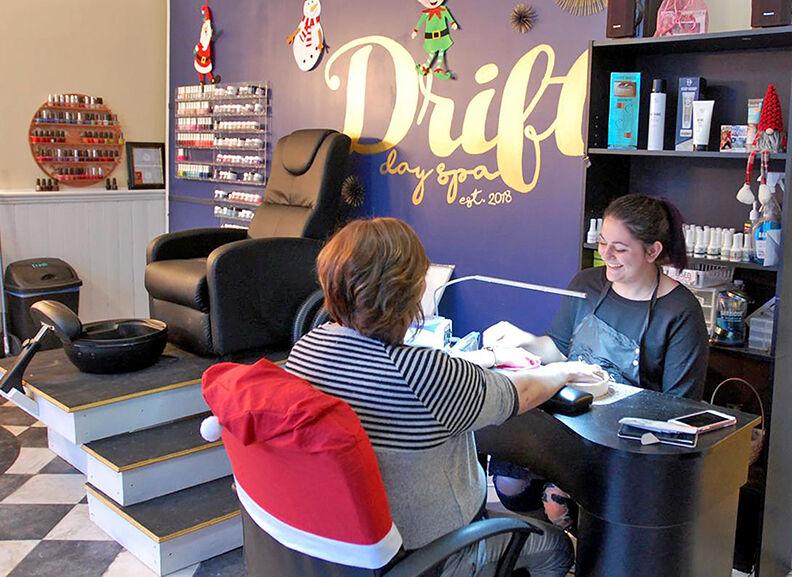 At 29 years old, Meghann Hellinger has already started her own day spa, capitalized on a prime location change opportunity and embraced starting another new business that evolved from that change, all in less than two years. 
    As a result, Lowville's historic Bateman Hotel is having another renaissance and the taps will flow at the tavern for the first time since the 1980s. 
    "I started doing massage therapy because I was a bartender and I was really tired of curing people's problems with alcohol," Mrs. Hellinger said. "So I wanted to focus on bringing another way for people to feel good other than with alcohol." 
    After being a self-employed massage therapist at Open Sky Wellness for more than three years, Mrs. Hellinger decided she wanted more, which resulted in opening her own shop, the Drift Day Spa on Elm Street in the village, in October 2018. 
    Mrs. Hellinger credits Kathleen Merrick, the originator of Open Sky Wellness, with creating the massage market locally, but now, she said, the impact of massage speaks for itself. 
    "Once you get someone in for an initial appointment and they realize how helpful it is, they're sold," she said, especially for people trying to manage pain issues without opioids or other medications. 
    By May, the business was doing very well and with a vision of expanding to include hair services, it was already time for a change. 
    "The place on Elm Street was fine, but we needed a bigger space to be able to bring in more people," Mrs. 
    The Bateman, with its downtown location, deep history and character, was exactly what she hoped to find. She crunched the numbers with the help and support of her husband, Brandon, and she reopened in her new shop on Aug. 1. 
    "It's been more money management than having money," Mr. Hellinger said about how they were able to start the business and change locations in less than a year and then plan to open a second, very different business in less than two without going into debt. 
    He said they have invested their savings, proceeds from the spa and even cash gifts from their September wedding to make it all happen. 
    A carpenter by trade, Mr. Hellinger is, they both agree, the man behind the scenes that has made their businesses possible. 
    Mrs. Hellinger focuses on "public success" by providing the vision, branding and running the business, she said, but for her husband, success is more personal. 
    "The more knowledge I can acquire the happier I am, but that doesn't always translate into other people thinking I'm successful," he said. 
    While Mr. Hellinger handles much of the paperwork and accounting, Mrs. Hellinger said his carpentry skills made Drift possible in both locations and minimizes the risk of taking on the bar. 
    Mr. Hellinger custom-built and soundproofed two massage rooms in the Bateman in a way that maintained the integrity of the vintage architecture, work which would have otherwise cost thousands of dollars, she said. 
    The couple plans to take the same approach to the draft house: they have no desire to paint the exposed brick or the wood bar, nor to replace the marble and brass detailing, instead preferring to embrace the vintage and keep the "speak easy" ambiance, just in time for the new '20s. 
    Their concept is to have 24 taps with craft beers, locally produced wine, malted ciders, New York state-only distilled spirits and to serve soups, salads and sandwiches homemade each morning to get things started. 
    "We don't want to get ahead of ourselves with food, at first we weren't even considering it," Mrs. Hellinger said, but it's required for the type of liquor license they want. 
    At first, they weren't considering opening a bar at all. 
    When the owner of the business in the old Bateman tavern space next to the spa announced their closing, Mrs. Hell1nger knew she wanted the space that shares a connecting door with Drift, maybe for tanning beds. 
    After she had seen it though, she knew it was not meant for tanning. 
    "I thought, when you look at it, how's it supposed to be anything else?" Mrs. Hellinger said. "So when we were down in New Jersey for the weekend, on our way home and I kind of looked at my husband and I was like, 'So what do you think about possibly opening a bar? You can say no. It's fine.'" 
    It turned out her husband was thinking the same thing and with his love of craft beers and her appreciation of wine and cider, the Bateman Draft House idea was conceived. 
    "This happened to work out perfectly for us. Had there not been a bar there already, we wouldn't be doing what we're doing, but we feel we need to bring that back to life. It was empty and used as storage for a long time before the last business," she said. 
    After already receiving a positive recommendation by the county planning board, the couple will head back to the village planning board later this month for final approval. They are also in the process of applying for their liquor license and hope to be able to open the Draft House within the next six months. 
    Mrs. Hellinger shared some advice for potential young entrepreneurs hesitant to start something new or strike out on their own that was given to her early in life. 
    "Someone told me if you don't try, you're always going to wonder why you didn't and that's going to eat you alive more than failing. I think that's what has pushed me to go for it," she said, "To not try – that fail is a bigger fail than failing."