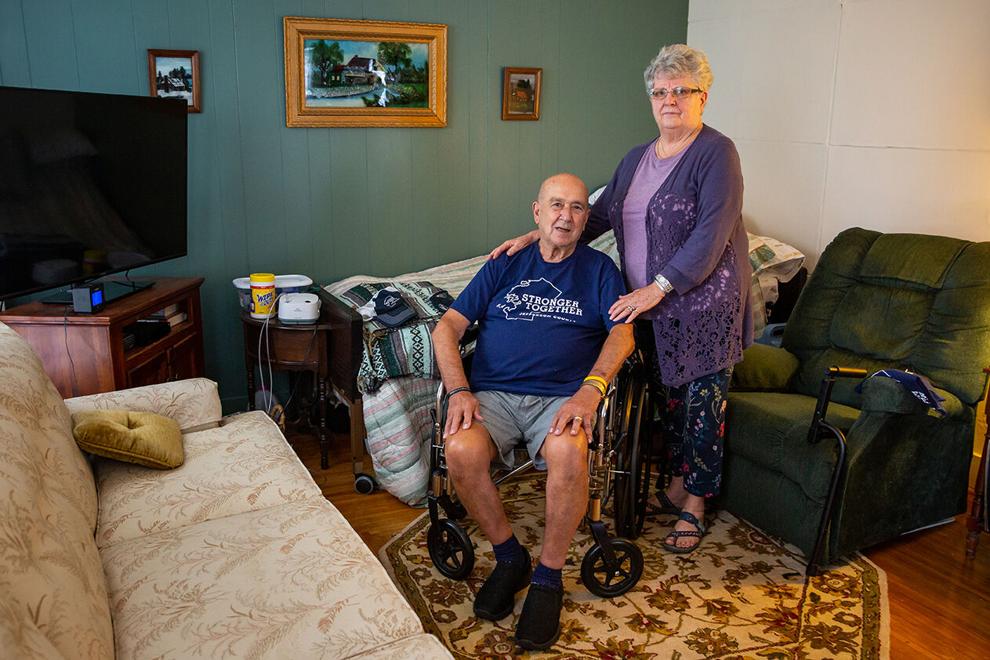 Fifteen years ago, Roland "Rollie" J. Donato, 80, was given a diagnosis of small cell lung cancer, told he only had a few months left to live, and advised to use that time to make any necessary arrangements- but the months came and went and Rollie long outlived his prognosis. 
    He was diagnosed with Parkinson's about 10 years ago and squamous cell lung cancer a year ago this past July. Last year, when Rollie was in South Carolina visiting one of his daughters with his wife, Brenda M. Donato, he was sent to the hospital and wasn't allowed to leave the hospital unless the family had hospice care. 
    The Donatos started off with hospice in Charleston last winter and now that they're back at home in Watertown, Rollie has been a patient with Hospice of Jefferson County since March. 
    When it comes to end of life care and supporting families in their greatest time of need, Hospice of Jefferson County is unwavering in its commitment to both patients and families. 
    With everything going on with Rollie, Mrs. Donato said she doesn't know how anybody would get along without hospice, sharing that his nurse gives her just as much support as she gives to Rollie. 
    "Just to know that they're here for moral support, that's what really helps," she said. "They're excellent, I can't say enough. I don't think people realize the patient needs care, but the caregiver needs the emotional support." 
    Hospice of Jefferson County was founded in 1985 out of a need in the region for an organization that could support patients who desired to spend their final days at home, as well as the family members who cared for them. Hospice started as a volunteer organization with its first office located in a room at the former New York State Air Brake with a staff of less than ten. 
    Today, hospice consists of a staff of 41 nurses, social workers and counselors and a large group of volunteers. Over the years hospice has cared for more than 5,000 patients and their families in Jefferson and St. Lawrence counties. 
    Rollie's latest diagnosis, squamous cell carcinoma of the lungs, also called epidermoid carcinoma, is a type of non-small cell lung cancer that typically develops in one of the air passages, or bronchi, of the lungs. It is the second most common type of non-small cell lung cancer and accounts for roughly 30 percent of all lung cancer cases. 
    Mrs. Donato said it is untreatable due to how aggressively Rollie's small cell lung cancer was treated all those years ago. 
    "They treated his brain also when they did the radiation on his brain, they figured that could have caused the Parkinson's," she said. 
    According to Mrs. Donato, the Parkinson's has caused Rollie a lot of dementia. 
    Rollie will be turning 81 on Nov. 18 and celebrating his anniversary with Mrs. Donato on Nov. 20. Mrs. Donato joked that 55 years later she's surprised they still like each other. The two were introduced by Mrs. Donato's brother-in-law at a bar. 
    "Rollie had never been sick until he had the lung cancer 15 years ago, and small cell is deadly, and they told us he would be gone within four months, to go home and make plans, financial arrangements, get everything ready and live for four months," Mrs. Donato said. "Well, the good Lord knew more, and he's still here." 
    Sally B. Grzesiak has been a volunteer with hospice for the past 27 years, since 1993. Originally, she just came in to buy tickets for a concert hospice was hosting. 
    In the office, she was just talking with people and asked the question that would shape the next nearly 30 years of her life: "Do you ever need anybody in the office as a volunteer?" 
    She was signed up immediately and has been a devoted volunteer ever since, doing office work, calls with patients and caregivers, data entry and making sure that all thank you cards go out to those who donate to hospice in memory of a loved one. 
    "It's good to be able to feel like you're doing something for somebody; the Lord does much for us and we should give a little back," she said. "I'll keep volunteering as long as they'll let me come in the door. That's part of the reason I've stayed so long, everybody's so interested and kind and helpful. It's like a family." 
    The newest chapter in hospice's history is an eight-bed residence and office building on Gotham Street in Watertown. This facility allows hospice to provide round-the-clock care to residents in need, as well as relief for families who may need some help from time to time. 
    Hospice of Jefferson County is one of 11 hospices in the state that have a residence. 
    The hospice residence is an eight bedroom facility located at 1398 Gotham St. Each resident's room features a screened in-porch, so even during COVID, they can visit with their loved ones, albeit sometimes only through the screen for now. Each bedroom also has a private bathroom, overlooks a pond, and includes a sleeper sofa for family members wishing to spend the night with their loved one. 
    The residence also features a large, communal living room with a fireplace and a kitchen available for all to share. Meals are prepared whenever desired and attempts are made to meet food preferences and requests. 
    The hospice campus also features a small beauty salon where residents can go to have their hair done, a quiet room for reflection, walking paths outside, and even a "ForEvergreen" Tree, made up of small plaques and established by the Hospice Foundation as a tribute and memorial program. Each element of the tree can be inscribed with the names or occasions of those to be remembered and honored. The Hospice Foundation was established to provide long-term financial support for Hospice of Jefferson County. 
    Andrea Paratore, Director of patient care at hospice,  has been with the organization for the past four years. 
    "I like to think of ourselves as care coaches, that we provide the guidance and the education to make this journey doable, to make it safe; I guess really just memorable for these families," she said. "We are mission driven, we strive to provide exceptional care to not only the patients that we serve, but to their families. We love what we do, it works, and we'll continue to strive to meet those goals going forward." 
    Hospice of Jefferson County provides a team of professionals to help families during the final months of a loved one's life. The hospice team works with the patient, the family, and the patient's physician to put together a unique plan of care. The Hospice team consists of registered nurses, licensed practical nurses, social workers, bereavement counselors and volunteers. 
    Through the coronavirus pandemic, hospice has remained open and ready to serve those who need it. 
    Hospice services include the unique Pet Peace of Mind, which enables patients to keep their pets at home through their end of life journey, though residents at Hospice's Gotham Street campus benefit from visits from the organization's five therapy dogs. Bereavement services include support groups, individual grief counseling, youth grief activities, and yearly memorial services. Bereavement counseling is made available to family members for up to a year after the death of a loved one. 
    Ms. Paratore shared that when she went to calling hours for a patient that had passed, whose son had come from out of state to provide her in-home care, she walked through the line and as soon as he saw her, he started to cry and said without her and her team, he and his mother would have never had the conversations they did before she passed away. 
    "I've had hospice for my own mother," Ms. Paratore said. "I think there's just that connection there. Not only do I educate about it, support it, preach it, but I also practice it. I was there on the other side. I've seen it from all different aspects." 
    A patient is eligible for hospice when curative treatments are no longer the choice of the patient and life expectancy is less than six months. Sometimes, when it's within their power, those at Hospice can grant bucket list wishes. 
    CEO Diana K. Woodhouse, who has held the position for the past eight years, shared that Hospice had a woman a couple years ago who had never had a famed Tom and Jerry from the Crystal Restaurant in Watertown's Public Square and wished to try one. Hospice contacted those at the Crystal- in late July, well out of the restaurant's normal time to make the seasonal drink- and they reserved the restaurant for one evening, shutting the doors for the woman and a few of her friends to go in while those at the restaurant got out the bowl and made them Tom and Jerry drinks. 
    Another patient wanted to see The Phantom of the Opera when it was in Syracuse, so Mrs. Woodhouse met her and her caregiver at the theater to make sure that she was going to be okay and also got the cast to sign a program for her, giving it to her before she left. 
    "That's what we're building: positive, long lasting memories," Mrs. Woodhouse said. "It's just a culture of caring that's unique and supportive of whatever the individual's needs are." 
    Mrs. Donato recalls when the couple were at their cottage on Pillar Point this past summer and didn't have air conditioning. 
    "They came down and they said, 'What do you mean you don't have air conditioning?'" Mrs. Donato said. "By 4:30 that afternoon, there was air conditioning in the cottage. They brought it down and it was as helpful for me as it was for him- they just seem to go that one step further for you all the time." 
    From 2018 data, the latest data available, those at hospice realized that it was the top rated, quality providing hospice in the state. 
    Recently, Hospice of Jefferson County launched its Jefferson County Stronger Together apparel campaign, selling apparel with the same message. Proceeds from sale of the apparel will benefit Hospice of Jefferson County. Rollie, in an effort to represent an organization that has done so much for him and his family, owns Stronger Together shirts, a hat and a mask. 
    Anna M. Rascoe, RN, is Rollie's nurse and has been caring for him since March, visiting him to check his vitals and assess him biweekly. 
    "He's great, he's got a great sense of humor," she said of her patient. "Brenda is great, too. They're very family oriented and they're just very easy to talk to, you can sit and just visit and really get a lot of info on how he's feeling just doing that." 
    She also shared that Rollie can be quite mischievous, waiting until his wife leaves the room before trying to get out of the door in the opposite direction, heading out to do things like tinker in the garage. 
    "A lot of people think that when somebody is put on hospice, they're automatically started on a slew of medications that kind of helps them pass, but that's not the case," Nurse Rascoe said. "We don't start any medications until the symptoms warrant them to be started. So, Rollie's got all three comfort meds that we order on admission, but he has not started any of them because he hasn't needed them." 
    The Donato's grandson, Nicholas A. Sprague, 25, lives with them in their Watertown home, along with his new wife, Jasmine. The two couples share the house, both occupying one side of the residence, with Mr. Sprague never too far if his grandparents need him. 
    "Nick, he's been wonderful," Rollie said. "He really knows how to take care of someone." 
    A typical day at home for Rollie consists of watching TV, using a nebulizer four times a day and taking his medications. His favorite channels are Lifetime and Hallmark. 
    Both Rollie and Mrs. Donato know they can rest easy knowing they have hospice behind them, supporting them through every step of their journey. Their social worker, Nicole A. Shultz, has been with them since they joined Hospice of Jefferson County and said she looks forward to visiting the couple and checking in with them. 
    "Brenda knows that Rollie is declining, but she's a super strong woman and she is very stoic," she said. "She was prepared for his death 15 years ago, and here she's still navigating through that and she's coping extremely well, and Rollie of course is coping extremely well, so I think it's great to see that. We encourage people to come on Hospice well before their last few days of life so that we can really make every day matter for them.