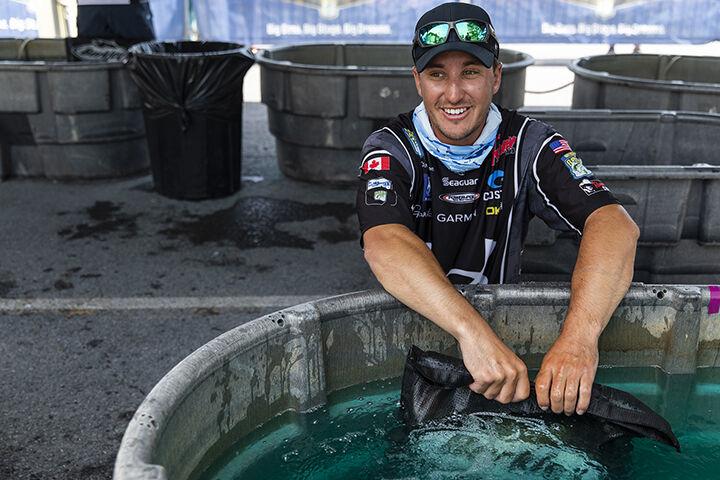 Bassmaster made history in Clayton in late July, and a few anglers wouldn't mind returning to the Thousand Islands in the years to come. 
    Across the tournament's four days, anglers sang the praises of the St. Lawrence River and Clayton's proximity to Lake Ontario. It was that ability to fish in the lake that helped Chris Johnston become the first Canadian to win a Bassmaster Elite Series tournament. 
    When asked if he would want the tournament to return to Clayton, runner-up Paul Mueller said, "Is that a trick question?" followed by a laugh. 
       "Absolutely," Mueller continued. "I would love to be able to fish the lake again and I think there are even times of the year where the lake would fish better than it did this time around. The lake is a phenomenal fishery, so is the river, but it's cool to have the option. But as you also (saw) this week, guys did extremely well with largemouth, guys did well in the river." 
         Mueller, a Connecticut native, had one of the more successful tournaments, placing first each of the first three days and catching the biggest smallmouth in Elite Series history at 7 pounds, 13 ounces — a catch that came out of Lake Ontario. 
    However, the anglers will have to wait until 2022 at the earliest to return to Clayton. According to Eric Lopez, the director of event operations at Bassmaster, BASS is contractually obligated to base next year's Elite Series St. Lawrence tournament in Waddington. As for the event returning to Clayton after that? "There is definitely a possibility," Lopez said. 
    "When you have an event of this size and, granted what you've seen here is a much more scaled down version, we've had no expo and no crowd," Lopez said. "New York state supports us so well, we usually have tens of thousands of people come out. When the event is done in any city, we sit down with city planners and ask what made sense, what didn't make sense, what makes sense going forward for them and for us." 
    The Times reported on Aug. 6 that both Scott Gray, chairman of the Jefferson County Board of Legislators, and Chris Bogenshutz, president of the Clayton Chamber of Commerce's executive committee, were interested in bringing either the Elite or Open Bassmaster series back to Clayton once negotiations reopen. 
    To Tom Dolin, the Bassmaster on the St. Lawrence River tournament makes most sense when it's held out of Clayton. Tom and his wife Michelle own the Bridgeview Motel in Alexandria Bay where about 10 anglers stayed during the tournament, including tournament winner Chris Johnston. He was disappointed that the tournament has been based out of Waddington for the past several years. 
    "Quite honestly, Bassmaster used to come to Clayton every other year faithfully with the Bassmaster Open tournament and I know that because I fished them," Dolin said. "And if you want to hear my opinion on it, I'll tell you that both Alex Bay and Clayton need to come together as a team, that way Clayton doesn't need to bear all the burden to make sure Bassmaster starts coming back to their home because Clayton is the home, Clayton and Alex Bay. Somebody needs to get together and make that happen again." 
    Dolin, a former Bassmaster angler, still keeps in touch with many of the anglers, especially Mark Zona, which is how so many ended up at the Bridgeview Motel. 
    "It's great, we love having them, they're all stand-up individuals and we took great care of them," Dolin said. "We took great care of them right here so they didn't have to go anywhere, and of course they were all tested." 
    Dolin, whose Bridgeview Motel is a member of the Alexandria Bay Chamber of Commerce, said he wouldn't have a problem joining the Clayton Chamber of Commerce as well if they brought back the Bassmaster tournament on a more permanent basis. 
    "Unless they're going to support fishermen, I have no interest in supporting them as well," Dolin said. "Because the fishermen come to town, they spend a lot of money, they bring a lot of business to the town. And, quite honestly, in our case, if it weren't for fishermen, we'd be having a big problem." 
    Mike Simpson, owner of the Clipper Inn in Clayton, saw a small bump in business during the Bassmaster tournament. 
    "I would say yes, certainly there was some extra business created by that," Simpson said. "I know I had some fishermen here; not a lot. This isn't typically a place where fisherman stay, I think I had one fisherman stay here. But, yeah, it was good, those kind of things are always good for business and this was no exception." 
    The Clipper Inn was briefly mentioned in the ESPN2 broadcast of the event. According to BASS, about 4.3 million people tuned in over the course of the four days. 
    The Clayton Chamber of Commerce estimated that the region netted $250,000 in direct income due to the tournament. 
    Clark Wendlandt, a professional angler for 28 years, finished the tournament in eighth place with a total of 76-11. To him, the Thousand Islands is a special fishery. 
    "I would say, in all honesty, for me personally, this is my favorite place I've ever fished," Wendlandt said. "I just love it here, I don't know why. I fished my very first BASS event ever in 1992 out of Clayton and I've only fished two tournaments here out of Clayton, but I just really enjoy fishing here. It's a neat place, it's huge, it has clear water and big smallmouth, what more do you need than that?" 
    Lopez and the rest of BASS values the anglers' input when it comes to deciding a take-off point for an event. 
    "Their input is definitely very important to us, but we're the league and we want to make sure there is no favoritism," Lopez said. "We have anglers from all over the country and some of them may have biases." 
    The last Bassmaster pro tournament held in Clayton was in 1999.