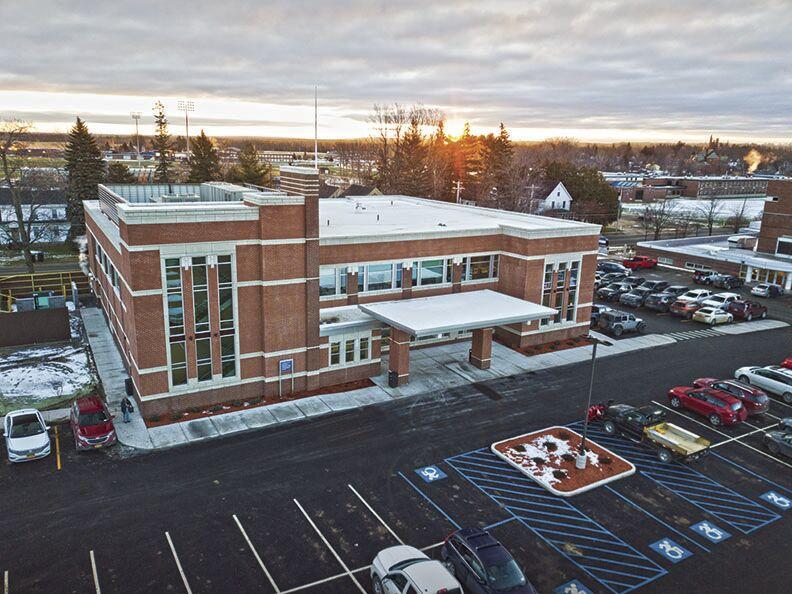 With an aging population and longer life expectancies, there is an ever-increasing demand for health care services. 
    In response to this demand, there have recently been some major investments made by area hospitals to expand their services and healthcare availability in an effort to provide the best care possible to north country patients. Across Jefferson, Lewis and St. Lawrence counties, growth and expansion is the name of the game currently, all with the needs of the communities the hospitals serve in mind. 
In Alexandria Bay, River Hospital is undergoing renovations to bring the hospital, which opened in the 1950s, into the present. 
    Among the upgrades is the construction of a new Medical Office Building that will house the primary care, special services, behavioral health and physical therapy for the hospital. The Medical Office Building, along with the expansion of the hospital's emergency room, which will bump the number of private bays from five to nine as well as add a special trauma bay and a separate entrance for ambulances, is part of the hospital's capital project- a $4 million endeavor. 
    "Seeing the transformation of the hospital building as well as the construction of the new Medical Office Building is so exciting for us," said Andrea Roden, director of marketing and community relations. "The investments that are being made into these buildings will allow our patients more space and privacy when they utilize our services." 
    Other River Hospital projects include the addition of a second operating room and a new central sterile department, which will allow for instruments to be sterilized on the same floor they will be used on, as opposed to being sterilized downstairs and then brought up for procedures. 
    In its first phase of a transformational project, Carthage Area Hospital has just secured designation for a rural health clinic, which was a huge accomplishment and needed to be achieved before the 2020 census, according to Taylour Scanlin, foundation and marketing executive director for Carthage Area Hospital. 
    The current Carthage Area Hospital opened in 1965 and is reaching the end of its life for its present use, so for its new, consolidated campus, the hospital is building a facility to house a new hospital along with four remote clinics. 
    CEO Richard Duvall has said the economic impact of the new campus will sustain the hospital for the next 40 years and will spur other economic development in the area. According to Ms. Scanlin, this is between a $60 and $70 million program coming to Carthage, something that we won't see again in our lifetime. 
    "If you're sick or your life is on the line, an extra 15 to 20 minutes could be the difference between life and death," Ms. Scanlin said. "It's important for people to be able to access healthcare in their own backyard." 
    The newest addition to Canton-Potsdam Hospital, the Leroy Outpatient Center, is a 20,000 square foot, $10.5 million structure across the parking lot from the hospital that features four physician practices, 16 clinical exam rooms, four infusion bays, three surgical suites and a cardiology testing area. 
    St. Lawrence Health System CEO David Acker told the gathered crowd at the center's open house earlier this month that the primary function of the new building was to alleviate pressure on the surgical floor of the hospital where simple procedures competed with more serious and acute procedures, as well as giving the hospital more space for doctors. 
    The waiting room of the center is equipped with charging stations for phones and laptops and a digital tracking system that allows family members to keep track of their loved ones undergoing procedures. 
    According to Laura Shea, marketing director for Claxton-Hepburn Medical Center (CHMC), and CEO Richard Duvall, planned growth in 2020 includes a construction project that will add 19,000 square feet to CHMC's existing 100 Horwood Place, Ogdensburg, building. The expansion will provide much-needed space for approximately eight physicians and mid-level providers, including pediatrics, family medicine, and internal medicine. 
    Claxton-Hepburn will also build an inpatient child and adolescent psychiatric unit, thanks to a $2.63 million grant from New York State's Statewide Health Care Facility Transformation Program. 
    Lewis County General Hospital (LCGH) is working on a three-to five-year strategic plan that will serve as the road map for moving the health system forward with a strategic vision and measurable operational goals, according to CEO Gerald Cayer. 
    With a medical staff of over 100 and a total health system work force of nearly 700 associates, LCGH is the largest employer in Lewis County, with an operating budget of $80 million, and serves as a local access point for about 20,000 residents of Lewis County. 
    Because access to primary care and appropriate specialized care in rural areas is very difficult, getting physicians is one of LCGH's focuses and part of the strategic plan going forward. 
    "When you operate a health care system, it is crucial that you successfully recruit physicians, nurses, and other skilled sets like therapists, Mr. Cayer said. "By continuing to invest in the local healthcare system it puts us in a better position to recruit the next generation of healthcare providers because buildings don't provide care, it's the people in them that do." 
    LCGH is taking the opportunity to modernize certain parts of the building- some parts date back to 1931- and adding a new OR suite with three operating rooms and procedure room, as well as revitalizing medical/surgery. According to Mr. Cayer, between these hospital projects, a cost of around $25 to $29 million dollars is attached. 
    In Watertown, Samaritan Medical Center has opened not one, but three locations recently in order to provide more services to an increasing number of patients. 
    The Car-Freshner Center for Women and Children opened in August and features lots of space and natural light for patients to enjoy, the Women's Wellness and Breast Care location opened just weeks ago, and the Walker Center for Cancer Care opened in late 2018. 
    "I think that every year, every healthcare institution needs to reinvest in themselves to support patients better and expand services," Leslie DiStefano, director of communication and public relations for Samaritan, said. 
    The Car-Freshner Center is part of a facility masterplan Samaritan has been working on for a decade, and features an entrance on Sherman Street so women will have easier access into the facility. 
    The Women's Wellness space was being used for storage, but after thinking of how to bring multiple services into one location for patients to make the most out of their appointments and time, it was a no-brainer to incorporate services ranging from gynecological to mammographic into the space, a project Ms. DiStefano said was made possible by a grant from the Statewide Healthcare Facility Transformation Program for $9.8 million. 
    In Massena, Massena Memorial Hospital is investing both this year and next in equipment. From a brand new digital mammography machine and coagulant testing equipment to boilers and other necessities, efforts are being made hospital wide to increase efficiency. 
    According to CFO Patrick Facteau, some things in the hospital were originals from 1952, so they are all being updated, and the hospital is making sure defibrillators are in all nursing units and are all the same in order to interface with the hospital's computer system- a $1.5 million investment. 
    Altogether, around $2.5 million is being reinvested into the facility. Massena Memorial employs 400 plus employees and brings a net impact of $87 million to the community annually. 
    Vital pieces of equipment like new anesthesia equipment and updates to the nutrition department, like a replacement kitchen hood and a walk in fridge/freezer, are also part of the upgrades to the hospital and come to nearly $100,000 together, with a plan in place to add additional items next year, according to Tina Corcoran, senior director of public relations. 
    With all the investments made by the hospitals in the tri-county area, regional healthcare is continuing to grow and expand in the north country and doesn't appear to be coming to an end anytime soon. From the addition of equipment to building brand new facilities, the hospitals in the area are dedicated to their patients and have their best interests in mind. 
    "Being a community hospital in the north county, you have to reinvest," Mrs. Corcoran said. "All these pieces of equipment have a specific need; we're meeting the needs so people can stay local."