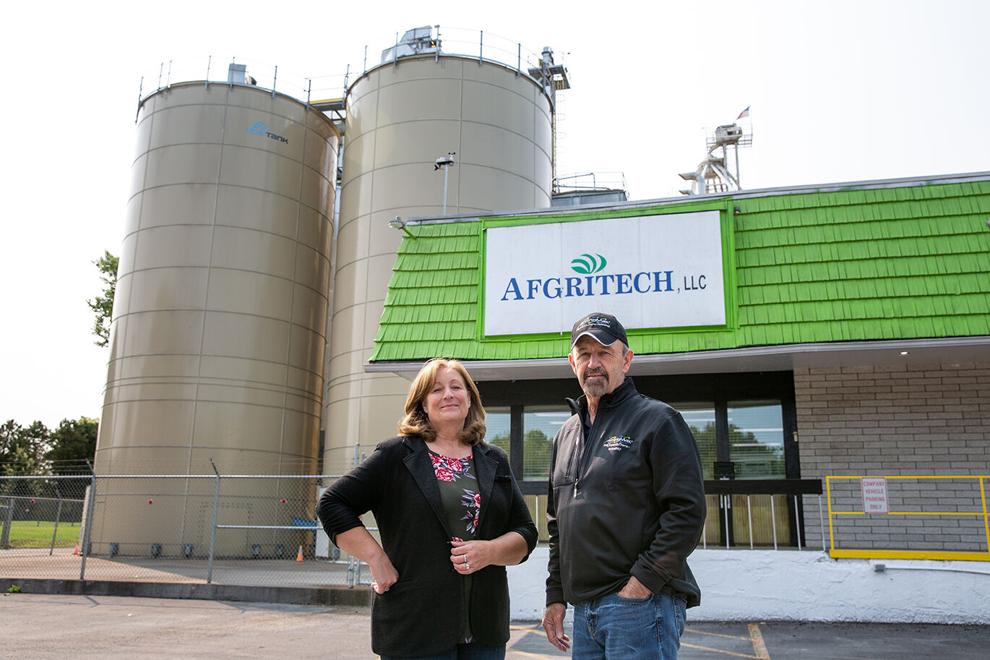 Off the shoulder of Route 11 between Canton and Potsdam is Mike Frazer's software company for car dealers, which he built from the ground up.  
    As the company, Frazer Computing Inc., 6196 Route 11, Canton, expanded, he hired more employees and built additional office space next to his original car dealership, including a 150-seat auditorium where he and his staff would gather each morning.  
    "We may never use that auditorium again," Mr. Frazer said, reflecting on how the ongoing COVID-19 pandemic has changed the culture of his 125-employee company.  
    More than half of his staff are working remotely.  
    "I'm not forcing them back," Mr. Frazer said. "If they're productive at working from home — and some of them are much more productive, I think — we'll just keep doing this.  
    "We've got all this space here that we may never fill, and I'm okay with that. I find myself taking it a lot easier. I used to have to prepare for that nine o'clock meeting, and now I come in a little bit later every day."  
    Mr. Frazer said he's lucky most of his business has survived the pandemic to date, but he — as with every business owner throughout the nation, state and north country — still has to grapple with the question: "What comes next?," and whether or not he's prepared. Other businesses haven't been able to think about next year, let alone next week. 
    "Many of them are still trying to survive, frankly," Jefferson County Industrial Development Agency Executive Director Donald Alexander said. "I mean, we're in this survival mode." 
    In many cases, he said, business owners weren't yet thinking about 'What do we do to maximize our impacts on the future?' They're instead thinking, 'Right now, can I open the front door, turn the lights on and can I pay my employees?'" 
    Mr. Alexander admits for those businesses that can plan, it needs to start now.  
    "I don't think we can wait," he said. "I'm a strong believer in, and I've said to anybody who will listen, most won't, that if we don't start addressing the future today, we're not going to be ready for it."  
    The impact on the north country has no doubt been diverse, with some sectors like entertainment, bars and restaurants struggling more than manufacturers, especially those with larger facilities and more flexible workforces.  
    Stebbins Engineering and Manufacturing, 363 Eastern Blvd., Watertown, was able to keep functioning over the past few months with some employees working from home while those in more essential manufacturing and fabrication roles had to return. As of July, over three-quarters of employees were brought back to the office, which is headquartered in a larger building constructed in the early 1900s. 
    "A lot of us have large individual offices," Executive Vice President and Chief Operating Officer Robert Alliaso Jr. said. "It's an older building, so big hallways. No one was on top of anyone else, so we thought that that was quite practical to have a higher quantity of workforce because we're so separated."  
    He said Stebbins is trying to remain flexible, allowing for less rigid work hours and encouraging four-day in-person work weeks when possible. 
    Flexibility is also the goal of Afgritech LLC, 810 Waterman Drive, Watertown, a feed manufacturer that's allowed employees to switch to second or third shifts if they have children or other needs keeping them at home. Working from home isn't possible for most of their employees. Lisa Sawdey, Afgritech's controller, said the crux of their problem has actually been finding employees to hire. She cited the federal boost to unemployment benefits as the problem.  
    Flexibility is and has been at the core of Potsdam-based innovative motor manufacturer LC Drives' strategy before, during and likely after the pandemic. Devon Sutton, director of strategic operations, said their strategy is to work with employees individually to figure out an appropriate balance between at-home and in-office time.  
    "I think, actually because of that, is one of the reasons why we've been able to do as well as we have in regards to our employees throughout the pandemic, is that treating our employees as actual individuals," Ms. Sutton said.  
    LC Drives, 67 Main St., Potsdam, was growing quickly before the pandemic, and Ms. Sutton indicated that hasn't stopped. Young engineers and other workers walk back and forth between LC's incubator space in Damon Hall and its offices in Old Main on Clarkson University'sdowntown campus. Even amid the pandemic, the company is ready to expand, but it's not leaving St. Lawrence County.  
    LC's owner has purchased land a few miles north of the village on Route 56. The town of Potsdam already has a preliminary site plan on file for a new 150,000-square-foot manufacturing space. Ms. Sutton said the company is committed to staying in the north country, despite the gripes of many businesses about New York's taxes and regulations.  
    "There are other areas of the country where you can build and you can do business a lot more affordably," Ms. Sutton said, "but we don't want to give up the north country, where we feel it is the very best place for us to be doing business and where we find the very best talent. We don't want to give that up just because maybe some spreadsheets don't line up."  
    Post-COVID, some of the traditional problems for businesses in the north country, like recruiting highly skilled workers, may be alleviated. If those workers find dense urban areas less appealing or firms find those workers can do their jobs remotely, opportunities for business expansion could arise quickly. While all the firms mentioned said they have a distinct pride and commitment to the north country, they all to some degree indicated the pandemic has proven the feasibility of bringing on remote employees.  
    Mr. Frazer, a long-time advocate of his auditorium and morning meetings, said he might be open to hiring software developers not based in St. Lawrence County. He's already begun moving training materials for new hires online.  
    While Stebbins has no intention of leaving Watertown and would like to keep employees in-person, Mr. Aliasso said the pandemic has proven the feasibility of potentially hiring engineers outside the area as well. 
    Nicole Ouelette is ready for employees looking to abandon the office. In January 2018, she opened Anchorspace Potsdam, 71 Market St. Inspired by her own search for an office away from home for her communications consultancy, she created the area's first co-working space. The downtown office includes a few conference rooms, closed off spaces to make phone calls, adjustable standing desks, a kitchenette, laser printer and gig-speed internet.  
    She said her number of monthly clients dropped during the pandemic as more people wanted to stay home, but she's optimistic a future of popular remote work could drive people away from their kitchen tables and toward places like Anchorspace.  
    "We're looking at like, 'Who can we help?,'" Ms. Ouelette said sitting at a picnic area in front of Anchorspace she one day dreams to transform into a "lunch meeting" spot, complete with a food truck. "…people always think co-working is like graphic designers or accountants or whatever, but the reality is that we're space. We're an empty desk and there's lots of kinds of work that you can do with a desk and high-speed internet."  
    While the north country has seemed to dodge massive surges in COVID-19 cases, the regional, state and national economy largely hasn't been as lucky. The climate for businesses right now is unsurprisingly uncertain, but once the uncertainty clears, the road ahead may present new opportunities.