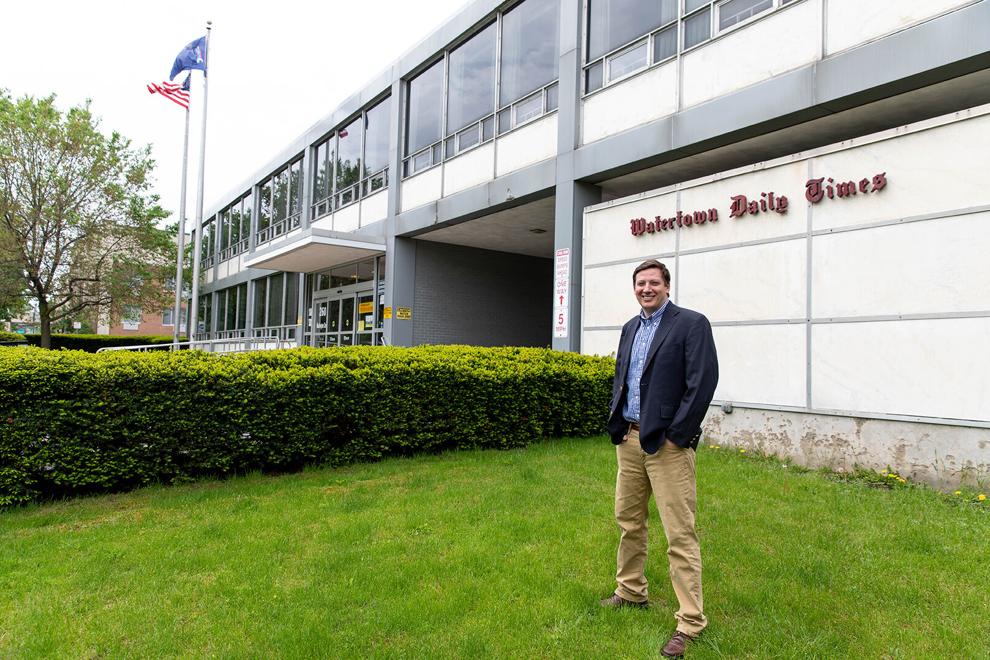 Alec Johnson, the youngest Johnson to join the team at Northern New York Newspapers, reflects on his journey to managing editor, how the state of journalism has changed and how the Watertown Daily Times is tackling the many industry changes to continue to deliver the best products, services, and news to the north country. 
---
NNYB: The origins of Johnson Newspaper Corporation date back to 1861, when what would become the Watertown Daily Times was founded as the New York Reformer. The first Johnson, Harold B. Johnson, joined the newspaper staff in 1904, as a city reporter.  He would go on to become the city editor and then publisher and owner of the newspaper company, that grew throughout the 20th century to introduce the north country to radio and television. Today, in its fourth generation of family leadership, it includes print and digital reporting from Massena to the Hudson Valley to Batavia. With such a rich family history in journalism, how was it that you decided to become a journalist?  
JOHNSON: I always knew when I was a kid, and growing up visiting my grandfather here in the office next door that I wanted to be a part of this business. Long before I knew what it was to be a journalist – or a newspaperman as some people still say – there was never any pressure by my family to get into this business, this was my own doing. I went away to school and dabbled in journalism a little bit in college, with the college newspaper, but there was no major when it came time to graduate. I was trying to sort out what I was going to do with my life, like most college graduates, and I had the thought of law school in one hand and journalism in the other and I chose journalism. I am definitely happy that I did, it's been an excellent profession that gives you the opportunity to be an expert in something new every day when you are reporting and meeting all sorts of people.   
NNYB: For years, the Times was the smallest newspaper in the country to have its own Washington, D.C., bureau. How was that relationship forged?  
JOHNSON: My grandfather opened the Washington bureau in 1950 for the readers of the Watertown Daily Times. For decades we had a correspondent, Alan Emory, he was at the top of his career and reported for the Times on the issues that were most relevant to readers here. Having that independent reporting voice covering dairy, trade, border and other issues that mattered most to north country readers, was very important to my grandfather. Mr. Emory was followed by Marc Heller, who did a fantastic job carrying on that tradition, but we had to close that one-man bureau in 2012  because we could no longer support it economically. The issues in Washington remain important to our readers, and we cover them remotely and with the help of a consortium of Northern New York Newspapers; the Adirondack Daily Enterprise, Plattsburgh Press Republican and the Glens Falls Post Star.  
NNYB: What has changed throughout the years to stay current with the journalism/media industry today at the Watertown Daily Times?  
JOHNSON: The principles of journalism have not changed but how we deliver the news and correspond with our readers has changed dramatically. The newspaper business used to be one very much where we dictated what the news was on a given day and everything was in the paper in a certain order. Now we have the ability to connect with our readers more directly throughout the day and really at all hours. We get messages through Facebook, Twitter and comments on our Instagram page, and some lead to stories and some lead to corrections, some lead to all sorts of different things, but the biggest change is that constant two-way communication. I really think readers are much more engaged with the reporting of the news.   
NNYB: What do you think the biggest strengths are for the Johnson Newspaper Corporation in terms of remaining a family owned and operated business in a changing market?  
JOHNSON: The legacy that we are able to continue here at the Watertown Daily Times and throughout the company. It was started by my great grandfather who was a city reporter here and started in 1909, so for four generations we have been committed to providing news to readers throughout the north country and now in other parts of the state, and that commitment is throughout my family.   
NNYB: The Johnson Newspaper Corporation recently was the victim of a cyber-attack by a ransomware virus. How was the corporation alerted to this attack initially?  
JOHNSON: One of our servers crashed on a Saturday afternoon and sent out a bunch of emails to Nate Nichols our IT manager, he came in to sort out what was going on and soon realized that we were under attack. I had just gotten back from taking my dog for a swim in Lake Ontario and John was out walking his dog in the woods and suddenly, we are all here in the office in our boots trying to sort out what was next.   
NNYB: This attack left many of the newspapers owned by the Johnson Newspaper Corporation at a loss of networks, corporate drives, and operational systems. What can you tell me about how this affected daily operations and future structure?  
JOHNSON: In the immediate aftermath of the attack we really were crippled; we were unable to produce a Sunday newspaper, even though the systems that are used to create the newspaper, the pages and report the news, were on-board. Our problem was that the server that is used to print the plates for the press unable to be resurrected in time to print the paper. In the days after that, we learned that the damage had spread to our business systems. Luckily, all our systems that have customer data were separate completely and not affected, but our internal bookkeeping, accounts payable, accounts receivable, all that really important information that is relied on and not even thought twice about on a daily basis had to be rebuilt. So, moving forward this really taught us how reliant we are on digital infrastructure and on a little icon on your desktop, that you click and all your stuff is there when that goes away you really realize what you lost and how reliant you are on it. We lost some digital archives, our pages for both the newspaper and magazines and other products, but we are rebuilding and recreating what we need to and finding resources that had those archives to build them back up. For the future, I think this has been a good wakeup call that no matter how protected you are there is always something that can get you. We have a good IT staff that works with up-to-date equipment and technology, and just the week before they were actually building a new server that was to deploy a new anti-virus/malware system company-wide. They were about a day away from deploying that when the attack happened.   
NNYB: When the cyber-attack took place, a huge focus was on continuing to put out a Watertown Daily Times daily paper, which only one issue was missed. How was the staff able to produce a newspaper without the basic operational systems?  
JOHNSON: This all has to do with a great staff and their willingness to step up and work in adverse conditions. We ran the newsroom with Wifi hooked up from my Ipad. The general reporting of the news was the same but we had a cloud-based news system so we were able to write stories, but the problem was connecting to the outside world. So, we used hot-spots and when data ran out on one we hooked up another one; my wife ran out to Best Buy and bought wireless cards so that we could hook some of our older computers up that didn't have Wifi up to run them off the new network we set up and we just did it, there was no other choice. For transferring pages and data down to the press room we used flash drives; we carried them down two stories and into the press room and hooked them up to a computer. Now, in the future, we know exactly what to do – we can get the paper out if we have computers downstairs and the ability to get the internet. So, going forward I think we have a great plan in place so that we should never experience anything like this ever again.   
NNYB: How will the Watertown Daily Times ensure that an attack on the corporation never happens again?  
JOHNSON: You can never ensure that an attack like this will never happen again. It's not inevitable and let's hope it never does, but as the New York Times pointed out in a front-page story, our government in some ways is responsible for the proliferation of cyber-attacks. The story likened the release of a program used by our government security agencies released to hackers somehow, to leaving the door to a nuclear arsenal unlocked. So, with our government not even paying close enough attention to make sure that information like this doesn't get out, I don't know how any small business could feel safe.   
NNYB: What advice would you be able to provide to the business community in terms of how to proactively be prepared for a cyber-attack?  
JOHNSON: I would say, make sure that you take all internet security and security upgrades seriously. Also, backup your data. If you have something that is important, put it on a flash drive, put it on a hard drive that is not connected to a network. Our backup system, which was highly sophisticated, was compromised because it was hooked up to the system; the hackers were even able to get into that system and compromise it. So, there is just nothing stronger than a drive that is not connected to the internet. So, if you don't have one, go get one; I've backed up family photos and everything you could imagine in the last few weeks just to make sure that I don't lose anything else.   
NNYB: What was the feedback that you received from the community regarding the cyber-attack and the future of the corporation?  
JOHNSON: I have received nothing but great support from the community. From the very day after the attack when I had written a story for our website to explain to our readers what had happened, I got word from people who were in church on Sunday morning and were asking about it, the local television station contacted us and wanted to know what had happened and come over and was very thoughtful to come over and let us tell our readers that also watch the television news what had happened – everyone was very supportive and it was nice to see the community come together and support us. I think people want to see local news where ever they are, and throughout the country when we see local newspapers changing and disappearing, I think that people are realizing the importance of having a local newspaper in the community is to report how the tax dollars are being spent, who is doing what, and without that it's a hindrance to democracy.   
NNYB: Readers have noticed that the Watertown Daily Times daily paper has been changing, from page count to content. What do these changes mean for our readers and the newspaper?  
JOHNSON: Like all businesses we are in a process of evolution right now. When I came here in August, I changed us from a three-section to a two-section newspaper to maximize efficiencies on our printing press and changed some staffing that was down in our press room that was required to come in extra to print that third section; we can get our same content into the two-section paper. I've heard both compliments and complaints about that. The reality is that the second largest newspaper in the country, the WallStreet Journal, has gone from a two-section paper to a four or five-section paper, it's just the reality of the business. As for daily page counts, they are really based on our supply of newsprint which is harder to come by due to changes in that business overall and advertising support. Monday, we have an eight-page news section and a sixteen-page paper because unfortunately there is very little advertising and our readers and advertisers have spoken and said that might not be a day that we are most interested in. So, we are putting out a smaller paper that day. I ask our readers to bear with us as we work through this evolution to determine what is best for the business, what's best for the community and what's best for getting those needs unified.   
NNYB: The delivery of news has seen great change over the past 10 years, moving away from print in certain circumstances and more into a digital platform. What is the Watertown Daily Times doing in terms of their delivery of the news?  
JOHNSON: We've been in the process, for seven or eight months now, building a new subscription-based website to unify all our reporting throughout the north country into a new website. We recently launched NNY 360 and it is the largest most comprehensive news website in the north country for both advertising and news. It will have the news that was previously reported on separate websites, in Lowville or Carthage, Massena, and Oswego, all on one site. So it's a one-stop for all your local news, with a full e-edition of the Watertown Daily Times which is a digital replica of the daily paper for those who like the look and organization of a daily paper, we will offer that as well.   
NNYB: What do these changes mean for your valued readers and advertisers?  
JOHNSON: These changes are going to be great for both readers and advertisers because we have been working for some time with a digital system that was a little outdated. It was at the forefront of the technology when we rolled it out but like everything in time, it got a little stale. We are having more opportunities for advertisers and readers, more opportunities for our staff to highlight their work. We've been experimenting for the last few months with different web design for special projects that is much more contemporary. For our print readers, they will still get their print newspaper, but they will have the ability to use the website for additional features. Whether it be videos and additional photos, reader interaction, contacting reporters and just having another place to read the news. Most people are reading the news on their phones these days and we are giving them that opportunity.   
NNYB: How is the Watertown Daily Times going to continue their print legacy products, which are highly valued in the community, while still catering to the changing demand for online content?  
JOHNSON: The Watertown Daily Times will soon be a Tuesday through Sunday print newspaper starting July 1. As I mentioned before the advertiser's support wasn't as strong on Monday's. So, we will have a strong newspaper Tuesday through Sunday with the website updated Monday with breaking news and more features. Overall, I think the long-term future of print is strong and there are a lot of readers that really appreciate the chance to sit back with a newspaper and read it, whether that is delivered in the morning or in the afternoon, they can read it and enjoy it at their leisure.   
NNYB: With the changes in the daily paper circulation and the move to digital is this going to directly affect the staffing within the Johnson Newspaper Corporation?  
JOHNSON: There are some plans to change staffing within the corporation to align us with the needs of today. Many years ago, overall, I think our company staffed more than 750 people because it took more people to do the various jobs that don't exist anymore. There was the pasting up of the designs of the newspaper, technology has progressed, and it has unfortunately changed the need for so many employees. There is nothing more distressing than having to tell an employee that his or her services are no longer needed and to thank them for their years of dedication, but it is not anything unique to the newspaper business. Every business changes with the demands. We have seen here in Watertown the call center has announced that is closing entirely, and that was not too long ago going to be one of the saving graces of downtown Watertown; that industry has changed as well. We look at the mall there are fewer stores there, Sears is gone and that was one of our biggest advertisers. KMart is gone now too and for many years those big-box stores worked hand-in-hand with us to share their message and without them we have lost a large part of our advertising support that helped support our staff.   
NNYB: With the new website being a central location for all the daily papers or weekly papers owned by the Johnson Newspaper Corporation, will that bring all these smaller papers closer to the Watertown Daily Times as a central location?  
JOHNSON: Absolutely, I think that this company has evolved over the years tremendously from just the Watertown Daily Times to WWNY TV and Radio, when they were the latest technology that my grandfather invested in, through the 80's when the federal government told us we have to sell the TV and radio stations at a time when we diversified into other newspapers in Batavia and Hudson, commercial printing for a while and other growth throughout that time. Now newspapers have changed, society has changed tremendously; people are used to immediate satisfaction for most things, so with a new website we are going to bring that immediacy of news to readers but keep a mix of products that we feel are best read in the marketplace for print. You are going to see a smaller footprint of print publications in the Johnson Newspaper Corporation and because our readers have spoken and said we may want the Watertown Daily Times or more than one product; there is going to be a place for everyone's news.   
NNYB: As managing editor for the Watertown Daily Times what are your goals in this position for the daily paper and the corporation as a whole?  
JOHNSON: My number one goal is growth. Growth in news coverage, in reporting, in the quality of our reporting, the depth of our reporting. It's going to be more and more important every year that we don't just report the same news as everyone else. One thing I learned early in my reporting career is that if you see a group of reporters don't join them, go the other way because you are going to find something better. We can't follow the pack we have to lead the pack and with the team that we have assembled throughout Jefferson, St. Lawrence, Lewis and Oswego counties, and breaking down the silos that used to exist between those news bureaus, we will have the strongest news gathering team in all of the north country and our readers will benefit greatly from that.   
NNYB: What does it mean to you to be able to continue the legacy of your family?  
JOHNSON: Personally, it is a great honor and privilege that I have the opportunity to live here in Watertown with my wife and newborn daughter. Being the youngest of my family involved in the business right now and great responsibility. Like I said before, I think we need to continue to advocate for our business, for our newspapers, and tell and show people why we have a strong future in the community. Personally, as I said at the beginning of this conversation, I have thought about being in this role for quite a long time – since before I even knew what it meant – now that I am here, it has been an incredible ten months since I joined the team and I look forward to helping the entire team grow even more. We have a great talented staff throughout the north country, this really isn't about me it's about the team overall and I will try to be the best coach I can.   
NNYB: If you can give a young professional advice into moving into a journalism profession, in today's changing times in terms of news delivery, what would that be?  
JOHNSON: If you are going to go into journalism start at a daily newspaper because you are going to learn the fundamentals of reporting that will far exceed anything you will learn in class. I went to school for journalism in my master's degree and the first year on the job in Waterbury CT, I learned more in a few months than I did in an entire degree that gave me a diploma to hang on the wall. There is no substitute for the ethical and in-depth reporting that you will learn on a daily beat; when someone assigns you to a town and to cover it, you get the opportunity to do a little bit of everything. You can cover crime, you can cover car chases, city council meetings that may drag on a little long but you learn from them about government, how the police work, the court system works, it's all about the fundamentals of covering the community.   
~This interview was conducted by Holly Boname, editor for NNY Business Magazine. It has been edited for length and clarity.