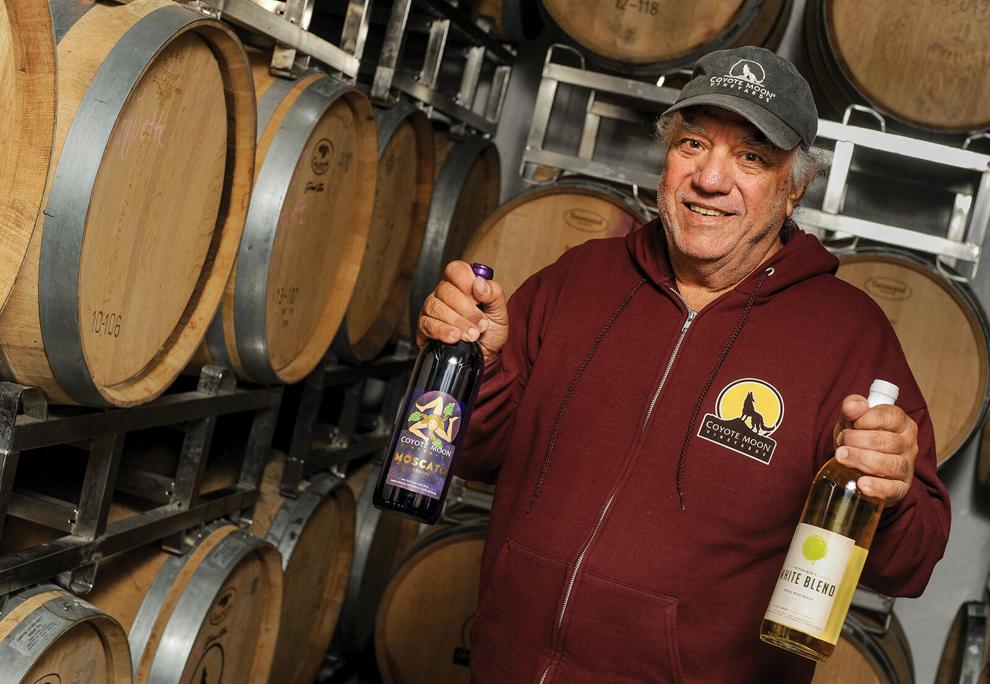 Phil Randazzo has accomplished many things throughout his lifetime, but most important to him is his family, living life to the fullest and sharing his passion of food, wine, music and community with those around him.
NNYB: When did you move to the Thousand Islands and why?
PHIL: We moved to the Thousand Islands in 2004 because we had a cottage here. We own Whiskey Island at the head of Grindstone (Island) and we thought we would come here and retire. We had sold our company in California and my wife and I decided we'd make home here, since we'd been coming here all summer and our summers got longer and longer because we loved the place so much we decided to stay.
NNYB: You have mastered the art of growing grapes in the tough Northern New York climate. How did you first become interested in growing grapes for wine production?
PHIL: After my daughter graduated from college, we took her on a trip to Sicily to find our relatives and, lo and behold, all of them made wine. My grandparents made wine, as well, here in this country when they immigrated here in the early '20s. So, we found cousins, relatives, we found my great-grandfather's house and all the relatives that were still there and they were making wine. They were making an interesting kind of red wine for pasta dinners that was identical in flavor and taste to the wine that my grandfather made here. But I've always been a fan of Italian wines, like Chianti classicos. But I also really loved the family-style wine that went with pasta. And I asked them there, "Why aren't you exporting these kinds of wines to the States?" Their answer was that because the wine brokers that export say that the American market wants dry Italian wine, only. And the kind of wine that my family is making was semi-sweet; it had a little bit of residual sugar. So I came to learn after a while that the reason we had this little bit of residual sugar was that it helped cut the acids in the tomato sauce. So I came home and started making some small-batch stuff here and after we opened the winery, I started making some small-batch stuff for my own personal use, because that's the wine I really like, to go with my Sunday pasta meals. Interestingly, we started passing a little bit of it around the tasting room and people just said that they just had to have it. So that's where the whole "Casa Papa" idea came from. When my son Tony joined us a couple of years later, after we opened the winery, he said, "Pops, let's go do the family pasta sauce recipe. You've always wanted to make a pasta sauce, let's go do it." So, Tony kind of spearheaded that notion and we put the wine in the pasta sauce, just like grandma did and then "Casa Papa Tomato Sauce" was born. That's been hugely successful and is now available in local grocery stores, and is now growing into Hannaford's in Watertown. So, it's kind of taken on a life of its own. It's pretty cool and backed that up with "Twisted Sister Barbeque Sauce," and then we came up with two "Razzle Dazzle Raspberry Jams" and then the "Naked Chardonnay Peach Salsa." It's just been a huge hit.
NNYB: What, if any, have been the challenges of starting a business in Northern New York?
PHIL: Lack of people. It's pretty tough to do business three months a year. So that's been a huge challenge. Of course, the weather has its challenges, too. The old adage is: "There are only three things wrong with being up here in Northern New York and that's January, February and March." Outside of that, it's an awesome place to live.
NNYB: What has helped you to get to where you are today?
PHIL: Perseverance. Failure is never an option. You just have to push through the tough times and not give up. Just never giving up, and that's what I try to pass on to the kids and anybody else who'll ask me. I do have a saying, that everybody's entitled to my opinion, right or wrong. I do think it's perseverance and sticking with it long enough to make it happen. In today's world, everybody wants everything instantaneously, and that's just not the way business operates. It takes years to mature a business and get it to grow.
NNYB: How did you come up with the name Coyote Moon?
PHIL: The name Coyote Moon came from several years prior to ever opening the vineyard. My daughter and I were deer hunting during muzzle- loading season, and it was a beautiful, warm day; it was just great. We were out, and towards the end of the day, there were three different buck deer standing in the field right in front of us. All three, too small to shoot. So, we were having this great little whisper conversation, going on about what makes a deer big enough to shoot, because we were really looking for something that was eight points or better. The deer kept looking toward the other end of the field and I was saying, "Now, you've gotta watch for that, because the deer know something's down there and they're interested in it. It might be the big guy that we're looking for." To make a very long story short, the deer finally decided to walk out of the field and went right underneath our blind. I didn't want to scare them by going out too soon, but by then it was dark. Dark, dark. And just as they were leaving the field, the moonrise was phenomenal. It was a great harvest moon; it was just sensational. It was as big as the biggest moon you ever saw. And as this moon started to rise, we started talking about this great moon, and we just sat there and enjoyed that for several minutes. We finally started climbing down at dark out of the tree stand. Kristina went down out of the tree stand first and was heading toward the field. I was about halfway down the tree stand and I saw a coyote looking right towards us, which is probably why the deer were looking back in that direction. I quick jumped out of the ladder and ran up to where she was and I fired a shot off, chasing the coyote away. It was kind of an adrenaline rush and she was excited, iit was kind of a fun thing that happened with the two of us and off the coyote went and off we went. Ever since that day, any time there was a full moon, Kristina would refer to it as a coyote moon. Let's roll forward now three or four years, we're sitting in my living room on French Bay, here in Clayton, trying to come up with a name for the new winery we were proposing. As we're trying to figure out how we're going to name the winery, "island this" or "river that," all the normal stuff that goes through your head, making long lists of things that might or might not get approved, a full moon started rising over the top of Clayton. You could see it out of our dining room window, looking right at the village of Clayton. And Kristina said, "Hey, look Dad. Coyote Moon." It was like, it just whacked me right over the head. "That's' it. That's got to be it." We jumped on the computers and started checking, and there was nobody using that name and Coyote Moon was born. I like it because it's not "river this" or "river that;" it breaks through the mold, it breaks through the clutter and it just gives a totally different kind of name. It's become the foundation of our marketing, obviously our trademark and our trade name, being very different from a winery trademark because usually they're "estate this" or "castle that," all kinds of iconic things that are out there. It's real different. Marketing is my forte, if I love making wine, I love marketing just as much and that gave me a lot of material to work with.
NNYB: Wine production in the Thousand Islands and across Northern New York is gaining a lot of momentum. You were one of the first to get into the business in the Thousand Islands. Why do you feel that Northern New York is the perfect place to cultivate grapes and produce specialty wines?
PHIL: We were recently awarded the Dan Berger Terroir Trophy. Basically, we took a leap of faith trying to grow grapes in this region. I learned the University of Minnesota had a cold-hardy grape growing program in Minnesota and was doing well and I couldn't help but think they'd do well here, too. Now, that doesn't help us much with why this particular site or location is making this kind of wine. Certainly, it lends itself nicely to it. So Terroir Awards describes the overall environmental factors that affect the crop's characteristics, including the climate, geography, and the soil composition. And right from day one, I always wanted to make wine that reflected the grapes that grow on this particular place and why they're so different. So we started with the grapes. And whether it's our top-of-the-line port wine or whether it's our dry wines or even our sweet wines, the grapes drive the wine-making. So what people taste here is, they taste Clayton, New York. They do not taste something that was manufactured or derived from a bunch of chemical interventions and such. 
NNYB: Your business has expanded to three locations, from your downtown store along the waterfront in Clayton to the Salmon Run Mall in Watertown. How has this expansion changed operations from the start of Coyote Moon until now?
PHIL: We've had to somehow make a transition, from family to people who weren't members of the family. Selection of people has been really, really important. We have a really strange selection process when we hire people; we don't hire them because of their resume, we don't hire them because of their educational background. We hire them if we believe they've got the attitude that is a hospitality-driven attitude. That they can have fun with customers and find out what the customers want and deliver what those customers need. We really look for that personality, we can teach the wine part of it; what you can't teach is someone's innate ability to relate to people and have a good time. We really wanted to be a "pinky down" versus a "pinky up" winery and we wanted to make wine that tastes good. Period. We didn't want to make wine that some sommelier in some far-off land says, "This is it," because now he's 75 years old and my grandfather or my mother and father liked that particular one. I want to make wine that we like and that the kids like. So, we're constantly trying to fit the marketplace, fit wine to the marketplace and what people want. My drive on wine is food and I want people to taste it and have it with their food. I'm kind of a foodie at heart as you can tell by my physique.
NNYB: Coyote Moon Vineyards also offers boat tours in the Thousand Islands. What sparked this idea and what has it done for your business?
PHIL: The boat tour idea was really good. We teamed up with David Kay with Clayton Island Boat Tours and during the summer, two or three times a week, we did a wine and cheese cruise on the river and, again, it was to have a great time. There were a lot of folks that were coming up here that didn't have boats or they wanted to experience the river, they had already gone and done the big, long river cruise, so it kind of appeals to people to take a sunset cruise and go with their friends; there's bachelorette parties, school teachers, just different groups of people that'll charter a boat and go do that. 
NNYB: You've won hundreds of awards for your wines, even some from California competitions. What do you think sets you apart from other wine producers in these same categories?
PHIL: I think what we're doing here in terms of making wine is not cutting corners and it's a more old-school approach, the grapes reflect the flavor of what that wine is going to be. In many wineries, if you want it to taste oaky, they put oak flavoring in the wine. That misses the whole point of micro-oxygenating the wine. See, you need oak barrels to micro-oxygenate the wines just right, to come up with those flavor profiles you're looking for. It's all about finishing the wine and not adding a bunch of junk in the wine. We're not looking to cut corners; we're not trying to cheapen the product. Rather than treating these grapes, these hybrids that we have, like second-class citizens, we treat them like the finest grapes on the planet. When we age the wine, we use a combination of, my Marquette, a combination of Hungarian and French oak, and I specify that the wood that the barrels are made of are dried for at least four years, the toast level is actually what I'm requesting in the interior of the barrel and that the wood itself comes from a certain forest within France. There's really a whole science behind even a wood barrel. And I haven't even gotten to corks yet, or bottle selection. We were one of the first wineries in New York State to use ozone gas to sanitize with. What ozone does is completely kills any micro-activity on the surface, so our bottling line gets it, all of our wall surfaces we sanitize with ozone, after everything is scrubbed clean with steam. I don't use chemical scrubbing; we use steam and elbow grease and then we sanitize with ozone. Ozone has a very, very short half-life and so it kills anything that's there and dissipates and the by-product of ozone is oxygen. It's perfectly safe for the environment and it makes the place hospital-room clean. And I think the other big factor is the incredible amount of cleanliness. We get complimented on that all the time. When inspections happen, they just look and say, "This is the cleanest winery I've ever been in." I've always insisted that it be just absolutely perfect. It's all these little bugs that you allow to get into your wine that cause it not to taste right. Even to this day, we're still handpicking grapes. That factor, I think, has something to do with it and we ripen our grapes to absolute perfection. We started making our port wine; we do that really differently. Most wineries will take whatever wine they're going to make port out of and they'll ferment the grapes to dry and then they'll add alcohol to fortify it, that's what you do to make a port, I mean, it's supposed to be grape-derived alcohol, but I know for sure they're using everything from vodka to moonshine, corn liquor, anything to fortify the wine, to get the alcohol level up and then they start adding sugar to it to make it sweet, and that is exactly how not make port wine. If you want to make a perfect port wine, which I believe we are because we sell out of it every year-we're not making enough and it takes years to make. I hired a Portuguese winemaker to come out and work with me and the first place we went was the vineyard and he says, "Wine is made in the vineyard, not in the building." He showed me how to prune the grapes so that we had the right sunlight to get the maximum amounts of brix, the more brix, which is the measurement of sugar, the sweeter the grape the more alcohol it will build. And so the next trick was to take the wine that we had and distill it from our own property. So we distilled that wine, we went to a neighboring distillery, we went over to Clayton Distillery, we distilled that wine down to come up with the alcohol we needed at precisely the right level – and there's a long one-page formula – the alcohol level needed to be very, very precise, the grapes that came from the same property and then we started fermenting with these. When we started fermenting the juice down, we get to a certain brick level that we like the taste of and we say, "OK, that's going to be it," we stop the fermentation – you stop it by adding alcohol to it – and so we infuse the alcohol, again that came from our own property, we infuse the alcohol that kills the yeast and stops the fermentation and then we pump that off into our oak barrels, and that's it. I asked Daniel one day, "Now that we've got it into a barrel, how long?" He said, "Aw, when it tastes good." I said, "OK, how long? A year, two years, three years? Tell me." About that time I learned my second really good lesson about winemaking. My daughter walked into the room with her newborn daughter, Aurora, and Daniel looked over at Kristina and Aurora and he says, "Well, maybe when Aurora, she gets married, then you take a barrel to the wedding and everyone enjoys it." And I said, "Holy smokes, that's really long-term." So, long-term thinking in the long haul is really what winemaking is all about, because where most people make a Frontenac, they'll go pick it or more than likely buy the juice and make wine out it and roll it out that same year. You know, Frontenac tastes great when it's aged three or four years. It becomes a totally different wine, totally different, as does Marquette. So when you treat these grapes with a great deal of respect and use the protocols you would on the finest, most expensive grapes .
NNYB: You've worked closely with agencies like Cornell Cooperative Extension of Jefferson County. How do these relationships and educational opportunities benefit your family business?
PHIL: Five or six years ago, Cornell, along with the University of Minnesota and several other northern universities received a $5 million grant to study these cold-hardy grape varieties that are coming from the University of Minnesota and Tim Martinson is the head of viticulture for Cornell statewide, local guys get involved with the extension, but there is a statewide program with Cornell University. They had scientists in here all summer for five summers measuring how many buds, high-trellis systems versus low-trellis systems and everything in between, measuring the various flavor compounds from the grapes. And so we really learned a lot about, with some real empirical data, not just opinion, what was absolutely the best way to grow these grapes and what trellis system to use, etc., the nutrients we needed to add or not add to the soils and so on. We took that technology and applied it here to our own vineyard. I mean I couldn't have learned that in 20 years. The work that they did here and all the vineyards…I'd go to the national meetings with the other university members and scientists from different universities and we hashed this all out and I talked about it with my counterparts. At the time, I was one of two New York state advisors to that grant working with Cornell. So, it was an awesome experience because, you know, it's like getting a PhD in viticulture, it was just amazing with all this horsepower that we had. They really helped us a lot. 
NNYB: Coyote Moon is a family-operated business. In fact, just about everyone plays their own part in everyday operations. What does it mean to be in business with your family?
PHIL: Needless to say, it has its challenges. And probably because it's an Italian family to boot, we're probably not as polite with each other as we need to be, or as politically correct. So, you get a lot of heated discussions about everything; everything is questioned all the time because people feel free to do it because, when you can't get fired from your job, you can really just talk about anything you want to talk about and do anything you want to do. So, it becomes interesting. As a manager running businesses previously with thousands of employees, I never had to deal with the kinds of challenges that two kids and their spouses can give. Because like I said, nobody can get fired, so it's like.. "OK." That really helps bring the company and stretches us and takes us to the next level. But everybody's kind of finding their own niche, where they're really good at it.
NNYB: What role does everybody play?
PHIL: Tony is taking over more of a (general manager) role. I mean, he's overseeing a lot of the accounting that's going on, overseeing the office work, but more importantly he's overseeing everything from our winemaking facility to the vineyard itself. I think that's probably going to split into two jobs someday, but right now we're small enough where it isn't. Kristina is a real wine-tasting expert and can talk to any winemaker or any wine guru on the planet and do a really great job. She's working with big restaurant chains; she's working with some hotels now and getting our highest-priced wines out there. She can really talk the talk when it comes to wine, she's really great. My daughter-in-law, Lori, is doing a phenomenal job down at the Watertown store and doing farmers' markets and doing shows and she gets everybody revved up and excited, she's a real cheerleader. Kristina's husband, Christian Ives, helps us a lot, developing the Twisted Sister flavors and the food things that he's good at. He's also got a good set of taste buds when it comes to wine and what wine goes good with which food. There's a lot of collaboration going on and everybody kind of brings something different. My wife, Mary, has done all the (wine) labels. The labels themselves are an interesting story because in the beginning, we just had six little tanks. I was going to make some wine and be open in the summertime and the weekends. Maybe have some fun just growing a few grapes. And Mary was going to sell her artwork, in a little art studio, until we learned it was illegal for her to sell artwork in a farm winery. It had to be wine-related. So I woke up in the middle of the night one night and said, "I've got an idea. We're going to put your artwork on our labels." It was wine-related and "Voila." That's' how all her paintings ended up on the labels, so we could sell her artwork as well. So we have the artist in the family. Then we just needed to complement us with those skills we didn't have with other people and the rest of the staff just kind of grew around that.
NNYB: What plans do you have for the future of Coyote Moon Vineyards?
PHIL: I think to continue to grow the food and wine business, together, and have foods and wines that complement each other. Continuing to make wine at the highest possible quality level has also got to be in there. Recently, we started to self-distribute to liquor stores and hotels and restaurants. So our next future is to move further out of the Clayton market; not abandon the tourism or the market per se, or Jefferson County, but take our wine that's manufactured here and start to expand it through the rest of the state, and then from there, to the rest of the country, hopefully. The thing about this, when you start talking long-term in terms of European businesses, especially wineries, some of them are hundreds and hundreds of years old. I know full right…I'm a student of architecture and European buildings. The people that designed and built those buildings knew that when they started the project they'd never see it finished, versus the United States where you see it finished in three months. Here, it's like we're building something that I'm never going to see it finished. It's sad, but it's the way you need to be if you're going to develop a legacy business or a family business that's going to go on for generations. I know that I'll never see the completion of it, but I think we're making all the right moves to set the groundwork and the foundations so that it will grow. As soon as I knew that we could really make this world-class wine – I'm quoting Dan Berger – if one winery in that region can make a world-class wine, then that bodes well for the entire region. I've always been involved in the entire region. I've never just kept everything to myself; I know some wineries do that, but I've shared openly with the other wineries because I want them all to do well.
NNYB: You're an active member of the Clayton community. Why is that important to you?
PHIL: It's the first community I've been involved in, and volunteered in, and worked in. It's kind of interesting; in the summer of 2000 I actually had a heart attack from being retired. I sold my business and had nothing to do and had a heart attack. I needed something to do, so I started volunteering to keep my mind active, because it was just turning to mush. So I started working with the village of Clayton as a volunteer, working with Planning Board issues and local waterfront development work and I had, it was actually Jack Stopper in town, who said, "Why don't you come help us on this and get that regional dock built?" The regional dock in downtown Clayton was out to bid and they only had a grant for a million and a half dollars and I thought that was kind of enough, but then I saw the engineering on it and realized it was a $5 million project. It could only be built by one company out of New York City because of the way it was designed. Fortunately, we had an administration in place at the time that said, "Well, see if you can find a way to build it cheaper." This is all pro bono work; I never took a dime for anything. I met with guys like Billy Bach and Mike Aubertine, Jack Stopper, Keith Strouse, all people that have worked and built docks. We brainstormed around how that dock could be built for a lot less; it was Mike Aubertine's first involvement, actually, with the village of Clayton, for Aubertine & Currier, and his sister, the engineer, and they collaborated and we built it so that we got the project bid for a million three or a million four, saving the village millions of dollars and had the thing, from start to finish, built in eight months. That was my very first project. Once you get involved in something like that, you kind of get sucked into the whole thing. It was a lot of fighting and arguing about what the height was kind be, etcetera, etcetera, and I can remember standing up at a meeting one day with the LWRP board and saying, "We need a focal point. What we need is a "Riverwalk."
NNYB: As Clayton begins to develop, you were a big part of that downtown Riverwalk. How did this idea come to fruition?
PHIL: I was trying to convince people that we needed a focal point in town. The Frink property was cleaned up and it was ready to be sold and there was an opportunity for a developer who wanted to put in a dozen or so townhouses with a gated community on the waterfront there. I thought that was appalling; I thought that it should be kept forever open to the public along the waterfront. That was my very first thought. The more I starting looking at the village, I said, "This ought to extend across all of Clayton." The fight that caused that to happen, because some of the officials thought that maybe it would take the value away and it was very hard to convince that many people with that many diverse interests that what we really needed to do was, first and foremost, keep that forever public. So I fought tooth and nail to do that, with very little support initially. One of the Planning Board members, or the LWRP members, and the Planning Board members, laughed at me out loud. They said, "Go ahead. Try that and they'll run you out of town. What makes you think you can do it?" When that was said that to me, it was more responsible for the Riverwalk than any anything else because it was the insult, the challenge, where I said, "OK. I'm going to try to do it." That winter, I did 22 meetings. I was at the Lions, the Rotary, anybody that would listen to me, groups and public places. I'd go to the DPW garage at 7 o'clock in the morning, had meetings with them, getting their input, finding out what we needed to do to make this happen from a logistical standpoint. The Town Board, the supervisor then was Bob Cantwell, he finally embraced it, thought we could it, and then the administration changed and Justin Taylor came in. Justin, rightfully so, was very concerned that maybe it wouldn't maximize the profitability of the Frink property . Finally, he acquiesced and came around and said OK. So we finally had that green light to make that first easement and the rest of it was just a matter of going all the way around the village and now it's approved all the way to Bella's. Construction has started already. I was there last summer, walking down the portion of it that's finished and all these people are walking around and I'm saying, "This is awesome." You get such a great feeling from doing something like that. Of course, it's a pretty much thankless job when you're doing it at that level because then everyone gets involved in the implementation of it. When it gets to the implementation part, it was time for me to say, "Go implement. Here's the plan." I changed the zoning, to Riverwalk A, B and C, the districts for the businesses; I was involved in all those projects. Everyone pretty much got out my way once I started on a roll because they didn't believe I could do it to begin with. Once everybody started saying, "Yay, yay, yay," then everybody jumped on the boat and off we went sailing. I can really take full credit for it, because I really don't have any bones about it. It was a great feeling to be able to do that and, again, it was all done pro bono.
NNYB: What other community involvement do you participate in?
PHIL: After that, probably not much. That was my big project. It was several years of full-time work. I don't mean an hour or two here and there, I mean it was full-time. I was eating it, and breathing it and sleeping it. It was around the clock. And I started to build some houses. I built 24 or 25 houses here in the Clayton area. I have a little subdivision today in LaFargeville. I build a house and I sell it and the next year I'll build another one and sell it, that kind of a thing. It kind of keeps me going.
NNYB: Your talent for producing wine is not the only thing people love about you. You are also a well-respected musician. When did you begin playing music?
PHIL: Kind of late in life. About 15 years ago. My wife Mary's cousin is a producer and has a studio in Tennessee. His best friend is Timmy Stafford, a bluegrass artist, a two-time IBMA (International Bluegrass Music Association) songwriter of the year kind of a guy. They write songs and they sing songs. There was a particular song that Bobby wrote with some of his friends; it was called "Including Brother Jack." I loved the song so much I started picking up the guitar and strumming and learning the chords. I started playing it and started writing songs, produced two albums and had fun doing it. We try not to travel any more. I can remember, it was somewhere in the Hudson Valley, we were playing a bluegrass festival and we were like the last ones up that night and it was cold, and rained during the day, I 'm up there on the stage singing away, you can see your breath and it's like, your hands are frozen and then at one o'clock in the morning, you're driving home five hours and I said, right there and then, "I can't do this anymore. I'm way too old. This is not what I signed up for." So sometimes you have to be very careful about what you wish for, because it might come true and when you get it, you might say, "This is more than I bargained for." But the music is a super important part of my life, and music and wine and food, that's what makes the soul free, that's what makes us who we are. They have so much in common-making wine, making music. I try to play once a week or so. We do play a few little local venues, but I mostly play over at the wine bar or someplace that's fun.
NNYB: If you had the opportunity to go back and do one thing differently, what would that be and why?
PHIL: I was an executive early on in life, sales and marketing, advertising, working for some very large companies. I started a company that grew to $50 million and 2,000 employees. In the middle of all that I almost died, I was in the hospital for four months and when I got out of that mess I decided that I need to live my life differently. As I laid in that hospital bed in Newport Beach, California, I could see the boats leaving the harbor, guys all going fishing during the marlin season, I think that changed me, fortunately for me, early on. There were actually two things that changed my outlook. That was one and so I took life on with a vengeance. I started marlin fishing all over the world. I got my pilot's license and started flying my own airplane up and down the coast of California. Everyone said, "My God, you just won't stop. You're crazy." And then I bought some longhorn cattle and started raising longhorn cattle, because that's the way you do it in California. That led me to team roping and calf roping and I did the circuit on that for a while. I rodeoed and the list goes on and on. It was always this thirst for doing something new and exciting and different. I just want to experience a lot of different things. You know, my mother, bless her heart, she always said, "Boy, when your father retires – my dad was a fireman – when he retires we're going to go travel here, we're going to take a trip there. Well, it wasn't a year or so or more after he retired that she ended up collapsing with an aneurysm in her brain and was in a coma for seven years. She never got to do a thing. And so I thought, if I was able, I was going to push it. Now I almost died at 35, so I wouldn't have experienced any of the things that I always dreamed about doing, so I wanted to push forward. So, would I change anything? Probably not. I like doing things that nobody else has done. I like being the first person in the world that caught all nine billfish. I like that kind of thing. I like being the person that has won over a 1,000 medals, it's incredible, making wine in Clayton, New York, where it supposedly can't happen. I love the challenge of being to do stuff that nobody's done before, whether it's a Riverwalk or it's growing grapes or it's catching all nine billfish, I mean …whatever.
NNYB: If you had one piece of advice to offer someone who wants to begin their own family-owned and operated business, what would that advice be?
PHIL: Don't get too carried away on intricate business plans. If it feels right and your guts telling you to do it, go do it. Go live your life, go live your dream, just jump in with both feet and figure it out on the way. If you wait until you figure it all out, it'll never happen. You're never going to have the answer to every question and so don't worry too much about it, just go do it and live your dream and don't give up. That's the bottom line.
~Interview conducted by Holly Boname. Edited for clarity and length to fit this space.  A special condolences to the Randazzo family for their recent loss of matriarch Mary Randazzo.