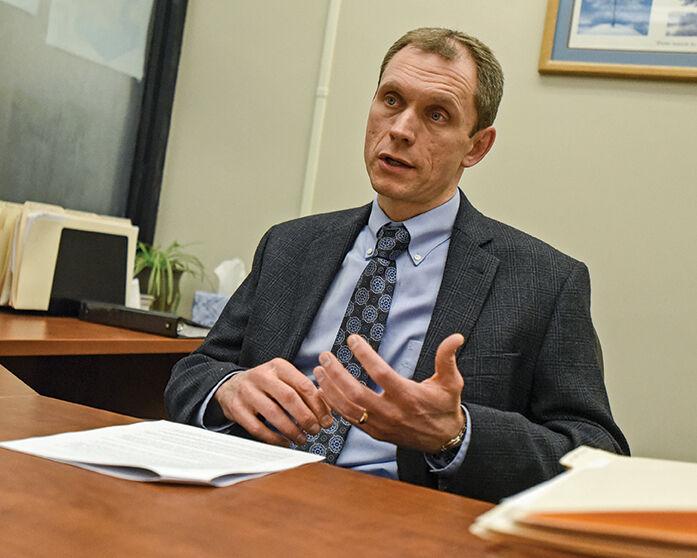 Michael Lumbis has served in Watertown's Planning Department for 25 years and is acting as the city's point person on a $10 million state grant to help revitalize Public Square and the downtown area. NNY Business sat down with Mr. Lumbis to discuss the direction downtown development  is taking and possible projects that could benefit from the grant money.
---
NNYB: In your position, you've likely had the opportunity to study several cities' downtowns. Are there any common elements that characterize a vibrant downtown?
LUMBIS: I think if you were to look at and study successful downtowns, you'd find that most probably start out with some kind of vision, or a plan that describes how the community wants its downtown to be in the future, and you'd have goals and strategies that would help you implement that vision over time. There are a lot of great examples of successful downtowns. In addition to having a plan, probably one of the most important elements is that you have people. And in order to get people, you need pedestrian generators; you need a good mix of uses, you need people living in downtown, working in downtown, people going downtown for entertainment, all those things play off each other and really build momentum and activate your downtown. I think that's certainly something that would help make a successful downtown. The other thing is, you need your downtown area to be walkable, geared more toward pedestrians and not so much geared toward automobiles. Aesthetic appeal is very important; you want to have vibrant, historic architecture, well-maintained sidewalks, ornamental street lights, benches, all the different amenities that make a place special. Another thing that makes a downtown successful is a nice mix of public and private investment. A city can't do it alone and private investment can't do it alone. It really has to be both groups working together to get it done. The city can improve public space, streets, sidewalks and even public parks in Public Square, and property owners need to invest in their buildings and get the right mix of businesses in there. All of these different elements can work together to create an experience, something that you can't get from Amazon. These days, retailers and businesses are competing against big-box stores and Amazon, and in order to compete with those outlets you need to make it an experience; you need to make your shopping experience, your dining experience something special, something you can't get anywhere else. I think that's really what makes a downtown successful.
NNYB: Does downtown Watertown currently have any of these elements?
LUMBIS: I think we do. As part of the DRI, or the Downtown Revitalization Initiative, we are developing a plan, so that's first and foremost. But we have great historic architecture, we have pretty well-maintained streets and sidewalks, the park area in the middle of Public Square has got a lot of trees and benches. That really helps with the overall appeal and the vibrancy in downtown.
NNYB: What are some of the existing qualities of downtown Watertown that can be built upon?
LUMBIS: I think we need to become more pedestrian friendly over time. When we did the Public Square streetscape project more than 10 years ago, we significantly improved the aesthetic quality of downtown, we made some pedestrian enhancements.  But I think we can do more to make it safer for pedestrians to move about downtown. With some of the changes being proposed, I think we can create a space where people can congregate, hold events, and just have events that will bring more people downtown. By working with private property owners, we can continue to invest in our buildings and we can continue to rehab those, fix up the facades. We've got some great programs, like the Façade Improvement Program with the WLDC (Watertown Local Development Corp.). The city's applied for a couple of different grants that have helped some property owners fix up their buildings, like the Lincoln Building and Masonic Temple. We can continue to do that. The Watertown Local Development Corporation has some low-interest loans for businesses, so there's a lot of things we can do there to encourage and foster business development. 
NNYB: What are some of the challenges?
LUMBIS: One of the challenges is building consensus on a direction and vision for downtown, and then carrying out that vision. No matter what you propose to do, especially when there's significant changes, you're going to have critics and people who either don't think you should change anything or you should do something completely the opposite. So I think the challenge is to convince people to think longer-term, and stay the course, keeping in mind the bigger picture that we're trying to achieve. Convincing people that change is good can be difficult. Another challenge is getting people in the downtown nights and weekends, and so anything we can do to help business owners expand their hours past the typical 9 to 5, Monday through Friday-type of workday is something that we should try to do.
NNYB: The city recently received a $10 million Downtown Revitalization Initiative grant through the state. How long was this in the works?
LUMBIS: We initially applied to the DRI program in 2016; I think it was June of 2016. We weren't successful in that first round, so when the second round became available in May of this year, we kind of took another look at our application, and obviously tried to make it better. We looked at some applications from communities that had won in the first round and tried to really refine our application and make it a little bit better. So I guess, really, it started in June of 2016 when we first applied to the program. Then, of course, we were successful this year and the governor announced the award in October.  So, it's been in the works for a little bit.
NNYB: A committee was formed to come up with various projects that could benefit from DRI funds. How was the committee formed?
LUMBIS: The committee's called the Local Planning Committee and it's made up of local and regional leaders, downtown stakeholders and community representatives. Some of the LPC members were appointed by the mayor (Joseph M. Butler), and others were suggested for appointment by some of our state partners who we're working with on the project.  Co-chairs are Mayor Butler and Kylie Peck from the Greater Watertown-North Country Chamber of Commerce.
NNYB: What is the committee's charge? What is it being asked to do?
LUMBIS: First and foremost, they're tasked with developing a strategic investment plan for the city – ¬¬for the downtown – including having an overall vision, as well as strategies and projects that will help implement that overall vision and the goals that we adopted. As part of the plan, they'll be identifying projects that they feel are key to downtown revitalization. The committee, in addition to developing this plan, is really representing the community's interest. They've been actively seeking input throughout the development of the plan through public participation at the LPC meetings, hosting public open houses, workshops, all with the idea of getting public input and helping to develop the plan. Ultimately, they will be recommending the projects that they feel should be funded through the DRI.
NNYB: How will the committee come to a consensus regarding which projects are funded?
LUMBIS: To back up a little, they started to ask for ideas back in the very beginning of the process, back in November and December, and ideas could be submitted through Dec. 15. Since that time, the committee, along with our planning consultant, has been trying to create project profiles. They're trying to get as much information about the project as possible, everything from details about what the project will entail, how the project's going to be financed, how much investment the property owner's willing to put in, the number of jobs that are going to be created – if there are any – and the overall impact: How is the project going to help transform downtown? So we've got a 20-member LPC, and they're breaking up into three subcommittees to evaluate sort of different categories of projects. They'll be starting to evaluate those, prioritizing them, and determining what are more of the short-term projects that can be implemented right away, and what are more long-term, visionary type projects that would need some more study and would have to be further developed before they can be executed. Part of the DRI program, one of the criteria, is that they have to evaluate the readiness of a project; is it ready to go? The state and the governor want projects that are ready to break ground as soon as possible So the committee is developing the project profiles, all the details about the project and then subcommittees will be recommending what they feel are priority projects to the overall LPC, who will then vote on projects they recommend for funding by the state. Again, it's not just the LPC or the subcommittees that are doing this; they'll be reaching out to the public again (through open houses) where these ideas are presented and more details are provided. The LPC will talk about the impacts the projects will have on downtown and the public will get to weigh in and express their opinion on which projects they feel are a priority. And that'll be taken into account by the subcommittee and the state and it kind of all goes into figuring out which projects will be funded.
NNYB: In preparing for the grant, were there any projects or development needs that were immediately identified as possible uses for the grant money?
LUMBIS: One thing we learned from our first application is that we talked a lot about where we wanted to go and some of the projects we had accomplished – all of the positives that have been happening in downtown – but we really didn't really get into the specifics on what types of projects or what specific projects would we like to see funded. I think that's what made the successful applications a little bit stronger in the first round. So we did identify some projects in our application that we thought would be worthy of consideration that, as we go through this process, may or may not be one of the recommended projects in the end. We're looking for projects that we thought would be catalysts for downtown development and growth, so we included the JCC (Jefferson Community College) downtown tech space project, the Masonic Temple performing arts center, redevelopment of the upper floors of the Lincoln Building, façade and streetscape enhancement on Franklin Street and a project to create upper-floor, market-rate housing on Court Street. So we worked with some of the property owners, where there were private owners in those projects. We said "We'd like to include this as a potential project and work with you" and they said, "We'd love to be involved." We came up with some ideas there that I think really helped make our application stronger the second time. The goal of many of the projects was to increase the number of people in downtown by attracting students, employees, residents, and those coming downtown for entertainment; so that's kind of the theme: How can we get more people downtown and create more activity and excitement?   
NNYB: The DRI program does not entail simply handing over money to private property owners. What are property owners expected to bring to the table to be eligible for DRI funding.
LUMBIS: Property owners are definitely expected to bring private investment into their projects. There's no set amount, or criteria. A lot of state grant programs, they're 50 percent grant, 50 percent match, or maybe 75/25. There's all types of different ratios there, but in this case there's no set amount. I know one of the things the mayor has said is – and the indication that we've gotten from the state, too – is that we want this $10 million to turn into $30 or $40 million. We want it to help leverage private investment and not fully fund projects, but assist projects so that we can do more and really get more than just $10 million out of the award. The other thing, property owners will have to enter into a contract eventually with a state agency and follow some certain state requirements as part of the grant award. There could be a building project to, let's say, fix up a façade and that could get run through New York State Homes and Community Renewal. We have a grant through (the agency) to do some façade work and other repairs to the Lincoln Building. There could be a project out there that fits with that particular state agency and that's' kind of how it will work; the owner would have a contract with that state agency to implement the project. Or there's a couple of projects, like some streetscape projects, that we're considering and that contract could be directly with the city and we'll be responsible for it.
NNYB: The DRI program did not arise in a vacuum; it's a step in a long-term process to improve downtown Watertown. The urban renewal era aside, when did the city ramp up efforts to improve downtown?
LUMBIS: I think there's always been a focus by the city, by the City Council, in revitalizing downtown. There were a lot of efforts in the 1980s – after urban renewal, after the (Salmon Run) mall was built – to look at ways to improve downtown. There are groups like Watertown Alive and the Downtown Business Association that did a lot of work, completed a lot of projects, and made a lot of progress. Maybe in the 1990s things slowed down a little bit, but I would say really since the turn of the century there's been a lot of focus on downtown. The streetscape project was completed in 2008, but that was in the works as early as 1999. It took several years to get all the funding pieces together and then design the project and a couple years to construct it, as well. So there's been that effort on the city's part. We've invested in some of our public art down there. The Soldiers and Sailors Monument and the (Public Square) fountain were restored. The city, in partnership with the Governor Flower Monument Committee, restored that monument. But there's also been a lot of work done by Neighbors of Watertown to rehab and redevelop countless numbers of buildings. There's been private property owner investors that have fixed up there buildings. So in the past 10 or 15 years there's really been a lot of activity.
NNYB: In announcing the DRI funding, Gov. Andrew Cuomo specifically cited the Masonic Temple as the possible location for a performing arts center. Is that project emerging as a priority for the DRI committee?
LUMBIS: I think it is. It's definitely a great project and I think overall the LPC supports it. The challenge is, the complete restoration of the building is going to take millions and millions of dollars. We're not going to be able to put all of the $10 million into that building, so one of the challenges is to try to figure out at what level the DRI can support it. We need to figure out  what other sources of funding might be available, how the performing arts center would operate on a long-term basis; basically develop a long-term plan for the sustainability of the arts center, as well as the building itself. But overall, I think it's a project that the committee is really excited about, the public is excited about and I think it is starting to evolve, or emerge, as a priority.
NNYB: One idea that has arisen in DRI discussions is to close a portion of Public Square to make it more pedestrian friendly. Does the configuration of Public Square naturally lend itself to a pedestrian mall?
LUMBIS: I think the configuration of Public Square does lend itself to creating a pedestrian mall down there. There would certainly be a few challenges associated with redesigning how the traffic enters, especially at the east and west end, and you'd have to create some new intersection alignments. But I think the traffic could flow all on one side or the other, and you could use the other space for a pedestrian area. If we were to do that, I think it would create a great space that would allow us to hold all sorts of events down there, like the Wednesday farmers' market sponsored by the Greater Watertown-North Country Chamber of Commerce. Even the Saturday farmers' market, if that ever expands and gets a little bit bigger, could go there. You've got the Black River Fall Fest, the Public Square block parties that were developed last summer. I think if you were to do that, the key would be to have that space active and to have weekly events, at a minimum. Because if you do it, and you don't have those events, you're kind of missing the point; you kind of need to get the people down there to the events to help create synergy with the businesses.
NNYB: The word "transformational" has been used to describe the DRI program's potential impact on downtown. Do you expect that 10 years from now city residents will view the improvements as transformational?
LUMBIS: I really do think that we're going to look back and city residents will think that it's transformational. As I mentioned before, the grants will be for a number of different projects that will hopefully leverage some additional investment to help make that grant go a long ways. I think we'll have a number of different projects that are completed and each one of those is going to be a key piece in helping to revitalize downtown. There's a potential for maybe one or two projects to really be transformational, but I think it's more the collective group of projects that we will see as transformational down the road. I think, long-term, this initial investment is going to spur more investment as the excitement builds and more people come downtown, more people want to be downtown. In talking to (Lincoln Building redeveloper) Brian Murray, he sees it as a slow time of year, but with all this excitement and buzz about DRI, his phone's been ringing off the hook with people interested in coming downtown. I think that'll be some of the long-term effects that we'll see.
NNYB: Can any of the DRI funding be set aside to help fund a project that has yet to be identified, but that may emerge as being important in the coming years?
LUMBIS: Not exactly. The DRI projects have to be what they call "shovel ready" and ready to be implemented almost immediately upon award by the state.  But, there are a couple of projects that are being proposed that the LPC is considering. One is, the Watertown Local Development Corporation has proposed a façade improvement program, so there'll be a certain amount of money set aside that they'll be able to use for façade improvements for those. So in a way, yeah, for those yet-to-identified projects, I think (WLDC executive director) Don Rutherford kind of knows some of the buildings he'd like to target, but most of the projects will have to be shovel ready.
NNYB: How soon can residents expect to see projects funded through DRI get underway?
LUMBIS: First of all, the Local Planning Committee has to finalize the strategic investment plan and select priority projects by the end of the March. They have to have that plan completed and submitted to the state by the end of March. It's our understanding that the awards for specific projects will be sometime this summer, and then after that various state governmental agencies and private property owners will have to enter into a contract with the state, which should take a few months. But really, by the end of 2018 or early 2019 we could see money flowing and projects starting to happen. So it really won't be all that long.
NNYB: In the mid-2000s, the city spent about $7 million to reconstruct Public Square. Is there a concern that creating a pedestrian mall on one side of the square would undo, or negate, some of that work?
LUMBIS: That's definitely a concern among some of the people that have attended the public meetings that we've held as part of the DRI process. But there's been the other side of that, too, where a lot of people have said, "Yeah, we recognize that, but this is an opportunity to maybe really make a transformational change in downtown," and to think of it a little bit differently. Rather than looking at the space as an area that is primarily used for vehicles, look at it as more of a pedestrian friendly space. This is probably one of those projects that I think the LPC generally likes and would like to include in the plan. I just think that, at this time, the discussion's been that it's probably not quite ready to go; it's not as shovel ready as some of the other projects. We acknowledge that there would have to be a traffic study, you'd have to do a detailed design, you have to make sure that it's going to work before you, obviously, built it. And given the tight timeframe, we probably don't have time to do it, but I think what you'll see, it'll remain in the overall strategic plan as a project that we could look at in the future and fund with different funding and grant sources down the road.
NNYB: There is free public parking available downtown at the J.B. Wise and Stone Street lots, but a common complaint is that there is not enough parking downtown. From a planner's perspective, is the amount of parking now available adequate or is more needed?
LUMBIS: This is a tough question. There are over 1,000 public parking spaces downtown and many private businesses have their own on-site parking, so on the surface it seems that, right now, we have adequate parking. But it really depends on your destination and where you want to go to work or shop. If your downtown destination is somewhere on Court Street, lower Court Street, you're probably not going to find much of a problem finding an on-street parking space, or space in the Court Street parking lot. However, if your destination is lower Washington Street or Franklin Street or the Paddock Arcade, you're definitely going to be challenged to find a public space that's relatively close by. So people experience that and once that happens, maybe they complain a little bit about it and that discussion starts to spread throughout the community, and then suddenly you have a parking problem in your downtown, when in reality maybe it's only small pockets of areas that have a problem. The other thing is that it's not necessarily the number of spots, but I think we all acknowledge, if you look in the J.B. Wise parking lot, or the Court Street parking lot, there's definitely open spaces. There's just a factor of how far people are willing to walk and sometimes they're not willing to walk all that far for a space. I think we have to be careful, though. If we see the growth that we certainly hope and expect with all of our revitalization efforts, it could quickly become an issue, so I think it would be interesting to study the current parking needs, look at what the future growth potential is and really figure out where our problem areas are and try to strategize and figure out what we can do in the short term and long term to address some of those issues.
NNYB: The Black River essentially flows through downtown, but the city has wrestled with how to connect downtown to the river. Is access to the river essential to downtown revitalization plans?
LUMBIS: I think it is essential. It's sort of like, or very similar to, the idea of creating a pedestrian space downtown. The more you can create an experience that is different than you can find shopping online or shopping in a big-box store, the more success you'll have, the more opportunities you'll have to attract people downtown. The more things we can do and pair together to make downtown truly an experience I think the better off you'll be, and riverfront connections and development is one of the ways you can do that.
NNYB: The city has made extensive improvements to roadways leading into Public Square, particularly State and Factory streets. Are there any other streets being looked at to continue these efforts?
LUMBIS: As part of the DRI, we are looking at a couple different streets for streetscape enhancements. As part of our application we're looking at doing some streetscape enhancement, as well as building façade work on Franklin Street. And one thing that's come out of some of the public meetings – the suggestions and ideas from community members – has been to do some improvements along Court Street and the first block of Coffeen Street. But it's yet to be determined whether or not we can do all of that with the funding that we have, but we are looking at those streets. Really, the idea is to couple some of the building enhancement projects with the streetscape so that the whole area is lifted up, and looks a lot better when we're all done.
~Interview conducted by Brian Kelly. Edited for clarity and length to fit this space.