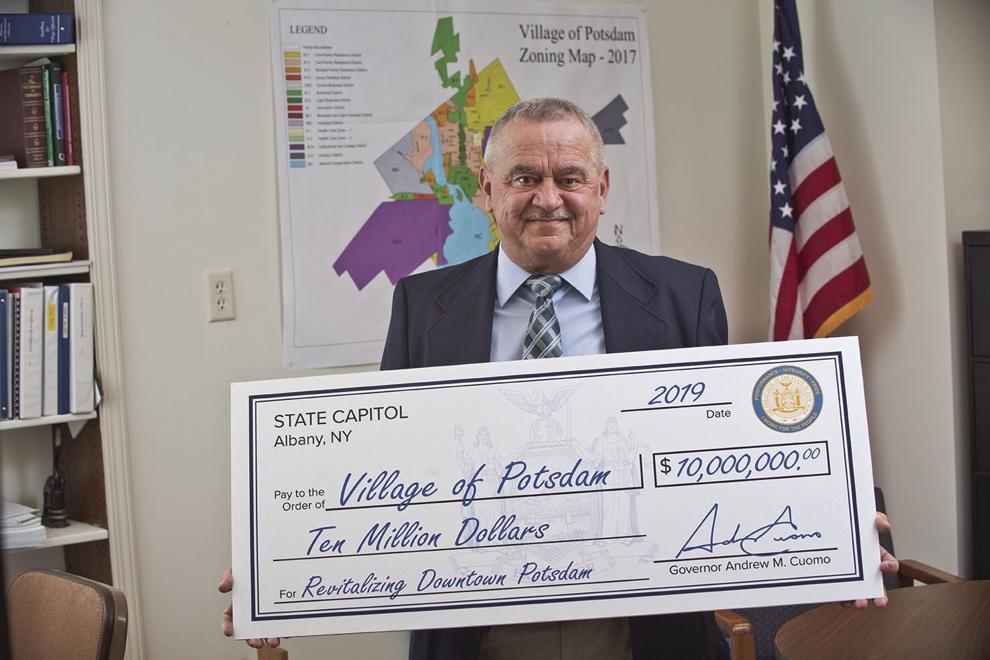 Mayor Reinhold J. Tischler sat down with NNY Business magazine to discuss the recent award of Downtown Revitalization funding that the village of Potsdam has received. He discusses plans for the future and how the village hopes to enhance life in St. Lawrence County. 
---
NNYB: When you travel around St. Lawrence County are there any common elements that characterize the village downtowns?  
Tischler: All of the major village downtown areas in St. Lawrence County were negatively impacted by urban renewal during the 1960s and 70s that demolished 19th and early 20th century residential and commercial buildings. Communities lost some of their unique architecture and charm. Each downtown area has access to a river and has public access at downtown parks and boat launches, and the loss of retail stores. 
NNYB: Is there something about Potsdam that makes it stand out from the others?  
Tischler: The presence of two universities has a widerange of impacts in addition to downtown spending; many students live downtown and support a wide range of merchants and personal service businesses like hair salons, food service and entertainment. Potsdam makes the most of its downtown waterfront by providing unparalleled access at three parks on the Raquette River. Downtown Potsdam is St. Lawrence County's center for restaurants – 20 at our last count that offer every thing from pizza and wings to fine dining. In addition, Potsdam has a "Grocery District" that includes downtown grocery stores like the IGA and Potsdam Food Co-op and specialty stores like the Purple Rice Asian grocery. 
 NNYB: What are some of the existing qualities of downtown Potsdam that can be built upon?  
Tischler: The Market Street Historic Preservation District's 28 buildings listed on the National Register of Historic Places. Potsdam retains its unique architectural heritage. Our community called a halt to urban renewal and opted instead to preserve our historic downtown. Potsdam retains a good number of retail shops that offer specialty products and is also becoming a real center for entertainment with businesses that offer interesting things to do – like escape rooms and a pottery studio that offers classes to the public. The North Country Children's Museum offers "STEAM-based educational opportunities for the region's young people. An active Chamber of Commerce that offers seasonal events like our highly successful Potsdam Summer Festival, the university sponsored First Saturday and Fright Night, a celebration of Halloween. Potsdam has an incredible volunteer base that serve on our planning and zoning boards and Climate Smart Communities Task Force. On a non-governmental level, the Potsdam Holiday Fund provides children's gifts and food baskets for hundreds of residents of Potsdam and surrounding area.  
NNYB: What are some of the challenges?  
Tischler: Obviously, the national trend of a shrinking retail sector has had a negative impact downtown. This is a difficult trend to buck. Potsdam has a successful small business lending program that helps retail establishments get started downtown; most recently we assisted with the opening of a new bike sales and repair shop downtown. Given the high percentage of property that is tax exempt, Potsdam's taxes are high, however, residents and businesses receive high quality services from the village that we believe makes us competitive.  
NNYB: The village recently received a $10 million Downtown Revitalization Initiative grant through the state. How long was this in the works?  
Tischler: It took the village four years to submit our winning 2019 proposal. Every time that we were unsuccessful, we went back and tried to determine what our proposal's weak points were and build upon those in the next funding round. I think as a small community, you have to be prepared to strike-out a few times before hitting a home-run. The DRI is highly competitive and it may take awhile to be successful but being persistent pays-off.  
NNYB: A committee was formed to come up with various projects that could benefit from DRI funds. How was the committee formed?  
Tischler: The village worked with the Department of State to develop a list of people we think can represent the many viewpoints involved in downtown revitalization. Kristin Esterberg, my fellow co-chair, is president of SUNY Potsdam. Others on the committee were involved in the application process, or represent businesses, other major institutions, including Clarkson University, the town of Potsdam, community organizations and the arts.  
NNYB: What is the committee's charge? What is it being asked to do?  
Tischler: The committee's key focus is to make sure the plan works for Potsdam and will help us accomplish our goals for the downtown. We will also be reviewing proposed projects to see which ones we want to submit to the state for funding now, and which we might include in the plan as projects that we'd like to see accomplished with other sources of funding.  
NNYB: How will the committee come to a consensus regarding which projects are funded?  
Tischler: Public input will be important, as will the project details we will all be hearing. The key to the success of DRI is the collaborative and open planning process, which will be critical to ensure our plan reflects the local needs and interests. We will look forward to engaging with our community on this process over the coming months to select projects that are really going to make a difference for the future of Potsdam. 
NNYB: In preparing for the grant, were there any projects or development needs that were immediately identified as possible uses for the grant money?  
Tischler: In 2013, the village adopted a Downtown and Waterfront Revitalization Plan that included a number of high-priority projects identified by our planning committee that were included in our first DRI application, as well as the winning application. These included: The Market Street Streetscape Enhancement Project to give downtown a much-needed facelift; the Downtown Riverwalk that will develop a walking and bicycling trail along the Raquette River and connect with the Ives Park Riverwalk and Clarkson University's Munter Trail; and the downtown Whitewater Park. Essentially, the committee placed high priority on improvements that would make downtown more inviting to a wide audience of residents and visitors and enhance our quality of life.  
NNYB: Is it possible that all the projects laid out in the DRI application will be funded? If not, what are the projects that would be most important to the village?  
Tischler: The DRI application included a wish list of projects, and we don't expect all of them to be funded. New projects will surface and others will fall off the list as we dive deeper into the particulars of each project. It has been suggested that we develop a list that includes $13 million to $15 million of projects to submit to the state. I think it's best if we let the planning process unfold and see what the Local Planning Committee identifies.  
NNYB: The DRI program does not entail simply handing over money to private property owners. What are property owners expected to bring to the table to be eligible for DRI funding?  
Tischler: Funds can go to both public and private entities. We'll be looking at readiness, ability to leverage outside dollars, and how well a project contributes to our plan for downtown. Ultimately, we want to ensure that all projects, whether public or private, benefit the community.  
NNYB: The DRI program did not arise in a vacuum; it's a step in a long-term process to improve Potsdam. When did the city ramp up efforts to improve downtown?  
Tischler: The genesis of Potsdam's downtown revitalization efforts goes back to the early 1980's when the community abandoned Urban renewal in favor of historic preservation. Since then, our downtown property owners and the village have worked to renovate buildings, especially those listed on the National Register of Historic Places. In Potsdam we reuse old buildings as a matter of course. Over the years we've assisted property owners to rebuild after fires and sponsored state and federal grant applications to secure affordable financing for building renovations. Potsdam has invested in downtown parks and open spaces. We have three beautiful parks and two canoe/kayak launches along the Raquette River. Several years ago, we completed a complete make-over of Ives park that spurred the development of a Veteran's Memorial and most recently the Trithart –Rivezzi family financed and donated the labor to build a naturalized playground in the Park. Our local Lion's Club secured financing and volunteered labor to enhance Fall Island Park. Finally, the village has for many years offered a successful small business lending program to help small businesses get established downtown. All of these things prepared us to submit a comprehensive and transformational DRI application. 
NNYB: In announcing the DRI funding, there was talk about Snell Hall? Is that project emerging as a priority for the DRI committee?  
Tischler: The Vecino Group, private real estate developers from Springfield, Missouri have proposed to convert Old Snell Hall from a largely vacant academic building to 58 affordable housing units. Part of their proposal is to renovate the ground floor of Old Snell and lease it back to Clarkson University's Shipley Center for Innovation, and to renovate the old theater in Snell Hall and also lease that back to Clarkson. The Vecino Group has 100 percent of the funding needed to develop the affordable housing project and to deliver the ground floor and theater to Clarkson University so that these spaces can be fitted out for occupancy. No DRI funding will be used for the development of apartments. The developer and Clarkson proposed to use DRI funding to help defray part of the expense of fitting out the theater with new seating, sound and lighting equipment and so forth. The expectation is that the space will be made available for public use by community theater groups, for musical performances and plays. Potsdam wants to be the center for the arts and culture in Northern New York, so the Old Snell Hall Project, assisting the St. Lawrence Arts Council purchase a downtown headquarters and new renovations at the North Country Children's Museum all contribute to this goal.  
NNYB: Improving Potsdam's streetscape was a major project identified during the DRI application process. Potsdam is already a very walkable place; where did the idea to make it more so arise? What were some of the ways that the streetscape project would do that?  
Tischler: The idea for streetscape enhancements came out of public workshops, focus group discussions and a design charrette that we held when Potsdam was working on its downtown and waterfront revitalization plan. The planning committee determined, and the Village Board agreed, that it was time to take a close look at our downtown streetscape and propose improvements that would make it a more appealing place to work, live and play. Removing the old cobra head streetlights and replacing them with energy efficient LED lighting will make downtown more attractive and potentially save taxpayer dollars. Sidewalk and crosswalk improvements will make it easier and safer for pedestrians. Visually appealing wayfinding signage, and electric vehicle charging stations will all make downtown a more inviting place to live or visit.  
NNYB: The word "transformational" has been used to describe the DRI program's potential impact on downtown. Do you expect that 10 years from now village residents will view the improvements as transformational?  
Tischler: That's our hope. We've tasked our local planning committee with selecting projects that will in some way work to transform downtown Potsdam and make it an even better place for our residents, visitors, students and the business community.  
NNYB: While the DRI grant funding is awarded to communities that have shown initiative in improving on what they have, are there any new developments that Potsdam residents can expect that will be beyond improving what is already there?  
Tischler: Our DRI application really focused on making the most of what we have here, while not shutting the door on new projects. For instance, Clarkson University's Shipley Center for Innovation operates a small business incubator to assist people in the clean technology or knowledge-based industries to get established and launch a successful business. LC Drives is the first company to move from a product idea to manufacturing. We'd like to support companies like LC Drives get their feet on the ground in Potsdam. This is a unique opportunity for the community and the wider north country region.  
NNYB: Can any of the DRI funding be set aside to help fund a project that has yet to be identified, but that may emerge as being important in the coming years?  
Tischler: The overall intent of the DRI program is to fund projects that are ready to go, ones that can ignite change and attract further investment. We can establish a fund for smaller projects that may take a little longer to roll out, like façade improvements or business improvement funds, but the State has capped those funds at $600,000. Our best bet for taking advantage of emerging opportunities is going through the consolidated funding application the state offers, and building up the resources from within the community.  
NNYB: How soon can residents expect to see projects funded through DRI get underway?  
Tischler: The governor usually announces the projects that will receive funding in the summer. We understand that once projects in all the communities are announced the state will set a "start date" that will make approved project expenses eligible for reimbursement after contracts with the state are executed. So, it is conceivable that some projects could get started in the fall of 2020.  
NNYB: The Raquette River runs along downtown Potsdam. Is the river essential to downtown revitalization plans? If so, in what ways?  
Tischler: The Raquette River is probably Potsdam's single greatest asset. Obviously, it's the source of the community's drinking water, it's a great resource for hydroelectric power generation, and a key piece of the village's recreation program. The river is very accessible downtown and at Sandstoner Park for active and passive recreation. We hope that the Riverwalk and the Whitewater Park will increase the public's ability to access the river for recreational activities. It's often said that a great place to live makes a great place to visit and the Raquette River contributes a lot to our quality of life.  
NNYB: Potsdam is home to the St. Lawrence Arts Council as well as other arts related formats. What role does the arts in Potsdam play, if any, in defining the village? 
Tischler: Potsdam is not only home to the St. Lawrence County Arts Council, but also to SUNY Potsdam's Performing Arts Center, Gibson Art Gallery, Community Performance Series, the Crane School of Music, the North Country Children's Museum, a beautiful historic theater in Old Snell Hall, and hundreds of visual artists, musicians, thespians, dancers, and writers. The arts are central to community development. The community congregates for musical performances during Summerfest, the Ives Park Concert Series, and even every Friday at Maxfield's Restaurant. Hundreds of pictures are taken in front of the various murals we have in public areas. Dance and theatrical performances can be viewed during Fright Night or the LoKo Arts Festival. And you can often join poetry readings in local coffee shops and libraries. The arts encourage economic development and tourism by offering an opportunity for people to visit and enjoy the work of talented artists from near and far. To say it simply, the arts enrich the lives of our residents and visitors, and we as a municipality see how crucial our support of the arts is to keep our village remarkably vibrant. 
~ This interview was conducted by William Eckert. It has been edited for length and clarity.