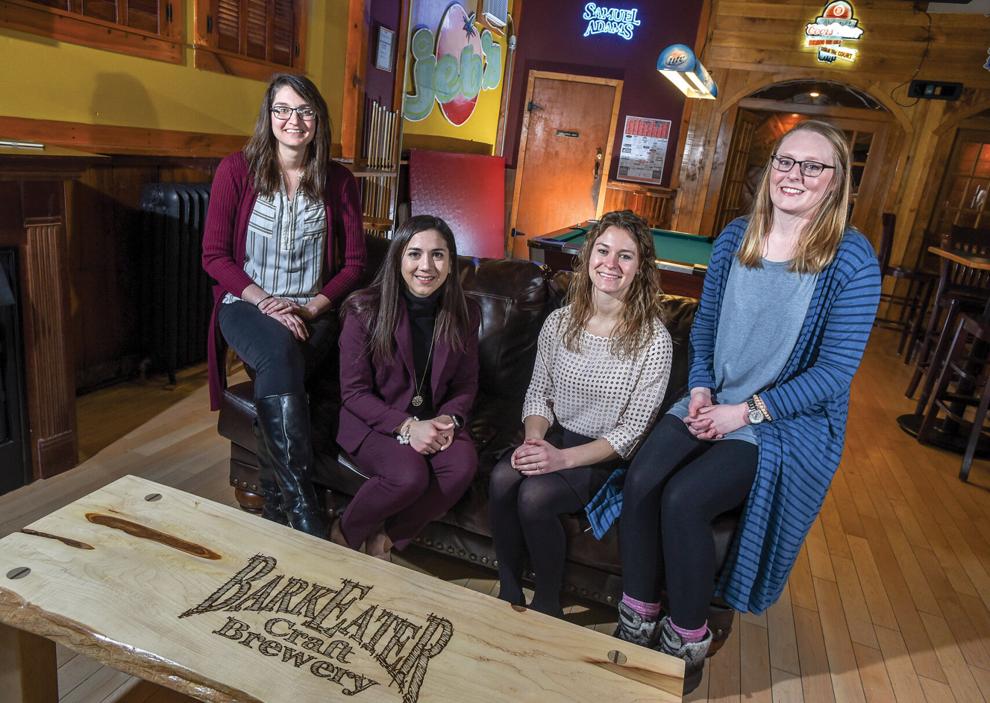 Brittany Davis is a member of a new group of professionals aiming to attract youthful talent to Lewis County. The Lewis County Emerging Professionals group is early in its existence, but Davis says that new professionals are joining them at their monthly 'happy hour' gatherings where they discuss how to encourage professional growth in Lewis County and efforts to retain it. 
---
NNYB: What is the Emerging Professionals group?
DAVIS: Lewis County Emerging Professionals was created in 2016 as basically a group to get our local professionals together for networking, social, professional and community opportunities in Lewis County. The founders felt that we were definitely lacking in this type of group here in Lewis County. So basically it was created to bring like-minded individuals together.
NNYB: When was the group established?
DAVIS: The first event was May 2016. It was a "trivia night" at Barkeaters (in Lowville.)
NNYB: Who is involved with the Emerging Professionals group?
DAVIS: The group was founded by McKenzie Lyndaker and Lydia Young. They were a part of the Lewis County Leadership Academy and this was their project; they had a project that they had to do. Lydia's a lawyer, McKenzie works for Bernier Carr (BCA Architects & Engineers) and then a couple of others came on the board: myself, I work for Lewis County Economic Development; Jared Thisse, he's a small business owner; Emily Munger (Lewis County) Chamber of Commerce; and Elora Clemens, she works from home.
NNYB: Does the Emerging Professionals group participate in community involvement?
DAVIS: Yes. We are working on doing more of that in the future. For example, this past fall we got a group of volunteers together for the Cream Cheese Festival. We basically have just started doing events just for ourselves, but we definitely are going to be getting more involved in the community.
NNYB: How can someone get involved with the group?
DAVIS: We have a meeting on the first Wednesday of each month. We host it here (Jeb's Restaurant in Lowville). It's kind of like a happy hour, but they can go to our website – lewiscountyep.com – and then we're always posting on our Facebook page. We plan a bunch of events just to get people together and have fun.
NNYB: Lewis County is geographically large, but its population is sparse. What are some of the challenges in connecting like-minded young professionals?
DAVIS: It's definitely a challenge. Even with me working in Lewis County Economic Development, we see this challenge just in business, in everything we do. We try to host events in different parts of the county. So it's "Hey, you guys are in Copenhagen. We're doing something near Copenhagen. Come to our event." And vice versa.
NNYB: Do you plan on doing any outreach to any young people outside of the county to tout potential benefits of making a career in Lewis County?
DAVIS: Yes. I think we're already doing that, because there are people who might be from Lowville, but they don't live here. They see that we're doing this and we're hoping that they maybe think about coming back to Lewis County. That's a big part of what this group is. Also, we have interns that come into Kraft Heinz, or Countryside Veterinarian Clinic; we want to give them a place to meet people and have fun so that they don't leave, so that they stay here.
NNYB: What are some of the areas of the Lewis County economy where young people are making their mark?
DAVIS: That's a tough one, because again, we struggle with retaining young people. I think it's a problem all across the north country, not just Lewis County. But, I would say I've seen a lot more young people stepping up to take board positions in the area. Like the Chamber of Commerce board is a very, very young board. And Economic Development, we host a lot of business events, and we're starting to see more and more young people because of this initiative. I think once people know that we're here, we'll find other people stepping up and making people aware of what they can get involved with.
NNYB: An annual survey from the Center of Community Studies at Jefferson Community College routinely shows Lewis County residents are satisfied with their quality of life. What factors do you feel contribute to this overall sense of satisfaction among residents?
DAVIS: Lewis County is absolutely beautiful. We have a lot of outdoor recreation and it's a safe place to raise a family. It's easy-going, low-key. But I think overall people are just generally happy here because of those factors and there is so much to do here. A lot of young people growing up here say, "Oh, there's nothing to do here," but once you are established here, you realize there are endless opportunities of things to do in this beautiful place that we live in.
NNYB: What is the biggest challenge in retaining young professionals in Lewis County?
DAVIS: Lack of jobs. I think that that is the biggest challenge. It's tough when you have someone going into a biochem career or degree, or those types of degrees; what are they going to do here? We can't please everybody, but we can just continue to work to bring those jobs here, or even continue to encourage entrepreneurship and starting your own business, because again, this is a great place to live.
NNYB: Do you have any advice, or counsel, for young people who may feel Lewis County is lacking in opportunities?
DAVIS: The young – high school age, or even middle school – we would love to get in front of them and just show them what Lewis County really has to offer. And what I tell young kids is, "You have some many talents and skills and Lewis County needs you. You can come back here and you can have a good life and have a good job and make a difference." Whereas, if you move to a big city, you might not have those same opportunities. You might have ten coffee shops to go to, but you could live in Lewis County and seriously make an awesome difference here. I think that's a message that we want to send.
NNYB: What are the benefits of creating communication among young professionals who are the future of Lewis County?
DAVIS: Again, I think there has just been a lack of it in the past. I mean, in growing up here, I wish that I would have…what's the saying? "If I had known then what I know now." It's only going to help because when we get together, we meet people, we network, we say, "Oh, maybe you can help me. I'm going to email you about this project I'm working on at work." Just a lot of connections are being made and it's a good thing. Good things are happening, people are thinking of ideas to make Lewis County a better place. It's definitely been a good thing.
NNYB: Do you partner with other area groups to connect young professionals to expand or create opportunities?
DAVIS: We would love to potentially partner with, like, the Thousand Islands Young Leaders Organization, or even Jefferson County (Leadership Institute), just to bring the groups together because, yeah, we're separate counties, but we're all the north country, we're all working together on the same thing. Yes, we would love to do that in the future. And we're always partnering with local businesses for events, so not only are we getting our name out with individuals, but with businesses as well.
NNYB: Like the Jefferson leadership group, does the Emerging Professionals group visit different business sectors to learn more about how they impact the county?
DAVIS: We have a Lewis County Leadership Academy, too, and I know Jefferson County does, too. So we're kind of trying to figure out a way to transition from the Lewis County Leadership Academy – people will graduate from there and then enter into Emerging Professionals. So you learn about Lewis County in the academy and then come be a member of Emerging Professionals and have fun and do all sorts of events.
NNYB: How are your meetings structured? Are they open to anyone interested or do they require an invitation?
DAVIS: We have done open meetings. Like I said, we'll meet here at Jeb's, have an hour meeting and then we'll have a happy hour afterwards. So it's open to anyone; we love having new people come, just to meet them. And they often have really good ideas.
NNYB: What are some of the social issues that the group works to better understand and address?
DAVIS: I think with just having the lack of communication among professionals in the past. I think that's the one thing we're mainly trying to work on now. That kind of takes a longer time, to let people know that we're here and we're trying to get involved. I think that's probably one of the bigger things is trying to figure out a way to connect all of us under one roof.
NNYB: What are some of the accomplishments made by the group over the short period that you've been established?
DAVIS: A big accomplishment is that we established our planning committee. We try to hold one event every month and they've been well-attended. We also, this past Christmas, held our annual ugly sweater party and we raised money for Santa for Seniors, so that's a good accomplishment. I think we'll just continue to build on those.
NNYB: How has the group developed since its creation?
DAVIS: It started with just a few people and we've grown to the six-person planning committee and we're going to continue to grow. We're going to be creating the bylaws and establishing a real board and hopefully creating a membership, where people pay a yearly fee and they get perks from around the county for being a member of Emerging Professionals. So we're continuing to grow in that aspect.
NNYB: Does the Emerging Professional group work to promote Lewis County as a good place to live and work?
DAVIS: Absolutely. Absolutely. I think we need more of that, and especially to keep the young people here, we need to promote that.
NNYB: Where do you see the group in the next five years?
DAVIS: I would see us as a membership organization with a full board, very established in our community as an organization that will be able to partner with our businesses and our companies to help recruit and retain professionals and employees to our area.
~Interview conducted by Holly Boname. Edited for clarity and length to fit this space.