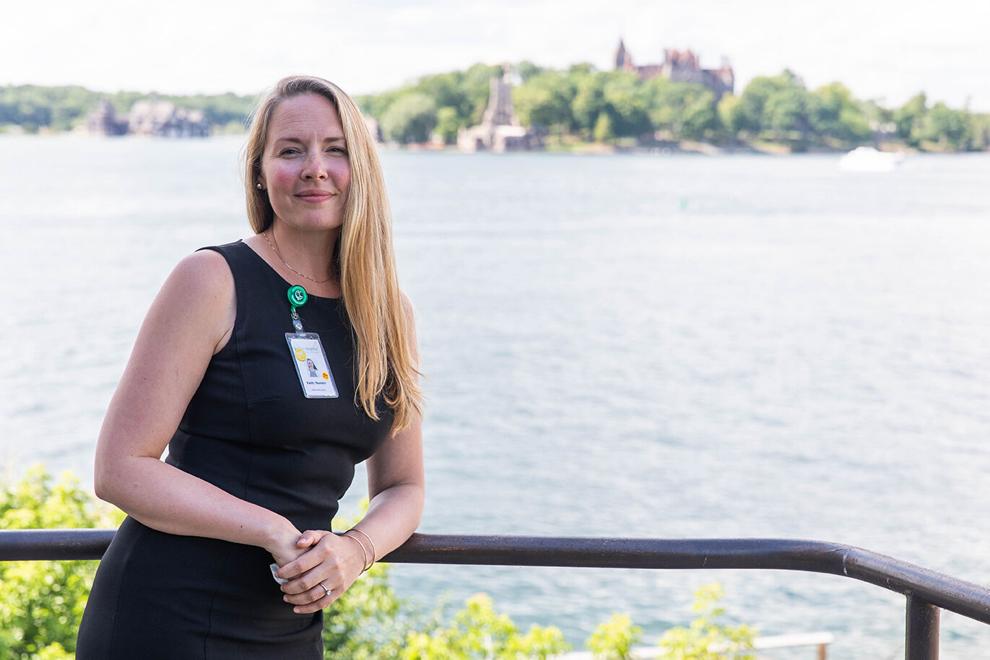 River Hospital is in good hands with new CEO Emily Mastaler as she works to continue the development of hospital services and partnerships with regional hospitals. As the hospital navigated changing services due to COVID-19, the hospital finished projects that expanded physical therapy services, the emergency department and the newly constructed administration building.
---
NNYB: So let's start with your interest in healthcare and business management. How did you first become interested in pursuing a career in this field?   
MASTALER: I actually started my career as a as a clinician. I began work in behavioral health many years ago; that was sort of my entry into healthcare. So I started in the schools, I started in emergency rooms, serving and supporting folks with complex health and social services needs, etc. And then I progressed into business management or healthcare management from there. I went on to get my first master's degree in psychology, and then pursued my MBA in healthcare management, thereafter. So I really just sort of worked as a clinician, worked clinically and then advanced in leadership in business administration afterwards. And so it's been nice to see the clinical side of the work, and the provision of care and how that matches with an organizational management strategy. But I think my roots are always sort of steeply grounded in the actual healthcare side, right, like actually serving and supporting the people that we're here to support.   
NNYB: What brought you to the Thousand Islands community and River Hospital?   
MASTALER: I was recruited for the CEO position. I was a candidate in that search, and came to interview and just absolutely fell in love with it, fell in love with the community and fell in love with the mission of the organization, the purpose of the organization. And that's really how I landed.   
NNYB: In your previous positions, you were the Director of New Perspectives for care and Manager of Community Relation and Treatment Programs? Can you tell me a little bit about those positions and how they helped you transition to CEO at river hospital?   
MASTALER: I left my former role at HCRS as the chief operations officer. And so that was the role that I held prior to the CEO position here at River. And I was in the COO role there for about six years; I had been with the organization HCRS for about just under 16 years. And so my role as the director of new perspectives for care was essentially the support and supervision and management of a rehabilitative program, a transitional program for folks that were transitioning out of long-term inpatient psychiatric hospitalizations. And then that was sort of a continuum, a part of a continuum of residential care, and at the time, I was then transitioned into the oversight of 38-bed residential continuum. And so that's sort of how my background in residential services translates into the running and management and oversight of a hospital. So those programs were really residentially based. There were a vast array of services for people with complex needs both, you know, psychological needs, behavioral health needs, as well as needs for comprehensive care in our community, for folks that were otherwise trying to transition away from inpatient care or looking for an alternative to inpatient care. That sort of component of my professional life really was transitioning in from community- based health care as a foundation and then into where I am now at our hospital.   
NNYB: You are about to reach your year anniversary with River Hospital. What are some of the first goals that you set for the hospitals continued growth?   
MASTALER: Yes, that's a great question. So, we're just about the nine-month mark; September was the sort of kickoff. So we're right in that sort of beginning phase of the first year. I think the goals for the hospital have really been to advance our strategic plan, which we've just concluded. So really, within the first year, we wanted to establish our strategic plan, our strategy for the future. And with that, really identifying what the next phase of the hospital's performance in the advancement of rural healthcare really is going to look like. Amongst that, we're really proud to have advanced our clinical affiliation with Upstate. That was, that's a wonderful partnership that has tremendous advantage for our community and for rural healthcare in general. They're the largest, certainly the largest academic medical center in Central New York. So I think setting our strategic plan and really then advancing those very critical partnerships as a rural healthcare, as a critical access hospital, is key. We've also been advancing our preexisting affiliation with Claxton-Hepburn. And with that comes tremendous opportunities to share resources and infrastructure while we all kind of collectively grow rural healthcare programming here in the north country. Those have been fundamental starting points. It's been a really busy year looking at population health and how we really can pivot our services to best serve our community's needs, through that strategic planning lens.   
NNYB: What are some of the challenges that the hospital faced when you started and how were those changed or addressed?   
MASTALER: I think part and parcel to really motivating our moving or advancing rural healthcare to its next level is certainly four-pronged. First and foremost, moving organizations from financial stability to financial sustainability. Rural healthcare, I think, is highly dependent – we know – highly dependent on Medicaid and Medicare reimbursement rates. So how do we transition those healthcare institutions from what is considered to be financially stable to sustainable? And with that, we're looking at operational efficiencies, we're looking at program growth. I think when I first started at River, really the hospital was stable, financially stable, which was fabulous. And they've worked really, really hard to achieve financial stability. And I think now we're looking at parlaying that into sustainability. Because the idea is to make sure that people who live in our community, people who work, play, families, neighbors, friends, each other, we all have the health care that we need, at the time we need it; the right health care at the right time. And through partnerships and innovative programming and strategic growth in areas that meet those population health needs, we further advance our capacity to sustain ourselves and our local communities. And so I think that step from what is stable to what is sustainable, is really where we're focusing our efforts.   
NNYB: Upstate Medical Center and River Hospital have partnered to increase the availability and ease of critical services to patients. What does that mean exactly for the patients of River Hospital?   
MASTALER: Partnering with an institution like upstate really looks at making sure that we have the resources we need to offer our community, our people, the people who live here, our community members, the services and the health care that they need within their community. So the idea being that if we can be supported by an institution like Upstate to bring a variety of specialty care, for example, to the backyard of the people who live here, then it's essentially bringing that specialty high-level, high-quality service to you, as opposed to the community member having to travel. Now, we also recognize that there are things that River Hospital won't do that other larger academic medical centers or urban centers should do, would do, want to do. But the idea is that for routine or sort of population and form specialty care, that through a partnership like that, we can offer it right here in our own backyard. And people get to see folks maybe faster than they would have otherwise, and in the communities in which they live and are also supported by their primary support systems. So it opens doors to those kinds of resources. Upstate also brings a vast majority of academic support. So they have a variety of residency programs; they have innovative research capacity. So bringing some cutting-edge medical advancements or advancing our technological capacities to best serve our population or community is really pretty exciting within that institution.   
NNYB: The hospital recently celebrated its 17th anniversary and along with that a milestone of the completion of the new medical office building. How will this project benefit not only the hospital, but the community as a whole?   
MASTALER: Oh, it's huge. We expanded our square footage in our medical office building dramatically, first and foremost; I think our PT department expanded in square footage by about three times its original square footage, which is amazing. We expanded square footage in general for specialty care, primary care, etc. But I think more importantly, the medical office building, essentially takes three different sites and combines to one. So it offers us this opportunity to launch into integration in our outpatient services, particularly with regard to primary care and behavioral health, known to be what's called bidirectional primary care and behavioral health integration. So, when you think about the right service or the right level of care, at the right time, integration efforts mean that the experience of care is really whole person. Not only does that incredibly beautiful building give us this advanced square footage, it gives us this sort of state-of-the-art facility, it gives us all of the sort of newness of a brand-new medical office building for our patients.  It also offers us a foundation from which to launch into a care model that really focuses on integration. Which means we are really putting that patient first, putting the patient and the family at the center of their care and making sure that whether it's starting at primary care, or whether it's starting with behavioral health, or whether it's starting with perhaps PT physical therapy, or whether it's starting with a specialty service, that you really can have an integrated approach to the services that you need.   
NNYB: The emergency department has been undergoing some major changes, what are these changes? And how are they going to benefit the patients and services available?   
MASTALER: Our square footage for our ED is also advancing. In the new phase of the construction, we've advanced, expanded our emergency department to nine individualized treatment areas. And what's exciting about that is the prior design of our old ER was essentially open concept. And, of course, in the world of COVID-19, having areas that can be otherwise individualized or isolated treatment areas is critical. So if somebody comes in and they need to be seen we have private and quiet space to do whatever assessment or diagnostic evaluation we need to do, which is a real game changer. Not only did we add, we went from, I think, five formal treatment areas to now nine, so we almost doubled our capacity in our ER. The design itself brings the capacity to be more flexible and agile on the treatment we provide, whether it's because of the pandemic, or we also have integrated a state- of-the-art trauma room. This particular area offers us the capacity to assess, comprehensively assess, 360 evaluation of anybody coming in with major trauma. And then from there we can assess and establish where somebody might need to go next. It really does bring forth some nice advancement for our community, for sure, in terms of emergency medicine.   
NNYB: You have specifically described the second floor construction as an "incredible expansion of square footage for physical therapy department." What does this increase in space mean for those requiring the physical therapy?   
MASTALER: It means more movement, more room; especially now, again I can't continue to reiterate in the realm of social distancing, having more square footage to move and to exercise or to rehab, based on whatever the treatment plan is for the patient. It also just offers us more; the square footage in general, just offers us more capacity to look at the sort of the area for which somebody might be rehabbing or individualized treatment space that somebody might need to be able to complete an assessment for one of our physical therapists, or to make sure that the treatment that they're getting is truly individualized. It just gives us so much more room to sort of bring our physical therapy department to the next level.   
NNYB: Will there be new treatments available due to this increased space?   
MASTALER: We're always looking at advancement in our physical therapy department. But, I have to say our physical therapy team is incredibly skilled, vast breadth of experience with a lot of different levels of experience that fall amongst our team. The River Hospital physical therapy department is highly sought after for that reason, anywhere from joint recovery or rehabilitation to sports medicine. I mean, it just is really very dynamic across all ages. They have a pretty solid depth of knowledge and are ever-advancing. I think the space just really allows the complement, the space to really complement the depth of knowledge, and of course, the capacity just to have people be able to stretch out and really just not feel like they're totally on top of each other. So I think it's going to be more conducive to the clinical skills that we already have.   
NNYB: COVID-19 has taken its toll not only on human wellness, but the financial wellness of area hospitals as well. How has the pandemic affected river Hospital in the short term and in the long term?   
MASTALER: The pandemic has been incredibly challenging financially. The hospital, like many, has seen revenue shortfalls, certainly as a result of lower volumes, certainly during the earlier phases of the pandemic when folks were staying home, rightfully, but nonetheless, we absolutely have seen changes in what we were going to anticipate revenue volumes. And, of course, we've also incurred costs. Costs related to preparation, costs related to making sure that our staff and our system was fully prepared should we see a surge in COVID in the north country. A lot of time, effort, materials, labor going into preparatory efforts with other colleagues, other hospitals regionally to make sure we had a strong response in the event things showed up on our doorstep. So I would say revenue shortfalls have been revenue limits, revenue changes, as we were otherwise anticipating have been a major financial impact. You know, as we reopen, and we are doing so safely, revenue or volumes, as we say, you know, service levels are returning. But we really just have to wait and see it's one of those unpredictably unknown outcomes. How long will this go? What will the fall look like? So we're really, the team here, is really just taking it day by day and making sure that we're here and we're available, and we're ready to serve responsibly, safely, helping our patients understand as much as they possibly can to access their health service in a manner that they feel comfortable with and are safe and doing so.   
NNYB: What services have changed due to COVID-19 pandemic?   
MASTALER: I would definitely say that River Hospital was one of the first to advance telehealth for behavioral health. We also pivoted very, very quickly to telehealth for primary care. I think we were up and running probably within about a week. And our staff here were fantastic at making sure that we were able to transition into a telehealth model without a real disruption to service, to practice social distancing and to be safe while also making sure people got the continuity of care that they needed. So I think one of one of the major changes to the service delivery landscape that we ourselves initiated was a telehealth intervention. That's been incredibly successful. I think as we continue to sort of maintain under a state of emergency, we'll see what the future holds for ongoing telehealth services. But I have to say, from a rural health care perspective, telehealth is one of the single most important elements that we can consider to make sure people have access to care. If they have difficulty with transport, if they have difficulty gaining access to the service itself, telehealth can be a really important option for some people. And we've seen that, particularly with behavioral health mental health services here at River. So I would say that that's probably been one of the major changes to our healthcare landscape in terms of service delivery. Otherwise, we're responding to healthcare in the same way we would have, but it's our duty to make sure that we have a heightened sense of infection control safety precautions that are really just making sure that not only do our employees stay healthy, but our patients are healthy and well while they access the care that they need.   
NNYB: Were any services put on hold or lost?  
MASTALER: We absolutely did have to delay, as did all hospitals. We had a moratorium on ambulatory surgery or elective surgery as often it is referenced. And that essentially started mid-March, roughly through into April. And that was in response to what we were wondering or predicting could mean a surge in COVID that would have resulted in the need to essentially double or at least certainly buy half our bed or inpatient bed capacity. So, transitioning, putting a moratorium or a hold on electives, was essentially the preparedness approach to make sure we have the staffing or the resources to have a surge event or a bed surge. Then as things turned the collective curve, we were able to reopen electives in the beginning of May, and we've been slowly sort of, with precaution, bringing our electives back to bear. So, that was a tremendous change. That was an immediate and very directed impact.   
NNYB: Has navigating the pandemic, from an administration point, changed the way the hospitals are looking at emergency structuring at the hospital?   
MASTALER: That's a question. Yes, I would say so. I think one of the most fundamental changes that I think really has eliminated for us, has been the management of our protective equipment, or PPE, personal protective equipment. I don't think people were really anticipating, I certainly can speak for myself, I was not anticipating the realities of supply chain shortages, like we've seen them and so when we think about maintaining a 90-day supply or when you think about what you're using protective equipment for, or how you might be able to think differently about how you're using that supplier in what regard, or in what your what procedure using a supply for, COVID-19 or any pandemic really puts that under a microscope. And so for us administratively, one of the major pieces that we're really integrating into our day to day conversations, are our inventory management supply chain issues or challenges that we're seeing, whether it's with regard to PPE, or whether it's in regard to testing supply, you know, finding our way to sort of maintain that level of resource so that we can make sure that our staff and community members stay safe in the event we need it. I think that becomes really fundamental. We also learned a lot you know, we stood up our emergency preparedness planning, we saw our teams come together, we watched people communicate and partner and problem solve for all of the unknowns. As we're learning about how COVID-19 works, how it functions, what our infection control in our terminal cleaning processes need to look like etc., as the information unfolded. So, all in all, I have to say that I'm incredibly proud of our team here. They have just done an absolutely superb job with something that's so unknown.   
NNYB: Are there any services that River Hospital does not currently offer that you would like to see offered in the future?   
I think that River Hospital offers an incredible array of specialty care. Interestingly, we've advanced specialty care by both 31% in the last handful of years. I think a specialty care that's really come to us has really been appropriately targeted for our community. So, I think for right now, what more specifically what we're looking at rather than a specific type of service, per se, although that's an ever-evolving conversation, right, we will definitely bring in levels of service that meet the needs of our community. I think it's more our focus right now is more about the models of care. So, as I mentioned earlier, integration, making sure that the patient experiences just have the most exceptional experience. And if we don't have a service, we make sure that people get to the right level of care at the right time, and that we're tightly coordinated and integrated with other healthcare systems beyond our own walls.   
NNYB: The community has repeatedly rallied around River Hospital. What can be done to ensure that enthusiasm continues?   
MASTALER: Community engagement, gratitude, appreciation, just a moment where we realized that, you know, we're here for our community and our community is here for us. One of the most incredibly heartfelt moments that I was able to witness as a newcomer to the Bay, as a newcomer to the Thousand Islands, certainly a newcomer to the north country, was COVID. It certainly brought with it many, many challenges, but it also gave the opportunity to bear witness to just some of the most beautiful gratitude and appreciation and caring that I've ever seen. And the beautiful mutuality, and I guess synergy for lack of a better term, was that this community provided care for our hospital, such that our hospital, so that our hospital could really care for our community. So whether that care and appreciation showed up, as you know, spaghetti dinner, or whether it showed up as a sub platter or whether it showed up as people donating protective equipment; people donating little love rocks that we that we saw out front right in front of our signs that were painted overnight by local kiddos in our community. It really was this sort of moment of this community really reminding us how unbelievably important we are to them, so that we could continue to make sure they understood that they're also our top priority as well. And so, it was just the sort of coolest sweetest sort of you know, moment amidst what was a pretty challenging and uncertain time.  
This interview was conducted by Holly Boname. It has been edited for length and clarity to fit this space.