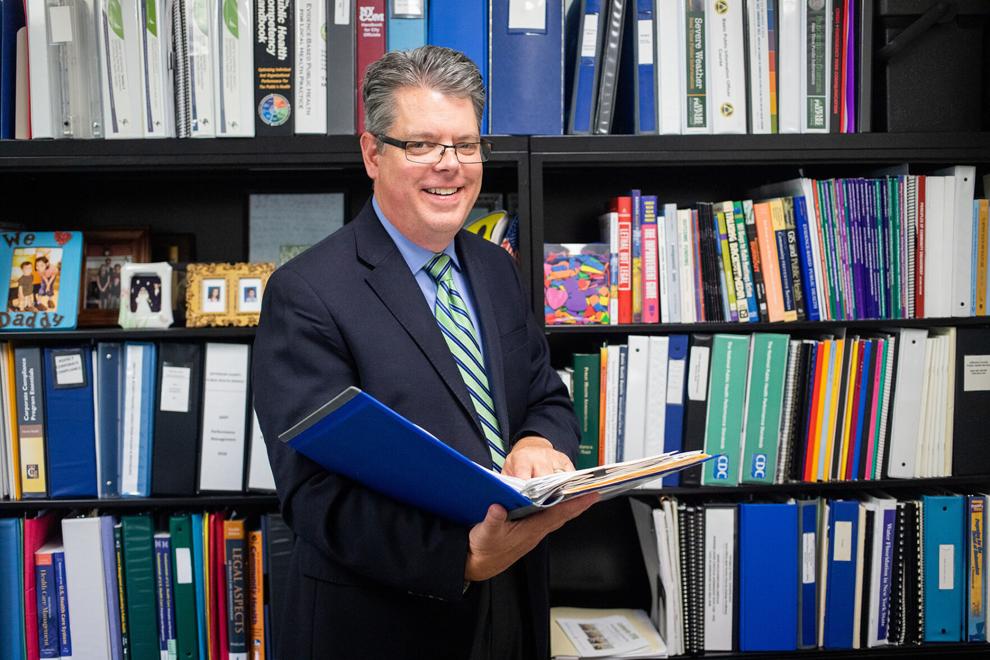 Stephen A. Jennings has worked in the public health sector for nearly 25 years — and a lot has changed. NNYB sat down with Jennings to discuss the evolution of Jefferson County's health over the years.  
---
NNYB: Why did you get involved in the public health sector?  
JENNINGS: I fell into it. I went to college for political science, I thought I was going to pursue law or possibly teaching. But I got a part-time job in a hospital and I fell in love with healthcare. I had good mentors there, and pursued health administration instead. What I wanted to do was combine my political science and health administration backgrounds, if I could, so I did some internships in the planning department at St. Peter's Hospital, which is how I first got exposed to community health.  I did an internship at the Business Council of New York State and then pursued jobs in health planning, and this public health opportunity in Jefferson County came up. I wasn't anticipating moving to Watertown, but this came up, I got the job, and I have been here ever since.  
NNYB: When did you start working here?   
NNYB: What does your job entail?   
JENNINGS: The cornerstone of my work is doing a 3-year community health assessment and a community health improvement plan — which are required by counties per New York State Public Health Law. Based on the assessment, we try to fill in the gaps by establishing programs and services. I write a lot of grants, I do a lot of collaboration with community partners; anywhere where the department should be at a table, I often fulfill that role. I also do internal things, like the statistical reports for the many units of the department.   
NNYB: What is your day-to-day? 
JENNINGS: Most of my work is project-driven, so I tend to know what the day's workload will be but you never know. With programs operated here in the department, we are constantly looking at quality indicators and trying to make improvements, whether it be processes in the department or care for patients. Then, grant opportunities keep coming and collaborations with other agencies are constant, so work is always shifting. It's often not the same month-to-month.    
NNYB: What type of partnerships does public health have in the county?   
JENNINGS: There are many.  A key one is the North Country Health Compass partnership, which takes a regional approach to community health assessments and population-health improvements.  The partnership comprises hospitals, local health departments, and community-based health and human service agencies from Jefferson, Lewis and St. Lawrence counties.  We meet every month and our priorities are chronic disease and mental health and substance abuse. We are now building our plan for the next three years, and those two will probably remain the priorities, but we will add oral health. While it's not every agency's top issue, it's a major issue in North Country communities.  The number one childhood disease is tooth decay; not a lot of people understand that.   
NNYB: How has the county's population health changed since you started?   
JENNINGS: So, where we used to do more isolated programming as a department, now we do evidence-based programming or best-practice programming and work on policy development, and we do much of it with many more community partners. Policy advancements since I've been here include the Clean Indoor Air Act which eliminated indoor smoking in public areas and we worked very hard on that. The Healthy Teeth amendment was adopted to advance and protect community water fluoridation in communities around the state. Cancer screenings, for people to leave work to get that done is now a policy. Then, most recently, the repeal of non-medical exemptions for vaccination. We worked very hard on that. Of course, there is currently a measles outbreak, and the epicenter for that is New York City but you have pockets of disease popping up across the country, and so people using religious exemptions to avoid vaccinations has become come quite common to a point where the genie is out of the bottle. The result of that is kids now getting measles, and it is spreading, so we have to adjust policy to stop that. From a service perspective, isolated agency approaches of the past have evolved into effective partnerships, both within the county and regionally. We had a significant gap in the continuum of care here in Jefferson County when we had no assisted living capacity, but now those services have been established at Carthage Area Hospital and Samaritan Medical Center. Then, of course, the Hospice Residence was established, which has filled a significant end-of-life care void. 
NNYB: Why has there been a shifted focus on prevention for public health, rather than treatment?  
JENNINGS: The whole health service paradigm in this country is shifting from a treatment model to a prevention model, and it really has to be that way to generate efficiencies and reduce costs, but more importantly, to have better health outcomes.  A treatment focused model is very expensive. It means people can basically live however they want, do and eat whatever they want with the likely result that you're going to get sick and you may get a very chronic, expensive illness. There may be nothing that can be done for you eventually, or you may be able to live with costly pharmaceutical and treatment therapies. By flipping that paradigm on its head, ensuring people have access to quality care, ensuring people have more access to health insurance, which is occurring now in New York State, individuals are hopefully establishing a medical home, seeing a doctor, seeing a dentist, and your care is managed. Hopefully, if you're smoking, you're going to be encouraged and helped to stop.  If you have an issue with diet, you'll be counseled on that. Nations that cover health for everyone have much better outcomes and do it at a much cheaper cost. We used to pursue and promote health equality for people, but now we promote health equity.   An example of equality would be health insurance for all.  But equity is really about addressing what an individual needs to truly be healthy, understanding one's social determinants of health — the structures and the systems that need to be in place to truly be healthy. So I could have access to health insurance, but live very far away from services in a rural area and because of this may have barriers to access care.  So we are looking deeper at those barriers.  Other social determinants for better health are having a college education, having a good job, having a safe home and community, and all of these things feed into better equity. Focusing on equity gives you a deeper understanding of barriers so population health can be more measurably improved, vs. programming and policy that just ensures we can say we've made things equal for everybody.  
NNYB: When you first started, what were the biggest issues facing the county?  
JENNINGS: Smoking was a huge issue back then. We spent a lot of time on that issue, and I started before there was any real movement in doing policy like clean indoor air. Policy is the Holy Grail because if you can change policy, change environments, if you can change how people are exposed, it really improves health. The Clean Indoor Air Act dramatically improved health in New York State. When I first started, people could smoke at work, and no one thought anything of it. So we worked to change all that and that took considerable political will, working with our representatives at that time. It takes a long time to get policy enacted.  You have to educate; there was a lot of public resistance, but now, nobody could imagine living without clean indoor air.  Now, it would be very unacceptable to have smoking everywhere like it used to be. We also worked on maternal-child health strongly at that time. The North Country Prenatal/Perinatal Council had already begun its work in 1988, but we still had high rates of teen pregnancy and a significant lack of access to prenatal care. All of those things have been worked on over the years and improved. Our teen pregnancy rate for 15-to 17-year olds has significantly decreased, although we still have occasional pregnancies. Our problem today is 18-to 19-year olds because if you look at counties comparable to Jefferson County in size, they deliver half the number of babies. Why does Jefferson deliver double the amount? Because we have married spouses on Fort Drum who are 18-or 19-years old delivering babies, and despite being married they still fall under our teen birth stats. We've had issues in the past of prenatal care access. We've improved it, but at one point a good number of the OB/GYN providers were military officers.  When they got deployed at once, we suddenly had a problem with reduced access to prenatal care. We worked with NCPPC and Samaritan to get more civilian providers here and that was successful. These are the kinds of issues we keep a closer eye on to make sure there aren't problems in the future.   
NNYB: For problems such as smoking where there was a lot of public resistance, how did you overcome that to get the appropriate policies passed?  
JENNINGS: We just kept educating. We engaged people in the community who were supportive, and this was all before electronic communication, and asked them to write letters, make phone calls, make visits to legislators to build that groundswell and it worked. It was a lot more work than it would be today because you have such instant ability to do things through e-mail and the internet, but there was enough passion on our side back then to get us through it.   
NNYB: What are the biggest problems facing the county today?   
JENNINGS: The biggest problem is chronic disease, but the most acute problem is drugs.  Back when I started, we weren't talking about drug issues other than tobacco and alcohol. Today, there's the prescription drug problem, the opioid problem, heroin, fentanyl, methamphetamine, and cocaine is on the rise here. This is an area where we connected with our partners at [Pivot 2 Health] and formed the Alliance for Better Communities. It really takes a multi-sectored community approach where everyone comes together — law enforcement, schools, health care, people impacted by addiction who are either using substances themselves or are in recovery, family members, the clergy, everyone — to try to address it and it's an approach that is working.  We've seen a significant reduction in overdose deaths over the last two to three years. We started with no money, but we have procured significant money through grant awards.   And we have established resources, like the Anchor Recovery Center of NNY, to try to make sure people have a place to go where they will achieve access to services if they want to quit their substance use.   Community multi-sector engagement, the services provided by the Anchor, along with increased availability of Naloxone (Narcan), has significantly reduced our death rates.   
NNYB: What projects are you currently working on?   
JENNINGS:  We worked with partners in Jefferson, Lewis and St. Lawrence counties and just won the very competitive federal HRSA Rural Communities Opioid Reduction Program Planning grant, so we're looking to work collaboratively as a region to assess needs and address barriers to access in rural communities to have greater success in reducing substance.  We are really working hard to improve oral health.  We were selected to be a pilot a few years ago and State leaders picked two areas in the state, Jefferson County and the city of Buffalo. Oral health indices statewide are horrible, and there was obviously a desire to try a different approach. We put a team together, supported by the Schuyler Center for Analysis and Advocacy and the New York State Health Foundation, and with their help we created a work plan and implemented activities.  When that sort of ended, the team we assembled didn't want to stop working and counties around us wanted to join. Now we are a four-county initiative called Keep the North Country Smiling and it includes Jefferson, Oswego, Lewis and St. Lawrence counties. We created another work plan and our goals are to establish fluoride varnish treatment in every primary care setting that serves children.  Currently, every Jefferson primary care provider serving children is doing it. We also want to maintain community water fluoridation and possibly expand it. During the pilot initiative, I became involved at a state level and a lot of work was accomplished to get the Healthy Teeth Amendment passed in New York State, which ensures community water fluoridation stays intact and expands.   Municipalities can still end fluoridation programs, but must now provide 90 days public notice.  Prior to the Amendment, municipalities could end programming without notice, and in Pulaski, the trustees pulled it in one night. Someone made a presentation there about anti-fluoridation and the trustees ended water fluoridation on the spot.  So a key component of the Amendment says a municipality can still end water fluoridation, but not without providing 90 days notice, which allows folks like public health departments to put forth the counter argument as to why it's so important to retain it. Locally, we were tested last year in the village of Potsdam, and because of the Amendment there was time to propose a counter argument, and it was retained. The same thing happened in Watertown in 2013, where the City Council was going to attempt to pull it out but we were able to stop that.  For some children, fluoridation is their only dental protocol. It's not perfect, but that may be all they have. There are a lot of poor children in the North Country, and your teeth are going to be healthier if you live in a community that's water is fluoridated. Our coalition is also working on "putting the mouth back in the body" from a primary care perspective. This means that when you go to your primary care doctor, a conversation will occur about your teeth and access to dental care at every well visit.  We are working on integration of electronic health record templates so that oral health questions automatically come up and primary care providers can engage patients on the issue at the well visit point of care.  
NNYB: How have issues like the anti-vaccination movement affected the county?   
JENNINGS: We monitor schools to make sure children are vaccinated and we have extremely high vaccination rates in Jefferson County — most school buildings are at 98 percent or higher consistently year-to-year. So our county has pretty good herd immunity, but we'd still like it to be better. And now that you can't claim religious exemptions to not get vaccinated anymore, we will see if that increases rates.  I have read that there is a movement, and I don't know if it is local or not, for parents who don't believe in vaccinations to home school. I don't know what that will entail here, if anything, but it's a big concern for us. Even if a child or adults is vaccinated, vaccinations don't always have 100 percent efficacy, so a person could still possibly contract diseases. And so we are very concerned about anti-vaccination sentiment. I have talked to pediatricians who have parents refuse vaccinations for their kids, and there is a lot of frustration there by the doctors, but we don't see that here in our department immunization clinics.  Our communicable disease nurses definitely work with the schools and are monitoring disease incidence and status community-wide.  Thus far, we've had no reported incidents of measles.  
NNYB: Are there any common diseases your department is worried about regularly?   
JENNINGS: Constantly.  We have significant numbers of sexually transmitted infections (STIs) and are second only to Monroe County for the highest numbers in upstate New York.  We do a lot of education about STIs, but we also strongly encourage testing, which increases our numbers of positives.  But by testing, we have greater opportunities to educate people about the risks and hopefully stop the spread of disease.  There are gastrointestinal and respiratory disease, such as influenza, that we monitor and report to the State.  Lyme disease is alive and well in the county and we work to educate the public about protecting themselves and their animals.  Rabies exposure is a constant concern and particularly prevalent this season.  Hepatitis C has become a great concern in recent years and there is a correlation between the disease and the increases in IV drug use we are seeing.  We worry about pertussis, which is whooping cough, because infants are at very high risk. We have done campaigns when there have been outbreaks in the community to encourage adults to get vaccinated that are going to be around infants so we can "cocoon" the child from disease because infants aren't able to establish full protection until a series of shots are administered over a period of months.  But we haven't had a lot of success vaccinating adults which is disappointing. We have worked closely with hospitals when babies are delivered to offer it and often times provided free vaccines so that family members or caregivers can be vaccinated, but there hasn't been a lot of uptake.  We worry about pertussis because we have had outbreaks in the past.   
NNYB: How have technological changes influenced your job? 
JENNINGS: Well, it's dramatic on many levels. Very early on when I first started, we had a planning group with a consultant who drew beautiful charts and graphs based on our thoughts and visions on how technology could better support health care. It really was about establishing electronic health records and everyone integrating their information to be more efficient and have better quality care.  It was a wonderful dream that has now come true, but back then it really was just a dream.  We had the vision, but had no idea how to achieve it. Of course, we came to realize we needed things infrastructure and fiber optic platforms to support exchange of health information.  These now exist and really, every industry supported by any type of technology sit on these platforms.  We now have Telehealth in the home because the department has a home care service. We have patients who can self-monitor their vitals and their weight. The devices feed data into our record system so a clinician doesn't have to visit as often, saving money and time, but we also know instantly if there's a problem and we can deploy somebody and prevent them from going to the emergency room. In terms of population health data, there used to be as much as a five-year delay to look at data, and that's not the case anymore. It's really a year or two, and even then, I sometimes can tunnel in if I need something quickly and the State health department can get me more current information. It depends on the index you're looking at. Data on babies can be obtained pretty instantly.   
NNYB: What does your department do in regard to environmental health?   
JENNINGS: So there are full-service health departments in New York State, and partial-service departments. The difference is that full service departments provide environmental health and partial service departments do not, and we are a partial service department. So here, the State health department district office does environmental health.  The State does the water testing and would be on site for food-borne illnesses at a restaurant or grocery store.  My department would work with them on specific people who are exposed to illness from say, a contaminated well, or from contaminated food in a restaurant.      
NNYB: What are future plans for the county health service?  
JENNINGS: I think it's continuing to do what we do well, which is preserve, protect and promote health for people through our own programs and clinics, and through partnerships with other entities in the county and regionally.  Making sure people have opportunities for health, whatever that may be. We are required to do certain programs, so we will continue those, and continue to work to make sure people are protected and educated.  
NNYB: Do you foresee any future problems for the county? 
JENNINGS: The nursing shortage is acute and being felt severely by our health department, as well as in all hospitals and other practice settings. The nursing workforce is aging, and baby boomers are retiring at a rapid pace, The numbers of nurses to take their place are far less than the need. Much more needs to be done to recruit and retain nurses.  
NNYB: What are some health concerns that you wish the county's population would wrap their head around a little bit better?  
JENNINGS: STIs. The highest rates of people with STIs in the U.S. are between 18 and 29 years old and we have a significant number of 18-to 26-year-olds in Jefferson County. Disease incidence goes hand-in-hand with age demographics, but we're also a county that promotes testing strongly, so that increases the number of positives. We just submitted a grant application to work with populations affected by STIs and refer them to treatment for drug and mental health issues because we don't currently do these types of referrals, and there is recognition that these co-morbidities increase risk for STIs.  So that's one avenue we are working toward establishing to reduce disease incidence and increase health.  Regarding substance use issues, there is a lot of stigma and bias by people who don't understand the issue fully and how it really impacts entire communities.  I haven't met anyone who hasn't been impacted directly or remotely — everyone knows somebody. I'd like to see that improve and will continue to work on it. We'd also like to see more and more folks stop accessing the emergency department needlessly. We see a lot of that activity with our home care service and we try very hard to prevent it.  The Anchor Recovery Center is going to embed some of its workers and volunteers into EDs to try and shepherd chronic users of inappropriate ED services out of there. A lot of the use is substance use disorder and mental health driven. 
NNYB: On the flipside, what do you think the county's population does well in regard to public health? 
JENNINGS: Jefferson County is a community that has very high levels of water fluoridation. We are above the 70th percentile of populations having access and a lot of that has to do with the build-up of Fort Drum. When Drum expanded, the lines that fed into it for drinking water were required to be fluoridated.  The lines pass through and connect communities in the county and so the by-product of that is many more civilians have access to fluoridated water.   I think a hallmark of our county is how well we all work together.  I think the partnerships that we are constantly developing and enriching is one of our strengths, and a lot of folks that were here when Fort Drum was built up say, when that happened, everyone had to work together.  And that philosophy has continued and expanded, to a point where we now work very collaboratively, even with non-traditional partners to advance health, such as law enforcement.  We also recently just started working with the Tug Hill Commission to establish Complete Streets policies.  While we had success with the City of Watertown, we couldn't get any other  municipalities in the county interested in the importance of establishing Complete Streets policies until Tug Hill got involved.  We had never really worked with the Tug Hill Commission before, and so it underscores the importance of partnerships, that it doesn't have to be us alone leading the charge, and indeed success can be gained and perhaps more effective when a partner takes the leading role.   
NNYB: What are events, programs and/or clinics you have coming up?
JENNINGS: We have rabies, STD and immunization clinics. Rabies Clinics dates and locations can be found on our Facebook page, STD clinics are every Tuesday from 12:30 to 3:30 p.m. and immunization clinics are every Wednesday from 12:30 to 3:30 p.m. Appointments for the STD and immunization clinics can be made on our website at www.jcphs.org.
~This interview was conducted by Olivia Belanger. It has been edited for length and clarity to fit this space.