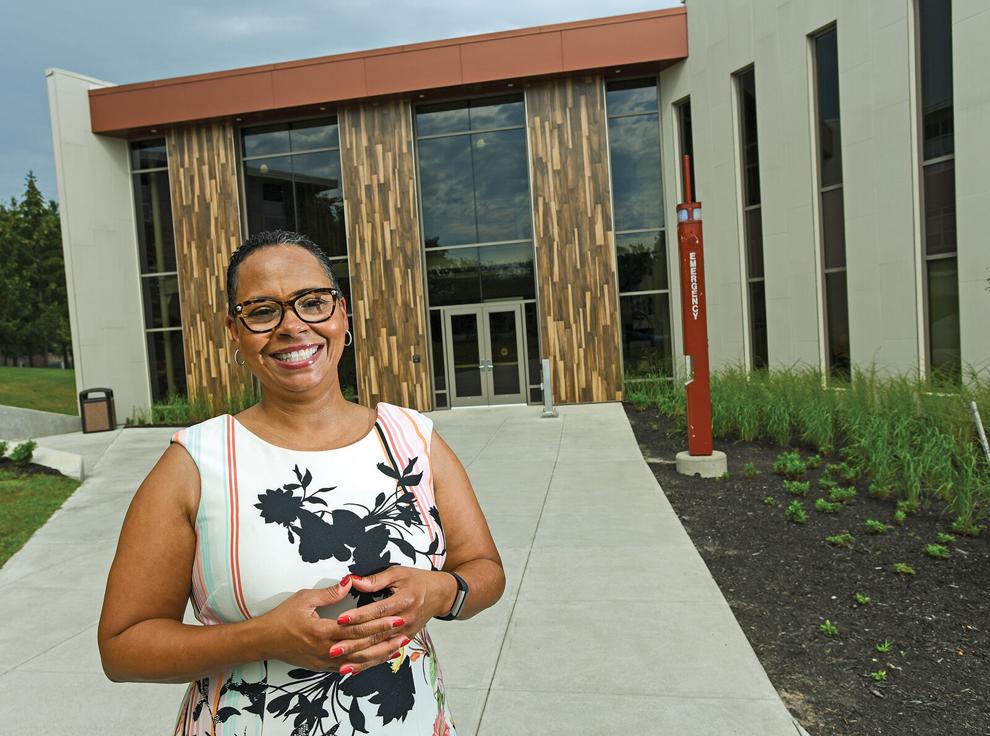 Ty Stone sees Jefferson Community College as integral part of Northern New York development.
Jefferson Community College is in good hands as new president Ty Stone begins her journey into her first academic year in the north country. NNY Business sat down with Stone to discuss her plans for students, her journey through gaining her education as a 'nontraditional' student herself, and how she plans to better integrate the college into the Northern New York community and beyond.
NNYB: What was your first impression of Jefferson Community College?
STONE: My first impression was that this college matters to a lot of people. When I came here in March for my first interview, I came early. And I came early with the goal of trying to prepare for the interview, but somehow I ended up going out into the community. I'd like to say that was strategy, strategic in some way, but it wasn't. It's just who I am. I went to the mall, I went to (Public) Square and I went to Maggie's (restaurant). Those are the three places that I went. And in all three of those places, people who I encountered, I asked what they thought about the school. And every one of them had a positive story to tell me. And so I said, "This is some place that I want to be.
NNYB: What aspects of the college attracted you to the position of president?
STONE: The position was available, first of all. So that was one thing. Secondly, seeing a college that had done as well as we have done from a student completion rate. If you look at the numbers that Jefferson has done and then look across the country, what you'll find is our numbers are really, really good. Really, really good. We're doing a good job with not only getting students into school, but getting them through school, which is a big deal. The other thing is looking at what the faculty is doing, because even knowing that we have done this well with our numbers, they're still not satisfied with that. That is the kind of organization that I want to be a part of, and I want to help to lead, and bring some of the experience that I have. I come from a really large institution in Ohio, a very innovative institution, and I want to bring some of that experience here and hopefully make an even bigger difference for the students that we serve.
NNYB: When you began at JCC, where there any urgent issues that needed to be addressed?
STONE: No. The previous president, Carole McCoy, left this place very well off. She has managed and overseen tremendous growth and also really good financial sustainability. So there was nothing I had to do from an urgent perspective. Even in talking to my board when I was hired, I asked them, "What do you want me to do?" and all of them said, "We want you to get to know us and get to know the community." So that's what I've spent my time doing.
NNYB: What do community colleges do well?
STONE: I think there are a lot of things we do well. I think we serve our students well. I think we serve our communities well and our employers well. I think there are some opportunities for us to do that a little bit better, and that may be in looking at the way we go about training students. It's not always about a degree, necessarily. Sometimes it's about a short-term training opportunity that gets students ready to meet their immediate needs, which is sometimes to just get a job. I think we do that pretty well, but I think we can do it a little bit better.
NNYB: In what areas would you like to see improvement?
STONE: Well, that's one of them. I've been all around this community, talked to a number of people and that's what I'm hearing. Workforce development is the thing they're looking to us to do more of and to do better.  We have a strong reputation in terms of getting people degrees, particularly in our nursing programs, and some of our engineering programs and our transfer programs; we're doing really well there. We probably need to do just a little bit better on the short-term certificate training opportunities for the workforce.
NNYB: You have acknowledged that you were a nontraditional student. What motivated you to continue to pursue higher education?
STONE: I am a nontraditional student and I was a nontraditional candidate. I think because of that I know what the majority of our students are dealing with. I think that's the strength I bring to this position and what I want to push our community at large to see, as we support the students that we serve. Because I think that we will see more and more nontraditional students, particularly as the workforce continues to change and the economy continues to evolve. I think we have to think about that and keep in mind those things that we don't think are barriers. Or even to uncover things we don't think are barriers. I'll give you an example: Something as simple as a $20 application fee may be a barrier to a student. Or having classes only offered at certain times of day may be a barrier to some of our other students. So we have to think differently about those students we serve; we don't have all traditional students here. As a matter of fact, we have a large concentration of students that are not traditional, right now.
NNYB: JCC enrolls a fair number of nontraditional students, as you just said. Does your background give you insight into the challenges these students may face?
STONE: Yes. I've seen it all. I was a mother. I was a wife. I had a job. I had dogs. I had stuff I had to do and I wanted to pursue my degree, too. And so what you find is, again, some of those things that we think we're doing to support our students really become barriers and so we have to balance that out. I understand the importance of doing certain things to set students on a path to be successful. Much of those things make sense, but we also have to think about it from the perspective of students. What we don't want to do is cause undue hardship for them, in terms of time commitments or questionable schedules, that kind of stuff, so that they can get finished when they expect to get finished.
NNYB: Do you have a message you can share with these students?
STONE: I think the first message is: Don't quit. I stumbled so much through this process. Twenty years, five different colleges. I was not successful until the end. I always felt that I wanted to do it. There's a quote that says, "It always seems impossible until it's done." So for all these years, it felt like it was impossible and it felt like I was trying to push a boulder up a hill, until I finally got there. And when I got there, it felt good and I think you have to have a greater purpose as to why you're doing it. Certainly for you, but for me it was for my children, it was to break a cycle I had had in my life. I was a nontraditional student, but I was also a first-generation student, so I wanted to break the cycle for my children. I wanted to do great work and I knew that I needed the degree to do that.
NNYB: JCC has grown considerably in the past decade. Is growth vital to a community college?
STONE: Absolutely. Growth and sustainability, both. I don't want to grow for the sake of growing. Again, I think we have to do our due diligence on making sure the students get finished. It's not only getting them here, but what we are we doing to keep them here until they're finished, and then turning them out into the workforce as qualified, working citizens.
NNYB: Are there any big changes slated for JCC under your presidency, or is too soon to tell?
STONE: It is too soon to tell. I have met with a number of community leaders; I've met with a few staff, but my faculty and students haven't come back to the campus yet. I've had a small group of students that I've met with this summer, but they were the summer students and so it wasn't a large representation of our student population. Again, what I'm hearing, though, in these preliminary conversations is that we have done a great job and we could do a little bit more for the workforce side of the house, for getting jobs, for getting people trained for jobs. So that's where my focus is in the upcoming months.
NNYB: You are a veteran of the United States Air Force. Does having served in the military give you a better appreciation for, or understanding of, Fort Drum soldiers who further their education at JCC?
STONE: Yes, I think so. When I got out of the military – and I've gone to Fort Drum and I've told them – the work that we are able to do with them, I didn't have. When I got out of the military, it was like I was dropped out of the sky. What you take for granted as a military member is: you get a paycheck and all of your needs are met – your housing, your food – so when you get out, that transitional period, if you don't understand how much all that costs, and what it is, and how to get a job, and how to take what you've done and translate those skills into something else, it's a difficult process. I didn't have that. And so just by virtue of this college being here, the strong relationship we have with the school and the work that Fort Drum is doing to help successfully transition soldiers, I think they have a great benefit that I didn't have. Yes, for sure, I understand what it's like to do a few years in the military and get out and "go on the economy," as they call it, get a civilian job.
NNYB: Why is the relationship JCC has with the military so important and where do you see it going in the future?
STONE: I am so pleased with this program we have here at JCC; it is the "Energy Boot Camp." The Energy Boot Camp takes – I think this last cohort was ten    soldiers who are transitioning out of the military through this boot camp, and teaches them how to work for an energy company. At the end of that, I think half of those individuals were hired. So that's a huge step. Before you even transition out of the military, you have a job, where you're making good money. We also have some relationships across the country, so those students, those soldiers who don't want to stay here, they have the option of working with some of our other partner organizations to get a job. That's one thing. I see us doing more of that kind of work, helping soldiers transition as well as getting the soldiers trained and educated. I had a long conversation with (Fort Drum Commander Maj. Gen. Walter E. Piatt) and he is all about education for the soldiers, because if you have an educated workforce, there's a whole lot more you can do than if you don't. We've been working together to try to make sure that our relationship is seamless so that we can get those soldiers trained. So, "Ready today, relevant tomorrow," or something along those lines. We want to help partner with him so that soldiers are set for their future.
NNYB: You hold a master's degree in business administration. Do you approach problem-solving as a business person or as an academic?
STONE: I say both. And that is something that I've worked on. I'm hard-wired for business and so many problems in previous years were all about the bottom line. Now, not so much. I've had to tap into that student perspective. Many times, we have to make sure that the decisions we have to make are not hurting our students, that we're not creating any barriers. And so, it's not always a cut-and-dried business decision. However, my mantra is "No money, no mission." So we've got to make sure that what we're doing works, is financially feasible, and sustainable so we can continue to do the good work that we do in educating as many students as we can.
NNYB: Your management style has been described as being driven by a "students first" focus. Can you explain what that means?
STONE: Absolutely. Here's what I believe: If we all approach the decisions that we make and the work that we do,    while understanding that our students are first    I think we eliminate a lot of the problems that we have if we allow egos to get in the way, and silos to get in the way, and building our own little ivory towers to get in the way. My approach with everything, when we sit down to make any decision about what we are doing here on this campus, is to ask, "How does it affect the students? Is it going to impact the students positively? Are they going to have a greater experience, greater success, some sort of greater outcome?" If not, we really need to think about it, regroup, reset and come back and recognize that we need to keep the main thing the main thing, and that main thing here is our students.
NNYB: It's still early in your tenure, but do you have a long-term vision for JCC?
STONE: I want us to continue to be what I think, what I say, is the best institution in New York, period. I want us to educate many more students and turn this economy around. I keep hearing that industry has left and lots of people have left because they don't see jobs in this area. I think we are a big piece of that puzzle and if we can figure out how to get more students educated, I think the businesses will come and the economy will turn around. Long-term, that's what I would like to see for JCC and for this community overall.
NNYB: New York state is now offering tuition-free education at state colleges, including JCC. Has this had any noticeable impact on enrollment?
STONE: It's still too early to tell. Our enrollment is trending at right around flat for us this year, which is good. Across the country, many institutions are seeing lower enrollment numbers, so us trending flat is a good thing. That may be one of the reasons why, the Excelsior scholarship. That may be one of the reasons, I'm not sure, but we'll see. I'm excited about the opportunity of providing free tuition to students, though, and I hope we can continue that in the future.
NNYB: What are some interests you have outside of work?
STONE: I've had a really great time exploring in this community. Last night, I went bike riding and I'm like, "I am such a kid up here." Because of the animals and all that stuff; I didn't see them up close and personal like I do here. So last night, I'm riding my bike and I went through this field and there were two deer that came out, and they looked at me like, "What is that?" But, I enjoy that. I enjoy the water; the water is beautiful. Everywhere I go in this community, I feel like, "Wow." Like you just take a breath and, "Oh, my gosh." That's how I feel here. I've gone to Cape Vincent. I drove there and when I drove into the town, and you see all that water, it was just spectacular. Clayton, gorgeous; just beautiful areas. So that's one of the things I enjoy. I also just adopted a cat from the SPCA. His name is Reggie and he has taken up quite a bit of my time as well. He's pretty demanding for attention. So that's another thing I like to do with my time off, is go home and see Reggie.
NNYB: If you had the chance to do something in the north country that you haven't had a chance to do, what would you like to do? What is something you're intrigued by?
STONE: I want to do four-wheeling and downhill skiing. But I want to go fast on a four-wheeler . I went out on one, but she was driving really slow. I want to go fast. Just to experience some of the different things   around here that I haven't been able to. I've been out on a paddle boat once. I'd like to do more of that.
NNYB: What is the best piece of advice you've ever been given and who offered it?
STONE: The best piece of advice I've ever been given is be yourself, and that was given to me by my mother. It's kind of like: This is what it is; this is what you've got; hopefully it works. And it has.
NNYB: Is there one piece of advice you consistently offer to students?
STONE: Yes. "Don't suffer in silence." I think it's important that students understand everybody feels like they don't want to go ask the question because they don't want people to think they're stupid. If everyone's thinking that, nobody's asking the question. So go ask the question, go tell someone what you need. More than likely, you've got a hundred other people experiencing that same issue and don't want to ask. But don't suffer in silence, because what I've found is that, when you do, you lose an opportunity to – one    do what you need to do, but –two    to help others, because you'll find other people are having those same issues.
~Interview by Holly Boname. Edited for length and clarity to fit this space.