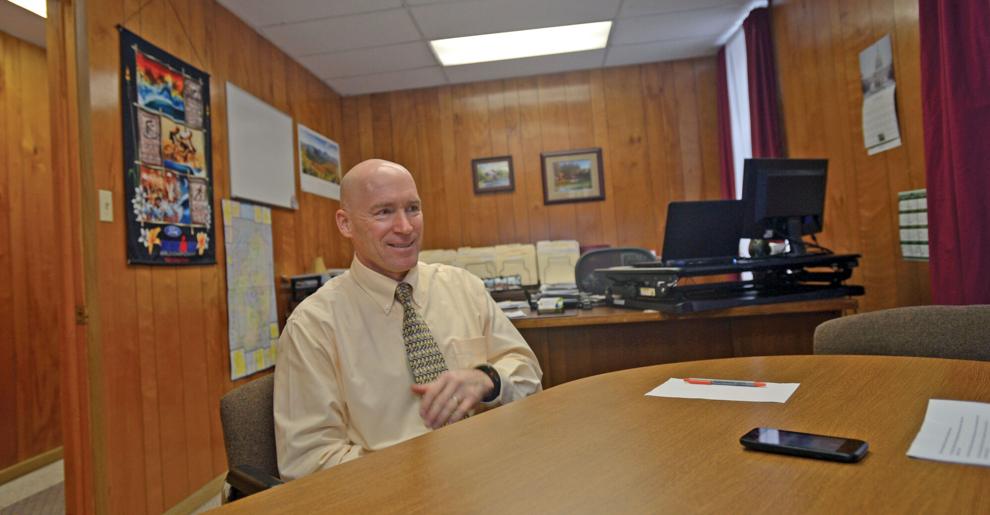 Lewis County was at risk of losing its largest private sector employer in 2015 when Kraft Heinz Co. announced plans to close plants nationwide. Instead, the company is expanding its Lowville location and adding more than 100 jobs.  That good economic news is tempered by the April 2016 closing of Climax Manufacturing, resulting in 150 job losses.  We talked to Eric Virkler, the county's economic development director, about the prospects for attracting or retaining business.
NNYB: The expansion of the Kraft Heinz plant in Lowville was a major victory for the county, preserving more than 300 jobs and creating at least 100 more. What primary factor led the company to make this commitment to the community?
ERIC: I don't know if there was one primary factor. I would think that, obviously, the strength of our dairy industry and our milk producers and the proximity to milk. The milk supply was probably a large factor for Kraft. The strength of our dairy industry is in large part because of our good land. So we have great land in Lewis County and great water, which promotes our dairy production. I think other factors, if I know what Kraft Heinz was thinking – which I can't say I do – I would think that they have probably looked at the experienced workforce at that facility and knew that they could grow, given the workforce that was already in place here in Lowville. And another thing I might think about is that Kraft in recent years, let's say the last 10 years, has already put a lot of investment into their operations in Lowville. I think that plant has been modernized and has had significant equipment investment and capital investment that I think was probably something that Kraft would have looked at and said, "We're going to continue to make those investments as opposed to starting from scratch someplace else."
NNYB: Outside of the jobs created directly at the plant, what other economic benefits can the county expect to realize from this project?
ERIC: There's a lot of those, probably.  Again, obviously, the impact to our local dairy industry and our farms, both small farms and large farms.  And then – within that dairy industry – that trickles down to many other businesses, the equipment dealers, electricians, you name it. So there's a lot of trickle down within our dairy industry. Certainly, Kraft Heinz – and its being the largest private employer – that has a large impact on many of our other small businesses. Those individuals living and working in Lewis County obviously are spending their money in many other places. And then I think just in the growth in having that size facility in Lewis County, and expanding in Lewis County, impacts government through property taxes and the school system through their property taxes. So it has impacts across almost the entire economy.
NNYB: Accompanying the Kraft Heinz expansion, Lowville's waste water treatment plant may be expanded to accommodate higher waste flows. Will this increased capacity help open the door for more development?
ERIC: I'm not that familiar with what the village's projects might be, or if and when they might expand their wastewater treatment, but certainly having more both water and wastewater capacity is important for other expansion for businesses in Lewis County. We look at that, or think about that quite a bit, because we know you need that type of capacity for a number of different types of businesses. Not every business would have to have a high water or wastewater capacity, but there are certainly some that do. So, that's something we think a lot about, whether it's in Lowville or Lyons Falls or Copenhagen or Croghan, we need to try and make sure that there is capacity available to support future businesses and growth.  Bottom line is, if Lowville expands its system's capacity,  that certainly is an important thing for other business opportunity.
NNYB: Demolition and cleanup of the former Lyons Falls Pulp and Paper mill site is ongoing. What is the ultimate goal for that site?
ERIC: I can't say we have an ultimate or exact idea of what might be at that property, but I think the overall goal is a 9-acre site on a great location, on a scenic river, with hydroelectric power on the site. It really could have a lot of uses that, again, hopefully could stimulate our economy. So, just the end goal is to get the property cleaned up and useable. And again, we don't want to define what might end up locating there, but we think there are some great opportunities because of its location and because of the energy potential there, and because it really is just a great piece of property. 
NNYB: There is a business park under development just outside the Lowville village limits. What is your vision for the park?
ERIC: Really, just to have some property available with the primary utilities and infrastructure available there, that we can promote and provide the opportunity for businesses to grow or establish if needed.  I think from our perspective it could be an existing Lewis County business that might need something new or something larger. It could be someone looking to start a brand-new business. It could be a business from outside of the area that's looking for someplace different.  The key, I think for us in Lewis County, is just that we do not have a sight like that, where there is open land with the necessary infrastructure for someone to quickly or easily build a building and put something in operation.
NNYB: What makes Lewis County a strategic location for business? Or is it?
ERIC: That's an interesting question. I think it'd probably be hard to say that Lewis County has a competitively strategic location or an advantageously strategic location. So I think we have to use what we have and, I made a reference earlier, Lewis County's got very good land and water for agriculture. So I think that's a strategic plus for us. And I think another thing that makes it so we can claim a strategic location is the proximity to some of our existing businesses, so if a business needs to be near Kraft Heinz or near a Qubica AMF or near Otis Technology, that gives us a good location for that type of business. Obviously, from a geographic standpoint we are not on a major highway, we're not maybe as close to some other major commercial centers, but Lewis County is in proximity to – within four hours, you could say – of Montreal, New York City, Albany, Rochester, Toronto.  So we are not that far away from a number of large population centers.
NNYB: Climax Manufacturing abruptly closed its Lowville plant nearly a year ago, leading to the loss of 150 jobs. How has your agency responded to that?
ERIC:I think the primary thing we have attempted to do is to stay in contact with the owners of the building and see if we can find a good end-use for that facility. So, that's the ongoing effort at this point, to know what the current ownership might do with the building and, if they are not going to be using it, to see if we can put it to some other use. Going back to the beginning of the situation, we were active in trying to find other companies that might continue the operation that Climax Paperboard had been in for so many years. So we did work on that, and then we also reached out to the ownership to determine if they would be interested in selling it. Again, that's the continued effort at this point, to just try to know what the future use for the building might be.
NNYB: Is there any potential reuse of the Climax building on the horizon?
ERIC: At this time, the company still owns it and our understanding is that they expect to use some – if not most – of the building for some portion of their operations. That's what we know right now. Are there other uses for the building? I think that there certainly are. It depends on what the existing ownership wishes to do and how. If they do not want to continue owning it, I think there are other things we could see as good opportunities.
NNYB: Your agency is studying the concept of a small business incubator building. What would be the intent of that project?
ERIC: I'm going to tie that back to agriculture, also. An incubator building's purpose is really to just see if you can spawn other business growth and provide some services and support for businesses that might not have it, in whatever other situation they might be in. Then, we kind of look at an incubator from an agricultural perspective. Given the type of businesses we have here, would it make sense to have a facility available that people could either expand or start something new, whether a dairy related business, a food related business, a maple related business? So that's something we really want to keep focused on and try to determine if that is a project that would make sense:  to create a space where, not necessarily just agriculture businesses, but any other business could find a home and get started.
NNYB: There are several wind farm projects proposed for the Tug Hill area. Is there an opportunity to use revenue generated from these projects to promote additional economic development?
ERIC: There definitely is. As those projects come to fruition, to get the benefits from the Lewis County IDA that they are seeking – the property tax benefits, the sales tax benefits – they have to pay a fee and the Lewis County IDA would then turn around and use that fee for other economic development projects and efforts. So, again, as those projects come to fruition, if we get a fee from them, that's certainly something that our board is very focused on, to use any fee revenue to create more opportunities.
NNYB: Does the fact there is proposed federal legislation that would prohibit wind farms within 40 miles of military bases, including Fort Drum, cause you concern?
ERIC: Yes, that definitely could become an issue for, or possibly become an issue, for the wind farms that are potentially under development in Lewis County. I can't say I'm knowledgeable enough really to know if there's going to be an impact, but it's certainly something that's in our mind and we are looking to see what the future will bring for those projects.
NNYB: The agriculture and dairy industries have long been the backbone of Lewis County. Will these continue to be an emphasis for your agency?
ERIC: Yes, we had this conversation (recently) after meeting with farmers about dairy milk prices. I don't know that agriculture has always been a high focus point for the IDA, but we certainly know it's the number one industry and it really drives our economy in Lewis County. So, we're always paying attention to that and we will continue to do everything we can to help make sure that industry stays as strong as it is. I think it really makes you – again after hearing some of the discussions on this – it really makes you wonder in general what the future is for dairy. Things have been the same for decades and decades in Lewis County, but will it always be dairy-based agriculture? I don't know. I would think that agriculture will always be a center point of our economy, but who knows what the future will be.
NNYB: Are there opportunities for growth in the dairy processing or value-added sectors?
ERIC: I think there are definitely opportunities there and it goes back to the discussions on an incubator, and possibly a food-based incubator. Not that that has to be part of growth, but I think the potential to use our dairy production for other businesses makes a lot of sense. So, if there's a business that thinks they can process dairy or maybe maple or maybe some crops, for a different value-added product, that's certainly something that would seem to make sense in Lewis County.
NNYB: Lewis County presently ranks third in the state in maple syrup production. Is there room for growth there?
ERIC: In my mind, I think there is.  There's probably, I guess, maybe two sides to that discussion. One, can we produce more maple syrup and maple products and then, obviously, are there consumers that are looking for those products?  I'm not exactly sure that I can speak to consumers on a local, regional or national level, but hopefully there's demand for those products. And then locally, can we produce more?  I don't have any statistics to quote, but I'm pretty sure there's potential for more maple production in Lewis County, just based on the number of the resources of trees and the ability to produce more at each of the various facilities.
NNYB: The county has seen successful start-up companies, such as Otis Technology in Lyons Falls and Grand Slam Safety in Croghan. Are they anomalies, or examples of what is possible in Lewis County?
ERIC: They certainly should be examples of what's possible. I think that type of small business growth is something we know we can focus on and we know that there's opportunity for more of that. And, I think that's probably the same in any local area. Growing with those small businesses is just the key to success. So, we hope they're not anomalies, and we're continuing to focus on ways we can promote more of that and help someone who wants to start a small business like that, and hopefully make it a large business.
NNYB: What advantages does the county offer for small business start-ups?
ERIC: Interesting question.  It's not like we have a lot of resources that we can offer or different things than other places can offer. So I think advantages for us, we need to be a little creative, or point to things that maybe aren't resource-based. Quality of life is something we all talk about, but I think that for someone who's looking to start a business, this is a great place to live and a great place to have a small business. I think that because we're a small place, having the attention from people like our office, Lewis County Economic Development, from your local town, from your  code enforcement officer, people are going to work together to help that small businessperson do what they need to do. We're not so large that you're not going to be able to figure out what you need to do. You're not going to have to go to 20 different places to get it done. I think that being a small place, I think that benefits us and we will work together to help someone do what they want to do with a small business. I think that's a good advantage for us. And I think opportunity. I think there's probably more opportunity here than people give us credit for. So if someone has a small business idea, they very likely can be successful – if they do it well – just because there is opportunity here. There's always room for new business and for economic, commercial ideas in Lewis County. 
NNYB: Your agency has adopted a marketing campaign called "Naturally Lewis County." What is the significance of that?
ERIC: As part of that logo, or branding, it's "naturally" why not do business in Lewis County? It kind of ties that – that this is a great place to do business – with our natural resources and the beauty of the outdoor environment and the nature of Lewis County. I think it was kind of trying to tie together a few of those different themes. It was created by the Paige Group, a marketing and communications firm from Utica – given a lot of background work and discussions with people in Lewis County – and that name came out of that effort, and I do think it really fits quite well.
NNYB: What is the main thing you tell a prospective business developer or site selector about the county?
ERIC: Well, certainly that we want them to come and do business here. We are welcome and open to that and we will assist them in any way possible. And, as we just talked about, that it is a good place to do business, there are good people here who can provide them a good workforce. So, I think a combination of factors: that it's a great place to live and do business and there will be assistance for someone, whether to start something new or move something here.
NNYB: Tourism is also a big industry in the county. Are any new efforts under way to draw more snowmobilers or ATVers?
ERIC: I always think of our economy almost as a three-legged stool when I think about tourism, manufacturing and agriculture, and tourism is a very important part of that stool for us. It's kind of the behind-the-scenes part of our economy, but an important part. I don't know that I can speak too much on any specific efforts at the moment to grow the snowmobiling or ATVing; it's not something we're putting a lot of time and effort into on a larger-scale basis. But, I think our effort and our work, just in cooperating with the Chamber of Commerce, cooperating with the Lewis Country trail office – we do anything we can to assist in that effort in general. We might become more involved if someone was trying to start a small business related to tourism or snowmobiling or ATV recreation.That's where we might get more specifically involved. But definitely, those outdoor activities are a large part of our economy and something hopefully we continue to focus on and grow from.
NNYB: You are a Lowville native. What prompted you to stay in the area and make your career here?
ERIC: Family. I guess it was my spouse's choice –"Let's go home to Lowville" – so I think family was definitely a part of that. And then I think that after being here, for me, the interest in trying to help Lewis County be a better place. After a period of time, that became a focus of mine. I don't think I knew that when I decided to move back to Lowville, but that is definitely something that I think about quite a bit and that's a goal from my perspective.
BY: Brian Kelly and Steve Virkler / NNY Business