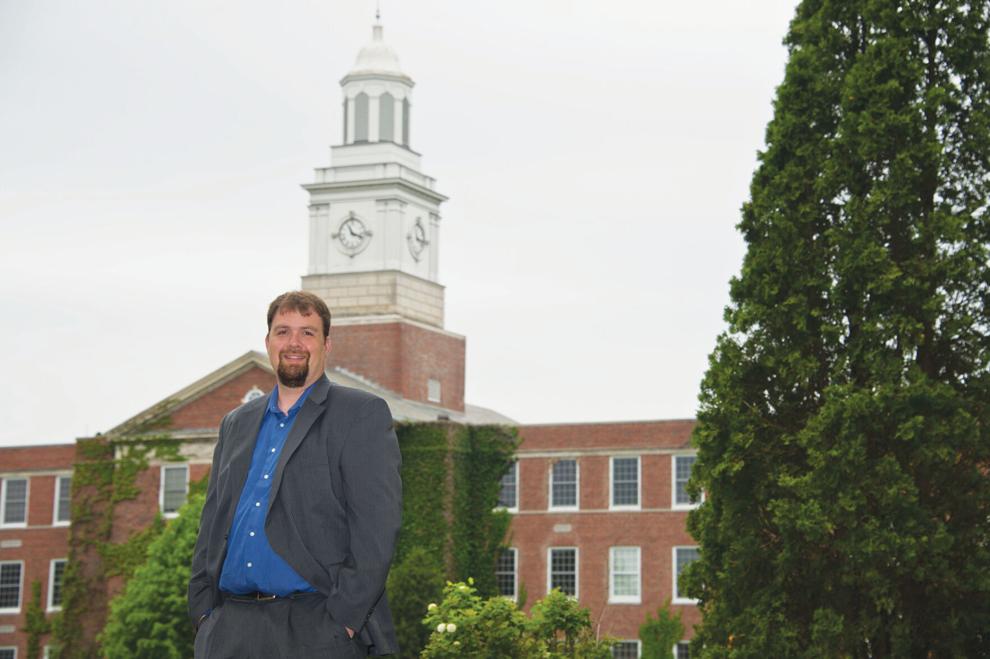 The St. Lawrence Leadership Institute has restarted after a six-year break. The program is run by the St. Lawrence County Chamber of Commerce in conjunction with SUNY Potsdam. NNY Business sat down with Josh LaFave, executive director of graduate and continuing education at SUNY Potsdam and discussed his work with the Leadership Institute and it's path forward.
NNYB: The institute took a six-year hiatus before being restarted this year. What prompted the program's break?
LaFave: There were compounding factors that led to the break, none of which were from changes in the importance of such a program.  Turnover within areas that support the program, a weakened pool of prospects that stem from a variety of reasons are some of the factors that led to a decision to put the program on hold.
NNYB: What factors led to bringing it back?
LaFave: I recall having a few conversations with colleagues about the impact that it had on me, as well as the need for young professionals to get engaged and be a voice for change and civic engagement.  As part of a vision for the Division of Graduate & Continuing Education at Potsdam, we were interested in discovering professional development program opportunities that connected us to the community through our core academic strengths and institutional resources.  As an alum, I reached out to those that were involved to open the dialogue of what could be, and how SLLI could be brought to life.
NNYB: How did SUNY Potsdam become involved?
LaFave: One of the key components to the mission of SUNY Potsdam is to serve the region for which we live.  It is a fundamental piece to the importance of an institution of higher learning. Our division was interested in the fit with professional development perspective in mind.  Part of the vision was to partner with the business administration department to deliver curriculum related to leadership and professional growth, and elevate outcomes associated with the program as well.  Students will have the option to complete the program with the certificate, as before, or may also pursue academic credit by completing additional deliverables.
NNYB: What is its mission?
LaFave: The mission of SLLI is to foster the development of emerging and existing leaders for the advancement of St. Lawrence County and its communities.
NNYB: What advantages does an affiliation with SUNY Potsdam bring to the institute?
LaFave: I see the advantages both ways.  SUNY Potsdam is the grateful recipient of supporting the program and learning from participants who will enroll from a variety of professional backgrounds in the county.  We will learn from their experiences and will continually work collaboratively on shaping this impactful program. For SLLI, the institute will become an academic offering of the college with access to educational resources, experienced faculty, as well as the ability to earn college credit by completing this program.  These resources, coupled with the mission of Potsdam and its commitment to our region make for a strong fit with many positive outcomes.
NNYB: Who might be a typical candidate for participation in the program?
LaFave: Participants will be someone committed to their personal and professional development, inspired by growth and desires to make significant impact in both their professional setting as well as in the community for which they live.
NNYB: Who might be an atypical candidate?
LaFave: The program is very transparent in what the outcomes are going to be.  We welcome applications for anyone who has demonstrated deliberate intentions for growth, who is reflective in their leadership journey, and has a vision for their communities and passion for making a difference in any way for St. Lawrence County.
NNYB: What benefits can a participant expect to achieve?
LaFave: Participants can expect to benefit from opportunities to explore their own leadership identity, build upon knowledge in areas of communication, strategy, conflict/negotiations, and other critical pieces related to professional growth. They will also learn about issues facing St. Lawrence County, develop an awareness of opportunities for engagement, be staunch agents of change, and most importantly, develop a network of like-minded professionals.
NNYB: What is your definition of leadership?
LaFave: For me, leadership is about connection, inspiration, and change.  Leaders facilitate the growth of those around them.  They inspire the collaborative energies and strengths of others toward a common goal. Leadership is not in a title and it knows no limits.  I see it as the creation of positive resonance that connects us as humans inspires us for more, and moves us forward in unison.
NNYB: How does networking with others potentially help build leadership skills?
LaFave: A robust network of professionals serves as conduits to resources, knowledge, and relationships.  All of which are tools for solving problems, inspiring opportunities for collaboration, and bringing people together for common goals. 
NNYB: What kind of critical issues facing the county will participants be asked to consider?
LaFave: There will be a goal to be as comprehensive as possible to expose participants to the many important topics/areas.  We will be looking at topics such as Government & Justice, Business/Commerce, Education, Healthcare, Environmental, and Social issues just to name a few.
NNYB: Why is developing an awareness of issues facing the county important for participants?
LaFave: It is our collective responsibilities as residents of the county to be knowledgeable about the things that support and maintain our quality of life and safety, and general well-being. The more we are aware of the issues, the more we can work collectively to solve problems of today to improve our home for the future.
NNYB: How much of a time commitment is required?
LaFave: The program will run for 10 months, with the final session being the program graduation.  The commitment is one night a month, with various assignments and requirements in between sessions.
NNYB: Do you have ideas in mind for specific activities?
LaFave: One of the cornerstones of this program is that each month the class is held at different locations in the county.  It is a very large county with many wonderful businesses, villages and towns to explore.  Our plan is to have a class in "every corner of the county."  This is an inextricable component to building awareness of the county for participants. Leadership activities will include individual reflection using well respected evaluation tools, group projects, community engagement activities, and more.
NNYB: How do you think these activities will benefit participants?
LaFave: The deliberate venue rotation is critical to exposure of all areas of the county and its communities.  By addressing issues facing the county simultaneously with actually seeing areas of the county will no doubt be a memorable part of the SLLI experience.  The activities associated with the topics on leadership are also beneficial as they are reflective in nature, and the tools that guide this reflection also helps participants put plans into action for themselves.
NNYB: What community resources do you plan to use to help participants strengthen their leadership skills?
LaFave: As an academic program at SUNY Potsdam, participants will have access to the incredible resources already in place on campus.  This will greatly enhance the course materials for the program.  Externally, we are working on partnering with experts in the county that can speak to the issues facing the county and areas of opportunity for participants who are drawn to various topics. We are also working on securing hosting at venues throughout the county to host our class.
NNYB: How can it benefit an employer to have one of its employees participate?
LaFave:There are tremendous benefits to sponsor an employee to participate.  The program will no doubt be transformative in the professional growth of participants.  Development of oneself as a leader has both sustained and transformative benefits not just in day to day work, but also in strategic thinking, relationships, and creative dispositions.  This growth of an employee supports the value they bring to the organization short-and long-term by providing immediate benefits, as well as contributing to succession planning and organizational planning.
NNYB: How important is it to help foster better leaders and then retain them in the community?
LaFave: As a young professional who left the area, I was fortunate to be able to come back home to the place I call home.  I see this often in my role at the college where north country natives relocate to other areas of the state.  I'm reminded of a popular phrase that states "Be the change you want to see in this world." There are many gifted professionals in St. Lawrence County who can and should be the future leaders of the county working to shape a future that is sustainable to retain that population. By providing tools and inspiring this very population to be a part of the change, they can, collectively shape a county that they will be committed to be a part of for a very long time. Leaders can be anywhere. These change agents do not necessarily need to be in legislation.  Every board, every committee, or any other opportunity are all a makeup of the future we are referring to.
NNYB: You are an alumnus of the institute. What is the most important lesson you took from the program into your career?
LaFave: For me, the most important lesson was the importance of personal growth.  Even the most influential leaders need to be continually challenging oneself, and willing to accept that they can always improve, and must remain humble.  The program provides you with tools to test your own assumptions about who you are, enables you to think critically and develop a plan of action for how you will move forward renewed in your commitment to make a difference.
NNYB: How does it feel to know that you are now among the people helping to shape leaders?
LaFave:I am grateful for the opportunity to work with the leaders of the St. Lawrence County chamber, as well as the members of our committee to think about how we can deliver on the promise of SLLI.  While we call St. Lawrence County home for a variety of very different reasons, it is up to us to work together to keep those reasons sustainable while creating new ones for others for generations to come.
~ Interview questions by Brian Kelly. Edited for length and clarity to fit this space.