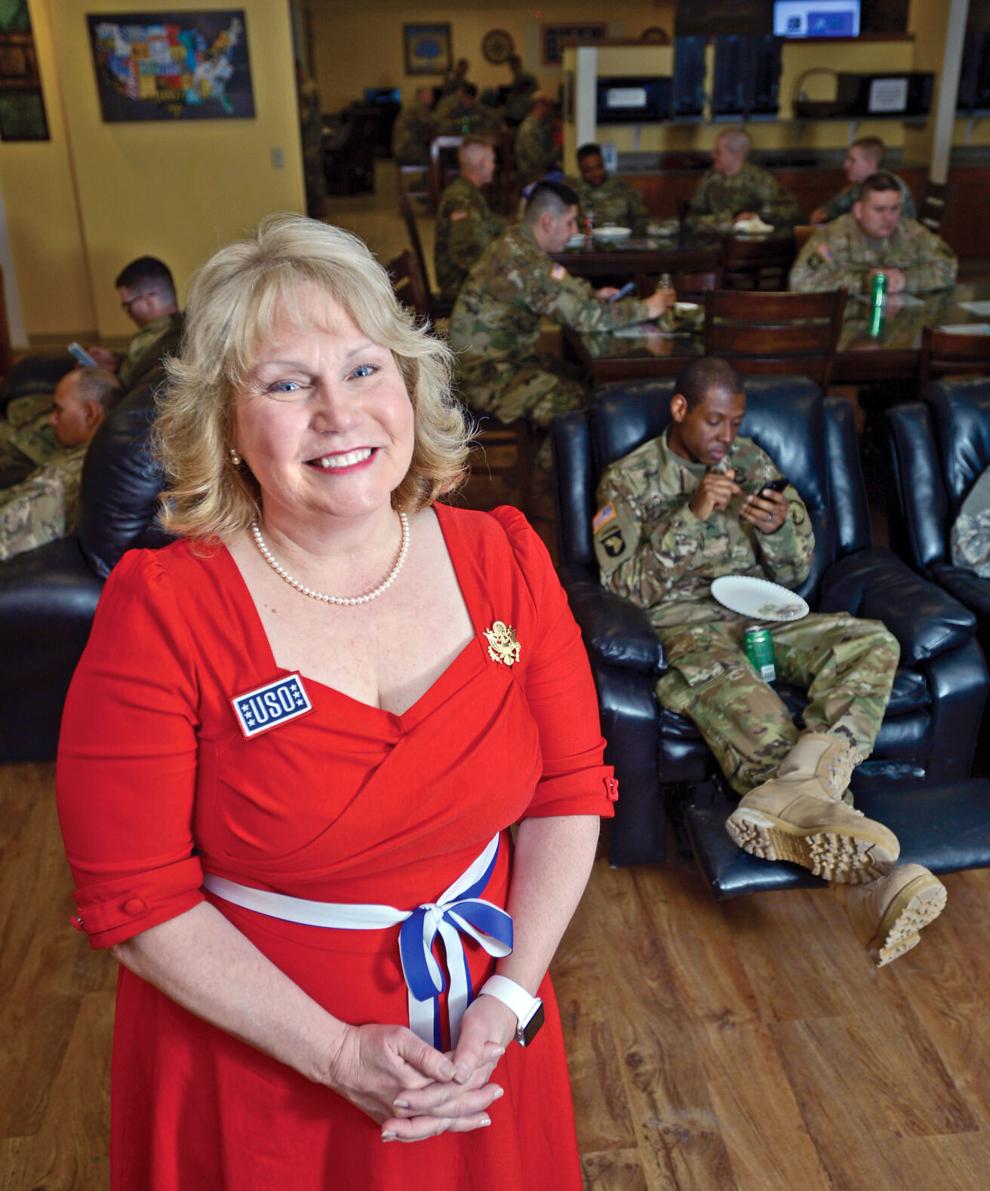 Her journey began on a path of educting the young minds in the classroom, but it wasn't long until she found herself relocating from Florida to Fort Drum and reinventing her career from the ground up.
     Karen Clark's passion exudes enthusiasm and compassion for those who serve our country abroad and at home.
NNYB: Life as an Army wife can bring you many places. How and when did you find yourself in Jefferson County on Fort Drum?
CLARK: My husband and I did get to tour around the country and a little bit in some foreign countries. We lived in Europe, but it wasn't until late in our career that we ended up here. We arrived at Fort Drum in 2005, actually, and we were not looking forward to it, if I want to be really honest. We were, like, "What the heck? Why are they sending these two Floridians up to the north country? The Army must have a sense of humor." And then we got up here and actually fell in love with it and decided to stay.
NNYB: Your career began in education. How did you find your way into nonprofit work with the USO?
CLARK: This is an interesting story, in my opinion. I was looking for work as a teacher in Jefferson County and there were no jobs to be had. I had literally left my classroom in Virginia, my husband met me in the parking lot, and we drove up here. I drove directly to the school district and said – "I want to teach" – there was nothing. So, I dabbled in being a substitute teacher and I dabbled in being a parent educator with Cornell Cooperative and then I saw an ad in the paper for USO director. I have two children in the military, a daughter-in-law who served as well, my husband served with the 10th Mountain and my dad served in Korea. I said to myself that the USO has been great to every family member I've had, I would love to work with this organization. I applied for the job and heard nothing. Then I went to the symphony in Thompson Park and I saw all these people wearing USO logos on their shirt and I went over and I told them how excited I was that the USO would be coming to Fort Drum because the USO is a great organization; I think the 10th Mountain Division deserves to have a location here and contributing to this most-deployed division in the Army. The people I met did not wander away from me because it turned out, they didn't know anybody there. I was like, hmmm, are you here doing the interview for the job of director? They said, yes, and I explained that I had applied for that job. The person asked what my resume looked like and I explained, "Teacher, teacher, teacher." Then he said, "Oh." I explained that just because I didn't have a business background that didn't mean I didn't have the skills. I work with volunteers, I work with a small budget, and I made division fun. He then went on to ask me what I would do if I was the director of the USO. I told him, "I have a lot of ideas. My sons' being in the military, my husband's being in the military. These are the things I think would be beneficial to the Fort Drum community." And, he actually listened to me. I explained that my experience in the classroom included leadership, public speaking, reporting, and marketing. The gentleman then brought me over to speak to a young woman and asked her to interview me right then on the spot. But, anyway, that is how I came to work for the USO.  
NNYB: Has the USO always been an organization on Fort Drum? When was it created?
CLARK: The USO was created in 1941. The USO on Fort Drum happened in 2007. I was actually hired in 2006 and I worked from my home just kind of learning all the USO could offer Fort Drum, the programs and services that we could provide. Then, in February of 2007 we were told that we could use this building here on Fort Drum and by April of 2007 we had renovated it with 100 percent volunteer labor. Well, when I say renovated it, I mean part of it. We couldn't do the entire building since it was massive. But we were able to do a room big enough to open in April 2007 and we operated there until we had enough funding and enough support to open fully in October 2008.
NNYB: How did your work as an educator lend to your career path with USO? What would be one thing that stands out to you that really lent well to your change in career?
CLARK: I think what really lent well for me was being a military spouse and moving around the world and seeing and hearing so many stories from people who serve and their families who serve and how resilient they are. I became resilient myself, for one, but I also was just really drawn to this organization that was trying to help people have the best experience they could. But I also taught on military bases and I have met the families, and I would hear their stories and, I don't know, I just think that all that education, from me learning from other people, adults and children, from life experiences, living in foreign countries and having both of my sons deployed, my husband has deployed, my daughter-in-law has been deployed and my father served in Korea. Hearing about our military serving overseas and experiencing it myself, I listened and wanted to be part of the solution.
NNYB: I know you're very passionate about the work that you do. Who is it that you serve every day?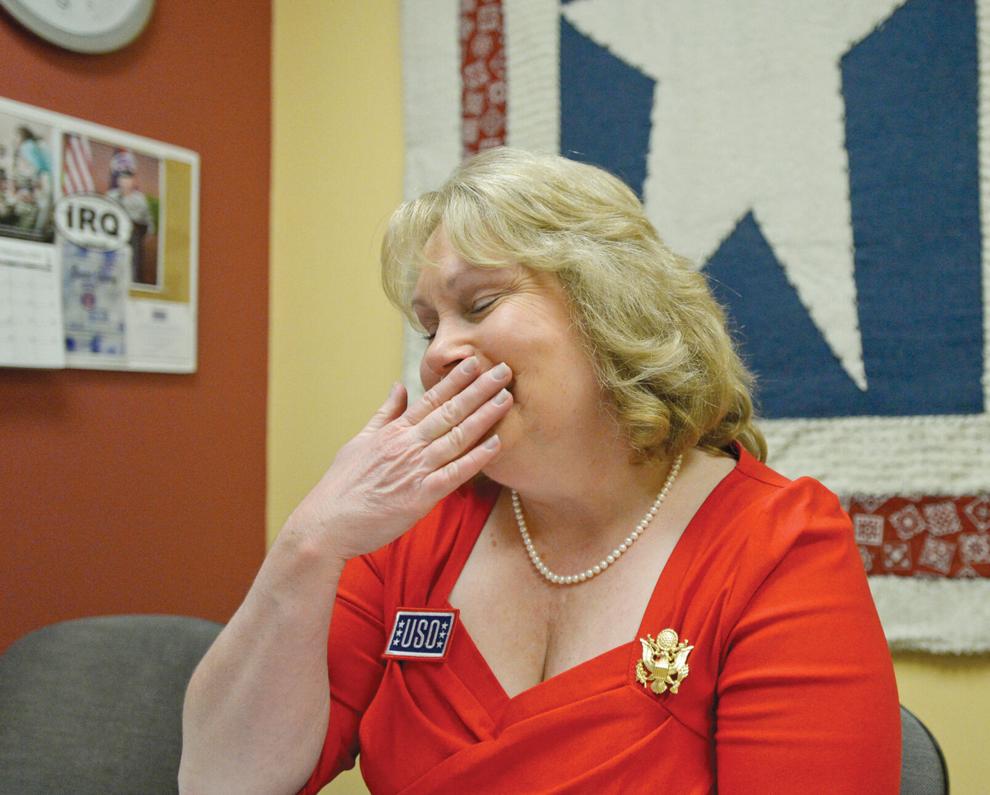 CLARK: Well, the textbook answer would be that I serve all of our military men and women and their families who support our nation, but I'm going to cry here… I think about serving my son and daughter. I know that the people that come to USO-Fort Drum are not biologically related to me, but I care about them as passionately as I do my own family.
NNYB: How supportive of the USO is Fort Drum?
CLARK: Our volunteers mainly come from Fort Drum, so the community has really embraced us, as far as giving us people who will man our center every day.  We could not open and be open all these hours that we are without the family members and the service members who actually volunteer at the USO, so I am definitely in debt to these people who already volunteer to wear the uniform and then they volunteer again to help their neighbors and their community. So Fort Drum has been very supportive – the command has been good to us.
NNYB: What are some common misconceptions about the USO? Are there any?
CLARK: The number one misconception about the USO is that we are government-funded, or Army-funded, or Department of Defense-funded, solely, because we're on this military installation, we're in a building that looks just like the barracks, or the headquarters, or we're in the same brick that everyone else is housed in on Fort Drum. They think that surely Fort Drum is paying for everything inside this building and they are not. Now, Fort Drum did give us the building to use, but it was in disrepair, so all the repairs that we've done inside were all done with donor dollars and every ping-pong paddle, video game, and paper that's going through the printer is through donor dollars. My staff that is paid is through donations, as you know, on the global level, not just here locally. Local donations stay for local programming. They don't pay for my salary. But everything that is inside the USO Fort Drum or programs or services are through donations and we are able to do these programs and services because of volunteers.
NNYB: What are some of the events, or how do you raise money? What are some of the things you do to continue that donation base?
CLARK: Our annual dance and auction is always in May, so that's one of our big fundraisers. We ask for people to buy tickets and attend the dance, but we also ask for sponsors.  We have fantastic sponsors, like Carthage Area Hospital, and AmeriCU, and Martin's Point (Health Care), and others that really help us to operate all year long. So that's one fundraiser that we host, but we are very blessed that there are some patriotic groups out there that do fundraisers on our behalf. The Elks Lodges, and the American Legions, and there's motorcycle groups that come together and they do troop rallies to support us. We also have corporate sponsors that will adopt a specific program. I mentioned AmericCU earlier, but they have adopted Thursdays as AmeriCU "Ample Sample" Thursday. Because of their funding, we're able to offer a hearty snack ever Thursday of the year. So that was a company that supported us year-round. So, bottom line, it's very diverse. I honestly have this thing about fundraising, I mean, if someone wanted to give me a million dollars today for the USO, I would absolutely take it, I would, straight up, but I really, in my heart of heart and I'll probably get emotional again, would like a million people to give one dollar, because I think everyone should serve in our national defense and if you don't wear the uniform, you should do something, whether it's volunteer your time or give that dollar.
NNYB: What took Fort Drum so long to want a USO?
CLARK: USOs were primarily in airports or overseas at the FOBs (Forward Operating Bases). When I came onboard, the USO was only on three installations and they've just started growing here recently. Part of it is for the military saying, "We would like you to be on a military installation, we would give room and allow you to operate on the installation." So, I think it was just communicating on the need and it was also, we're finding, a lot of people thought USO was only useful during wartime and they realize people actually need the USO even when we're at peace. Even the service members who are here who never deploy, he or she is still far from their family and they still want to stay connected to things that they love and feel the support of the community. That's what the USO offers, so the realization that our troops need the USO in wartime and in peace spawned the growth of USOs on the Army, mainly Army installations. There are very few other installations, we're primarily Army.
NNYB: When people think of the USO, they think of the likes of Bob Hope and his traveling, morale-building shows, entertaining generations of soldiers. How is today's USO different than that?
CLARK: We actually still have the shows and that's still a highlight of the USO and possibly what we're most famous for, but I am partial to what we do in our centers. Obviously, we have a center, but it's the everyday, not just this burst of "We support you" and this flashy show. Not that that isn't important and it has its place for sure, but I am really proudest of what the USO does every day.  The USO and the goodness we provide and the comfort and the security and peace of mind that we provide at these centers, where the service member can come in and sit on the couch and watch TV, feel like they are at home. I think that is the actual best thing that the USO does. But the entertainment is still there; it's fun to meet a celebrity. Who doesn't want to meet a celebrity?
NNYB: What are some of the accomplishments the USO had in 2016?
CLARK: The biggest accomplishment, I think, for USO-Fort Drum is that we expanded and added three team members who only work in providing transitional services. So it is not just the home-away-from-home, come and get a hot dog and a cup of coffee and a donut services, it's helping the men and women who are getting ready to process into civilian life, and that is a daunting task. Some people are leaving the military by choice, by retirement. Some people are leaving it because the military has reduced forces and it's kind of "Surprise," they were thinking, "Maybe I had ten more years to have this career" and now they don't. And so they are facing new territory and our three employees that work in transition services work one-on-one with them to help them transition, whether it be to stay in the area, move out of state, whether they're looking for housing or employment or maybe just talk about their finances and say "What do I need to put in order now that I'm going to be a civilian?" Really think about healthcare costs or housing, things that they didn't necessarily have to think about when they were wearing a uniform.
NNYB: What are some of your goals for 2017?
CLARK: In 2017, our transition services will grow and we are real excited about that. We are officially intensifying our programs, our ability to get this to clients who are transitioning. The other thing is that we are going to be in Syracuse. We are going to be in the MEPS in Syracuse and we are really excited about that because we like to say we support our military throughout their service-tour nation. So at MEPS (the Military Entrance Processing Station) that's where new recruits come in and swear in and the USO-Fort Drum will literally be with service members from the moment they take the pledge and swear in to serve the military until they transition out. I think it's really exciting to be part of the whole spectrum of what the military member experiences.
NNYB: Who's involved with the organization and how important are those people to what is accomplished on a daily basis?
CLARK: Volunteers are our lifeblood. We seriously could not open our doors without them.Behind these walls there's a buzz of activity, people preparing to meet our guests for the day. Our volunteers consist of military family members and service members themselves, and they will actually wear their uniforms during the day and come and volunteer with us at night. But we do have a small group that come from the community, some maybe prior military, Vietnam-era or even older. Some volunteers have no connection to the military whatsoever- they just want to be a part of the national defense. 
NNYB: How do you recruit your volunteers? How do you find these people that just want to be part of this family?
CLARK: How we get volunteers is by continuously telling the USO story. We ask people to talk about their experiences volunteering and oftentimes that will get us new recruits. Any opportunity to speak publically, I will ask people if they are interested in volunteering; we have a Facebook page and I love when the media gives me a chance to tell people that there is a need. You asked earlier about any misconceptions about the USO. People think that they can't get on base because there's the gates and I can't volunteer for them because there's these gates, but you can. Now, if you do not have a military ID, we just have to get you a pass to get on base. 
NNYB: What is the largest donation received and why was it provided to the USO?
CLARK: Actually, it was kind of fun. We had a gentleman who's out of New York City. He was in real estate and he wanted to do something for our 10th Mountain Division, who he was passionate about. At the time they were deployed to Iraq. He wanted to help them stay connected to family, home and country so he asked what he could do to help. He wrote a check for $100,000 to help us get a satellite for the USO so people who are deployed could contact their families. So that was my single biggest donation. He was so fun because he kept asking, "Do they need shaving cream? How can I help out? What can I do?" We talked about the lines people had to get in to the phones to call home or to get Internet or email home and how if we could improve their communication, that would just ease their mind while they're deployed. And he said, "Done." I don't think even the people who receive the benefits had any idea it came from the USO. They just know that they got to call home.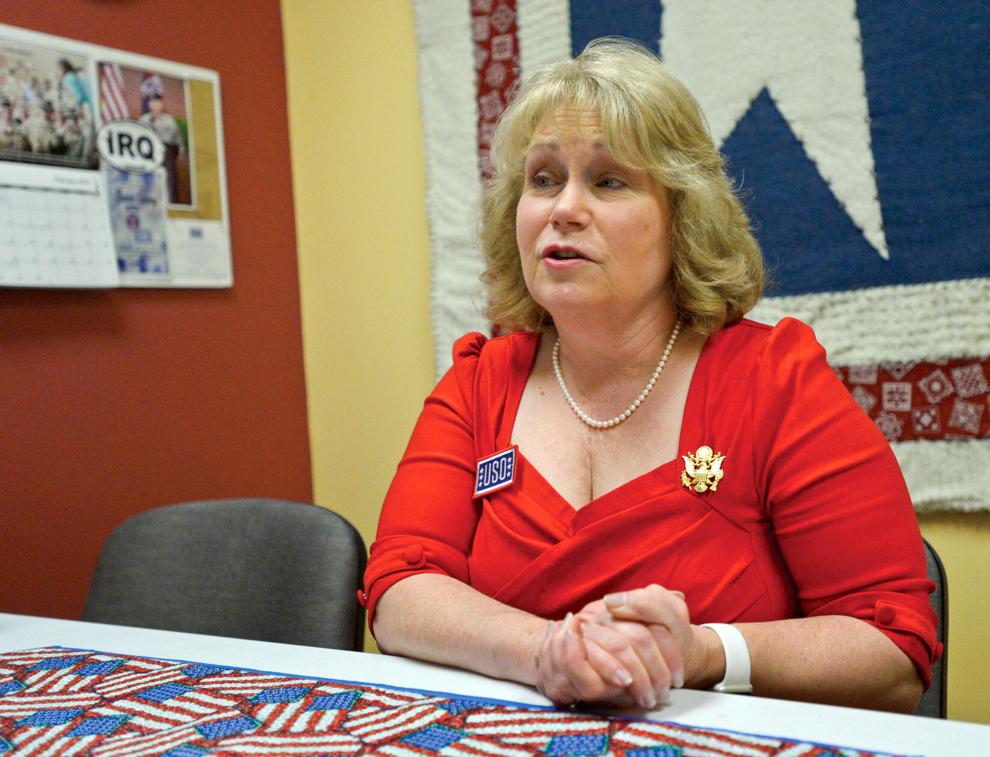 NNYB: What has nonprofit work taught you?
CLARK: Nonprofit work has taught me that there are incredible human beings in our community who will give and not expect anything in return. You go about your day, and I've always volunteered, but I did not realize the level of commitment a volunteer will make. And it has humbled me and I feel so blessed that I get to come to work every day and work with these people who do this, who give of themselves. That is the biggest lesson nonprofit has taught me, is that there is so much good in our community.
NNYB: What challenges do you face as a military spouse working in the same location for multiple years?
CLARK: This is an interesting one. One challenge I faced was, as the new military spouse no one knew me and I came into a community where Mary Parry, (former USO director) who I adore too, was beloved. I was new and different and telling a different USO story. Mary is one of my mentors, heroes, I just love her and respect her in every way for all the work she's done, but I was this new person in town, I was a military spouse who didn't come from this area and hadn't proven myself as being worthy of maybe getting the donations or maybe getting the volunteers. So it was, to be in the shadow of someone like Mary Parry and try to be like, "Hey, look over here at me, I need your help, too. Can you give me a hand? I'd really appreciate it," was challenging. When I was a teacher, it was students and now with the USO it's the soldiers and their families. That was daunting as a military spouse and staying here I worry some people will look at me negatively because I am so passionate, they may see me in the grocery store line and go, "Oh, no. She's going come and talk about the USO again." Because I do tend to have one song that I always sing. I have not lost my passion.
NNYB: How can other military spouses make a career while their significant other is still enlisted?
CLARK: It is very difficult to make a career as a military spouse because, as I just mentioned, you're always the new kid on the block. And you don't come with your reputation obvious for the world to see. People don't know that you were a fabulous teacher or you worked for a law office. They just meet you at face value during that three- to five-minute interview. It is very challenging and that is part of the reason we have this transition services program going, to help spouses with their resumes and to teach them to advocate for themselves. You have to learn to think about all the skills you have learned by moving, relocating and interacting in different communities, solving problems for your children as they enter different schools. I know it comes naturally for spouses to advocate for their children. They have to take that same energy and have it for themselves, because that is the only way that you can prove yourself and bring your reputation to the interview and let the people who are hiring know that they want you.
NNYB: What is one aspect of your life that is changed thanks to the USO?
CLARK: I have more red, white and blue in my wardrobe. I feel a daily connection with my children because even though the people who come here are not my blood relatives. I look at them as my family and it makes me think of my children every day, who are serving. My youngest son is currently in Tokyo, Japan, and he has been gone for over a year, so I don't get to see him at Thanksgiving dinners or Christmas dinners, so we're not together during the year, but when I go out on the floor and see the men and women who come into the USO I hope someone is treating him as well as the USO-Fort Drum treat someone who is here. I also think of my oldest son, who I do get to see more often because he's in the National Guard and lives in Syracuse.
NNYB: If you had the opportunity to start your career again, would you have stayed with education, began work such as you do now with the USO or entered into another career path in something completely different?
CLARK: I loved my time teaching, I did. I loved all of my students and it was rewarding to have an impact one-on-one with these students, but this work I do now with the USO I would choose as my first love. I know the path of my being a teacher led me to where I am now and I think it helped me to be a better USO director because of my past, but knowing what I know now about both careers I would absolutely choose this. The people that I get to meet through these walls and hear their stories, it makes me proud every day, it makes me happy. I come to work and I'm blessed to be here and do what I do.
~ Interview by Holly C. Boname. Edited for clarity and length to fit this space.