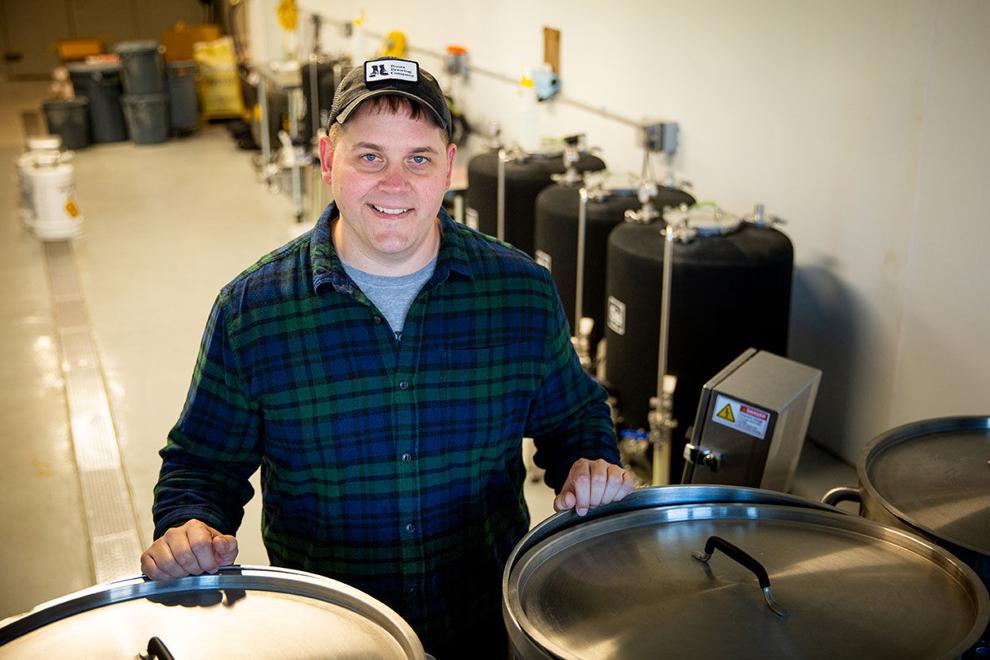 Daniel Daugherty has passion for his business, making beer, loving food and working with his family. Those things combined have led him to success at his downtown brewery, Boots Brewing. NNY Business sat down with Mr. Daugherty to learn more about what it's like to work with family and how the business has grown since its start. 
---
NNYB: How and when did Boots Brewing get its start?  
DAUGHERTY: The simplest answer is September 14, of 2016. That was the 10th anniversary of me being wounded in Iraq and it was kind of one of those things I been working on for a long time. I finally said, you know what, we're going to form a company; we're going to make this happen, and that's essentially the day it was founded.   
NNYB: How did you come up with the name Boots Brewing?  
DAUGHERTY: The name literally came from a pile of boots. I'm notorious for leaving shoes, in piles by the front door, and there were a huge pile of different boots of mine, and I literally said the name out loud "Boots Brewing" and it stuck.   
NNYB: Have you always been interested in craft brewing or is this a new venture for you?  
DAUGHERTY: No, I wouldn't say craft brewing, necessarily. I didn't really know that there was a difference. Yeah, I went to school at Vermont College, so that was just beer – it wasn't craft brewing. So, it was something I really liked and kind of took for granted. Then, after college, I was stationed out in California for a short period of time and there are a lot of great craft breweries out there, too. It was one of those things where I really got into beer through food.   
NNYB: You and your wife run Boots Brewing together. Was working with family something you have always wanted to do?  
DAUGHERTY: Family's always been really important to me. And my sister is definitely the one that helped push us to do this. Have I always wanted to work with family? No. But I still do, and we're definitely an all hands on deck, kind of team. My brother-in-law works here, my sister works here, my father-in-law has worked here. We typically do family events here too. So the whole family is on board. And, as you saw, my kids were sweeping up for cupcakes that I bought them.   
NNYB: What roles do you and your wife play in the business?  
DAUGHERTY: I do all of the brewing and manufacturing side. I also work the taproom and I design most of the merchandise. However, she does everything else. She's in charge of scheduling, she's in charge of hiring, of our marketing. She does everything. There's a joke that I always say she's the boss, and honestly, I think everybody that works here is caught on to the fact that she's the one in charge. I just stay downstairs. I said the last night I would much rather just stay downstairs and, you know, occasionally come up to have a beer or two. But otherwise, she's the one in charge.   
NNYB: What does it mean for you to be able to work side-by-side with your wife?  
DAUGHERTY: I told her this the other day, and I don't think she believed me, but I said "There's no way we would be as successful as we have been up to now without her and that if she wasn't around, the wheels would fall off." She does much more than I think she even originally wanted to. But she's kind of grown to love it as much as I do. We definitely put a lot of time in. And it's just become one of those things that it's ours, we're making it grow and we're kind of in it together.   
NNYB: What are some of the strengths or positive aspects about working with family?  
DAUGHERTY: Definitely dependability, you can depend on your family to be there. And then being able to tell them when they're doing something wrong and not have them be offended or get down about it. It just makes it a lot easier to say, "Hey, try it this way," or  "Do it that way," and they don't feel like their toes are getting stepped on. I would definitely say that's the number one thing – being able to give criticism and it really coming across as constructive and not "Oh, the boss said so."   
NNYB: On the opposite side of that, what are some of the challenges in working with family?  
DAUGHERTY: Maybe the same. Telling them, "Hey, you're not doing this right," and they get upset with you. I've definitely had that happen a few times. And they also know which buttons to push. When the two of us are behind the bar and one wants to needle the other, they know which buttons to push.   
NNYB: How has Boots Brewing grown since your opening?  
DAUGHERTY: I mean, the obvious quick answer is production wise. We went from 50 barrels, which is extremely small, in our first six months. We did 80 the next year, and before COVID hit, we were on track to do about 110 to 120. Right now, I think we might hit 100, which is still growth. We're looking at 25% growth there. So, I would definitely say production. But we really like our fanatical customers. People come here and they prefer coming here or you could say they make it a weekly thing. We have a run club that shows up on Thursday afternoons, you know, it could be one or two runners in the dead of winter and the rest of them are inside because they meet up here, to anywhere up to 50 people meeting up for the run and beers after on a nice day.  So I would also say the customers and, and how interested they are and, honestly, how far they've spread the word of Boots Brewing. We get pictures from different military members who've gone out, we've had Boots Brewing logos in Afghanistan. There's some in the Middle East right now.   
NNYB: You talked a little bit about the COVID situation and how it affected your business during the pandemic in terms of production. Are there other ways that the pandemic affected your business?  
DAUGHERTY: The most fortuitous thing we did the end of fall last year was we bought a canner, a tabletop canner. And I can remember the week that the shutdown was being announced, I was watching the press conference, and I told my wife "We need to order cans today." And she's asked why? I was like, "We've got roughly 1200 left. We need more because we're going to go through those quickly." And sure enough, there was a run on cans; we had to borrow cans from people, we had to buy extra cans without our label on it. I've lost track of how many cans we filled. And, honestly, that canner is what kept us going during shutdown. because it allowed us to do beer to-go. And that kept us alive. I mean, we went from being open the three days a week that we typically were, to being open every day for just two hours. And those two hours we were just crazy filling cans. We did pretty good through the shutdown. It's not the same. It's definitely a different mentality between a tasting room or to-go sales, but COVID wasn't as bad as it could have been.  
NNYB: Who's been your biggest business inspiration and how did they influence your decision to start your own?  
DAUGHERTY: Yeah, that's an easy one, Sam Calagione from Dogfish Head. When I was heavily into the food side of things I picked up a book that he had written about how to start a brewery and because of that book, I decided, "Okay! We'll shelve the restaurant idea and stick to a brewery."  He's just a really good advocate for craft beer. He's now the second largest owner of Sam Adams (after Sam Adams bought Dogfish Head). So yeah, here's a guy who started brewing on the same system I started brewing, which was five gallons at a time, and look where he is today.  
NNYB: How did you decide on the location of downtown Watertown?  
DAUGHERTY: I can remember when I was at JCC, doing a culinary degree, we were doing a catering class, and part of that was we were going to help do an event at the Black River Valley Club when he was still doing events. I remember we went down to Cams got some pizza and a break and we walked by an emptied out space. And I said to myself, "I'd love to put a restaurant in here." I remember being told that nothing good will ever happen downtown, that "downtown is dead." And, I didn't agree with that. Why couldn't downtown have something? Funny enough, that empty space is now Vitos. I'm a firm believer in being the change that you want to see happen. And there's no reason downtown shouldn't be like any other downtown anywhere else with vibrant nightlife. I mean we are a nice size city, there should be a centralized restaurant district, if you will.  You see it in cities all over. Again, going to school in Vermont., I used to go to Burlington all the time to Church Street where you have restaurants and bars and shops in one location. Kingston is also one of my favorite cities. Again, there's another walkable downtown area with lots of things to do. You've got Armory Square in Syracuse. I mean, I don't know why Waterton hasn't picked up on what's around us.  So that's why I chose downtown Watertown, it's a beautiful location. I mean, where else in the area can you find this kind of concentration of storefronts that have the ability to change. When we signed the lease, I think we were the first or second to sign the lease in the building. It's a great building. When I walked in I knew this was it. I mean, you're right next to the longest running restaurant in Watertown, and I didn't know it at the time, but Spokes was starting up at the same time. And we love working with them; we are working with them all the time.   
NNYB: Were there challenges in opening downtown?   
DAUGHERTY: I think that's been well documented, you know, getting to change the law. We recently did the math and I think it was roughly 20 months when we signed the lease after having to get law changes, construction and delays. We had to provide, like five different floor plans just for this space. So, yes, there were definitely tons and tons of challenges in doing this, but it's one of those things where we're just like, "We're gonna work through it, we're gonna get there. It's gonna be worth it when we open."  
NNYB: If you could offer one piece of advice to someone about opening a business with family, what would that advice be?  
DAUGHERTY: Create clearly delineated roles in the company. You know, everybody needs to know what their expectations are going into it.   
~This interview was conducted by Holly Bnoame. It has been edited for length and clarity to fit this space.