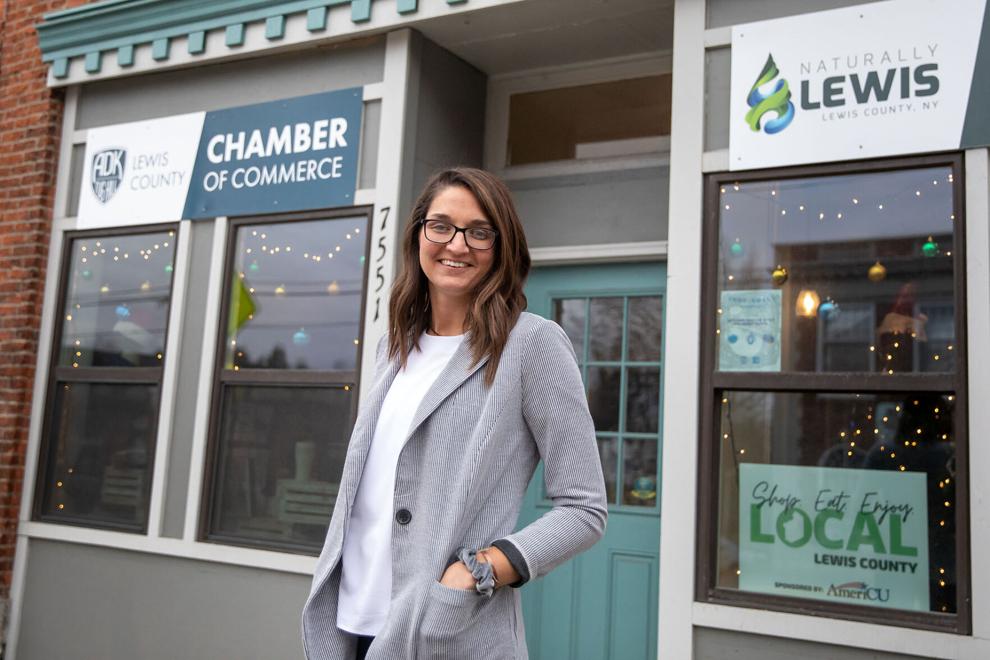 Naturally Lewis, the economic development brand created by the Lewis County IDA to promote the county, has been fostering small business development and helping businesses of all sizes navigate the murky waters of operating during a healthcare crisis. NNY Business spoke with IDA Executive Director Brittany Davis about the importance of small businesses to the Lewis County economy and the unique opportunity created for Lewis County and the north country as a whole by the COVID-19 pandemic.
---
NNYB: What's driving Naturally Lewis's vision for small businesses and what does it involve?  
DAVIS: As much as we thrive off of our local manufacturing and our larger employers and the different niches all of our manufacturers have – they're all very unique – we also thrive off of our small businesses. That's what makes Lewis County and the north country so unique: we are home to so many small businesses that truly make our small communities what they are. When I first started in this position and when I was hired to first launch the brand, it was originally about business attraction, but really what needed to happen was that we needed to make sure our communities and existing businesses were taken care of and supported first. Through this brand our small business owners felt like they were part of that community. They had someone and something that was supporting them and promoting them and fighting for them. So, we are focused on two different things here. We're focused on the retention and expansion of our manufacturers which have similar but different needs, of the business retention and of the creation of new small businesses here in Lewis County.  
NNYB: How do you define small business? Less than 10 employees? 100? 1000?  
DAVIS: It's funny you ask that because I look at Grand Slam Safety, [in Croghan] for example. They still consider themselves [a small business] but they started out as four part-owners who saw a need and wanted to come up with a solution for that need and now they've grown to 25 to 35 employees depending on how busy they are and how many projects they're installing across the country. I think our goal here is to look at companies like Grand Slam safety and say, ok, "You might start out as one entrepreneur, but how can we support you to grow up to 30 employees and be considered a manufacturer in Lewis County?"  
NNYB: That's still fairly small except compared to all of the 'mom-and-pop' shops in Lewis County? Do you think the scale for business size is different in Lewis County?  
DAVIS: Yeah, we might consider Grand Slam a larger employer because they do have 30 employees. Kraft, obviously is a very large employer as compared to mom-and-pop shops. But I think we truly have the opportunity to help some of these smaller businesses grow to that 20 or 30 mark.  
NNYB: Are entrepreneurs gravitating toward certain types of businesses, for example, hospitality sectors like restaurants and hotels, or service provision?  
DAVIS: It's all over the board here in Lewis County. I can't say it's one specific industry because we have everything opening from a retail boutique shop to a local foods producer to a new restaurant. I think people are super creative here in the north country and there isn't one industry where we're seeing a huge spike at this point. People are thinking about, "What are our assets here in Lewis County and how can I capitalize on that? How can we capitalize on tourists coming here every summer and winter and in between to hike and bike and snowmobile and ride ATVs? How can we capitalize on our natural resources such as our intense snow fall every year?" And we can't forget about our legacy industries here: agriculture and natural resources. The types of companies around those industries might be changing, so how do we continue to use those legacy industries and continue to grow business in Lewis County? How can I diversify the family farm? So, I think people are thinking in terms of how can I create a business that revolves around our assets and we're thinking the same here [at Naturally Lewis].  
NNYB: In the time of COVID, what are the additional challenges for small businesses, how are they managing those challenges and what is Naturally Lewis' role?  
DAVIS: The pandemic has certainly affected various industries very differently. For example, over the summer the local foods movement exploded in a good way. People really focused on where and how they can buy more local meat and local produce and local cream line milk. Some of our manufacturers have been busier during the pandemic than ever before, but there are certain industries like tourism, hospitality and entertainment industries that are really struggling because of state and federal guidelines put in place to keep people safe and healthy, but that's certainly hurting their bottom line. These businesses have had to think creatively to figure out how to have the same number of customers without having the same amount of customers in one room together. That's where we come in to assist. I think our biggest priority throughout the pandemic, especially when it first started, was consistent and clear communication with our business community. There was information coming from every media source. It was just a lot. If you were trying to Google what the latest regulation was you didn't know where to look. In partnership with the Lewis County Chamber of Commerce, [we've tried] to clearly communicate what is coming down from the state that our businesses need to know and then help to promote the businesses and buying locally plus thinking creatively about where to find funding sources like the Winter Design Challenge grant program we came up with. As much as the businesses have had to think creatively, we as an organization have had to think about how to support our business community without inundating them with more information than they need, being clear and concise, and providing them with the information, education and resources they need to survive and thrive  
NNYB: What new opportunities have arisen from the pandemic? Do you see any of those trends continuing even after the healthcare crisis has been managed? Has it been enough to save farms or has it been plugging one tiny hole in a bucket?  
DAVIS: Black River Valley Naturals, which was started [by people] with backgrounds in engineering and healthcare marketing and management, provided an opportunity and outlet for dairy farmers to take some of their milk and create their own milk products. There have been a couple of farms in Jefferson County that have taken advantage of that. For example, Old McDonald's Farm [in Sackets Harbor] bottles their milk here in Lewis County and the Grimshaw Family Farm [in Henderson] started bottling their A2 milk, which has a specific protein. There have been those types of situations, but there hasn't been a dairy farm that has decided to stop their current operations and put a processing plant here. I think it kind of goes back to businesses having to almost rely on each other, partner with one another, throughout the pandemic. I give [credit] to the local food producers here in Lewis County. They really promote each other, work together and carry each other's products. They want to see the success of each other. There are also certainly opportunities to expand on our outdoor recreation. It's not necessarily "outdoor recreation businesses" but it's going back to how can businesses that play off our assets in Lewis County thrive here. The pandemic forced people outside and forced people to really understand all of the great recreational assets we have in Lewis County. We have trails, we have hiking trails, we have biking trails, waterways with kayaking, paddling. Then in the winter – I think snowshoeing is going to take off big this winter. So, thinking about that, can there be businesses that play off those assets or strategically place themselves in locations where people are going? That goes back to restaurants and hospitality businesses. I certainly think there's opportunity for growth there, but I also see an opportunity for growth in that people can work for anywhere now. Even though people don't work in Lewis County, they can live in Lewis County and work in New York City or anywhere across the country. I think that's a huge opportunity not just for Lewis County but for the entire north country. Everybody is talking about how to make the north country a destination for remote workers.  
NNYB: What changes or adaptations businesses have made in how they operate because of the pandemic do you believe will continue into the future?  
DAVIS: One example is, before the pandemic, we always thought we need more outdoor dining in Lewis County. It would just help our tourism and quality of life if some of these businesses could just implement some outdoor dining. Now that's a normal thing and here on out, that's a trend that's not going to be just a trend, it's going to stick. I think there has definitely been shifts with businesses where they think, "Why didn't we think of this before? This is a really great idea." It took the pandemic, when they were forced to think differently, to make it happen.  
NNYB: Has the pandemic slowed down economic development, including the opening of new businesses, in the county?  
DAVIS: We are working on a number of initiatives to foster economic development in the future. For example, we had an ad hoc committee meeting to talk about the implementation of the development of the [former] Lyons Falls mill site. We're going through the process to market a site we own in the town of  Lyonsdale to developers or interested local companies looking to expand. These are 2021 priorities for us. We are going to be working on creating an entrepreneurial ecosystem here in Lewis County to foster entrepreneurship through programming, mentorship, education and creative financing. Essentially, creating that pipeline while working with our partners and their resources, putting it all together so that we can foster that entrepreneurship and small business creation here in Lewis County.  
NNYB: At what stage is that?  
DAVIS: We are at the very beginning stage of all of these projects that are being led by our new strategic plan. I have to give a lot of credit to our board and staff at the IDA… they think very creatively in how we can do economic development in Lewis County. The IDA powers that we have and services that we offer haven't changed much since IDAs were created, so we're trying to think how we can use our incentives and services in a more creative approach that's not just about trying to find that developer to come in and give them incentives to create something or build something. How can we leverage our PILOT program, for example, to focus on small businesses and companies in Lewis County to help re-grow our communities post-COVID? Those are the types of things, like how can we expand our installment loan program and help these companies purchase what they need because they can't front all the cash up front, continued outreach and visibility while we also continue to enhance our Naturally Lewis brand so that it continues to evolve. Those are just a few of the things we have planned for 2021, so I am excited for the end of 2021 to see all of these things come to fruition.  
NNYB: Have you been watching changes in unemployment in the county compared to this time last year?  
DAVIS: Yes, as of October 2020, Lewis County is at 5.1% unemployment as compared to 4.2% last year. The north country region has the lowest unemployment rates in the state right now, and this is coming directly from the Jefferson-Lewis Workforce Development Board, much of it due to the fact that we are a rural area and had lower rates of infection compared to other parts of the state.  
NNYB: But that is changing as north country COVID-19 numbers surge. What impact will that have on Lewis County specifically and the north country as a whole?  
DAVIS: There are so many factors that will play into that. When so many people were laid off in the spring, they had the extra $600 [added to unemployment] and could live comfortably with that. We don't know if the state is going to shut the region down and make manufacturers shut down. It's hard to predict. In general, our labor force is decreasing because of baby boomers retiring and growing a population doesn't happen overnight. That's a 10, 20, 30-year plan. You can't predict what's going to happen with infection rates, if the north country will go into shut down mode again or not.  
NNYB:  Have you seen any uptick in interest from downstate companies or businesses considering moving north?  
DAVIS: Not yet. This has been going on for nine months and normally it takes a couple years of planning and what-not for a company to figure out where they're going to relocate. What we have seen is an uptick in people from cities and different states buying properties in this area. So now we have to figure out: are these people entrepreneurs, do they want to join the workforce or how do they want to contribute to the community and how can we get them involved? We have to figure out who and where these people are and how to get them involved in the community.  
NNYB: Do you think Lewis County's economy is resilient enough to withstand the ongoing pandemic's impact?  
DAVIS: I think this is an incredible time and opportunity for the north country to attract residents, remote workers, entrepreneurs and businesses. These things don't happen overnight, but in the next year or two years, we could definitely see an increase in population, see an increase in entrepreneurs, if we continue to work together as we have been in the region and in constant communication, we have the opportunity to grow. This is kind of something we have been longing for: how can we attract young 25 to 30 year olds back to the north country, get more entrepreneurs here, create more co-working spaces to attract remote workers? We have been asking these questions for a number of years and here is our opportunity to actually make those things happen.  
NNYB: Naturally Lewis has created a new high-quality promotional video series about the county. What are you hoping to do and accomplish with the videos and where will they be used?  
DAVIS: With the new promotional videos we wanted to tell our story in Lewis County and show the reasons why you should live here, work here and build your business here. Those are the three themes those videos revolve around, hearing from people who are doing just that – taking advantage of the assets we have here in Lewis County and making their business thrive while having a great work-life balance because they're able to have a great job at Lewis County hospital and then come home and go kayaking down some crazy waterfall or go mountain biking or go hiking. We know why Lewis County is so great and we know the reasons why you should live, work and build businesses here, but we really wanted you to hear from the people that have been successful in doing that, to tell their story and tell our story and hopefully that will inspire others to come take part in what we have here in Lewis County.  
~This interview was conducted by Julie Abbass. It was edited for length and clarity to fit this space.