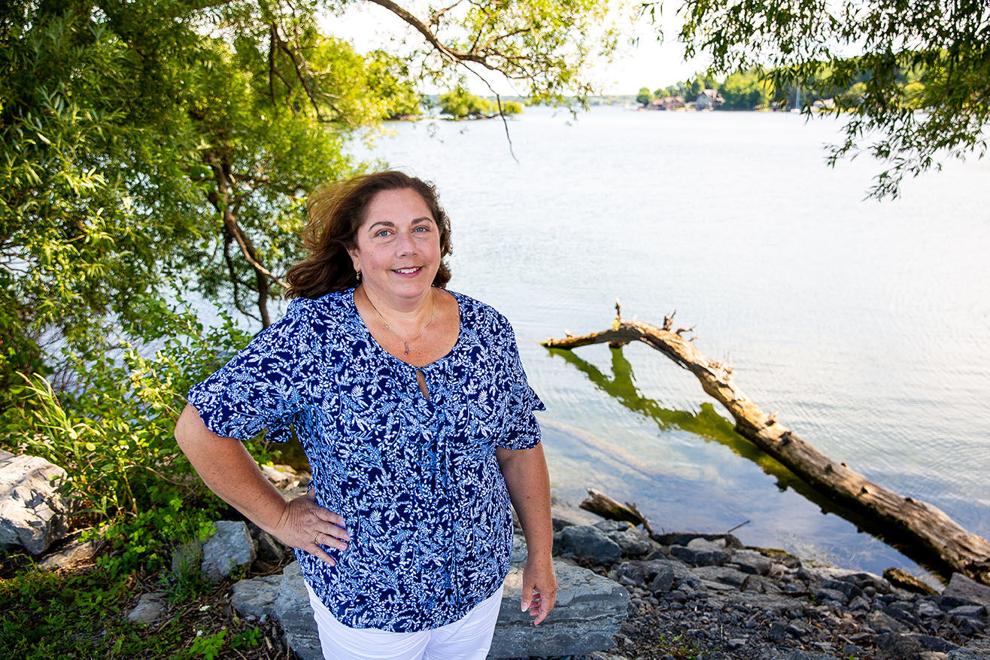 Jana Lantry, fisheries manager for the New York State Department of Environmental Conservation, found inspiration at a young age to protect our native fish species and outdoor environments. Today, Lantry is one of 11 women statewide working to support DEC fisheries. As the Region 6 fisheries manager, she supervises aquatic biologists, permanent and long-term seasonal fish and wildlife technicians, and an environmental program specialist.
---
NNYB: You grew up in the north country fishing with your father and grandfather. How did these experiences shape your career path?   
LANTRY: In addition to fishing with dad and Grandpa, my sister and I, and my cousins spent a lot of time outside. So, exploring the stream and woods at our house and our neighbor's pond, and my grandparents had a farm. So, it gave me an appreciation and a love for the outdoors and I guess piqued my interest in ecology.    
NNYB: How did you get your start in environmental conservation, specifically, aquatic ecology and fisheries management?   
LANTRY: I got my education at Cornell; I majored in natural resources and realized then that I wanted to focus on aquatic ecology. My first position, I was hired at the Cornell Biological Field Station on Oneida Lake. And while my main focus was lower trophic level sampling and Oneida Lake, I was also given the opportunity to work on Lake Ontario research projects, and write papers for peer-reviewed journals. So, I guess it was there, when I was at Shackleton, that I realized I really wanted to focus on fisheries and managing from an ecosystem perspective. Because it takes into account the whole ecosystem: lower trophic level water quality, zooplankton, the fish, community and even anglers.   
NNYB: You are the fisheries program manager for the Department of Environmental Conservation. What does your job entail in this role?   
LANTRY: A variety of things. Generally speaking, I oversee the fisheries program for the region. For Region 6, we have perhaps a more diversity of fisheries resources than some of the other regions, where we cover Western Adirondacks to Eastern basin Lake Ontario, Mohawk Valley and Oneida Lake up to the St. Lawrence River and all the waters in between. So, we ensure that the sampling programs are done. Focus in the future is going to be on our major waters, our most important waters in terms of angler effort in use and economic impact. But, we do our surveys to make sure that we're collecting information that's needed for making informed management decisions. Public access is a huge part of what we do. Fisheries is responsible for maintaining, overseeing the maintenance, or I am responsible for overseeing maintenance of the majority of our over 100 boat launch sites in the region. And we have nearly 120 fishermen parking areas that I also oversee the maintenance of that. Then we have 360 miles of public fishing rights. I also ensure that my staff are working on permit reviews to assess how different projects are impacting the resource. And what can be done to avoid impact or maybe minimize impact or even result in a positive impact, to the fish community.   
NNYB: What are some of the biggest challenges facing our region's watersheds and fish populations at this time?   
LANTRY: I think this applies perhaps statewide. Invasive species have lasting impacts and unknown impacts in some cases; it takes years to really feel the impact of the invasive species. Also, the changes in weather patterns where we're tending to see a higher frequency of precipitation events, which is impacting flooding in the Mohawk Valley and Lake Ontario water levels. So those are probably what I think are the most significant ones.   
NNYB: What species of fish do you stock for Region 6?   
LANTRY: We stock a variety of trout species. We have brown trout for inland waters; brown trout, rainbow trout, brook trout. For brook trout, we have domestics and a couple of heritage strain for trout. We stock tiger muskie, walleye, lake trout splake, and also, we, as part of our program, work with our protected species. So, we also collect eggs for and stock lake sturgeon. The eggs that we collect in St. Lawrence River, those sturgeon are actually stocked at other places in the state in addition to Region 6 and Lake Ontario stockings, that's coordinated more by the Lake Ontario unit.   
NNYB: Why is it important to our region to stock our lakes and rivers?   
LANTRY: Stocking provides opportunities to anglers that might not otherwise exist. As an example, with trout streams, where we have those springtime stockings is where the conditions in the stream are such that they're trout streams, but the conditions are such that the trout may not survive through the summer. So, we're providing an opportunity to catch trout that wouldn't otherwise exist. The majority of the waters in the region and across the state are waters that persist through natural reproduction of the fish species. So, we'll do our surveys to get more information about the fish populations. And in many cases, we'll use other management actions; if it's natural reproduction and we need to do something, either we'll establish a fishing regulation, maybe do some habitat enhancement, so the fish can do that on their own. And education and outreach are also important.    
NNYB: Are anglers made aware of the inland lakes and rivers that you're stocking?   
LANTRY: Every year, the bureau fisheries puts out a press release that has a link to our stocking page. They (fisherman) can look at the previous year's stocking, they can search by water body, species of fish, whatever works for them. People can always, if they miss that press release, they just go to the DEC website, they can just do a search for stocking. And they'll get to the link with that stocking information. And we get a ton of phone calls and emails every year with people asking.    
NNYB: The New York State DEC initiated the Lake Ontario bio monitoring program, the BMP, to evaluate the condition of low water trophic levels and offshore, near shore, and bay areas on Lake Ontario. Who works on this biometric bio monitoring program with the DEC?   
LANTRY: That program started many years ago. It's coordinated by the DEC Lake Ontario unit based in Cape Vincent. And I actually used to coordinate it for many years. But the sampling is done by Region 6, 7 and 8, so we cover much of the shoreline. Fish and Wildlife Service collect samples from the far western end, and US Geological Survey also collects samples in the more offshore waters. Then Cornell University's responsible for analyzing the data and they are the main player in terms of writing up the annual report.   
NNYB: You and your team conduct field work from early April through November. What are some of the tasks that are conducted?   
LANTRY: We have a variety of methods that we use for sampling waters, whether it's stream or lake, or river. So, we'll target anything from lake trout to perch, a whole gamut of stuff, and when we're doing that work, we also collect samples for disease screening and contaminant analysis. We do public access checks, we are involved with the egg takes for lake sturgeon, one of our heritage strain fish, and we do help the hatchery system with some of the work that they do during the field season. So, it's a pretty full field season, but we do during that time, and also the rest of the year when writing reports and analyzing data, there's permits that come in for different projects, whether it's a hydro facility, relicensing, going through that process or a permit to replace a bridge. Those are coming in so staff are all year long looking at things like that. So, during the field season it's pretty busy.    
NNYB: How do these tasks ensure a healthy environment and continued conservation efforts?   
LANTRY: Well, the fieldwork in particular provides much-needed information to inform management decisions so that we can ultimately conserve, improve and protect our fisheries resources. Those surveys provide us an information on the fish community in some cases, indices of abundance, growth, condition, age structure, and that's data that we need to make those management decisions and determine which management tool we can use. Whether it's reconsidering stocking numbers, regulation, potential regulation changes, habitat enhancement or protection, or education and outreach. Again, probably reviewing permits and being involved with a hydro facility, relicensing, those are pretty important, too, in terms of ensuring that we're working towards achieving the mission.   
NNYB: The DEC has been working to stock the muskie population. Has that been successful on the St. Lawrence?   
LANTRY: John Farrell's crew from SUNY ESF is involved with that. And he is still; we're still trying. He's raising the muskie, they're getting tagged and stocked out. So, a couple stumbling blocks, but you just figure out how to how to make it work. So, we're trying and there will be an evaluation to see how that's doing.   
NNYB: What is the most rewarding aspect of your position with the New York State Department of Environmental Conservation?    
LANTRY: It's probably the same as what most people would say. The most rewarding would have to be the fact that I'm having a positive impact on both fisheries in particular, but also just the environment and the ecosystems that we're around because you know that in the end, hopefully, I'll be taking my grandchildren out fishing, my husband and I.   
This interview was conducted by Holly Boname. It has been edited for length and clarity to fit this space.