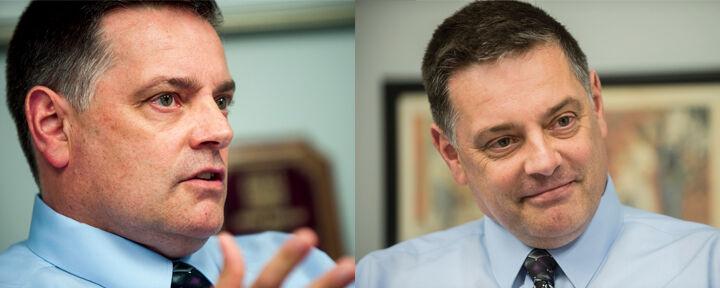 Cornell Cooperative Extension of Jefferson County serves many demographics of people throughout the north country. Kevin Jordan, executive director, talks to NNY Business about the many different program areas it provides to the community, how the extension continues to grow and develop and what the future holds for both program participants and the organization across the tri-county region.
NNYB: Cornell Cooperative Extension of Jefferson County has been established for many years. How many years exactly and what has been the biggest change?
JORDAN: We're a little over a hundred years old. We were established in 1912, celebrated our centennial a few years ago. Many of the basic roots, if you will, that started the Cooperative Extension system are true today. It's really about reaching out to people in the community and providing information to them that they might not otherwise have. The subject matter that we get into today, some of it is very similar to the type of subject matter we have been involved with over the years, but we've certainly moved into new areas based on changes in the community.
NNYB: How many extensions are in the state and is each one structured the same?
JORDAN: There's an extension organization in every county in New York state. They are all basically organized under the same law, County Law 224, but in terms of how they're structured, they vary according to the needs in the county. They're all membership organizations that include the residents of that county that want to participate in our programs, But again, you go back to: What are the needs in that county, what are the subject matters to get involved in? That's where it starts to vary fairly significantly in terms of types of programming and even the size of the staffing.
NNYB: Cornell Cooperative Extension of Jefferson County is known for its strength in agricultural education and development, but sometimes other program areas aren't as well-known. Why do you think that is and how has it gotten to that point?
JORDAN: I think that when an organization's been around for a hundred years, you start to get known for what's been around the longest. So, we started out primarily supporting the agricultural community and where it progressed from there was, after working with the farmers for a few years, they started working with the farmers' wives, and so they got into home economics. And then they started working with the farmers' kids and they got into youth development and 4-H. Four-H and agriculture are well-known within the extension system, but as we progressed from there and the whole urbanization of the country began, especially after the second World War, Cornell Cooperative Extension started moving into some other areas. So they do nutrition, they do parenting, they do energy programs, they do a lot of community development activities. All of those activities are things that are important to any community today, and so we've really just followed those roots as people have developed and moved off the farm and into other areas of the country.
NNYB: Where does your funding come from and how does this affect the programming you are able to sustain?
JORDAN: Our program comes from a variety of sources. Because we have a unique relationship with the land-grant college in New York state – Cornell University – we have a relationship with New York state and the U.S. Department of Agriculture at the federal level.  We also have, through County Law 224, a relationship with Jefferson County. So those are the three primary, core funding sources: county-based funding, state funding and federal funding. We call that core funding because we take that, at least in Jefferson County, and we leverage that by looking to apply for outside grants and contracts to bring in additional monies to be able to do, and augment, the programming that we already do.
NNYB: Who benefits from your many program areas? Is it the community as a whole or is it the individuals?
JORDAN: I think the answer is somewhere in-between. The community as a whole benefits by the fact that we push a lot of research-based information out there. So when we teach you something, you may be talking to a neighbor, you may be talking to a friend and all of the sudden, what we might have taught you about or informed you about, that gets passed on out into the community. When you do that in group forums, whether it's a workshop or newsletter or pushing information out through social media, you have a way of being able to be impactful at a very individual basis, but collectively it has a very broad impact on a community basis.
NNYB: What are the benefits of being an extension of a land-grant university?
JORDAN: I like to tell people that there's a lot of information available out there today. A hundred years ago, people were starved for information and so that was why the land-grant colleges were created — and then in turn the extension system — to extend and spread out all that research-based information. Fast-forward a hundred years and you have the internet and there's just a plethora of information out there. And today, it isn't so much that people aren't starved for information; there's so much information they want to know what's credible and what's backed up by research. That's what you get from the land-grant colleges, whether it's the extension system here in New York state, Cornell University or any of the other land-grants that are in every other state in the country. We can access any of that information when somebody calls and is looking for an answer.
NNYB: What is your oldest educational programming?
JORDAN: It would be agricultural. We have evolved pretty much with our population base in this country. As we went from the early 1900s and as people moved to the cities and urbanized more, there were new types of information and new research that needed to be done in order to support the general population at large. We've evolved with it, to the point where we're covering a very broad spectrum today. It's everything from agriculture to youth development to parenting to nutrition to energy and, uniquely here in Jefferson County, we also have some very specific programs that we support out on Fort Drum.
NNYB: What are your newest programs?
JORDAN: We're always evolving the programs and so one of the things we continually try to do within the youth development area is the 4-H program. There are many different curriculums that have been developed within the 4-H program that are readily available. And so we still do 4-H clubs, but we're also taking those into the classroom and after-school programming and doing that in a way that's very impactful in a lot of schools, when you can reach that many kids at once. Just recently, we partnered with seven different school districts to expand the after-school program into those districts and be able to take that 4-H curriculum to them. That will probably be made available to well over 700 kids on a regular basis by the time we're done. We also do that at 4-H Camp Wabasso. We use the 4-H curriculum out there. Not everyone has a summer residential youth camp, but we do have one, and for six weeks out of the year we're working with any number of kids out there, probably upwards of 500 a summer.
NNYB: Some of your program areas seem to intertwine. For example, you use nutrition in your parenting classes. What are some other programs that work hand-in-hand?
JORDAN: I would say that we are working really hard, and I know that this is an overused phrase, to break down the silos. At any given time, if you come for a parenting workshop or a youth workshop or an agriculture workshop or it's a program maybe focused on the Fort Drum community, there's a lot of overlap. So to the extent that we can, we do try to overlap programming where it's applicable, so that by the time you're done, you're armed with whatever you are really looking for. Now, you have to do that within boundaries, because if you're working with 25 people in a workshop, you can meander all over the place. But you can very easily get into a workshop where you're talking about local foods, and it very quickly might deviate into what we might have traditionally thought about only in a nutrition class before, or an ag class, but it's all related now.
NNYB: You personally have a background in agriculture and farming. What is one of the most important aspects of continuing agricultural education in the north country?
JORDAN: It's part of our legacy in the north country. It's where we all started from and it's still a very vibrant industry. I think as time has gone on, for at least a number of people in the north country, they're many generations away from how an agribusiness or how a farming operation works today. And so we're playing a lot of catch-up collectively, as a whole in the industry, trying to educate the general public about what the 21st century agribusiness is about today and what does it include. The good news is that more and more people are getting interested in it and they want to know about it. So we need to get the farming community comfortable with the fact that, more and more, the general population wants to know about you. And you have a great story to tell, so take some time to tell your story. I also think that, in general, it's a national trend where we start to see that the whole local foods movement has taken hold. It's almost like we've gone back a hundred years and are overlaying it into a 21st century setting, because a hundred years ago most of our food did come from local sources. And now, peoples' preference is to look at what are those local sources and think, "What are my opportunities and – Oh, by the way – I need to learn a whole lot in order to understand how that works today."
NNYB: Cooperative Extension also has a partnership with Fort Drum, as you said. What is the purpose of including soldiers and their families in programming?
JORDAN: The Army has a program across the country called Army Community Services. It is teaching military families about basic life skills, if you will, that everybody out in the community would like to learn about, and does learn about, but that's overlaid into a military experience, so it's a little bit customized. They learn about basic budgeting, they learn about, for their spouses, career development. They also learn about deployment and redeployment. They learn about basic life skills in terms of parenting and youth development. Those are all things the general population has to learn about, as well, but when you overlay that into a military community, we're talking about some fairly young soldiers and families that need to get up to speed fairly quickly, because the important part of a soldier's job is deploying and the 10th Mountain Division is one of the most-deployed divisions in the Army. So our job, this community's job — and I think this community takes it very seriously, and we do at Cooperative Extension as well — is getting families ready and helping take care of those families when the soldier does deploy.
NNYB: Many area schools benefit from your after-school programming. How many schools do you serve in the north country?
JORDAN: There are times when we have been in most every school system in Jefferson County. Our involvement varies; in some cases we run an entire after-school program and in others we're contracted to come and do certain youth development-type activities. We're also working with some schools on farm-to-school programming and so I think, in general, at any given time we are actively involved with the majority of the school systems in some fashion in Jefferson County.
NNYB: You just received some funding for this?
JORDAN: We did. We received a 21st Century grant that will put us into seven school systems, which also does include one school system outside of Jefferson County; it's actually in Lewis County. The reason for that was when schools looked to put together the consortium of schools, by adding that school district it actually strengthened their application, collectively, to be able to access that money statewide, because it was highly competitive. 
NNYB: How do these programs such as the after-school program and the 4-H program help shape area youth?
JORDAN: It is all activity-based programming. Kids are just like little sponges, as everybody knows, and they work best when they're busy; they work best when it's activity-based. In a way, what we're really doing with them, without them really recognizing it, is helping boost their academic achievement by using activity-based programming. Time and time again, we hear from their teachers, we hear from the school administrators, that after-school programming, because it focuses on boosting academic achievement through experiential learning, that it actually has a positive effect during the school day once we get in there.
NNYB: How do programs that teach energy efficiency and the benefits of renewable energies factor into the extension's mission?
JORDAN: It's very much a part of every extension's mission through community development, and in New York state we are seeing a growing interest in renewable energy and in energy conservation. I don't know of any business or any homeowner that's not interested in looking at better energy conservation and better practices and alternative forms of energy, and getting better informed about it. When you take into consideration where we are today versus where we were 10 years ago or 20 years ago, you know we'll be light-years ahead of this 10 years from now and 20 years from now, and technology will play a big part of that in alternative energy production. We very much want to try to keep people informed about it.
NNYB: The Jefferson County extension collaborates with extensions across the north country. What benefits are derived through this collaboration?
JORDAN: It's a great partnership. We all, within the extension system, refer to it as "the System." So, at any given time, you can walk into any extension organization in the north country and at least know that the basics are going to be there in terms of programming and familiarity with the system, because we all access the same land-grant university, we are all structured primarily the same way. In the north country, I think we have a great level of collaboration among the six extensions – Jefferson, Lewis, St. Lawrence, Franklin, Clinton and Essex counties – we've been working together now for decades. Part of that is knowing that as resources get tight, all of us need to get more efficient and maybe tighten our belts a little bit. I think we've come up with some pretty creative ways in order to do that. We have a regional ag team that we've all put together so that we can share highly specialized educators in field crops and in dairy and farm business management. It's not that they're not readily available at any given time in any county, but there are certain times of the year, or certain times of the month, where I might not need a certain expertise in this county, but it can be shared in another county and vice versa. That allows us to stretch our dollars a lot farther. Same with back-office operations. We have something called a shared-business network where we share high-level HR or IT or business finance expertise across the six-county region. That shared-business network staff is housed here in Jefferson County and is made available and everybody pays into it across six counties in order to access that. It makes us highly efficient in terms of being able to replicate those high levels of expertise across those counties. I think there's probably some good lessons learned for some other organizations to look at a model like that.
NNYB: You've touched so many people with your educational outlets throughout the entire community. You also are one of the largest extensions in terms of how many people you employ. Can you speak a little bit about why that might be?
JORDAN: Part of our philosophy with Cooperative Extension of Jefferson County, and it started long before I came here – I think it was the philosophy of previous boards — was to be able to take those core amounts of funding from the county level, the state level and the federal level and leverage those in a way that would bring in additional funding to be able to expand programming well out into the communities. I have a very talented group of grant writers and managers that know their programs. Together, they have been very successful as a team in being able to access outside money to be able to support areas of programming that otherwise we would just not be able to provide, whether it's the nutrition area or the parenting area or the expansion of youth development into after-school programming or expanding the reach of 4-H Camp Wabasso or marrying up agriculture and the Army. We're doing a lot with the veteran population right now. All of that is not easily done if all you're focused on is just using that core group of funding sources. We have the second-largest staff in the state, but that's really tied to, not so much trying to reach a goal of having a large staff, as much as trying to align that with the funding that we have and meeting the needs that are out there in the community.
NNYB: The extension frequently touts the benefits of locally grown or locally produced food. Why is where food comes from important?
JORDAN: For a lot of people in the community, it's just one of those resources that is so basic.  Everybody eats. I don't know of anybody, I've never met anybody, who doesn't. We all have to eat. It's like the air you breath; you want to know what's the source, what's it about, where does it come from and, in most cases, people are welcoming the opportunity to learn more about it. There are times that it can become, I suppose, controversial, but that's just part of the learning experience that anybody goes through and so for agriculture, we have a lot of catch-up to play in terms of getting people educated and understanding even small aspects of the agricultural sector in Jefferson County. When you think about it, we have a large dairy sector. We also have a fairly significant beef sector and we are growing fruits and vegetables, and maple. So we're starting to get into some more emerging-type industries in agriculture. The wine industry is still, pretty much in grape growing, fairly in its infancy. But then we have people that are looking at, or starting to look at, hops. So, nobody's going to get well-informed about all of that all at once. As time goes on, what you want to learn about in agriculture is going to vary depending on what you want to learn about agriculture. There's a lot of information out there today about local food and food sources. So part of what the land-grant system is doing is getting up to speed on what people are demanding, what's all that information are they looking for and what do we need to put out there so that it is meeting the needs in terms of what they want to get educated about. I'm just talking about one county, let alone an entire state or an entire nation, that is starting to learn or wants to learn about: what's my food, what's the food source, what do I want to become better informed about.
NNYB: You grew up in St. Lawrence County. What factors allowed you to stay to make your career?
JORDAN: I have been blessed, I would say, to have been able to have grown up in the north country. Growing up on a dairy farm in the north country, I had a very supportive family, I was educated entirely in the north country. I went to Canton College, got a two-year degree, went on to Plattsburgh to get my bachelors and then got my masters at Clarkson while I was a dorm director at St. Lawrence. So I kind of made the rounds. Over the years, I have always been able to be employed in the north country. I started out my first job in the private sector at a paper-coating operation in Lowville. I moved into economic development and worked for St. Lawrence County for a while, before I went to work for the Development Authority of the North Country. There I worked in economic development for a number of years and then ending up taking the job at Cooperative Extension. I would like to think that, collectively, we all have an opportunity to make the north country a better place because I see a growing generation of my own kids, and nieces and nephews, they want to stay, they want to know that there's opportunities down the road. So I 'd like to think that I have an opportunity to help be a part of that so that future generations have the same opportunity that I had to grow up, be educated and stay if you want to stay and find the job you love.
NNYB: What does the future of Cornell Cooperative Extension of Jefferson County look like?
JORDAN: I think the future is pretty bright for Cooperative Extension. As long as you align yourself with the needs in a community, your strongest community partners are always going to be the residents of that community. Once you establish that relationship, as being that credible source where someone can always pick up that phone, can always come in and know that there is a reliable, well-educated, friendly face that they can talk to, I think that that speaks well for where we'll be five years from now and 10 years from now and 20 years from now. Because that is the way the extension system has worked for the last hundred years. Will we change with technology? Absolutely, but that basic philosophy I don't think is going to change. 
~Interview conducted by Holly C. Boname. Edited for clarity and length to fit this space.