Happy Sailors Daycare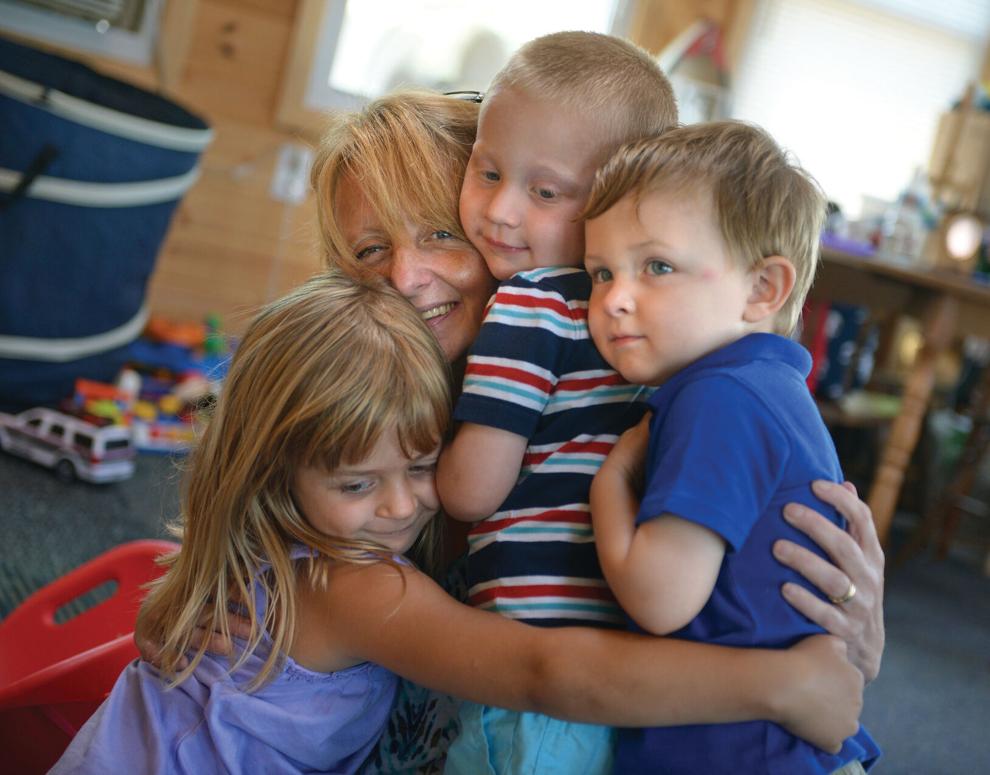 Christine Sharlow worked a variety of jobs in her life, including at radio stations, insurance companies and a short stint at Convergys, but it was her experience at Sacred Heart Day Care that inspired her to open her own day care.
"My heart was always in wanting to run a day care," she said. "I'm naturally just a nurturer and this satisfies that."
Mrs. Sharlow worked in the School Age Child Care program at Sacred Heart and previously for Jefferson Rehabilitation Center. She and her husband, Charlie, who was a Certified Employee Assistance Professional, were also foster parents.
"I adore the thought of being with children all day," she said. "In my opinion it's a privilege."
With her experience of caring for children, Mrs. Sharlow decided her next step would be to open her own at-home day care, Happy Sailors Daycare, which she launched in February.
Mrs. Sharlow's goal is to have parents feel comfortable dropping their children off at her house, so they don't have to be distracted at work worrying about them.
"I'm very excited to help parents have some piece of mind that they're safe, being cared for and being taught something," she said.
Mrs. Sharlow said she prides herself on running a flexible business. It's open from 7 a.m. to 5:30 p.m. and she's willing to assist families in any way she can, including by accepting government subsidies.
"I'm always trying to grow and change things up to accommodate the parents," she said.
It's also an important mission for Mrs. Sharlow to make Happy Sailors Daycare a learning environment for the children.
"I feel very passionate about helping children to learn and grow," she said. "Everything we do is a learning experience."
Mrs. Sharlow said the children recite the Pledge of Allegiance every day, they have story time and circle time every day where they focus on a new letter, color, number and another American Sign Language word each week.
The day care also does educational outings that include library hour every Wednesday at the Lyme Free Library in Chaumont.
She presently has seven children registered at Happy Sailors Daycare, four full-time and three part-time school-aged children, but she will be able to take up to 16 children when she hires an assistant.
When Mrs. Sharlow started the process of opening her own day care she was looking to open her own center, not an at-home day care, but after running into roadblocks acquiring a building she found another option.
The Sharlows were in the midst of adding a porch onto the front of their house at that time and it proved the perfect opportunity.
"When it was finished Charlie came to me and said 'what do you think,'" Mrs. Sharlow said. "I said 'it's my happy place.'"
Once they had the location, it was just a matter of licensing and meeting the state's recommendations. Mrs. Sharlow began the licensing process in October and was fully licensed by April. She also has her health and food certifications.
The hard part proved to be building reputation and finding families, Mrs. Sharlow said, but that was expected.
"It's an occupational challenge and it's an exercise in patience," she said.
As she's started building that reputation though, she's gets a few calls every week and usually a new child every couple of weeks.
There is no lack of plans for her day care's future, Mrs. Sharlow said, and she's already begun working toward fulfilling her goals.
The next step to grow her occupancy is to hire an assistant, a position that is already being advertised on Indeed.com.
Beyond the near future, though, said she would like to set up a parent support group and build a rack with brochures from local agencies on the playroom porch.
"Sometimes parents just need to talk to other people," Mrs. Sharlow said.
A larger and more long-term goal is to establish a School Age Child Care program at the school or offer an after school program at the day care.
"I'm not ready for that yet, but I will be," Mrs. Sharlow said. "It would help the children an awful lot and the parents, but I want to grow at a comfortable pace. I want to learn the ins and outs of the business."