Attic Treasures Antiques and Gifts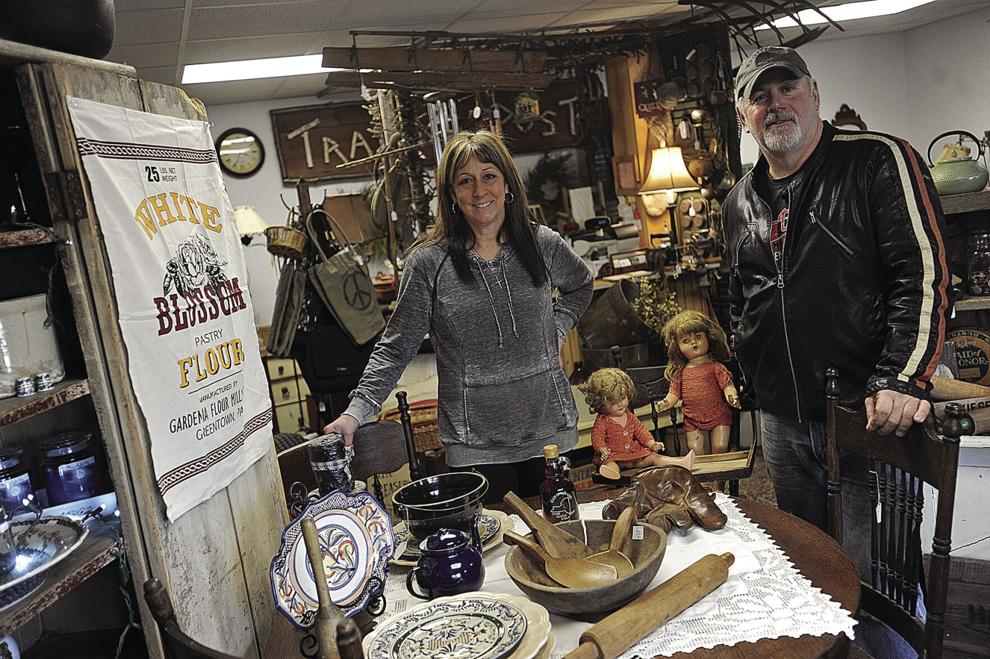 Being surrounded by antiques growing up, Susan M. Sunderland and her brother, Dale Munn, discovered a passion for items that were rich with stories.
"It's kind of like history to see how things were done years ago," Mr. Munn said. "Everything was built from a little bit of nothing. It's all homemade."
While Mr. Munn explored his love for antiques as a collector, his sister tried her hand at selling the items from her home off and on for 12 years.
"It's something I've always wanted to do," Ms. Sunderland said. "I just thought one day I would start it."
In December 2014, though, Ms. Sunderland partnered with her brother to open Attic Treasures Antiques and Gifts, a full-service store in Evans Mills.
Customers who shop at Attic Treasures they are looking for their own piece of history, Ms. Sunderland said, whether they are collectors or regulars who use the items to decorate their homes.
"I like to focus on our local area and anything from the Adirondacks," she said.
Ms. Sunderland said that she's found her customers prefer antiques from the north country because they want to know the history behind the item and connection to it.
"We'll ask when we buy something where it came from and get the most history behind an item as we can," she said. "It's fun to just research some of the stuff and to explain to people how things work."
Ms. Sunderland has found that even items as simple as milk crates are popular because repurposing and DIY projects have become very popular.
The store keeps a sign-in book, though, for customers looking for a certain item that isn't available and Ms. Sunderland said that they will try to find it.
"You never know when you hit an auction or a sale what you'll find," she said.
They were recently able to find two tobacco baskets, Ms. Sunderland said, which were on the list.
The baskets were popular enough to start an argument between three people who wanted one of them.
"We almost had a brawl," she said.
Not to worry, though, because Ms. Sunderland said that while items don't last long in their store, they have fresh inventory every week.
It was a long process for Ms. Sunderland before opening to customers in Evans Mills. Twelve years ago, she began her first endeavor by selling antiques out of her eight-bedroom farmhouse in town.
"It had three living rooms and eight bedrooms, and we only had two children," she said.
Her antique business started in the garage before it became large enough to take over her house.
During that time, Ms. Sunderland began to travel with a truck and trailer from Northern New York to Virginia, Massachusetts and Connecticut to find unique items to bring home.
"We like to find things you don't see at other dealers," she said.
After several years of selling antiques, though, the business was put on hold when Ms. Sunderland moved from Evans Mills to Theresa, but it was only a brief hiatus.
Her new property had a chicken coop that she turned into Attic Treasures Chicken Coop.
"That was my favorite store," she said.
She kept the Chicken Coop open for four years before considering a move back to Evans Mills.
"I wanted to get my store going again, but I didn't really have the ability to do it on my own," Ms. Sunderland said.
She enlisted the help of her brother who procures items for her and helps manage the store as what Dale Munn refers to as a "silent partner."
For Ms. Sunderland, the most amazing part of the journey from
Evans Mills to Theresa and back was the loyalty of her customers.
"They followed me from one place to another," she said. "People who have been my customers for the last 15 years. We have a great following."
She said people are eager for new items and specials that they check the store's Facebook page every week.
Despite a great following and repeat customers, Ms. Sunderland is hoping to grow her customer base, which is proving difficult because the store isn't on a busy road.
"My journey is to expand into something a little bigger," she said. "People just fly by here. There's a little place I have my eye on."
That place will remain in Evans Mills.
"We like it here," she said. "This is where I started. It's home."
A move isn't here only plan, though. Ms. Sunderland has outlined plans to begin gift lines, a primitive line and exploring further into repurposing.
She is working on a marketing plan, involving possible advertising in publications like the Mountaineer, to increase foot traffic, as well as including part-time positions at the store, so she can pick items herself.