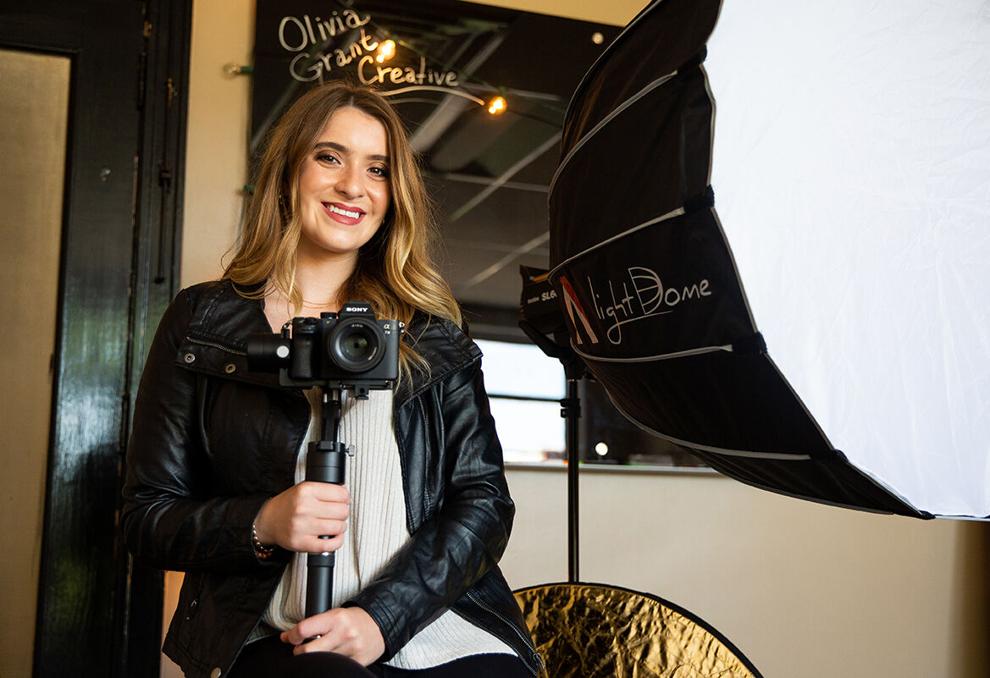 Throughout her well-rounded career in media, Olivia Grant has done it all. She's been a TV personality, photographer, marketing maven and most recently a videographer. 
     She prides herself on being a woman in a male-dominated field, and is now using that pride and her passion for storytelling to share north country stories through Oliva Grant Creative. 
     "I started the business because I wanted to be my own boss, but my focus has really shifted because I've noticed this lack in female representation in production," Ms. Grant said. "I really have been trying to be a voice for young women who are looking to maybe start their own business, or be behind the camera, because it's just not accurately represented." 
     Ms. Grant launched Oliva Grant Creative in March 2020 — a time when the coronavirus was just ramping up in New York and few would've jump into a new business venture. She says the timing couldn't have been better for her as businesses began shifting services and marketing to online e-commerce. Ms. Grant does product photography for local companies and e-commerce companies, wedding videos and even social media branding.  
     She's recently tapped into the wedding and family portrait photography industry, and has found herself easily accruing new clients. She said she enjoys the storytelling aspect of each project. 
     "That is where my heart has been; whether it's on stage, or with videography, just being able to capture the unique story of a couple," Ms. Grant said. "I always say that to my couples — that no wedding videos should look the same, there should never have anything in common." 
     The look on the couple's faces when they see for the first time the film she's created for them on their special day is why she started her business, Ms. Grant said.  
     "When they tell me (that) I captured the essence of who they are, that is the most rewarding," she added. 
     Ms. Grant said she also thrives on community involvement and engagement. She taps into local resources each week, such as attending networking events and engaging with other women-owned businesses. She said she finds those connections to be of great value. 
     "I've been tapping into a lot of the local resources. The Lincoln Loft holds Tuesdays Together, which is a great way to network with other women who are creative and on their own businesses. So that's been a great resource, and then just getting to know people in the community and trying my best to be an example for young women," she said. 
     Ms. Grant said when it comes to where she sees herself and her business in five years, it truly comes down to the community and growth. 
     "I want to be part of the community, but I think I also would love to make this business as mobile as possible, and be able to travel and have clients from all over the country … that's the ultimate goal," Ms. Grant said. "I would like to hire out models and actors and have second shooters once in a while. It's honestly my ultimate goal to be able to pay local actors and models for their work, because I think that's an area that's lacking in this community, too."