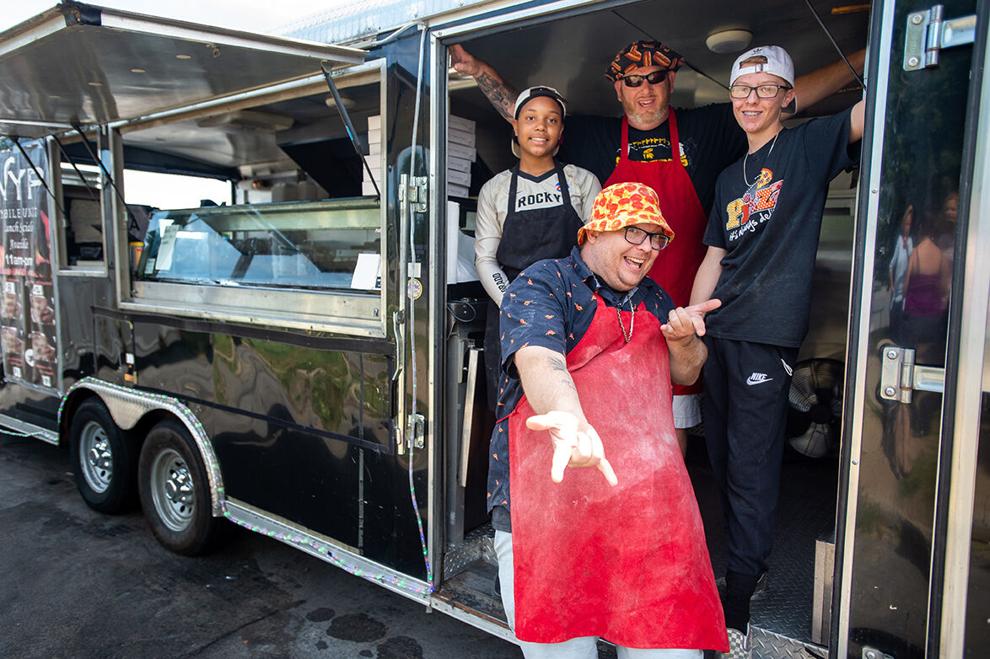 At the New York Pizzeria (NYP) Mobile Unit there are no customers, only family. At the heart of it all is the food truck's very own entertainment package– manager Scott M. Shean. 
    Mr. Shean, 45, of Watertown, tells his customers when they ask what got him started in the food business that he isn't in the food business at all, he's in the entertainment business. 
    "I'm just the funny guy that talks a lot," he said. "I guess the food is good, but we literally make peoples' day." 
    NYP is a locally owned and operated business contracted through the Army & Air Force Exchange Service (AAFES) serving classics like pizza, cannoli, wings, cheesy garlic bread, fried dough, and stromboli from a spot in the parking lot in front of the PX on base. 
    Its slogan is "We may not be Army fit, but we are Army strong." 
    The NYP Mobile Unit is owned by Mr. Shean's longtime friend Nick Ciambra and his family. Mr. Ciambra owns New York Pizzeria in Gouverneur, his sister owns Nonna Dina Pizzeria in Brownville, and his nephew owns Original Italian Pizza (OIP) in Watertown. 
    "What we did is we took the top three from each of the restaurants," Mr. Shean said. "We took the dough recipe from one, the sauce recipe from another, and then the charbroiled wings from OIP." 
    Both sauce and dough are made fresh on the truck each day. 
    Aside from believing that it is an honor and a blessing to be able to serve the soldiers of Fort Drum, Mr. Shean also has personal ties to the military. His brother, Kenneth G. Shean II, was a master Sergeant. in the Air Force. 
    Unfortunately, he died of a heart attack on Sunday, Aug. 23, 2015 at the age of 42. Born and raised in Watertown, he was a 1991 graduate of Watertown High School and joined the Air Force in September of 1991, serving until his retirement in December of 2012. 
    Leaving behind three children, his younger brother Facetimes with them when he can, feeling like he has a certain responsibility towards them. 
    "Every summer since my brother passed away, we fly his kids in," Mr. Shean said. "As we grow and money comes in, I'm going to be able to help put these kids through college, so it's not really about me." 
    At some point, Mr. Shean said NYP will have a sort of reopening because one of his friends in town, Jeff P. Shannon at KDM Kustoms, will be doing a wrap for the mobile unit. 
    "My brother went in the military with another local guy from Watertown, so the whole trailer is going to be dedicated in honor and loving memory, we'll have a ribbon ceremony and all that," he said. "Everybody is my brother; the sacrifices my brother made in going to Afghanistan and Iraq, it's the exact same thing when these guys walk up, so I treat them the same, everybody is my brother and sister and aunt and uncle, period." 
    Mr. Shean said he hopes to one day make a few more upgrades to the truck experience, like adding tables with umbrellas, and even possibly a red carpet to drive home that each guest is a VIP. 
    During Mr. Shean's period of loss, he and Mr. Ciambra were invited by AAFES to come to the base and set up shop. At first, due to the fact that the brother he had lost was a soldier, Mr. Shean said he didn't want anything to do with the endeavor. 
    Stronger now, he said it has been such a blessing working at NYP the past few years. The food truck remained open during the COVID-19 pandemic and continued making money, but it's not about that for Mr. Shean, he loves inspiring people that have no idea they even needed to be inspired. 
    "This is what I do, I make people cry, laugh, and smile every day," he said. "Any given day kids will come with parents and give me hugs. I can't explain in words what it means to be out here. My daughter works here, my son works here, my mom works here, but none of it would be there without Nick and his family. It's just emotional. We treat people better than anybody on the planet because we treat every single person like family. It's kind of been one of our successes. Isn't that funny? Stuff you should be doing anyway, and that's our success story." 
    As the manager of the NYP Mobile Unit, Mr. Shean said he has had to learn to not always be the funny guy, but also the boss. With lines often down the sidewalk, he has captains, sergeants and more coming to NYP and being able to relax and enjoy the atmosphere. 
    At 5 p.m., rain, snow, or shine, when the trumpet sounds, signaling the flag coming down for the day, Mr. Shean, among others, stands for the flag. During this time, NYP does not take any calls and does not fill any orders, it's a moment of silence and for Mr. Shean, a time to honor his brother. 
    Described on its website as "Fort Drum's best kept secret," Mr. Shean said that's not quite true for NYP considering the fact that everyone tells everyone else about the truck. A firm believer in treating his customers like family, Mr. Shean is instilling this in his kids Justus, 15, and Reagan, 19, as they work with him at NYP. 
    Mr. Shean recalls that he had a major coming to the truck for four years, getting a slice of pepperoni with a Mountain Dew. The other day, he returned to the truck, this time with his wife and two daughters. Though Mr. Shean has never met the family before, as he was doing the rounds, checking on tables and seeing if anyone needed something, the major's two little girls came up through the table and asked to give him a hug. 
    "You can't put words to that," he said. "I've had grown men come back from war, come right up to me and ask if I'm Scott, and one said 'let me tell you something, you made my wife and my kids happy and gave me peace of mind.'" 
    A rock for those going through hard times and a comedian for those who just want to laugh, Mr. Shean knows people. When he sees a group of young soldiers where only one is ordering food for themselves, he said that 99 percent of the time he's right when he assumes the other two are hungry, but don't have the money to order food. 
    Treating them like family, he buys the food they can't afford for them and gives it to them on the house, telling them to come back when they can square up. If they can't, he simply asks that they go on and do something nice for someone else. 
    "We build people up and we don't want anything in return," he said. "In a car, there's an alternator charging the battery. You need something in your life that sparks you, and my alternator is the people- every soldier, every captain. We want to be peoples' alternator. Along the way, we're selling some pizza."