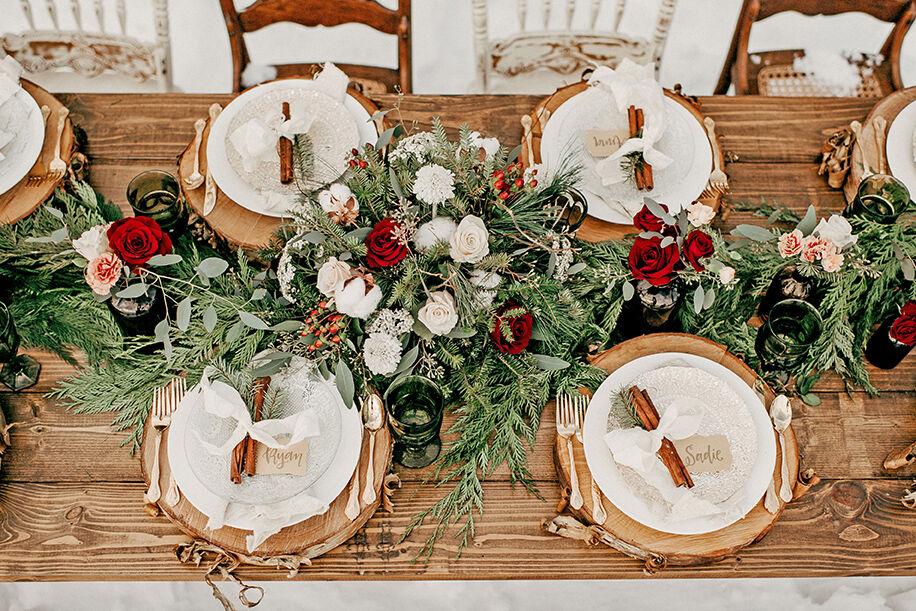 The holiday season is upon us, and families and friends will soon be gathering for feasts. If you're hosting one of these events, they can be an opportunity to wow your guests and put your decorating and cooking skills on display. 
    When it comes to decorating for one of these events, a well-laid out table should be at the top of the list. Brianna Pisani, owner of the Pretty Little Vintage Co., a specialty and vintage furniture and decorations rental company in Adams Center, has some tips for how you can make your holiday table pop. 
    Ms. Pisani said the first thing to consider is how the table will be used. Is the meal going to be family-style, with all of the food in dishes on the table? Or will it be buffet-style, with the food set 
    "This will really determine the amount of space you get to style," Ms. Pisani said. "Keeping the food on a separate buffet table is nice and allows you to decorate the table a little more, but it might not always be feasible." 
    Once you know the space you have, Ms. Pisani suggests developing a theme or color palette. She suggests you take cues from the space you're working in, and try to introduce complementary tones and textures if possible. 
    Ms. Pisani suggested contrasting certain textures and fabrics against one another. For example, if you have a wooden table, she suggests using woven or colored charger plates, a fabric runner or varied placemats. If your table has a linen tablecloth, try adding some wood or metal décor on top. 
    Don't get caught up trying to match colors to the traditional holiday colors, or thinking too much in the season – Ms. Pisani said some of the best tables she has ever designed have been monochrome or neutral. 
    "You can go with traditional holiday colors, monochrome tones, or mix it up to match the space you're celebrating in," she said. "Either way, there are plenty of ways to give a 'nod' to the holiday, make it beautiful and make it your own." 
    For a Thanksgiving table, Ms. Pisani suggested adding some fall elements, like leaves or branches fallen from trees in your neighborhood. You can also add fruits, spices or vegetables from the grocery store, like brown pears, apples and pomegranates, cinnamon sticks, mini pumpkins and gourds. 
    For a Christmas table, she suggests adding pinecones, jingle bells, springs of pine from your Christmas tree, ornaments, etcetera. 
    "If you're setting the table for Christmas, the options for sweet little details are endless," she said. 
    Another great way to integrate the table with the meal is to use your food as décor. Adding small charcuterie boards, personal mini-pies, mini bread loaves can really warm up your space! Flowers, lights, candles and other accoutrement can add flair to the table as well. 
    Ms. Piasani said she believes anyone can set up their own unique, beautiful table, and she just so happens to have something that can help you do just that. 
    "The little details are important to us, and it just so happens that we have a whole warehouse full of them," she said. "We have so many fun options to choose from and that allows our clients to customize their holiday table top packages to fit their theme, color palette and overall holiday table vibe," she said. 
    On Nov. 1, Pretty Little Vintage Co. will launch their holiday tablescape packages which include all the décor and little details that can make your holiday table really stand out. 
    "Our tablescape packages include fresh floral centerpieces, charger plates, china, flatware, glassware and all of the pretty little details, so anyone can have a fully styled holiday table this year," she said. 
If you're interested in a holiday tablescape package, to make your holiday hosting a little easier, head over to @PrettyLittleVintageCo on FaceBook or Instagram, or their website, prettylittlevintageco.com, to check them out and place an order!