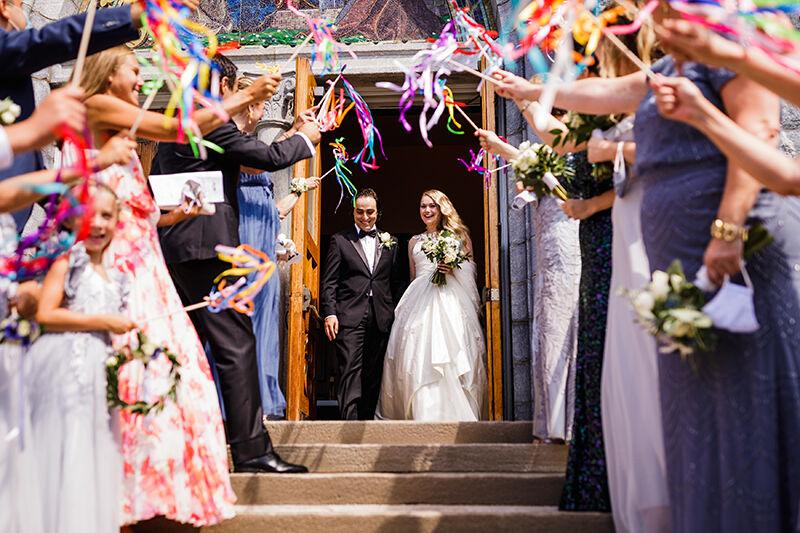 The story of how Morgan O. and Armand V. Russo got together could have been taken right from the script of a Hallmark holiday movie. 
The two met in December of 2017 through Armand's identical twin brother, who happens to be married to Morgan's cousin. Armand, 35, needed a date to a New Year's Eve wedding for one of his cousins, and it just so happened that at the time, Morgan, 30, was living in New Jersey where the wedding was being held. 
A natural fit, Morgan's cousin and Armand's brother set the two up on a blind date for the wedding. 
In an attempt to get some of the awkwardness that comes with blind dates out of the way beforehand, the two planned to meet the day before for some pizza. While they remember that the pizza was below average, the company turned out to be much better. 
After the black-tie wedding, Armand drove Morgan home in the middle of the night and the two were already making plans to see eachother again. 
At this time, Armand, a physician, was living in Connecticut and Morgan, a fundraiser in healthcare philanthropy, was still in New Jersey, so they made long distance work for about a year, going back and forth, until Morgan ended up moving to New Haven, Conn. 
"Probably after eight or nine months of seeing each other, we knew that this was the real deal, we knew we wanted to take it to the next step," Morgan said. 
The two now live in the home they purchased together in North Haven, Conn. 
Fast-forwarding a bit, to June 3, 2019 to be exact, a seemingly random Monday where Morgan was having a rough day at work turned into something far better that she'll remember for a lifetime. 
When Morgan finally left her office that afternoon, after letting Armand know she'd left like she always did, she called her mom to vent and recalls that her mother was ultra cheerful for some reason as she spoke with her. 
"I didn't really notice anything was unusual until I got back to our parking garage and I was walking to our apartment and she very abruptly says that she has to go into the store and get ice and so I needed to let her go," Morgan said. "I thought it was really strange that she wasn't just going into the store with me on the phone." 
Meanwhile, Armand had been waiting anxiously all day and had set up the apartment with flowers, candles and a little figurine of Cinderella and Prince Charming playing "So This is Love." 
Walking in and seeing everything set up, Morgan remembers thinking it was all so weird for a Monday. 
"I think we had plans to work out and I knew what I was making for dinner, so my plans were kind of stopped short the moment I walked in," she said. "He's still in his work clothes standing in the middle of our kitchen and he just asked me on that random Monday night- it was awesome." 
Following the engagement, wedding planning took place soon after. One word that comes up when people describe the couple is balance. According to Morgan, she's the gas and Armand is the brakes when they're making decisions. 
With Morgan having grown up in Chaumont and Armand visiting the Thousand Islands region with her, they always knew that when they got married, they wanted to be married in that area. 
"The entire wedding was probably planned prior to COVID ever even being a thought in our minds," Morgan said. "During the time when the pandemic started to become a concern, we kind of sat tight until maybe early April, thinking our wedding day -August 8- is a really long ways away, there's no way that this is going to impact us." 
The two planned for a church ceremony and outdoor reception at the Antique Boat Museum in Clayton, with a guest list of 225 people. With all vendors booked and still not wanting to let a virus impede on the happiness of their wedding day, they started to look at how they could adapt their plans to fit restrictions and still make the day special. 
Ultimately, it was decided the two would have a microwedding and would postpone a large celebration until it was safe to hold one. 
"We didn't want any of our guests who had been planning on attending to feel that they were uninvited, so we basically just postponed that large gathering and ultimately had about 40 of our closest family members and friends," Morgan said. "We really spent time talking to them to make sure that they were comfortable because we didn't want to burden anyone with an invitation and make them feel like they had to choose between coming to our wedding or their comfort level." 
The guest list for the August microwedding ended up being 40 people, including the bridal party and close friends and family. The ceremony, which took place at Holy Family Church, was officiated by Reverend J. Michael Gaffney, who baptized Morgan years ago. The couple hired Steve Weed Productions in Watertown to livestream it, and tons of people tuned in to watch. 
"It made the people who couldn't be there to celebrate with us feel more like part of the day," Morgan said. "Every aspect of the wedding was that much more special because it took so much to get there." 
The reception ended up featuring a five course wine pairing dinner catered by The Clipper Inn and Chef Michael Simpson, with guests seated at smaller tables and grouped according to households where applicable- something that wouldn't have been considered for the larger wedding due to cost. Rather than the Antique Boat Museum, the reception was moved to the Crescent Yacht Club in Chaumont between four to six weeks prior to the wedding. 
Due to the smaller size, the wedding felt more intimate and guests enjoyed being able to spend quality time with the bride and groom. Adding another special touch to the wedding, the Crescent is where Morgan worked growing up- she even had her Sweet 16 there. 
At the end of the evening, all those in attendance gathered along the dock of the yacht club to watch the fireworks set the sky ablaze. 
"Everyone has to do what makes sense for them, and if postponing or cancelling the wedding is what makes sense for them, people should be very comfortable with their decision," Morgan said. "What we found was the pandemic taught us that life is too short. We knew we wanted to be married, we want to start a family we want to be together, and we didn't want to postpone that." 
Vendors for the wedding included Keith Macdonald Photography for photos, Dennis Fernando Photography and Videography for video, event planning and design by Nicole Samolis and The Events Company, Fireworks from Young Explosives, print materials from TYCO Print & Promo in New Haven, Conn., hair by Marissa Williams, and makeup done by Pastel Make Up & Style. Music for the reception was covered by the Silver Arrow Band. 
Settling into the new house and enjoying the quiet of married life, the couple hopes to eventually go on a honeymoon when the time is right. While it ended up being a bit different than originally planned, Morgan said she wouldn't change a thing about the wedding. 
"Of course we missed the people who couldn't be there, but it was just so special," she said. "I don't feel like we really sacrificed anything with the exception of just not having everyone there, but it gives us an opportunity to celebrate with them again in the future."