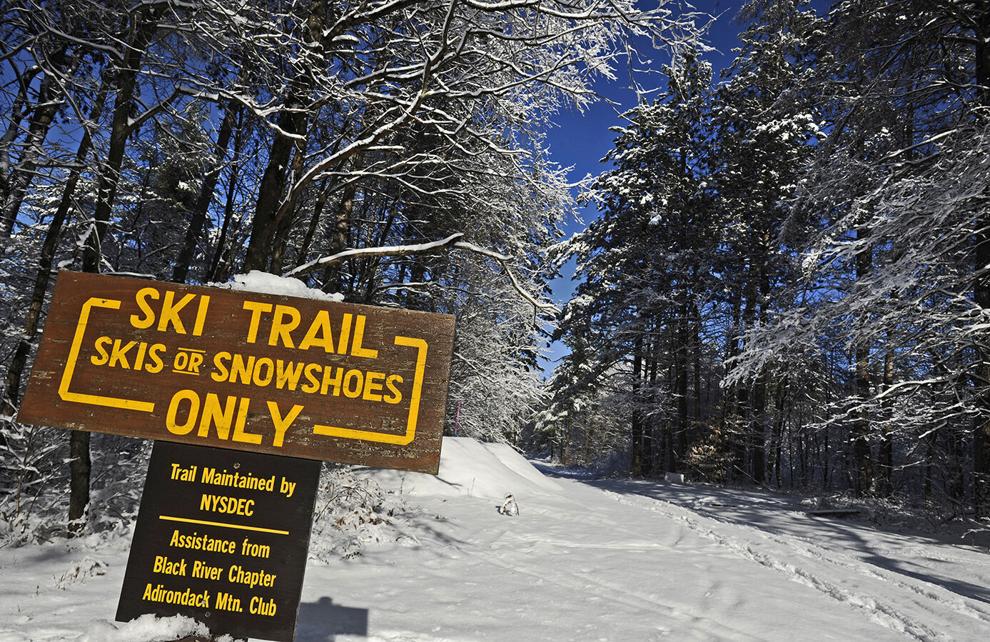 Looking for a fun place to play in the snow?
     It's not too late to embark on a winter adventure in the Tug Hill region, the perfect "winter playground" encompassing parts of Jefferson, Lewis, Oswego and Oneida counties.
    The region's location between Lake Ontario and the Adirondacks lends itself to record-breaking snowfalls, and as a result, provides the perfect setting for winter recreational enthusiasts.
      "One of Tug Hill's claims to fame is receiving the most snow east of the Rockies," said Katie Malinowski, Tug Hill Commission Executive Director.  
   Those record-breaking snowfalls are the result of the infamous "lake-effect" snowstorms. These are caused when frigid winds blowing across Lake Ontario toward the Tug Hill Plateau pick up moisture and deposit it as heavy snowfall, particularly at the higher elevations.
    Two communities in the Tug Hill region even gained national recognition last year for setting snowfall records.
     The town of Redfield in Oswego County earned the USA Today Network's first Golden Snowdrift Award, as the "snowiest place" in the Great Lakes region (more than 29 feet fell during the 2016 to 2017 winter season). In second place was the town of Osceola in Lewis County, which had a snowfall record of more than 25 feet recorded during the same season.
     The traditional heavy snowfalls throughout the region have proven to be a great recreational asset for Tug Hill, and have made it a prime destination for anyone looking to have some fun in the snow.
     "Because of the generally consistent snow on Tug Hill, and the length of time it sticks around each season, winter recreational opportunities are everywhere," said Mrs. Malinowski.
     Here are some of the most popular ones that are attracting winter enthusiasts from throughout the country:
    Tug Hill has approximately 925 miles of snowmobile trails, groomed by dedicated volunteers from the region's numerous snowmobile clubs, Mrs. Malinowski said.
   "People who come to Tug Hill to snowmobile eat at the restaurants and bars, stay in the local hotels and rental cabins, and purchase gasoline and other supplies, which is critical to the success of these small businesses," she said.
    Many snowmobilers purchase land and camps on Tug Hill as well, which provides property tax revenue to the local municipalities, Mrs. Malinowski said.
     One popular snowmobile destination is the Winona State Forest, a 9,233-acre state-owned forest that covers Lorraine in Jefferson County and Boylston in Oswego County. The New York State Department of Environmental Conservation's forest is located on the western edge of the Tug Hill Plateau, and includes several snowmobile trails (some are designated New York State Snowmobile Corridor Trails, according the state DEC website).
    Other winter activities at the Winona State Forest include trails for snowshoeing, cross-country skiing and even dog-sledding. The Winona Forest Recreation Association, a nonprofit organization, helps to maintain the trails and hosts a variety of winter events each year, including the Tug Hill Tourathon cross-country ski race, and a snowshoe/fat bike duathlon called the "SnoFatShu."
Cross-country skiing & snowshoeing:
    During the 1970s, retired forest ranger David Larabee cut down and cleared many of the trails that make up the Rodman-Barnes Corners cross-country trail system, which can be accessed of Route 177. The system offers a variety of longer and shorter loops for both cross-country skiers and snowshoers.
    "You really need to get outside in the winter," said Mr. Larabee, Adams, a retired forest ranger. "It gets darker earlier, and because it's cold, people tend to want to stay indoors and watch television."
    There are many options for people to get some exercise during the winter months, and at the same time, enjoy the beautiful scenery of the Tug Hill region, said Mr. Larabee, who retired as a forest ranger with the state DEC in 2003, after 36 years of service.
     The Rodman-Barnes Corners system has five loops that encompass nearly 10 miles of trails lined with pine and spruce trees, and when their many branches are covered with snow, it makes for some impressive scenery (one trail, the Oak Ridge Rim Trail, is for snowshoeing only in the winter).    
      "We're seeing more people snowshoeing on these trails, and in some ways, they may feel a little safer than cross-country skiing," said Mr. Larabee. "Especially on some of the trails that have hills."
     The one piece of advice for those who choose to snowshoe on the groomed cross-country ski trails is to be respectful and walk to the side of the ski tracks, so the trails can be maintained for both activities, he said.
    Mr. Larabee also suggested cross-country-skiing and snowshoeing on trails off the Carpenter Road in Lewis County, which consists of three loops of connecting trails encompassing nearly 8 miles through the wooded area. The entrance is located off Carpenter Road, which intersects with Route 26 north of Turin. The starting point is where Carpenter Road intersects with Seymour Road.
  "When you reach a certain destination on these trails and look toward the east, you can actually see the Adirondack mountains," he said.
     Numerous groomed trails can also be found at the Winona State Forest in both Oswego and Jefferson counties and the Osceola Cross Country Ski Center in Lewis County, said Mrs. Malinowski. The Black River Environmental Improvement Association also has groomed trails in Oneida County.
Downhill Skiing & Snowboarding:
 Being located on the edge of the Tug Hill Plateau has a distinct advantage for Snow Ridge ski area in Turin – there is usually plenty of snow to stay open throughout the season, said Cindy Sisto, who operates the ski area with her son, Nick Mir.
     "We get that lake-effect snow because we're in this elevated area," an average of more than 230 inches each season, she said.
     Approximately half the people who come to Snow Ridge are from Lewis County, and the other half are visitors from throughout New York State, as well as places such as New Jersey, Pennsylvania, and Canada, she said.
The ski area at 4173 West Road was established more than 70 years ago. Today it has six chair lifts and 21 trails for beginners, intermediates and advance skiers and snowboarders, along with two terrain parks, a lodge and a dining area. For more information: www.snowridge.com
    "We really have something for everyone in Lewis County," said Kristen Aucter, director of the Lewis County Chamber of Commerce. The organization's motto is "Our Backyard, Your Adventure."
     Due to the heavy snowfall accumulations, "we are lucky enough to have snow when the rest of the state does not," she said. "We have 500 miles of snowmobile trails, cross country and snowshoe trails, ice fishing, snow tubing, kite skiing, regular skiing, snowboarding – you name and we really do have it."
      "One of our biggest challenges is letting people know what we have and how to access it," she said, noting the chamber has guides to the Tug Hill region on its website, which is currently being redesigned and gets more than 25,000 hits each month.
     There is also an app that is available for use on both Android and iOS operating systems that gives information on a variety of recreational activities, along with maps, she said. "The app runs off satellite and does not need cell service, which as you can imagine, is helpful when playing on the Tug Hill," Mrs. Aucter said.