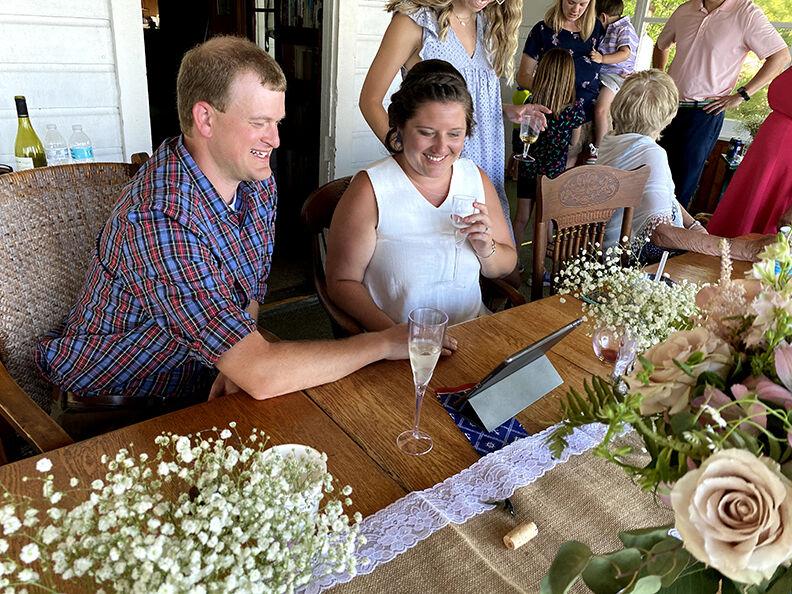 When Karah and Neal Bullins started planning their Thousand Island's destination wedding last September, they didn't expect to have to contend with the COVID-19 pandemic. But when infection numbers started rising in April, the North Carolina natives knew they would have to reevaluate their wedding plans. 
    "We wanted to get married up in the Thousand Islands, we were going to have a relatively small wedding, about 60 people," Karah said. 
    However, gatherings of any number of people were being discouraged, travel was becoming a concern, and the young couple's plans soon started to realign. For a while, they even thought they might have to cancel their wedding altogether. 
    Their initial plans were to host a small family wedding on June 20, at their family camp on Murray Island. They were going to have an early-afternoon ceremony, and an outdoor reception with a "picnic-type feel," a buffet and yard games for everyone. 
    What Karah and Neal got was a little different. 
    Even the planning process had to be adjusted to fit the new, socially distanced world. Karah had to do all her dress fitting appointments via video call, and the couple's baker sent a cake tasting package in the mail, with all the cake and icing options. 
    The rehearsal was also done via video chat, with the two reading their vows to their minister on-screen, and then working out the kinks remotely. 
    The ceremony itself was much smaller than their initial plans, but they were able to have all the people they originally hoped to have in person watch, one way or another. 
    "We ended up with just immediate family physically present, and then we did Zoom for the others who weren't able to travel," Karah said. 
    Their ceremony was still held on June 20 on Murray Island. While not required at the time, Karah and Neal decided to play it safe and isolate themselves for two weeks after arriving in New York, to ensure they didn't get sick or get anyone sick themselves. 
    Only 14 people were physically present at the ceremony, and a camera was set up to allow for those who weren't present to watch via Zoom video call. They were able to have a minister there in-person, but she and all the wedding guests were at least 6 feet apart, and wearing face masks. 
    Karah said that, fortunately, she and Neal only had to wear their face masks while signing their documents, and not during the ceremony. 
    There was no in-person reception, but the couple did have a small wedding cake, and did the traditional cake-cutting back at their camp with a virtual toast, again via Zoom. 
    Karah said that her feelings about the wedding changed as their plans evolved. At first, when they were still planning the original wedding, the outbreak of COVID-19 and the changes it forced them to make was extremely disappointing. 
    "Mostly it was disappointment, on all spectrums," she said. "We were disappointed in not being able to have a full celebration, but also that a lot of family and friends couldn't be there." 
    As the wedding date grew closer, Karah said that she was worried about possibly canceling the whole thing. But they managed to work out alternative plans that allowed them to have a small ceremony on their planned date, and postpone the larger event until things are safe again. 
    "When we finally made the decision to postpone, I think I felt so much better that we had an answer, because we had gone back and forth for a while," she said. 
    She said that when the day finally came, after all the months of planning and replanning, what stands out to her was how calm and relaxed she and her husband were able to be. 
    "We were able to really just enjoy it and take the day in, without all the other stuff like vendor issues, guets stuff, transportation," Karah said. "It was just really calm and we were able to take the day for ourselves." 
    She says she still missed the traditional things that come with a wedding, like the couple's first dance, father-daughter dance and the big cake cutting-ceremony. 
    After the ceremony, Karah and Neal flew off to their honeymoon on St. John, in the U.S. Virgin Islands, where they were able to escape the fears of the pandemic, at least for a little while. 
    "They did a temperature check and screening when we got off the plane in St. Thomas," Karah said. "They were taking all the same precautions that the U.S. is, but really it was just a temperature check for us to get in." 
    She said that her memories of the wedding are nothing but rosy, and while not everything went off without a hitch, the result was "perfect for the situation." 
    "We would not have wanted to have it any other way, all things considered," Andrea said. 
    The future may be uncertain, but Karah said she is sure that she and her husband will be hosting a celebration with the rest of the family and those who weren't able to attend this year, to get those traditional experiences that she missed this time around.