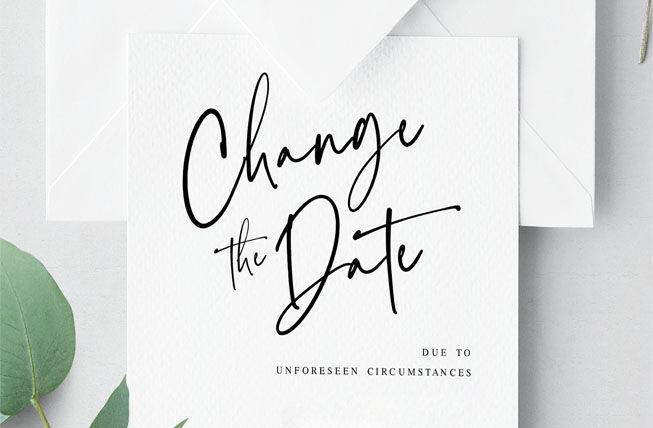 By: Sarah Compo, owner & operator of Lovely Day Event Services
What's the right way to uninvite people to your wedding? It's a question no bride or groom wants to deal with. Unfortunately, though, due to the COVID-19 pandemic, it's one many couples are having to ask themselves this year. 
 At the time of writing this, New York state has limited gatherings to no more than 50 individuals. If you planned on a small, intimate wedding for this summer or fall, you are likely good to go. But for many others who have big families, long lists of friends and have already sent invites out, you're likely in a very precarious situation.  
While many couples who were planning to tie the knot in 2020 have postponed until next year (fingers crossed that life gets back to normal sooner than that!), others are forging ahead with modified plans—including shorter guest lists. If you and your spouse-to-be have decided to move forward and now need to reduce your guest list, keep the following in mind:  
When you cut down your guest list, try to follow a set of guidelines. Do you both uninvite all your second cousins? All coworkers? Avoid people taking things personally by having a rhyme and reason to the way you reduce your number.  
Give yourself a cutoff date for deciding whether you will need to reduce your guest list and stick to it. As soon after that date as possible, let those impacted know—they'll appreciate the advance notice, especially if they were planning on traveling from out of town.  
The more honest you can be about your decision the better. Let those who are no longer on your list know how important they are to you, but that it's a matter of health and safety. Remind them that you will find a way to celebrate together in the future.  
News like this is best delivered by phone—not by text or email. Again, be honest and don't worry, most people (if not all!) will be extremely understanding.  
Get them involved by going digital: With technology these days, it's easy to let those who can no longer attend still be part of your day. Buy a tripod for your smartphone and set up a live-stream of your ceremony via Facebook or your wedding website.  
Share snaps from your big day with your original guest list:  
The people on your original guest list were there for a reason—they are special to you and your partner. After your wedding, let them know just how much they mean to you by sharing wedding day images with them before they hit social media for all to see. They will appreciate the thoughtfulness and feel in a small way like they could still be part of the celebration.