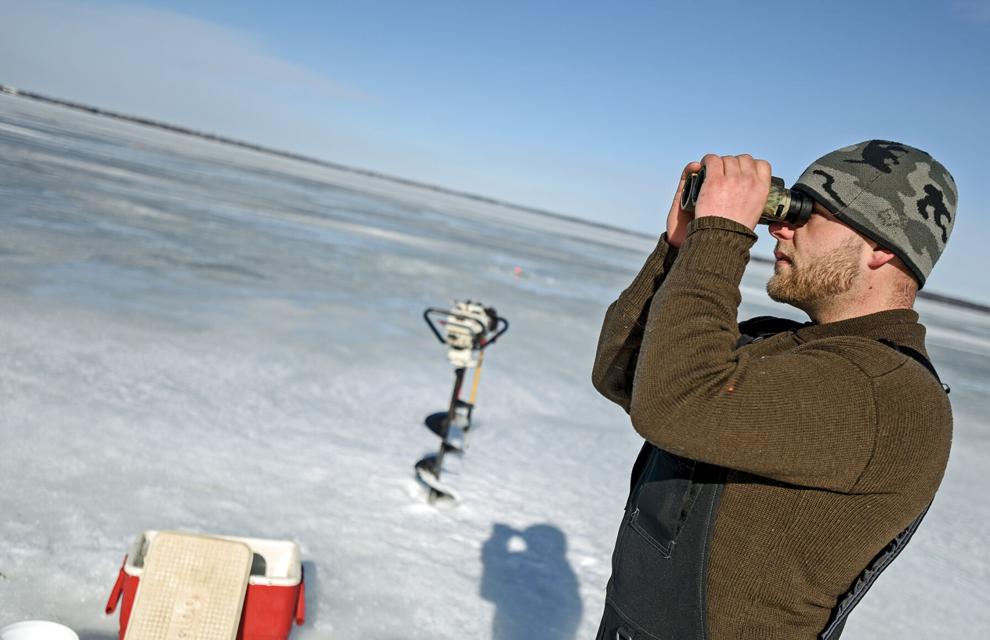 The ice fishing sled's contents splashed, scratched and settled as Lowell Ciliberti dragged it along behind him through several inches of freshly fallen snow. Overhead, dark clouds completely blotted out the sun. Below, 15 inches of ice over Butterfield Lake felt like pavement rather than a seasonal cover.
     The 31-year-old Redwood resident carried an ice auger in his free hand while he walked, the empty expanse of Redwood's frozen lake laid out ahead of him. Not a single other ice fisherman was visible as far as the eye could see. "My favorite part of ice fishing is just having fun and listening to music," he said, letting out a laugh and running his fingers over goatee before stopping to point out his DeWalt boombox in the sled. Days when he's not working in the maintenance department at the Thousand Islands border crossing, Ciliberti said you can find him out ice fishing on one of Redwood's lakes.
     "I'm just out here testing out the ice right now," he said. "I was already out on Mud Lake this morning and got a 15-inch crappie. I've got some friends coming out later this afternoon to try catching some walleye." Ciliberti pointed at a creel filled with tip-ups, saying he'd set some for northern pike as well. When asked why he hadn't brought his new ice shanty out, Ciliberti shrugged. "It's warm out here! I don't need a shanty today."
     The thermometer on the iPhone displayed the temperature: 18 degrees.
Ice fishing is a way of life out here.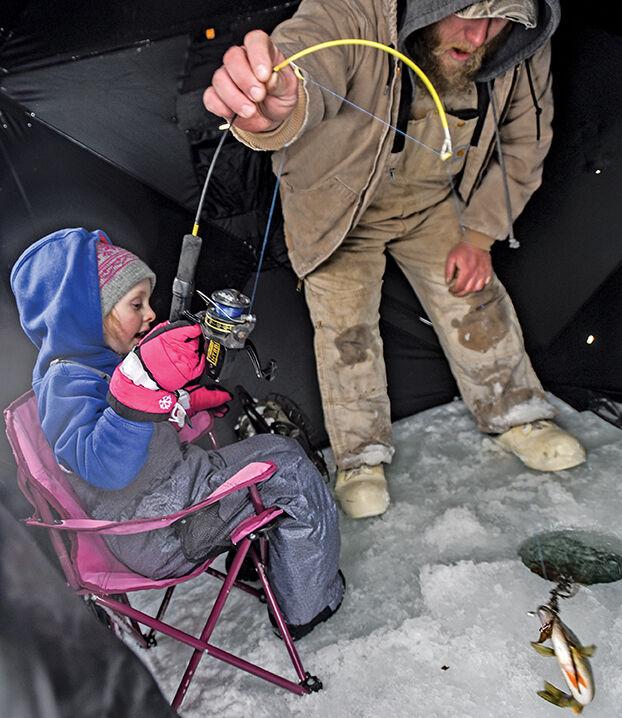 The tri-county area has been home to ice fishermen for generations.
    Ice fishing used to be a matter of survival, of course. Archaeological evidence dating back to the 1600s shows that during winter throughout the Great Lakes region, people speared through holes in the ice. To lure the fish in, jigging sticks connected to decoys of smaller fish were dangled through the hole.
    These days, ice fishing can certainly provide nourishment. But in the tri-county region, this sport is not just about having a hobby or basic survival—it's a way of life. No matter how much bluster, wind, rain, snow or sleet befalls this area, there are some diehard fishermen parked out on the ice with their tip-ups, jigs, ice shanties and coolers, chasing all those active fish just below the surface. The reason is simple: They absolutely love it.
    In years like this, there's plenty of ice to go around. Inland lakes and river bays have enjoyed around a foot of ice for the better part of this winter—plenty to hold any manner of ATV or snowmobile (and, in some parts, enough to support pick-up trucks). That's afforded ice fisherman the chance to access just about any spot where the fish are biting, making for a great season of ice fishing.
    Local derbies stretching from Lowville to Massena keep anglers busy, with fire departments, fish and game clubs, and various local groups organizing day-long events that provide the public with live entertainment, fish fries, prizes, and a chance for people to come out of their winter hibernation for a good cause. 
No two bodies of water are alike when it comes to fishing.
    "I've done some ice fishing over the years, but this year I'm learning to ice fish the lake my camp is on," said Nate Serafine, who is in the process of building a house on Lake of the Woods in Theresa. The 34-year-old spent a recent Sunday fishing through holes he made with a chainsaw on the ice, alongside his fishing buddy Rich Rupert from Black Lake.
    "Most people use a minnow with a tip-up suspended under the ice to catch fish, with second-hand amounts of people jigging for fish as well," Serafine explained. "New York State law allows seven tip-up rigs per angler. Certain lakes have restrictions on how many you can keep and the minimum sizes, and the best way for an angler to know is to check New York's DEC sites. Around here, the majority of fish sought after are pan fish like crappie and perch because of their great flavor. But a lot of anglers are out here for trophy fish: northern pike, lake trout and musky. I generally fish for northern pike and lake trout because I catch and release—I consider it good sportsmanship to let someone else enjoy a nice catch."
The northern pike is the darling of ice fishermen.
    The most popular ice-fishing target is, of course, the northern pike. Nicknamed "water wolves," these are some of the most predatory fish, reasonably easy to catch, and in just about every water body in the region.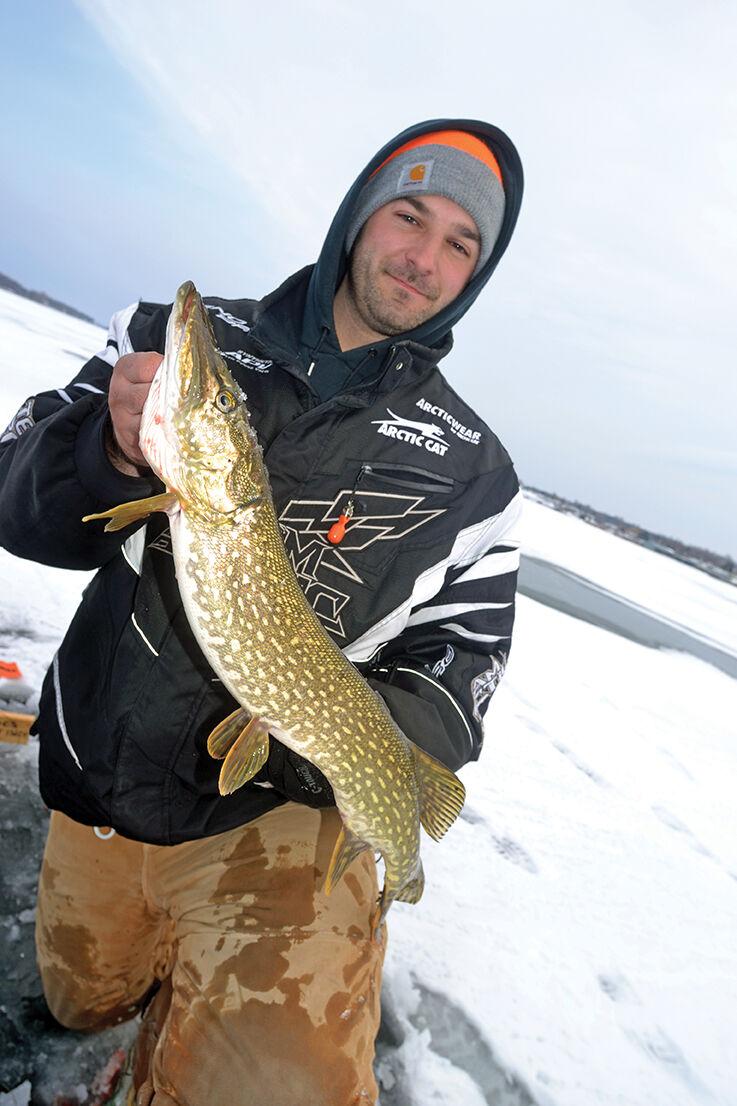 Pike hang out alone, waiting for prey to come along to eat. They're not terribly discerning, either; there are plenty of stories about pike snapping onto a human finger, chowing down on frogs, or even going after muskrats and other small mammals. It's nothing for a pike to eat something that's half its size, swimming around with fins hanging out of his or her mouth until the head is digested so more can be swallowed.
    These fish have grit. They're spunky. And they're resourceful as can be. Is it any wonder they're favorites of the spirited fishermen around here?
    Glenn Cheesman (or if you're a friend, Cheesebo, Cheesy, or Glenny) is a 53-year-old angler who's been ice fishing for 36 years. He's had great luck fishing the bays along the St. Lawrence River. "There's nothing like landing a fish up through the hole and being with all the friends involved," he said.
    Cheesman has a group of friends who share his obsession with the sport. This crew—drawn from outposts throughout New York—spares no expense when it comes to setup: four-wheelers, snowmobiles, heaters, ice shanties, grills, entire food spreads, bottomless cans of refreshments, these guys don't mess around. Cheesman's commitment to all this activity is especially impressive when you consider he's operating machinery, chasing down flags, and hauling bait (and everything else) while standing on one leg. "I'm a 10-inch above-knee amputee," he said. "All things are possible if you put your mind to it!"
    Cheesman organizes an annual ice fishing tournament in memory of his father, Bob, who died in 2013. Father and son spent decades fishing together through all four seasons, creating lifetimes of memories Cheesman loves to share.
    "Dad would always say, 'A bad day fishing is much better than a good day's work,'" Cheesman said. "And this one," he added: " 'It's not all about catching fish, that's why they call it fishing not catching!'"
    Cheesman's best advice for winter fishermen draws on a classic set of fishing rules: "When the wind blows out of the east you'll catch the least," he said. "Out of the west is best. From the south it blows the bait right into their mouth. If blowing out of the north, do not venture forth!"