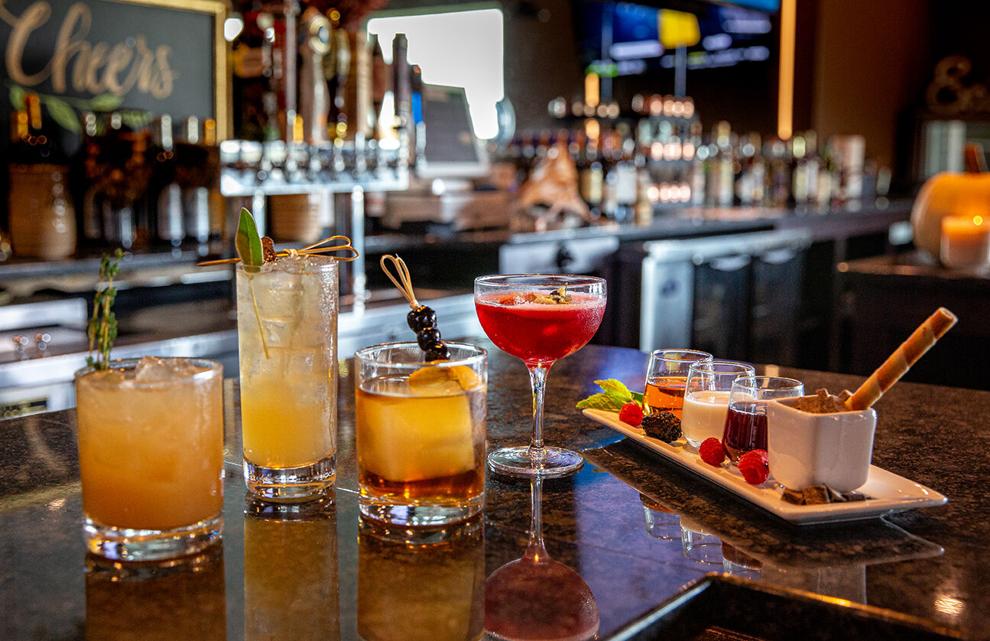 One bar has the classics they've done for 15 years, and another that just started offering specialty drinks has a mixologist who's been making booze popsicles and burning cherry wood with the bourbon. 
    Robert Dalton, owner of The Paddock Club on Public Square, always has a plan ahead of the holiday season. The martini bar has had variety for 15 years, dropping a starburst into their starbust martini and doing the same with their drinks flavored like Swedish Fish, coffee beans, coconut and gummy bears. Christmas is going to mark the return of their in-house favorite cake batter and whiskey Tom and Jerry cocktail. They'll have eggnog martinis, Mr. Dalton's personal favorite, with ginger snap eggnog, brandy, cinnamon sugar and nutmeg topped with a cranberry to make it festive. 
    "Because were a martini bar, we're used to the specialty cocktails and all the martinis," he said. "We're about the only ones around here that indulge in this kind of stuff." 
    Wise Guys Ristorante, located in Chaumont, has tapped mixologist Sage Teitsch to run the new bar at the newly built location. She's the niece of the owner — it's a family-owned, operated restaurant and bar — who has made name for herself in the mixology industry. She had been living in Syracuse, where she worked at nearly every bar until she landed at a casino and mixed drinks at a jazz bar within it. She's always loved to cook, and the jazz club was where she was able to experiment and learn from seasoned mixologists. 
    "I just like to put my own swing on cocktails," Ms. Teitsch said. "When I came back to work with my family, I didn't want to be simple. I wanted to go elegant and sophisticated." 
    Amy Williams, the owner, said she didn't hesitate to ask her niece to come back and take the bar over. 
    "I wouldn't want to have anyone else behind my bar" she said. "She has been so amazing." 
    Ms. Teitsch said she wanted to go all-in on elegant drinks because that's the way the food is prepared as well. They have to complement each other. For instance, the new building was ready to be opened in March, but COVID-19 pushed that back to the summer, so there was a lot of outdoor seating. As a result, Ms. Teitsch made wine and rum-infused popsicle cocktails. She makes her own simple syrups and infuses peach sangria and chilled prosecco into a mold until it freezes, and then creates its own type of drink when it melts. The staple drink is the Wise Guy, a bourbon cocktail that Ms. Tietsch fills with smoke in front of the customers to give it that cherry-wood flavor. 
    For Christmas, Ms. Tietsch thinks she is going to go with a naughty and nice theme. They'll have cute, fun drinks — nice — and then bourbon-walnut and cherry orange cocktails or smokey tequila mixes — naughty. 
    The addition of specialty drinks is further growing a restaurant that started a small pizza shop. The secret is really just being consistent, Ms. Williams said. There needs to be an understanding that there are going to be extreme moments of love and extreme moments of hate when working with family members but they say they have found a way to harness it. 
    "We're very passionate about what we do," Ms. Williams said. "We started it from the ground up, and we take pride in this."