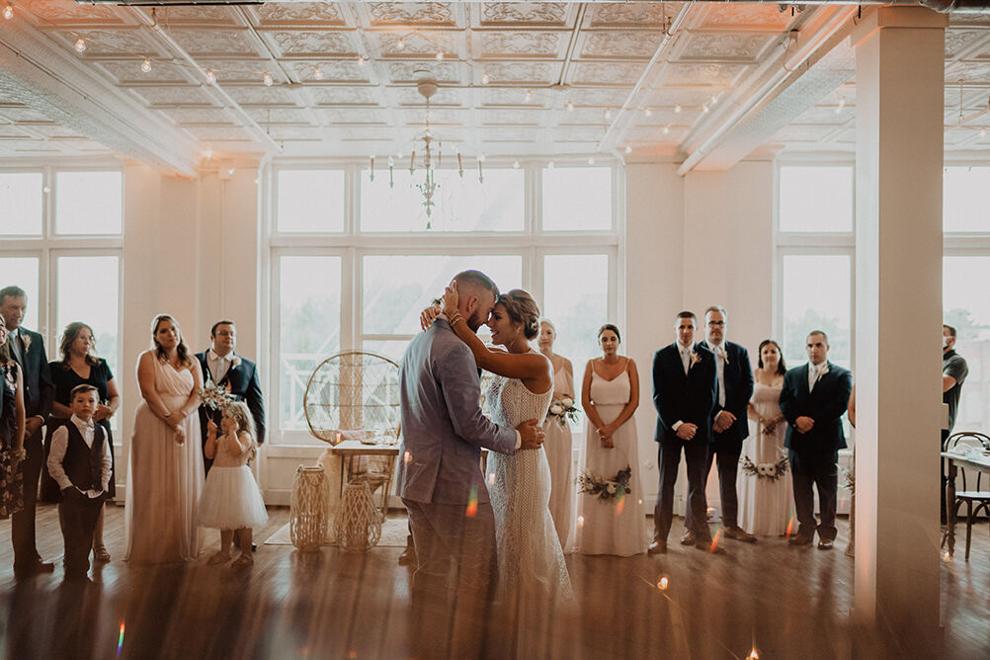 A sign of the times, it all started with Instagram for Michaela G. and Brandon D. Noble. 
Michaela, 26, saw Brandon, also 26, on the app and noticed they had lots of mutual friends. It appeared as though he liked kids, which is good because Micheala has a 7-year-old son named Eli. 
She messaged him, they started talking and officially met in January of 2019. 
"I could just tell that he wasn't just looking for the next relationship, he was looking for marriage," she said. "That's what I really wanted was a family and for my son to have a dad. Our first date we talked for two hours and he was on a lunch break for 45 minutes, so that really showed we couldn't stop talking- it was like we were old friends. We kept going on more dates and they would last hours." 
Big believers in the power of faith and making sure they did what was best for them, as well as Eli, Brandon and Eli were introduced after a few months. With Eli being athletic and Brandon liking sports, the two work well together. 
"Everything along the way felt really natural and just meant to be," Brandon said. 
With that in mind, he decided to pop the question on Jan. 11, 2020. 
Michaela had set up a photoshoot for after Christmas, so Brandon reached out and told the photographer what he was planning to do, working with her to make it happen. The shoot and engagement took place at the Sackets Harbor Ballroom with both Michaela and Brandon's parents there, along with Eli and a table set up with flowers and photos. 
"From us meeting to being engaged and then the wedding was fairly quick compared to most, but I'd say a big part of that was the communication," Brandon said. "Right from the beginning, we talked about everything and we just were very upfront with each other." 
Brandon is a baseball coach and athletic department specialist at Jefferson Community College. Michaela works for Snapshots Photo Booth and recently started her own business after her experience planning her wedding and receiving feedback on how organized she was while doing it: Noble Weddings and Events. 
Wedding planning for the Nobles began right away before COVID had hit the United States. Everything had been planned out before the virus, so when it hit, the two didn't worry in the beginning, thinking by the time their wedding rolled around they'd be able to have a higher guest count again. 
When it became apparent that things wouldn't be able to proceed according to plan for the Aug. 21 wedding, Michaela got creative and came up with the idea of a split reception where all guests that felt comfortable could attend the ceremony and then a reception would be held for 50 guests for a set period of time. 
Once that time was up, those guests would leave, except for Michaela and Brandon's family, and a new group would come to finish up the night. 
"It was a lot of work, but everyone was very supportive and understanding," Michaela said. "It was a great experience; I would do it again that way because we were able to talk to everyone and just spend time with them." 
This allowed Brandon and Michaela to have 80 total people between the two. 
Married at Parkside Bible Church, the wedding receptions were held in the Lincoln Loft in downtown Watertown. For those who couldn't be there, the ceremony was livestreamed on Facebook in a closed group for all who had originally been invited. 
With people on both the bride and groom's sides coming from different areas, it made it easier to have the hotels and the church so close together and the Lincoln Loft was only a couple minutes away, making it easier on guests with everything near enough in one spot. 
Photos were taken outside of the church as well as downtown Watertown, which proved to be a beautiful location for the two. Michaela had a unique bouquet to go with her gown and Brandon wore blue with floral socks, making for a striking pair strolling through downtown. 
"People don't think the square [Public Square] is nice, but after our pictures everyone's like, 'Wow, the square actually is very nice," Michaela said. 
Looking to the future, the couple knows they want more kids, so that's the focus right now. They also shared that they would like to move south one day, another dream they hope to accomplish in their future together.