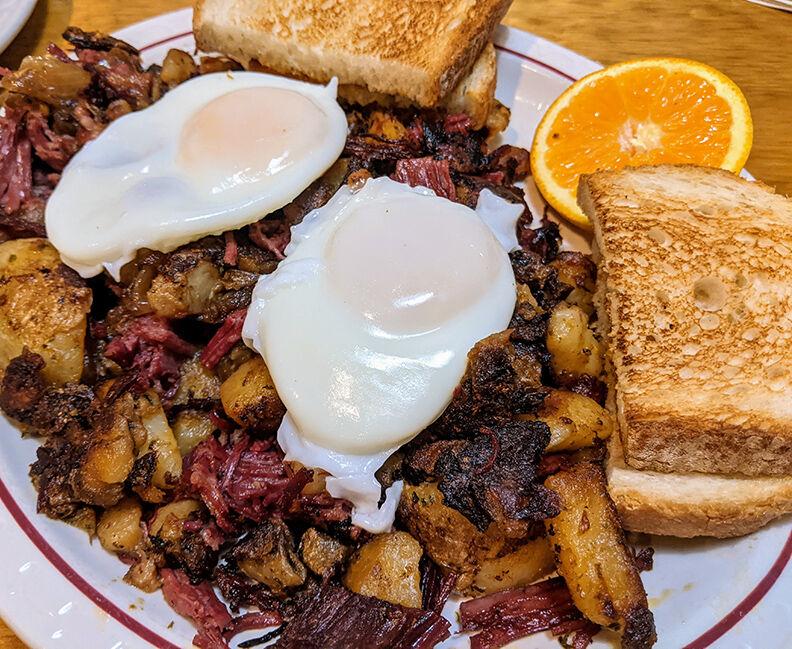 Four friends, four plates, four meals. Formerly Behling Orchards in Adams, Spookhill Bar & Grill has mastered the gourmet breakfast and taken it to the next level, family-style (by request). Nothing beats a great meal than sharing it with your friends. Meals are ordered separately then placed in the middle of the table. This was foodie heaven at its best! 
    The "crab cake benny" (crab cake eggs benedict) was served with a large portion of lump crab meat over a bed of crispy home fries. The eggs were still runny with the yolk and white being firm. Many restaurants overcook the eggs, something that can kill an eggs benedict immediately. The Hollandaise Sauce is made in house and tasted of freshly squeezed lemon juice with a pinch of cayenne. They also sometimes offer lobster as a choice! 
    The pork belly burnt end tenders with eggs, onion straws, home fries, Gouda cheese (yellow cow's milk cheese originated in the Netherlands), and toast was a huge hit. The pork was tossed in a mixture of Cajun seasoning and BBQ sauce giving it an amazing taste with a gentle spicy bite. Pork belly is as the name implies, a cut of fatty meat from the belly of a pig. What was unique here is the fact they serve the end tenders. 
    As a retired soldier living in an Army community, I have to say "Go Navy" on this one. The steaming stack of perfectly soft, fluffy pancakes was beyond comparison. The consistency of the "flat cake" initially confused me, it almost had the texture of French toast. With a mix developed by a Navy cook during WWII "Baker Boy" sweet buttermilk pancake mix rocks in the foodie world. They use the same ingredients today that this sailor developed on a naval ship during the war. Interestingly the Greeks originally developed the pancake and called it a "flat cake". 
    The pancakes were covered in local syrup, strawberries and whipped cream. With the sweetness of the pancake still prevalent, the strawberry complimented it as opposed to overtaking it. Interesting was the fact they use a soy flour in the mix. 
    The maple walnut stuffed French toast was served with eggs and meat. Choices include Hatfield Quality Meats Hatfield's Breakfast Links (huge links that look more like Italian sausage), smoked bologna (when available), Canadian bacon, sausage patty's, and more. The syrup is from Widrick's Maple Syrup produced exclusively for Spookhill. 
Eating in Upstate New York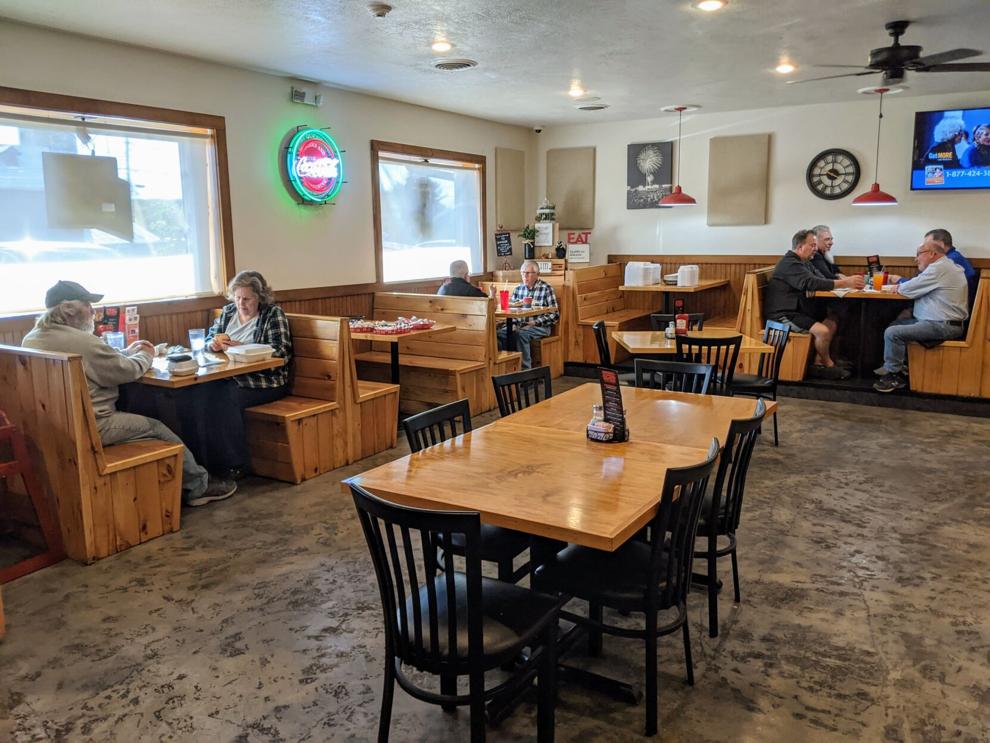 Picture 1 of 12     This corned beef hash did not come out of a can. It comes in fresh and is immediately smoked then slow-baked for five to eight hours, depending on the size. It is then shredded and served in a mixture of fresh diced potatoes and onions. The meat had a balanced taste that was spicy, salty, sour, and meaty all at once. The briny flavor of this cooking method is a taste unlike anything else. We loved it! 
    The Pastrami hash had just enough marbling for flavor while still lean enough to maintain its beefy flavor. Mixed with hash browns and onions then served with a lightly flipped egg on top, this was one of the highlights of our meal. Ray Avery, master cook, brines the meat for hours, partially dries it, then seasons it before smoking the meat. When served it is shredded them steamed to bring out its natural juices. They offer a house-made Dijon mustard on the side and while flavorful, I feel Pastrami needs to stand on its own. 
    The smothered hash browns were smothered in locally produced cheese curds from Great Lakes Cheese. Using 20 pounds per week this is a local favorite. 
    While most restaurants cook on a "flat-top" (a large cooking surface) Ray runs with a skillet for his omelets and everything in between. This allows for the crispy edge not found in most restaurants. 
    Everything is cooked in butter and margarine. The skillet also melts the cheese into the meal. How many times have you seen simply a cold piece of cheese on your meal? If the cheese is not melted, it's simply not worthy of your plate. 
    In foodie world a special board means a new adventure. Ray changes this weekly offering a multitude of hard-core foodie breakfast delights. A true foodie never calls in advance or looks at Facebook, it kills the element of a belly-pleasing surprise. Nothing beats a great meal than finding something new to experience. 
    Since we tend to eat with our eyes first the presentation of the meal is critical.  
    Then the smell of the meal brings us in as we take that first bite. Then we come to the defining moment of a meal when you experience that "Foodie Rush" as your taste buds explode.  
    With the King of the Kitchen leading the charge, Ray has developed a cooking style unique to Northern New York. His special board goes beyond any foodie definition I have seen. Cooking in the North Country in a variety of positions crisscrossing our culinary world, he brings to the table a diverse knowledge of what foodies enjoy. His love of the meal could be seen when he took the time to assure that our meal exceeded our expectations.  
    He started at a sub shop in Watertown at the age of nine and later moved on to the upscale Thousand Islands Club on Wellesley Island. He also cooked at Louis's on Bradley Street and then New Pier for several years. He is driven by that foodie High all of us experience after having that perfect meal. His influence also comes from shows such as the "Triple D" (a foodie term), "Diners, Drive Inns and Dives". His son Branden is also an extremely talented cook in training and he is assisted by the amazing skills of Gail. As a team, they create some beautiful meals that will far surpass your pallet.         
    As one of the "last food critics in the area" if I have a bad meal, I simply don't write about it, everyone has a bad day.         Our server Courtney was a pleasure. When we visited during the lockdown she eagerly placed our order and presented it curb side as best she could. Her ability to adapt during these crazy times only added to our experience. Next to her today was the equally amazing Sam, both were eager to serve our needs and only added to our overall experience. 
    Owners Darren Moulton (a lineman for National Grid) and Anthony Burnash (owner of Home Deli Pizza & Subs in Watertown) have created a restaurant with few parallels in Northern New York. This is what hard core foodies like us seek in a restaurant. During the shutdown, they provided the ultimate family meals, at an extremely affordable price, that reflected their commitment to our community during a time of crisis. 
    They are located at 12139 U.S. Route 11 in Adams, NY. Call 315-284-4074. They are open from 11 a.m. to 9 p.m.   
    During the virus, our local businesses have suffered. Restaurants have closed, although our local hometown newspaper always seems to come out of the fray. Social media, while seemingly controlling the market, it's just not home. 
    Let's support our local media outlets. Our newspapers, radio, and TV are the heart of our community. While reporting the news they also talk about our local high school sports teams, community events, and everything in between. They are an integral part of the very fiber of our society. Please advertise in these publications, not only are you supporting your business, you are supporting our community. 
    NNY Living is a passion of mine. I thank them for the opportunity to allow me to further promote local, family-owned restaurants. They also share my Facebook food blog regularly that only further promotes what the north country has to offer in the competitive world of food. Please consider advertising in this local publication as well. Let's support those, who support these family-owned restaurants.