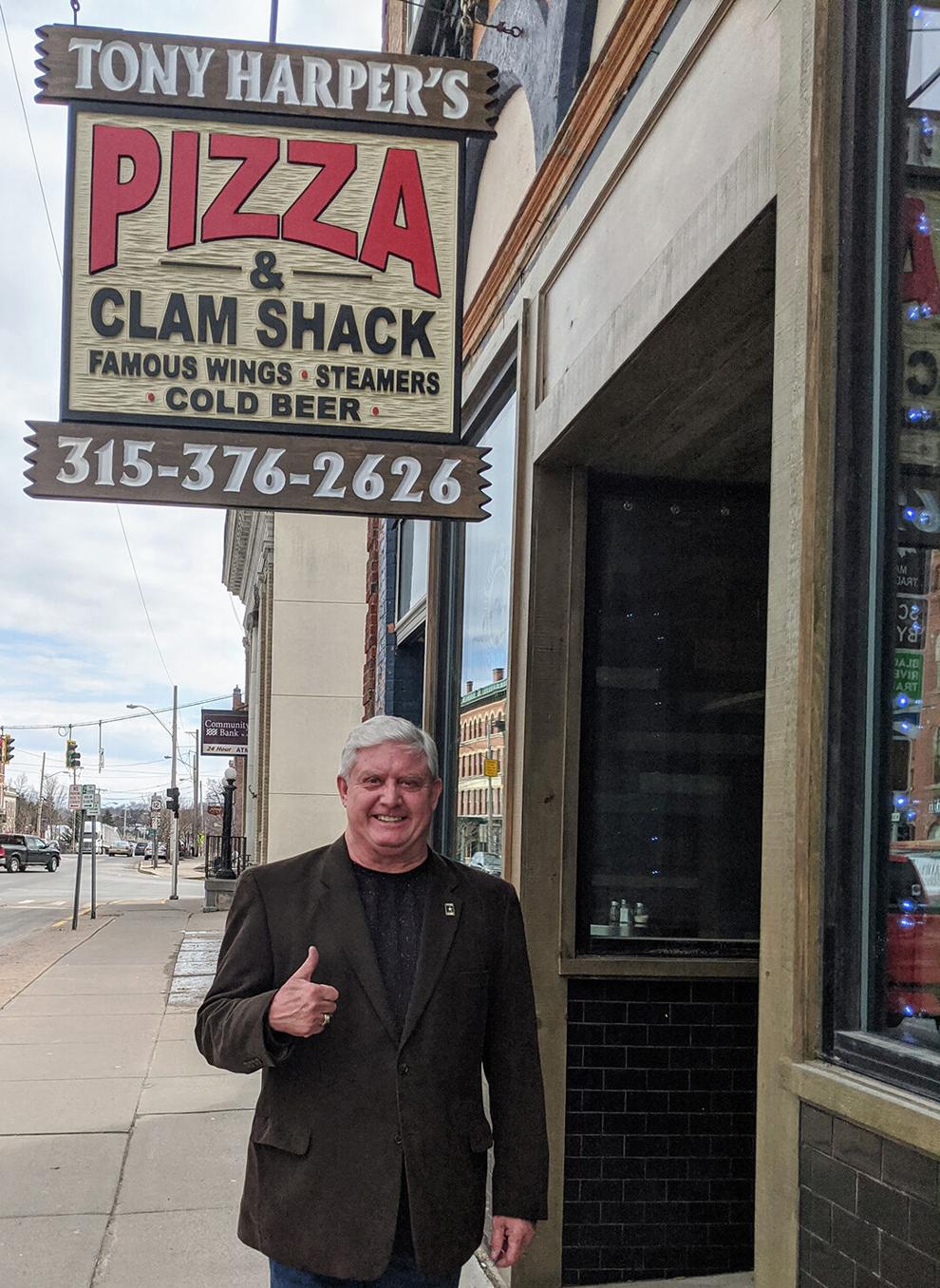 Nothing can unite a community better than a great meal. Given our current situation restaurants have developed ways to safely serve us, while still providing an amazing meal. Let's take this opportunity to explore some of the phenomenal restaurants in our community. Not only will you have a great meal, but you will also be supporting them when they need it the most. 
    I would like to thank NNY Living for the opportunity to write for this informative magazine. Sharing the importance of promoting our local family-owned restaurants is what my blog and this newly featured section are all about. My Facebook food blog, "Eating in Upstate New York and Beyond" has 11,682 followers. I encourage you to Like and Share my page and enjoy the ride on this foodie trail as I delve deeper into the food the North Country has to offer. 
---
Tony Harpers Pizza and Clam Shack located in downtown Lowville, has mastered the art of dealing with our current situation. With people waiting outside for their meals (affording proper distancing) neighbors were catching up with neighbors. The patio heater on the deck provided the warmth as the community came together to pick up a great meal and share a conversation. They were serving some of their signature adult beverages to-go as well as numerous craft beers (bring your grog if you want more). With the full menu still available grab a rib-eye steak (order it less cooked than normal if you plan on re-heating), pizza, or some of the best clams around. Please keep in mind that they may deviate as time progresses. 
    Their clams in the shell or deep-fried define them. The deep-fried clams are some of the best I have ever had. Brought in fresh weekly they are hand-battered and then gently deep-fried to a crispy golden brown. The juice of the clam squirts as you bite through the crunch. No sauce for me, why mess up the taste of a perfectly good clam? 
    The pizza is served traditional or "Brooklyn Style" with a thin buttery tasting flakey crust, allowing the flavor of the toppings to come through. It was not thick and doughy as many are. The "Spinach Alfredo" was covered with a white sauce then layered with spinach and bacon. The dough is made fresh daily and hand-tossed to order. Their most popular pizza is "The Hunter", served with a red sauce (which defines a pizza) it has a hint of a sweet taste that probably comes from the sweet onion (not sugary like most pizza sauces). The meat is layered with meats (yes… layered), thick and plentiful. It was loaded with huge slabs of pepperoni, large chunks of sausage, fresh onions and mushrooms. Then covered with a layer of fresh mozzarella. 
    The Pizza menu is extensive, offering an array of choices unique in many ways to the North Country. From smoked meats, fresh spinach, pulled pork, gouda cheese, and even macaroni and cheese. 
    This one you might want to eat on the patio as an appetizer while you wait for your meal. The SPQ chips are freshly deep-fried potato chips with homemade bleu cheese fondue, smoked bacon bits, red and green onion then drizzled with a sweet balsamic glaze. Being way out of the norm this sticky and tantalizing dish is a must-try for hardcore foodies. 
    Poutine Fries is another local favorite. Originated in Canada this crispy French fry is smothered in local cheese curds, a sprinkling of mozzarella, then covered in homemade hot beef gravy. While probably not ideal as a to-go item, you may want to consider adding this to your bucket list for when normalcy returns. 
    This dining establishment does not have any microwaves, a clear sign everything is cooked fresh and homemade. All pizza and wing sauces are homemade from a family recipe which is highly classified. The family only assembles them at the Old Forge location and transports them daily to Lowville. 
    The craft beer lines are cleaned and sanitized after each new beer is added. This is an imperative process if you are to maintain the flavor and integrity of a quality craft beer. The selections will vary with many choices being seasonal only offerings. The brewers include Skewed Brewing (brewed locally in Lowville) and numerous other Upstate Breweries. 
    To top off our to-go meal, Tiffany whipped up a tantalizing Toasted Cinnamon Martini Jack Fire, RumChata. It was the perfect complement to a great meal when we got home. 
    They are attempting to adhere to everything they traditionally do daily. Understand though all of this is subject to change. Mondays are still Mexican, Thursdays pasta, Friday night fish fry's, prime rib Saturday and Sunday fun day. 
Save time and order online. They are located at 7617 North State Street in downtown Lowville. Call them at 315-376-2626, download their mobile app or visit them online at tonyharpers.com. Please support this local family-owned restaurant a visit them from 4-9 daily.
    On a side note: We experienced the same neighborly atmosphere outside at Doyle's Pub (in Lowville). With the to-go window on Route 177, it was great to visit with friends and share how all of us are handling this time. Everyone was positive with an upbeat attitude.